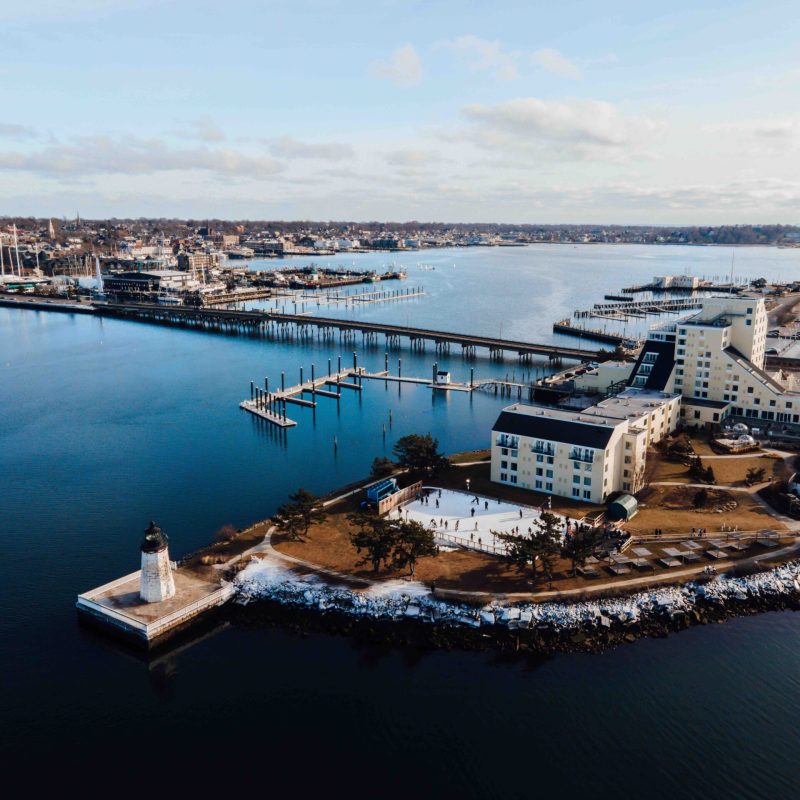 The charming seaside city of Newport, Rhode Island, is more than just a summer destination — it is a bustling hub of activities all winter long. The city perched on beautiful Narragansett Bay is filled with American history, award-winning restaurants, intriguing museums, and stunning mansions.
A shining jewel in the coastal state of Rhode Island, Newport is synonymous with the luxury of the Gilded Age. It is a traveler's haven where you can vicariously step into the shoes of a Vanderbilt family member. The awe-inspiring Newport mansions may draw you in, but you will love all the other wonderful things that comprise Newport's charm.
Here, we have listed just a few reasons to visit Newport in winter below. It is presented in no particular order.
1. Newport Burger Bender
February 17–26, 2023
Join in the Newport Burger Bender and vote on your favorite area burger. It's a great excuse to indulge in a perfectly cooked patty and help crown this year's Best Burger in Newport.
Local restaurants come together to embrace their competitive side and throw their carefully-crafted top burger into the ring. In 2022, Mooring Seafood Kitchen and Bar took home top honors in the beef category for their Portuguese Burger, a mouth-watering combination of Angus beef, Fontina cheese, Mozambique aioli, chourico-sweet onion jam, cherry peppers, topped with a fried egg. Yum!
These creative chefs don't limit their entries to only beef patties. Past winners in the non-beef category have included unique compilations like The Boat House's Mediterranea Swordfish Burger and Midtown Oyster Bar's Sushi Burger.
2. Newport Winter Festival
February 17–26, 2023
The 35th Annual Newport Winter Festival is a 10-day celebration and features more than 150 events across the city. Getting out for a day or weekend getaway is the perfect way to dust off your cabin fever and explore all that Newport has to offer.
Romantic events like sipping on a colorful Polar Pineapple beverage at the Newport Harbor Island Resort are a fun start — all the while enjoying a view of Narragansett Bay. Afterward, taking in a concert and dinner with your special someone will help you to shake those winter blues.
Family-friendly events, like a Princess Party for your tiniest Disney fan at OceanCliff or the Rainforest Reptile Show at the Newport Marriott, make it easy to plan a getaway for the entire family. While exploring, don't miss stopping by the igloos and cozy firepits throughout the festival.
Other showstopping events include beach polo, a chili cook-off contest, multiple tribute band concerts, best hot drink contest, family-friendly comedy and magic shows, and much more.
3. The Chanler Hot Chocolate Bar
The Chanler At Cliff Walk
Saturdays And Sundays From February 11–April 2, 2023
Nothing is more winter-in-New-England than sipping a rich cup of gourmet hot chocolate, available with a decadent array of toppings. Enjoying it at a former 19th-century mansion transformed into a luxury hotel — The Chanler at Cliff Walk — or in front of the outdoor fire pit completely elevates the hot chocolate experience.
4. Mansions
A Gilded Age Mansion tour is synonymous with a visit to Newport. These magnificent, stately "summer cottages" reflect the glamor of high-society life during Newport's Gilded Age.
The Breakers and The Marble House are open during the winter. If you only have time for one mansion visit, the Breakers is a must-see; it is spectacular. Transport yourself into the life of the Vanderbilt family as you wander the opulent rooms of this storied summer home. The Breakers also offers a variety of winter events, including the Gilded Age Lecture Series and the Gilded Age Orchestra of Newport Musical Program.
Other mansions, including The Elms and Rosecliff, open later in the year.
5. Ice Skating
Newport Harbor Island Resort
Ice skating is a quintessential winter activity for all ages, and there isn't a more beautiful spot to lace up your skates than the oceanside rink at the Newport Harbor Island Resort. Skaters enjoy views of the Newport Bridge, Goat Island Lighthouse, and Newport Harbor. Outdoor skating is a wonderful way to spend the afternoon as a family and a nostalgic date idea for couples to reconnect.
Skates and skating aides are available to rent or you can bring your own. The rink is open to the public and no reservations are required.
6. Igloo Dining
Dinner with a view, the coveted window table takes on new life with the chic trend of igloo dining. Three of Newport's fabulous restaurants have erected outdoor globes so you can enjoy all the benefits of dining with a view while still keeping cozy and warm.
Check out the menus at these three igloo dining locations and pick the one that suits your cravings. Choose from sumptuous seafood fare at The Reef, a delicious Mexican fiesta at Diego's Newport, or an aprés skate bite at Newport Harbor Island Resort.
7. Historic Tavern
White Horse Tavern
The National Historic Landmark White Horse Tavern turns 350 years old this year. The tavern, an iconic Newport red clapboard building, immerses guests in its 17th-century feel as soon as they step through the door. From the classic Colonial 12-over-eight windows to the stalwart portraits gracing the walls, you will love the history of this wonderful old tavern.
Try the beef Wellington or the pan-seared scallops with a beautiful bottle of your favorite wine for a memorable dining experience.
8. Tea Time
Hotel Viking
Everyone, at least once in their lifetime, should enjoy an afternoon tea time experience. The Hotel Viking, on Bellevue Avenue, offers the ideal personalized tea service. The staff is expertly trained in preparing your selected tea blend and you will love the house-baked scones and assorted cakes rounding out this time-honored tradition.
The adult beverage cart will also make its rounds if you prefer champagne or other beverages with your tea cakes.
9. Newport History
Museum Of Newport History
February 17–26, 2023
The Newport Historical Society offers Newport History Walking Tours showcasing the city's top historic sites. A unique variety of tours are available, including the Rum & Revolution Tour, the French in 18th Century Newport tour, the Road To Independence Tour, and many others.
Visit the website to select the tour, or tours, that tickle your historical places fancy.
10. Newport Helicopter Tours
One of the best ways to visit an area when it's too cold to stroll the streets is from above. Newport Helicopter Tours offers a selection of themed flying tours for the intrepid visitor. Flying above the city offers an interesting view from the usual street-side sightseeing.
Enjoy a unique aerial view of Newport's famed mansions, circumnavigate the island enjoying a peek at her lighthouses, or enjoy a romantic sunset flight around the island over the Atlantic Ocean.
11. Wine Tasting And Craft Breweries
Newport area wineries invite guests to relax and enjoy an opportunity to sip their tasty offerings. Newport Vineyards in Middletown combines a winery and brewery; it is also home to Taproot Brewing Company. Greenvale Vineyards in nearby Portsmouth is a farm destination offering stunning views of the bay and vineyards, and Carolyn's Sakonnet Vineyards in Little Compton will win you over with its award-winning wines.
With over 10 craft breweries in the Newport area, you will easily find a frothy brew to quench your thirst.
12. The Newport Winter Foodie Stroll
Fridays And Saturdays From February 3—April 8, 2023
A great way to experience some of the best local flavors is The Newport Winter Foodie Stroll. Join your guides on a Friday or Saturday evening to enjoy a gourmet three-course meal, with wine pairings, at three delicious restaurants along Newport's Historic Thames Street. It's impossible to leave hungry!
13. The Gilded Age
Select Dates From January 26–March 2, 2023
The Preservation Society of Newport County is offering the Gilded Age Lecture Series: a variety of in-person and Zoom access lectures covering an eclectic mix of historic topics focusing on the American Gilded Age (circa 1870–1910).
Lecture topics include:
Fashioning America: African American Designers and Dressmakers; a peek into the sewists who designed and crafted stunning garments for the ultra-privileged Newport elite.
"I'll Have Another" — Cocktail Culture in the Gilded Age; Enjoy a look at classic cocktails like the old-fashioned, the Manhattan, and other heady adult beverages that graced the tables of fabulous Newport summer parties.
Gilded Age Orchestra of Newport; Enjoy a music program from the Orchestra of Newport that will transport you back to the high-society Gilded Age.
14. Dining In Newport
The extensive variety of restaurants in Newport will have your culinary head spinning. Deciding where to dine is best tackled by narrowing down your options from fine dining to the pub-grub path. A few options are listed below but they are just the tip of the dining iceberg.
Fresh seafood is one of the main reasons visitors flock to Newport and the surrounding coastal communities. A variety of on-the-water establishments like The Mooring, Thames Waterside Bar & Grill, and S.S. Dion Kitchen + Bar are great places to begin your search.
Brunch is a decidedly relaxing vacation indulgence. The Clarke Cooke House offers Sunday brunch steeped in charming Newport style.
Don't forget about Newport Burger Bender listed above for a list of excellent spots for burgers and more.
15. Hotels In Newport
The getaway stay options in Newport range from luxury accommodations with ocean views to charming family-friendly spots to rest your head. No matter your budget, you will find something to suit your needs.
If you are looking for a glamorous and luxurious stay, look no further than The Vanderbilt. The artfully renovated downtown Newport mansion immerses you in opulent decor and exemplary service.
Chic and trendy, Gilded is a bright and cheery oasis to revive you after a day of exploring. It includes a deliciously curated "small bites" breakfast menu — zucchini and goat cheese tian, strawberries and cream scones, and more — that will get your day off to a great start.
The Newport Marriott is a centrally-located, family-friendly option on the water in downtown Newport. Kids will be delighted by the large indoor pool, while adults can enjoy the extensive spa offerings.
Discover Newport offers an extensive list of area stays with everything from boutique inns and bed and breakfasts to waterfront hotels.
Discover Newport Year Round
Newport is gorgeous in the sultry summer months. It blooms with life in springtime and is crisply colorful in fall. In the winter, Newport has a surprising hum of indoor and outdoor activities that make this vibrant city a delightful winter blues getaway destination.
Visit Discover Newport to find up-to-the-minute information on the comings and goings in and around Newport. Check out our Newport destination guide for ideas about your next Newport getaway.
To read more about Newport, check out: