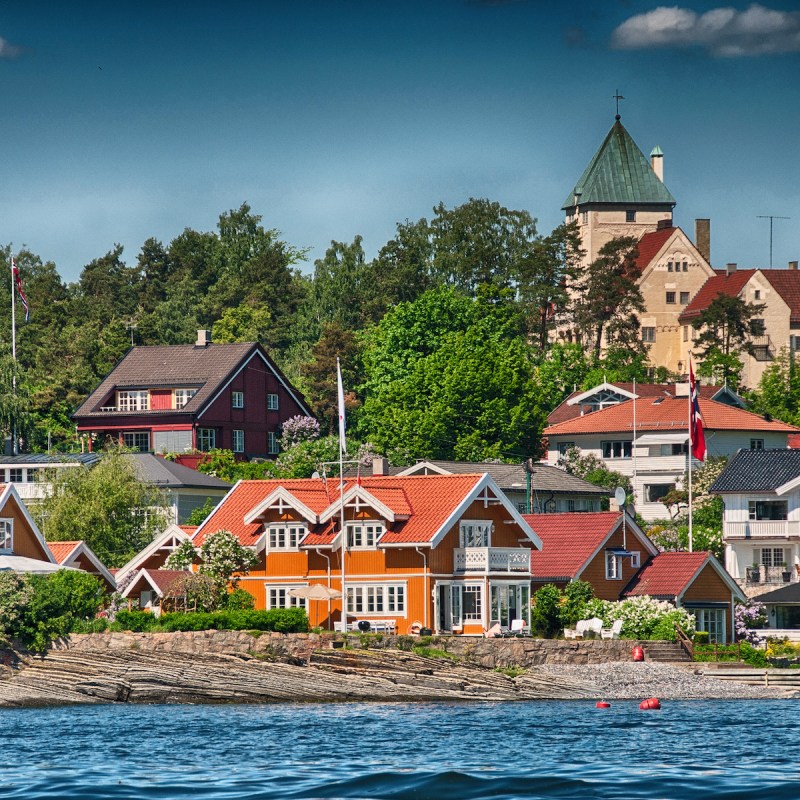 If I had to choose between the two Scandinavian cities of Oslo in Norway and Stockholm in Sweden to visit — or even better, to live in — I would be hard-pushed.
To be fair, I used to have a Swedish stepmother for a few years and spent many summers and winters near Stockholm, going to the city also, whereas I have "only" visited Oslo. So, I would probably choose to live in Oslo for a while.
On paper, the cities differ little: They are practically next to each other on the map — if 320 miles apart — but both are great cities with stunning scenery and plenty of nature and inner city delights. The two capitals are modern yet historic, have deep-rooted cultures and traditions, and both lie in northern Europe. They are affected by the midnight sun, making for great fun in summer — but some gloom in winter.
Read on for some good-to-know differences between the cities, but just as many, or more, similarities.
1. Location
Oslo Lies In A Fjord
Oslo lies at the end of the Oslo Fjord, which leads into the Atlantic Ocean, to the south of Norway. Located on the same latitude as Alaska, Oslo is the 3rd northernmost European capital.
Stockholm Lies In An Archipelago
Stockholm is an equally watery location, spread across 14 islands on the north-western edge of the Baltic Sea, coming in as the 5th northernmost European capital, with Tallinn just pushing between them.
2. Size And Getting Around
Oslo Is Easier To Maneuver
Oslo and Stockholm are relatively small for capital cities, with Oslo having a population of just above one million. While Oslo's city center is easily explored on foot, there are various outlying attractions, such as the Viking Museum and the Vigeland Park (see below), which are better reached by public transport, or Hop-on, Hop-off Bus.
Oslo's International Airport is a marvel of modern technology, with pretty much everything set up so that you can check yourself through, and getting there is convenient and easy with the airport train. Don't be tempted to take a taxi, it takes ages and costs a small fortune.
Stockholm Is Spread Across 14 Islands
Stockholm is a little larger than Oslo, with 1.5 million inhabitants. I have always found it quite confusing to maneuver, with its many islands connected by some 50+ bridges, making it quite easy to lose your bearings. But Stockholm has an attraction all on its own that helps with this: the Stockholm metro, or Tunnelbana. The metro stations are stunning pieces of art, so taking the easy-to-use metro also doubles as an art gallery visit.
Getting to and from Stockholm's International Airport is a similar affair, with taxis much more expensive than the airport shuttle train. With the numerous islands making access to the train maybe slightly more complicated than in Oslo, there are also shuttle buses that stop in various places across the city.
3. Language And People
More Similarities Than Differences
Both Swedish and Norwegian are languages derived from the Old Norse language and are very similar to each other — so much so, that if you learn some key phrases and words in one language, chances are they will be understood in the other language as well.
While Norway and Sweden only separated in 1905, and the origin of the people is inherently Viking, the Swedes show more influence from the Germanic sides, while the Norwegians are probably the most Viking-related people of all Scandinavians. That said, like in all major cities, there is a great cosmopolitan mix of people from all around the world, adding to the pot and the overall atmosphere.
4. The Weather
As you can imagine from lying on the same latitude as Alaska, the South of France this is not. That said, with both Oslo and Stockholm lying to the south of their respective countries, you can expect a much more continental climate than in the north of Norway and Sweden.
Oslo Is More Of A Summer City
Summer is a very special affair in both countries, not only because it has a lovely average temperature of around 70 degrees Fahrenheit and more — making it comfortable but not sweltering — but mostly because it is still light at midnight. People tend to be out at all hours in summer, enjoying the watery surroundings, with Oslo having gorgeous little bathing huts along the fjord.
Stockholm Is Good In All Seasons
In summer, Stockholm's archipelago of some 3,000 small islands becomes the main attraction for visitors and locals. There are festivals and celebrations, enjoying the light, which in winter, is somewhat lacking. That said, I have always loved Stockholm in winter: With the Baltic full of ice floats, and the islands covered in snow, it offers a special kind of magic. But on the whole, if you have the choice, visiting in summer and the months on either side of it is probably the best time for both cities.
5. Attractions To See
Oslo Is More Modern
Despite its ancient history, central Oslo's main draws are essentially its modern architecture, such as the Opera House — which positively encourages you to climb onto its slanted roof, the modern Munch Museum — and the so-called BarCode quarter. The centrally located palace and old town are small, and not quite comparable to other European cities. Instead, the young and hopping Akerhus waterfront location offers quays from where to catch ferries along the fjord, and across to the historic, must-see Viking Museum, plus plenty of restaurants and great shopping. And you can even jump into the fjord from the end of the pier.
Stockholm Is More Colorful
Stockholm's Gamla Stan is an absolute must-see, with its lovely old, colorful houses and crooked streets. There is the Vasa Museum, with its great ship — even if not as impressive as Oslo's Viking ship — and various Royal Palaces. Don't miss a boat trip around the countless islands that make up Stockholm proper and those of the archipelago just off the coast.
6. Eating Out
Oslo Is Pricier
One thing to note straight away is that eating and drinking out is pricey in both Sweden and Norway, but more so in Norway. The Matstreif Food Festival takes place In Oslo in late summer, celebrating all artisan Norwegian produce and taking over the Townhall Square and numerous side streets with huts selling typical and local dishes.
Stockholm Is Slightly More Affordable
There are plenty of typical dishes in either country, but basically, it's fresh seafood you should be looking for, with maybe a bit of moose or reindeer thrown in the mix. If you are in Stockholm in late summer, don't miss the annual crayfish party when the entire country goes crazy over freshly harvested shellfish.
7. Unique Things To Do
Oslo Is Looking Into The Future
One of the most unusual and quite wonderful things to see just outside of Oslo is the forest of the Library of the Future. These trees are growing to be made into books in roughly 100 years' time. Well-known authors have written manuscripts but they will not be published until the library opens in 2114. The manuscripts will be printed on paper from the trees now growing there.
Stockholm Is High-Tech
Also rather futuristic is Stockholm's unique light installation. Color by Numbers is a tower that is decorated with various colored lights, so nothing new there. But with this one, anyone who has downloaded the app can change the lights to suit their liking. Quite fun on a night out.
8. Day Trips
Oslo's Olympic Attraction
Both Oslo and Stockholm are surrounded by beautiful countryside studded with forests, lakes, and small towns. From Oslo, a main day trip destination is Lillehammer, the site of the 1994 Winter Olympics by the lovely Lake Mjosa, Norway's largest lake. There is also Gamle Fredrikstad, an old town protected by five forts. Both places are easily reached by train from Oslo.
Stockholm's Ancient University Town
Stockholm's main draw is its archipelago, which you can explore by commuter ferry, tourist boat, or longer cruises. Then there is lovely Uppsala, a 30-minute train ride north of Stockholm. Uppsala is an old university town and its Gamla Uppsala, or old town, dates to the 3rd century. Another must-see is Drottningholm Castle, especially beautiful when covered in snow, but the gardens are lovely in summer too. It's just a few stops on the Tunnelbana from the center, so barely a day trip.
Final Thought: Do Two In One
Oslo or Stockholm? Have you come to a decision? There are so many similarities and yet so many differences. Personally, I would suggest visiting Stockholm in winter, seeing places such as Drottningholm Castle in the snow and the frozen Baltic Sea, and then enjoying the outdoor life in Oslo in summer by eating out on the terraces and taking a boat up and down the fjord, with swimming optional (it does not matter how hot it gets, the water is so cold!) But coming from afar, two trips are usually not an option. So, why not combine the two?
There are two great options: You can take the high-speed train between the two cities, it takes around 7.5 hours, and the views along the way are wonderful. Or, you could take a ferry from Sandefjord, on the inlet of the Oslo Fjord on the North Sea coast to Stromstad in Sweden, alas on the opposite coast to Stockholm, and then hire a car and embark on a bit of a road trip through the lakes and forests of central Sweden past Orebro to Stockholm. This is lovely road trip country and very scenic. Win-win.