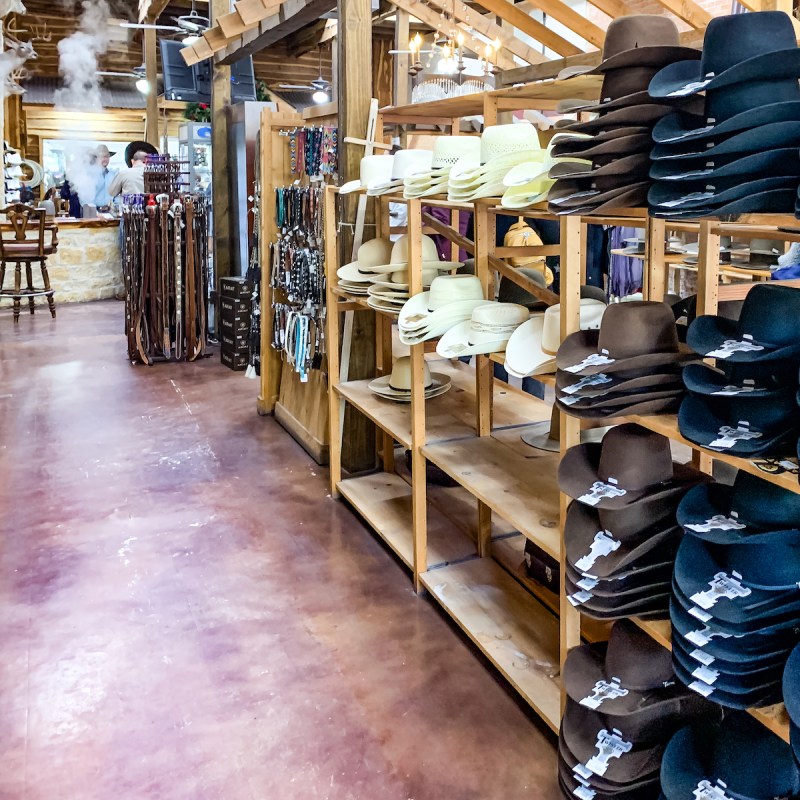 The town of Bryan, Texas, developed from the train tracks passing through the city and the cotton fields supplying raw materials to the rest of the country. Bryan recently celebrated its 150th anniversary as a town. Many buildings are now listed on the register of historic buildings. The old town area is a delightful area to explore.
Bryan is a foodie destination! Barbeque restaurants, wineries, breweries, and taquerias provide great food for all visitors. Join the Taco Trail to win prizes and get your name on the virtual Bryan Taco Trail Wall of Fame. Golf courses, art galleries, and the theater add to this historic city's list of things to see and do.
This visit to Bryan, Texas, was sponsored by DestinationBryan.com. Opinions, observations, and descriptions are my own.
1. Brazos Valley Farmers' Market
The Brazos Valley Farmers' Market is located in downtown Bryan, Texas. Local farmers bring their best produce to sell directly to the consumer on Saturdays. Every community can benefit from farm-to-table connections made possible by regular market days. In Bryan, Saturday mornings are the time to shop for the freshest local ingredients. Bring your dog and socialize with other dog lovers at the same time! When you finish looking around the farmers' market, you can continue exploring the old town area.
2. The Chocolate Gallery Of Bryan-College Station
Watch delicious chocolates being made before buying them. The Chocolate Gallery creations are the brainchild of Chefs Josh and Ciana Neubauer. Both are Hyde Park, New York, Culinary Institute of America graduates. Their bakery produces custom cakes and cookies for any event.
The Chocolate Gallery is a gourmet chocolate shop and bakery that caters to the Texas A&M student culture in a big way. Their licensed products are now sold to the public.
3. Catalena Hatters
Custom-Made Western Hats
Anyone needing a cowboy hat knows that the place to go is Catalena Hatters. Whether you need a felt hat for the winter or a straw hat for the hot summer months, Catalena Hatters manufactures and styles them the way you want. The steam rising from the counter molds the hats into their desired shapes while you watch and wait.
Watch new cowboy hats made, shaped, and custom-fitted to the customers. Maybe even buy one for yourself! Prices run anywhere from $25–900 for the finest felt hat. In Texas, a quality hat is a must!
4. Zeitman's Grocery Store
The Best Bagels, Cinnamon Rolls, And Jewish Delicacies
Owner Blake Zeitman chose Bryan, Texas, for his bagel shop, delicatessen, and grocery store because of the sense of community he found here. Photos on the wall are a reminder of his family's more than 100-year legacy.
Proudly baking with family recipes, Blake has built an East Coast deli-style business that is unique in the area. Bagels sell quickly, while other tantalizing baked goods, deli sandwiches, and grocery store items round out the offerings. Try the fabulous egg and bagel sandwiches for breakfast!
5. Messina Hof Winery, Hotel, And Restaurant
Messina Hof Winery began as a 1-acre test of Texas soil. With the help of a Texas A&M graduate student, a test planting of 50 varietals occurred. The successful test led to added vineyards. The locals wanted to taste the wine and, later, buy it. Growth followed with award-winning wines produced with 100-percent Texas grapes.
A pleasant surprise at the tasting was the Messina Hof port barrel reserve for a port wine that is not overly sweet. I happily purchased a bottle to take home and enjoy.
The Vintage House Restaurant offers a delightful menu paired with Messina Hof wines. The stuffed gorgonzola chicken — panko-breaded stuffed chicken breast with baby spinach and a creamy gorgonzola chardonnay sauce — was an excellent choice for dinner. Experience fine dining and great service in beautiful surroundings.
6. Kyle Field
Texas A&M Stadium
On the campus of Texas A&M University is Kyle Field, named for Professor Edwin Jackson Kyle, who made the Texas A&M football stadium possible by freeing up some of his agricultural research lands on the campus.
The stadium has grown over the years to its current size. Today, over 100,000 people can attend a Texas A&M football game. The largest crowd in history was over 110,000 fans.
Private boxes for corporate donors cost from $500,000 to more than $1 million for a 15-year sponsorship. Thankfully, individual ticket prices are considerably lower.
Ford Motor Company currently sponsors the immense Hall of Champions, honoring the football stadium and student athletic programs. The hall is an impressive 30,000-square-foot virtual sports museum.
Pro Tip: Texas A&M University football games are immensely popular with the community. Visit the 12th Man Foundation and purchase tickets to attend a game. Texans are very vocal about supporting their football team — especially the Texas A&M alums!
7. George H. W. Bush Presidential Library
George H. W. Bush constructed his Presidential Library on the Texas A&M campus. An impressive building and grounds, the library chronicles the life of our 41st U.S. president. H. W. Bush had a remarkable career as a naval officer, CIA director, vice president, and president of the United States.
Here, his office in the White House has been recreated and visitors are encouraged to sit at the desk and take photographs.
Video displays offer an understanding of the challenges Bush faced during his career. From being shot down over the Pacific Ocean in World War II to his subsequent rescue, the George H. W. Bush library provides a unique look into the life of one of our great presidents. The impressive wall of Distinguished Honors from world leaders demonstrates his impact on our country and the world.
Pro Tip: The Presidential Library hosts temporary exhibits that can be viewed for an additional charge. The Nelson Mandela exhibit is on display until April 2023. A schedule of future exhibits is available on the library's website.
8. The Stella Hotel
The Stella Hotel is conveniently located in the "Texas Triangle" about 3 hours from Dallas, San Antonio, Houston, and Austin. It is an excellent stop for a romantic getaway or a fun family trip. Explore the downtown area, have lunch at the Campfire Restaurant, or swim in the hotel pool. Taking in a Texas A&M football game is a memory not soon forgotten and is highly recommended.
The Stella Hotel anchors the Lake Walk development. It features innovative businesses, shops, restaurants, a Jack Nicklaus golf course, walking trails, and a soon-to-come housing development for those who want to live in a planned community with health and vitality in mind.
Concerts, weddings, yoga classes, and a host of other activities can be found on the grounds of the Stella Hotel. Climb to the top of the observation tower to get a good look at the area and witness the stunning sunsets. The Lake Walk is an exciting development that will draw people to the site who want a quality place to live, eat, shop, and work.
9. Ronin Restaurant
Constructed in an old renovated building (the Ice House on Main), the Ronin Restaurant preserved much of the original building. Dining tables made from repurposed office floors are suspended with cables from the ceiling. Bricks from the ice house walls are now used for a wood-burning grill.
Choose a seat near the open-air kitchen and watch the chef and kitchen staff plating food for hungry customers. The chefs produce seasonal favorites with produce grown on their farm a few miles away. It's authentic farm-to-table dining that you will love.
Bryan, Texas, has a lot to offer visitors. When walking through town, Texas A&M sweatshirts and hats are everywhere. The surprising thing is that other universities are represented, too. When many students are in town for athletic events, they often stay at the Stella Hotel. Parents and potential students of Texas A&M University also tend to stay here. Out-of-town students often go into town to eat at the local restaurants and mingle with the Aggies.
There is so much to see and do in Bryan. Be sure to plan a trip here for the fond memories you will make in Aggieland.
Related Reading: