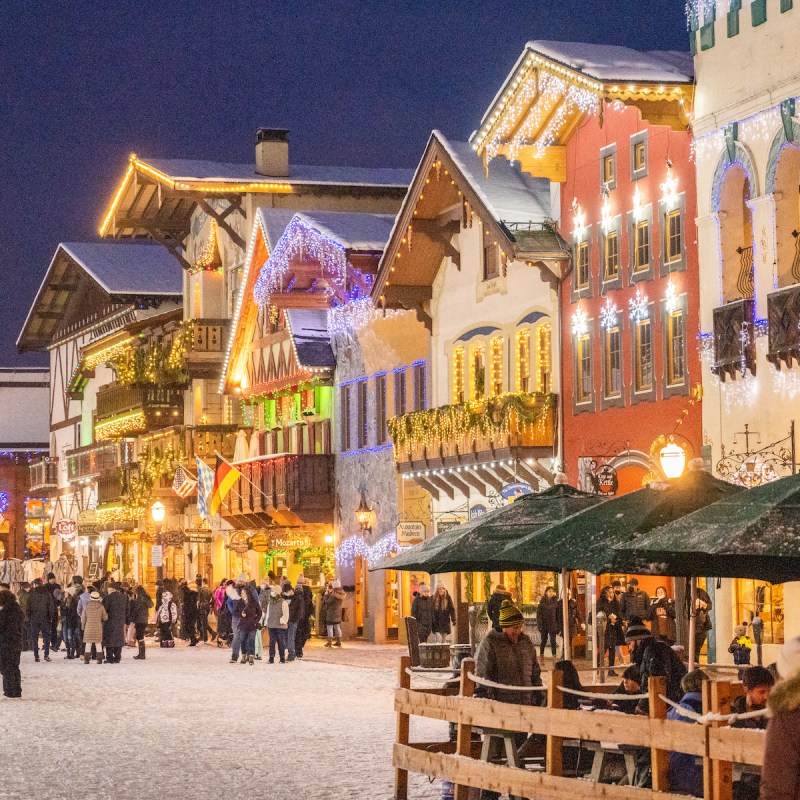 Although I'm an inveterate overseas traveler, sometimes I just like to explore my own backyard. The United States is rich in culture, benefitting from its mélange of immigrants and their traditions. Thankfully, the U.S. has a range of cities that will feed my wanderlust and make me feel like I've actually headed to Europe.
The Netherlands
1. Pella, Iowa
For a "touch of Dutch in the Midwest," you'll want to visit Pella, Iowa. Dutch settlers seeking religious freedom founded Pella in 1847, naming the town after a biblical city of refuge.
You can learn about the Dutch lifestyle in the Pella Historical Village with its 21 historical buildings that include a blacksmith shop and a wooden shoemaker. Dutch design is also visible in structures like Vermeer Mill, the tallest working grain windmill in the U.S., and Molengracht Plaza with its canal-like waterway and working drawbridge surrounded by Dutch-inspired architecture. The Klokkenspel carillon clock has moving figurines that portray stages of Pella's history.
Want more Dutch whimsy? Sunken Gardens Park features a decorative windmill and a pond shaped like a wooden shoe. Refresh at Jaarsma Bakery with banketletters, S-shaped treats filled with almond paste. Dutch street foods like poffertjes (tiny pancakes), bologna on a stick, oliebollen (cinnamon-raisin dumplings), and stroopwafels can be had at Dutch Fix.
2. Holland, Michigan
Also founded by Dutch religious separatists in 1847, Holland, Michigan, visually conveys its roots with the DeZwaan Windmill, an authentic working Dutch windmill, and Dutch-inspired architecture and design.
Plan for May's Tulip Time festival, reminiscent of the acclaimed Keukehofen gardens blooming in Lisse. It's marked by parades, costumed participants, culinary treats, and Dutch shops.
For authentic bites, DeBoeur Bakkerij Restaurant offers baked goods or heartier Dutch dishes like beef croquettes or saucizenbroodjes (sausage rolls). Residents will help you learn some Dutch and "Wooden Shoe Wisdom" with useful sayings like "A man without a wife walks with but one klomp (wooden shoe)."
Scandinavia
3. Lindsborg, Kansas
For all things Swedish, plan a trip to Lindsborg, founded in 1869 by a group of immigrants desiring a community rich in Swedish culture, education, religion, business, and farming.
Affectionately known as "Little Sweden USA," Lindsborg honors its heritage with the autumn Svensk Hyllningsfest celebration and the winter St. Lucia Festival. To prepare for the December celebration, visit The Ivory Thimble for a custom-tailored Swedish costume. Overnight at the charmingly named Dröm Sött (Sweet Dreams Inn) and enjoy a traditional breakfast smörgåsbord. Or indulge with an ostakaka (Swedish cheesecake) from the bakery at White's Foodliner and a Swedish Mörkrost coffee at the Blacksmith Coffee Shop and Roastery in a renovated blacksmith shop.
A symbol of colorful Swedish handicraft, tail-free Dala horse installations are found throughout the city. You can buy your own hand-carved, painted version at Hemslöjd, "the Dala Horse factory," for one of Sweden's most popular souvenirs.
4. Solvang, California
Solvang, "The Danish Capital America," feels like a touch of Copenhagen brought stateside. Founded in 1911 by Danish Americans wishing to keep Danish traditions alive, the city is filled with gingerbread and half-timber architecture, windmills, and shops selling Danish goods. The Elverhøj Museum of History & Art will teach you about the Danish-American immigrant experience.
Need more proof that this is Denmark in the U.S.? A bronze replica of The Little Mermaid statue sits in Denmarket Square, and the tiny but reverential Hans Christian Andersen Museum is a true gem.
Solvang's streets are lined with bakeries, restaurants, wine-tasting rooms, and boutiques that feel very Scandinavian. Stop at Olsen's Danish Village Bakery for butter cookies and Copenhagen Sausage Garden for a sausage sampler
Germany And Switzerland
5. Leavenworth, Washington
Charming Leavenworth seems nothing short of the Alps, the Romantic Road, and Bavaria. In the early 1960s, this US town was transformed into a Bavarian-themed village, taking full advantage of its Cascades Mountains location in a bid to attract tourism. 
Architecture, shops, and galleries evoke 18th-century Bavaria with attractions like the Leavenworth Nutcracker Museum, which has more than 6,000 nutcrackers, and The Gingerbread Factory selling Nuremberg lebkuchen and gingerbread houses.
Pack your dirndls and your lederhosen — it's Oktoberfest all year long here, with breweries serving beer and brats, München Haus serving potato soup, and King Ludwig's serving sauerbraten.
6. Fredericksburg, Texas
Founded 175 years ago by the Adelsverein, German immigrants looking to preserve and protect their lifestyle, Fredericksburg blends German heritage with Texas Hill Country hospitality. The town's deep German roots are evident in its shops, restaurants, biergartens, and artwork.
For a timeline of Fredericksburg's history, visit the octagonal Vereins Kirche or The Pioneer Museum, where you can see the small Sunday houses used by out-of-town settlers when buying provisions or attending church on weekends. Then book a stay at Das Solheid Sunday House for an immersive dose of history.
German hospitality invites at the town's numerous restaurants. Duck schnitzel at Otto's German Bistro is a dining tradition, as is Otto's wurst platte with housemade wurst, rotkhol (red cabbage,) senfgurken (pickles), and mustard. Wash everything down with a cold stein of German-style beer at Altstadt Brewery, where beers follow strict German guidelines by using only hops, barley, yeast, and artesian spring water. For the perfect picnic, Opa's Smoked Meats will provide an array of sausages from traditional German recipes.
7. Vail, Colorado
Skiers in Vail will note the resort's resemblance to both Garmisch-Partenkirchen, Germany, and Zermatt, Switzerland.
Designed to replicate an Alpine ski village, Vail is replete with Zermatt-inspired decorative balconies and detailed woodwork. Buildings stenciled in the same fashion as homes in Garmisch-Partenkirchen create a colorful wash against the Colorado Rockies. Adding to the ambiance, farmhouse-style hotels like The Arrabelle at Vail Square as well as bars, shops, and restaurants seem to have been transported from Europe with their classic architecture.
The two cultures come together with German gluehwein and Swiss fondue at Almresi restaurant. Be sure to save room for the drool-worthy apfelstrudel and Austrian kaiserschmarrn desserts. If you're visiting in the fall, Vail's annual Oktoberfest celebration is a deep dive into Bavarian culture.
8. New Glarus, Wisconsin
There's a reason why New Glarus is known as "America's Little Switzerland." With its Alpine-style architecture, Swiss flags, and flower-filled window boxes, the town oozes Old World.
Settled in 1845 by Swiss immigrants, New Glarus adheres to tradition at places like the Emmi Roth Käse Cheese Factory, a Swiss-owned cheesemaker where being a "cheesehead" takes on a new meaning as you observe cheesemaking firsthand.
Dating from the 1930s, the Ott Haus pub and grill is one of the first Swiss-style buildings in the city. Glarner Stube serves Swiss dining favorites like pork schnitzel and schüblig, a mildly spiced beef sausage. For more evidence of Swiss pride, take note of The Chalet of the Golden Fleece, a museum that's a Swiss Alps clone, and visit during the Swiss Historical Village Harvest Fest, a celebration of life in the 19th century.
France And Spain
9. New Orleans, Louisiana
Colonized by French settlers in the early 1700s and ceded to Spain in the 1762 Treaty of Paris, La Nouvelle-Orléans, as it was first called, is a mix of Spanish and French cultures. The architecture, culture, and cuisine are unique to the city, but you'll certainly remark on New Orleans' many iron-lace balconies and narrow streets reminiscent of those you'd find in Europe. The French Quarter feels both Spanish and French, and the vibrantly colored houses in Treme add a Spanish seaside flair.
Dining in NOLA can take you to Europe in a flash. Park yourself at the ever-popular Café du Monde near the French Market for a beignet and chicory coffee. Nearby Antoine's and Galatoire's offer time-tested menus of French-Creole dishes. For a taste of Spain, Barcelona Tapas' paella Valenciana traces its roots back several centuries. You'll pick up some French-inflected words, no doubt, leaving with a renewed sense of "Laissez les bon temps rouler."
10. St. Augustine, Florida
St. Augustine, the oldest city in the continental United States, was founded in 1565 by Spanish admiral Pedro Menéndez de Avilés. The beautiful city has a definitively Spanish feel, and at every turn, you'll see buildings, streets, parks, and monuments reminiscent of the Old Country.
Plan to visit the Castillo de San Marcos, built to protect and defend Spain's claims in the New World. The Fountain of Youth Archaeological Park is said to be where conquistador Ponce de León completed his search for the healing waters. A stroll through St. Augustine's Historic District along Avilés and St. George streets is a cultural foray into four centuries of history, with options for visiting old houses, cemeteries, and The Collector, a cluster of historical homes turned into a luxe inn.
After taking in the Spanish Renaissance architecture of beautiful Flagler College and Moorish Villa Zorayda, enjoy the richness of Spanish tapas cuisine at Sangrias in a historic coquina stone building. Columbia, Florida's oldest restaurant group and a tradition in St. Augustine since 1905, is filled with Spanish tiles and fountains.
11. Santa Barbara, California
Beautiful Santa Barbara began its life with distinctive architecture from Spanish colonists. Adding more and more over the years, the white-washed adobe and hacienda-style buildings with red tile roofs give the city a characteristic Spanish flavor. Santa Barbara's coastal location has earned it the moniker of "The American Riviera," but it might more accurately be called "St. Augustine of the West," thanks to both cities' Spanish colonial architecture. Remaining faithful to Spain's fascination with colors, the city celebrates its heritage through vivid art installations and flags throughout. As you stroll the open-air Paseo Nuevo shopping and entertainment area, close your eyes for a moment — you might just think you've landed in Europe.
Great Britain
12. Carmel-By-The-Sea, California
This one-square-mile California town is the epitome of a European village. The fairytale architecture of Carmel-by-the-Sea is like something from the British Isles. The town serves as the base of one of the most famous artist colonies in the world. Whether your reference point is the Cotswolds or the Emerald Isle, you'll be charmed by the stone-paved alleyways and curlicue-roofed houses that are home to art galleries and shops. Forty-one secret passageways, courtyards, and gardens pass by 21 original fairytale cottages built in 1924 by Hugh Comstock in a style now synonymous with Carmel-by-the-Sea.
Want to see the real thing? Surf our categories for: