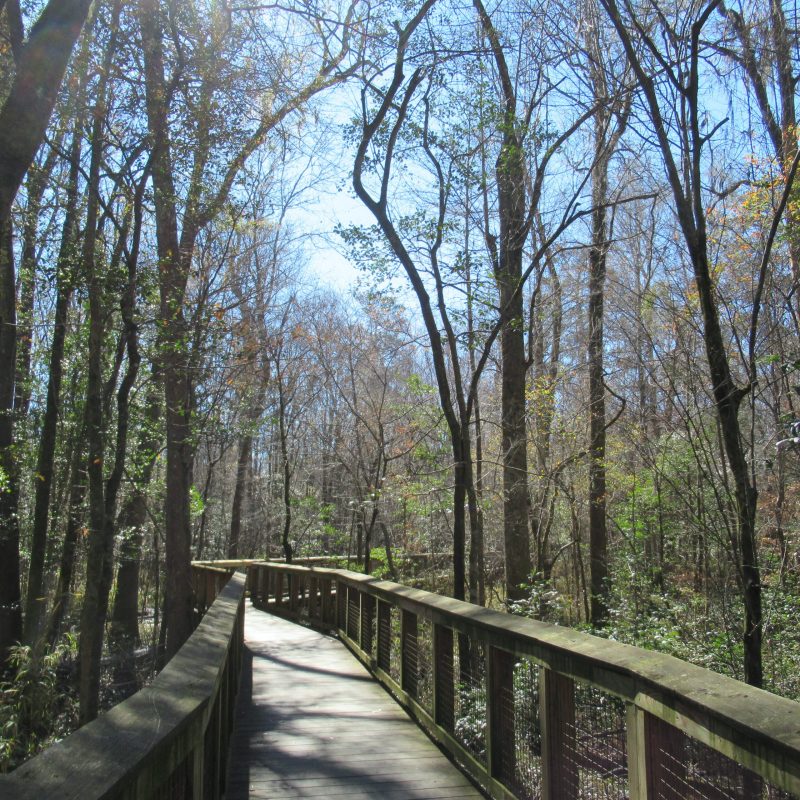 Everyone strives to be the best, but in one very specific category, Congaree National Park is the best.
Located 2 hours northwest of Charleston, South Carolina, Congaree National Park is "the largest intact expanse of old-growth bottomland hardwood forest remaining in the southeastern United States." Congaree Swamp National Monument was established in 1976 and re-designated Congaree National Park in 2003.
These 20,000-plus acres of federally-designated wilderness are made for exploring on foot (our plan), kayak, or canoe. My husband, Dean, and I traveled to this park in February (a little side jaunt on our snowbird trip), and I found it to be full of treasures. Let's take a look…
Pro Tip: If you use a GPS device or app to get there, use the park's address — 100 National Park Road, Hopkins, South Carolina — to get to the right place.
1. Unusual Speed Limit Signs
One of the first things you'll notice in Congaree National Park are the unusual and memorable speed limit signs, which made me smile. The idea is that perhaps people will notice the unique 27-mph speed limit and slow down.
2. The Boardwalk Loop
Most hiking trails start at the Harry Hampton Visitor Center and a great one to try is the 2.4-mile Boardwalk Loop. It's rated easy and a great introduction to the beautiful trees and terrain of the park. In some spots, it's elevated as much as 6 feet above the forest floor. Grab a self-guided walking brochure at the visitor center and walk the boardwalk, following the numbered route that corresponds to the numbers and information in the brochure.
Pro Tip: As of now, there's no fee to visit Congaree National Park.
3. Home Of National And State Champion Trees
The trees are old, they are big, and they are awesome. Some 25 trees in the park boast being the largest of their species. How does Congaree grow these giant beauties? The website explains, "Waters from the Congaree and Wateree Rivers sweep through the floodplain, carrying nutrients and sediments that nourish and rejuvenate this ecosystem and support the growth of national and state champion trees."
Some of the trees are more than 130 feet tall, making Congaree one of the tallest deciduous forests in the world. Its award-winning tree varieties include bald cypress, tupelo, hickory, boxelder, oak, maple, and more.
4. Dorovan Muck
Is mud a treasure? In Congaree, it is! It's so important that it's even got a distinct name: Dorovan muck. It looked like ordinary mud, but the brochure told us it was 8 feet deep at Stop #2. This mud, or muck, is special because it's a mixture of clay and leaves that filters water and turns would-be pollutants in the delicate forest ecosystem into harmless elements.
5. A Rare, Open View Of The Forest
While the forest was quite thick around the boardwalk in parts, Stop #7 on the boardwalk features a rare and open view of the forest. From this vantage point, the brochure told us we could see trees at every stage, from the tiniest seedlings and cypress knees to towering tree champions and decaying logs. This forest has a story to tell in the full cycle of forest growth on display.
6. Bald Cypress Trees
Bald cypress trees are plentiful and amazing. They can live to be more than 1,000 years old, and the wood is nicknamed "wood eternal" because it's rot- and water-resistant. Because it decays slowly, Native American Catawba and Congaree tribes used this wood to build their canoes, some of which remained in perfect condition after even 100 years of use.
Cypress Knees
The bald cypress is also unique for extensive root systems that rise above the water to form what are called "cypress knees," which can be as tall as 7.5 feet. Scientists believe these cypress knees give the tree extra structural support during high winds and flooding.
7. Dwarf Palmettos, Water Tupelos, And Loblolly Pines
Besides bald cypress trees, Congaree is filled with other treasures, including:
Dwarf palmettos (Stop #14) are related to the cabbage palmetto, the state tree of South Carolina. They like sun but apparently are also quite hardy, and freezing temperatures don't phase them.
Water tupelo trees are known for their swollen trunks. They grow at the lowest elevations because they like an abundance of water.
Loblolly pines are the tallest trees. (We saw one that towered more than 150 feet.) Unfortunately, that also makes them a target for lightning strikes. To the trained eye (not mine), rings in a fallen loblolly pine display the tree's history of fire, drought, and rainfall.
8. Stop #15: An Old Still
Congaree has a checkered past, which made it even more intriguing. Passed in 1919, the 18th Amendment outlawed the sale and consumption of alcohol in the U.S. For moonshiners and bootleggers, the tall, forested landscape of Congaree made it a great hideaway to continue operations illegally. As we walked the boardwalk, the brochure at Stop #15 pointed out an iron box that was an old still, a remnant of those days!
9. River Reflections
Congaree is full of simple treasures, like the way the trees were perfectly mirrored in the Congaree River and the Wateree River that flow through this floodplain.
The Congaree River is special because the river is home to the Congaree River Blue Trail, a 50-mile recreational paddling trail. The trail starts in the capital city of Columbia and follows the Congaree River downstream to the endpoint: Congaree National Park. The Cedar Creek Canoe Trail is another (shorter) option and winds approximately 15 miles through the Congaree wilderness. We didn't do this, but I thought it looked fascinating — if you like to canoe or kayak.
10. Park Benches To Enjoy The Quiet
A 2.4-mile walk on a boardwalk is not necessarily taxing, but it's still good to take advantage of park benches along the way. Sit down. Breathe. Listen to the sounds of the forest. There are treasures in the quiet, too.
11. The Weston Lake Hiking Trail
The 4.5-mile Weston Lake hiking trail, just off the boardwalk, is another treasure. Remember the tall trees the park is famous for? We hiked past uprooted tree roots that were taller than Dean. Park literature says this trail is great for spotting wildlife. We didn't see anything but birds, but maybe that has to do with our February timing.
As we followed brown blaze #3, I was fascinated by Weston Lake as an oxbow lake, a term I had never heard. "An oxbow lake starts out as a curve, or meander, in a river," says National Geographic. "A lake forms as the river finds a different, shorter course."
Pro Tip: Most of the park is in a floodplain so the terrain is generally flat, but many trails are in wilderness areas and can be affected by felled trees and flooding, which can happen suddenly. Be sure to check the forecast and current conditions.
12. Mosquito Meter
Back at the visitor center, I noticed someone has a sense of humor. At least, it was funny in February when daytime temperatures average in the mid-50s and the "Mosquito Meter" was "All Clear." Perhaps I wouldn't find it so amusing in summer, when the pesky little critters undoubtedly create the need to declare Congaree a warzone.
Pro Tip: Depending on the season, make sure you are prepared with insect repellent.
13. Unexpected Poetry
Outside the visitor center, I saw another treasure. I don't think my husband had the same appreciation, but the English major in me was delighted to see a whiteboard with these handwritten words, "These woods are lovely, dark, and deep." Stopping by Woods on a Snowy Evening by Robert Frost is one of my favorite poems and so fitting at Congaree. These woods are lovely, dark, and deep.
Bonus: Francis Beidler Forest Audubon Center And Sanctuary
On the way back to Charleston, stop in Harleyville at the impressive Francis Beidler Forest Audubon Center and Sanctuary for another 16,000-plus acres of mostly bald cypress and tupelo gum hardwood forest and swamp. It's another beautiful forest with another beautiful boardwalk trail. Eagle-eye Dean spotted the resident barred owl, perfectly camouflaged in the tree, and I was thrilled to get some photos of him.
Congaree National Park is a hidden gem. It doesn't get the fame of more popular national parks, but it also doesn't get the crowds. When you go, I'm sure you'll find many reasons to treasure the natural simplicity and beauty of this little-known park.
Pro Tip: Review the park's basic info and know that cell phone reception is sometimes unreliable/unavailable here.
Related Reading: