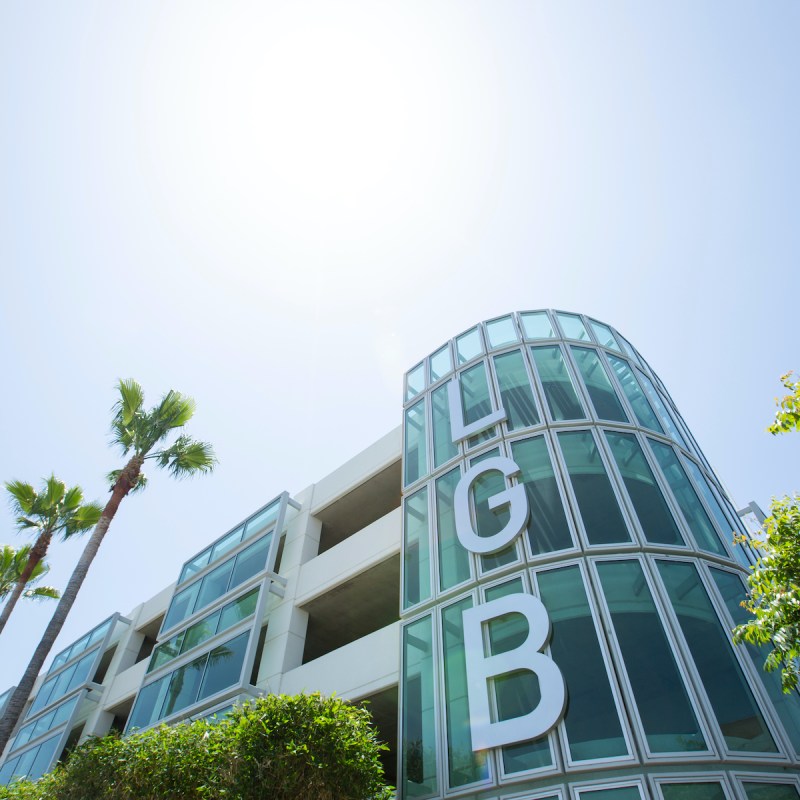 It's one of those airport codes we all know off the top of our heads: LAX. Los Angeles International Airport is a California landmark in its own right, with the iconic arched legs of its Theme Building right up there with Hollywood Sign and the Santa Monica Pier. But look beyond the Tinseltown façade and what lies beneath is an airport the travel company Frommer's calls the third worst in America — behind only Newark Liberty International Airport and New York's LaGuardia. 
Travelers bemoan LAX's brutal traffic, long security lines, disjointed terminal structure, and general shabbiness. Luckily, Southern California boasts five major airports, giving flyers the chance to skip LAX. John Wayne, Hollywood Burbank, and Ontario often top the list of LAX alternatives. But Long Beach (LGB) is quietly rising as one of the best options for an LA-area arrival.
Long Beach Airport has roots in private aviation. It was first known as Daugherty Field, made famous as the intended destination of Douglas "Wrong Way" Corrigan, who ended up in Ireland instead. Its commercial airline offerings started out humbly enough, just serving passengers headed to Los Angeles (specifically the current Hollywood Burbank Airport), San Diego, or Catalina airports. But the airline boom of the 1980s and '90s brought major carriers and commercial flights from markets around the country.
Today, LGB hosts four airlines (American, Delta, Hawaiian, and Southwest) with a fifth (Breeze) starting service soon. Southwest Airlines carries about three-quarters of the passengers here, serving 15 of the airport's 17 nonstop destinations. 
Thinking about grabbing a flight to Southern California through Long Beach? Here are five reasons why you should:
1. Enjoy Short, Sunny Walks With Lots Of Elbow Room
One of the first things you'll notice when you arrive at LGB is just how small it is. The airport has just 11 gates, all lined up along one concourse, with an outdoor courtyard in the middle. Walking from even the furthest gate to the outdoor baggage claim facility in the main terminal building will take less than 10 minutes. Along the way, you'll notice a distinct lack of crowds. At its pre-pandemic peak in 2019, LGB served about 3.5 million passengers — fewer than 10,000 people a day. Compare that to LAX, which that same year served 88 million — nearly a quarter-million people a day. 
Long Beach Airport's concourse is tall and has floor-to-ceiling windows looking out onto the tarmac and runways, letting Southern California sunshine fill the space. When it's time for departure, the gate lounges have plenty of seats, with the walls opposite the windows filled with restaurants and shops serving up typical airport items and fare.
Even though the airport is small, there is one important note for those with mobility issues: Long Beach does not use jetways to board and deboard its flights. Passengers must walk outside to and from the planes, using a ramp to gain access to the aircraft. The airport does have wheelchairs to assist those who need help.
2. Grab A Rental Car Right On The Property
One of the most frustrating parts of flying into LAX is the hassle of getting a rental car. Once you get your luggage, you have to line up for a bus that fights the LA traffic to get you to individual rental car centers located miles from the terminal. But LGB has its rental car facilities on site, literally across the street from the terminal. Once you grab your bags in Long Beach, it's less than a 5-minute walk to the rental car counters.
Six national companies rent at Long Beach (Alamo, Avis, Budget, Enterprise, Hertz, and National), with their cars parked right in the garage where the counters are located. Prices from these major companies are similar to what you'd pay at LAX, running from the same for small cars to a few dollars more per day for larger cars. Long Beach does not host the local deep-discount car rental firms found at LAX, like Fox or Kyte, but wary travelers often avoid these companies due to legal problems with the state.
3. Hit The Road With Better Options For Your Drive
One of the biggest headaches getting in or out of LAX is the dreaded San Diego Freeway, Interstate 405. Locals joke it got its number designation because you'll go "4 or 5 miles an hour" when using it. Federal officials declared it the busiest freeway in America in 2013, and the traffic has only gotten more congested. What that means to visitors is a miles-long jam of drivers all seemingly headed the same place you are — with LAX stuck right in the middle of it. 
Long Beach Airport lies right next to the 405, but the beauty of its location is that visitors have other freeway choices. The 710 (Long Beach Freeway) and 605 (San Gabriel River Freeway) run north and northeast from the airport, giving access to downtown LA and the San Fernando Valley beyond. Those headed east to nearby attractions like Disneyland or Knott's Berry Farm can use surface streets for quick access. Travelers headed further east out of LA proper to the Inland Empire cities of Riverside, San Bernadino, or Palm Springs can use State Route 91 (Riverside Freeway) to bypass LA traffic snarls. 
Travel times are generally better from Long Beach to many Southern California destinations. Disneyland and Knott's Berry Farm are both about a 25-minute drive from LGB (outside of rush hour), while the same trip from LAX runs more like 45 minutes. Downtown LA is about 30 minutes from Long Beach Airport; the drive from LAX can be the same, but it can easily balloon to more than an hour in peak traffic. Heading from Long Beach Airport to Palm Springs will save you at least 15 minutes over leaving from LAX — and possibly an hour or more during the heaviest traffic. 
4. Returning To The Airport Is A Breeze
All good things must end — but your trip to Southern California needn't end as badly as a return to LAX. The heavy traffic you found leaving the airport is nothing compared to what you'll find returning there. LAX is currently in the midst of a 5-year plan to make it easier for travelers and employees to just get to the airport. Until that is complete (and maybe still after), approaching LAX on the ground is a headache. Once you return your rental car, you have to reverse the trip you made by bus, fighting the thousands of cars trying to gain access to the tiny horseshoe called "World Way" that threads past all eight terminals. 
Long Beach has none of that hassle. The roads into the airport are generally clear, with no heavy bus or taxi traffic blocking the way. You'll park your rental car right back in the garage where you got it and then walk across the street to the terminal building.
Once inside the terminal, there is one security checkpoint serving all gates with regular and TSA Precheck facilities. (LGB does not currently have CLEAR services.) The typical wait time at security in Long Beach is 6 minutes. Peak demand happens in the 5 a.m. to 6 a.m. hour and the noon to 3 p.m. hours, with wait times averaging around 30 minutes. Once through security at LGB, your gate is less than a 5-minute walk away. By contrast, LAX has nine security checkpoints spread across its terminals, with the average wait running from 13 to 15 minutes and peak times running as long as 40 minutes — more when systems break down. 
5. Competitive Prices On Non-Stop Flights
All these benefits sound great, but what about the cost to fly to Long Beach? Small airports often lack the competitive pressure of multiple flights across carriers that can drive prices down. But the number of airports serving Southern California helps travelers to LGB and other LA-area airports enjoy cheaper fares. 
Travelers coming from continental U.S. cities with non-stop service to Long Beach (Austin, Chicago, Dallas, Denver, Houston, Las Vegas, Nashville, New Orleans, Oakland, Phoenix, Reno, Sacramento, St. Louis, Salt Lake City, and San Jose) will find fares on par with the costs of other Southern California airports. For instance, at the time of this writing, a mid-month, non-holiday flight from Dallas to Long Beach on Southwest Airlines is running just $210 roundtrip. The same flight to LAX costs $200; to Hollywood-Burbank, it runs $260; and to John Wayne in Orange County, it rings up at about $360. A roundtrip on American Airlines from Phoenix to Long Beach totals $138 — the same fare as Phoenix roundtrips with LAX, Hollywood Burbank, and John Wayne.
If you're coming from a city that doesn't have a nonstop route and need to make a connection, LBG's prices stay competitive. From the New York area, that mid-month, non-holiday roundtrip flight to Long Beach on American Airlines costs just more than $300 — if you're willing to make a connection in Phoenix. A nonstop on the same airline will put you into LAX for about $25 less. Southwest can do the roundtrip from New York LaGuardia to Long Beach for just over $200 if you don't mind stopping in St. Louis or Las Vegas. You'll pay the same to fly to LAX, and you still can't get a nonstop with Southwest (needing to change planes in Chicago, Denver, or Houston).
Pro Tip: Long Beach Airport is 2 years into a terminal improvement plan that will expand its ticketing area and improve its baggage handling systems. Travelers arriving at the airport will see temporary walls, behind which the construction is taking place. That means a little extra noise and dust around the place, but operations are running smoothly despite the construction. The improvements will ultimately add to your travel experience in the future and not get in the way of enjoying this small gem of an airport now.
To flesh out your Southern California stay, read: