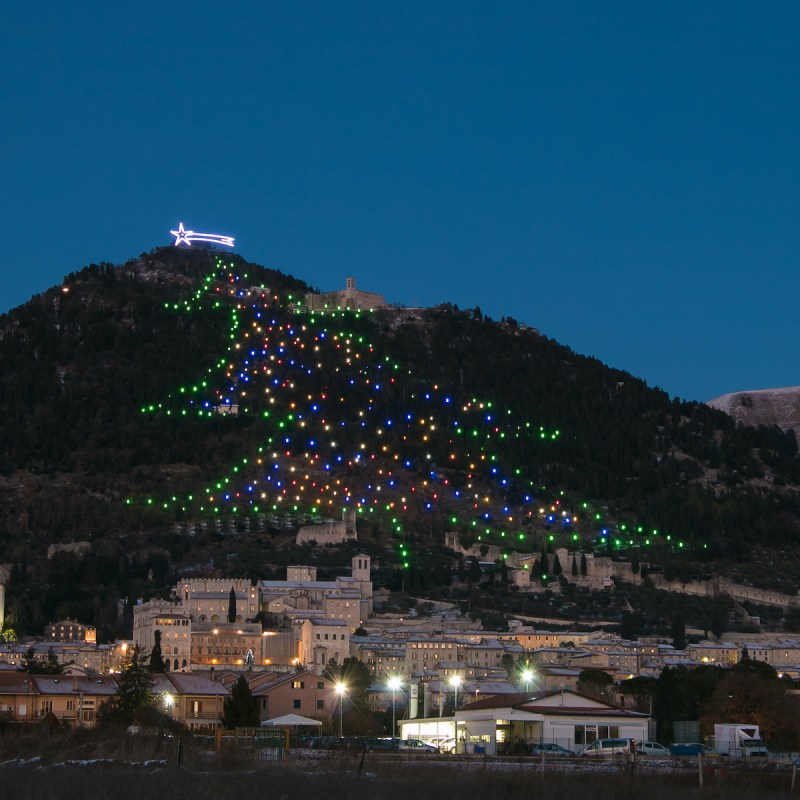 When Christmas comes to the Italian countryside, the smell of a wood fire lingers in the cold night air. In the evening, we can hear the owls call to each other, a sing-song marking their territory. Starting on December 8th, we can see the "biggest Christmas tree in the world" illuminating the flank of the Gubbio hillside in the distance.
Christmas in Italy is a special time, given that most people are Catholic and everyone celebrates the traditions of the season in a similar way. The best part of Christmas in Italy is that it lasts much longer than in most other places. Festivities last from the 8th of December until the 6th of January, the Feast of the Epiphany.
Naturally, special foods and shared meals play a major role, as well as being with family. The more people seated around the table for Christmas pranzo seems to bring the most joy. Last Christmas, my husband and I joined 16 others to enjoy a meal that included wild boar, homegrown rabbit and chicken, roasted lamb, and cappelletti, a ring-shaped pasta filled with savory meats and cheeses served in a fragrant broth.
Cappelletti are a traditional dish for Christmas lunch in Umbria, and I have watched my 87-year-old neighbor and her daughter preparing hundreds of them days before Christmas. Lunch inevitably comes with urges to Mangi ancora! ("Eat more!") And I have learned how to say basta ("enough") and mean it.
Along with all the special Christmas goodies (which I talk about in detail below), here are four of my favorite Italian Christmas traditions.
1. The Omnipresent Presepi
Presepe means "crib" or "creche," and from December 8 until January 6, everywhere in Italy — inside churches, shop windows, and homes — you will find replicas of the scene of Jesus's birth in Bethlehem. This tradition is said to have started with Saint Francis of Assisi in the 13th century, in a cave near the town of Greccio. There he built a manger scene in a chapel where peasants gathered for mass. Since then the tradition has spread throughout Italy, although Naples is perhaps most famous for its artisan presepi statues.
Presepi Viventi
Sometimes a presepe is enacted by real people and animals. Called a presepe vivente ("living creche"), these presepi portray not just the manger scene, but often an entire village complete with its everyday activities and persons dressed up and acting as if they were in Bethlehem 2,000 years ago.
One time we ventured out on a cold windy night to see the local presepe vivente. Despite the freezing cold winds, we could enjoy bread baked on a stick, mulled wine, and see women using ashes to wash their clothes at the well. With the temperatures so cold, we were relieved to find the Baby Jesus portrayed by a doll and Mary and Joseph huddled inside a corner of a cantina waiting for the sightseers to finally go home!
Presepi Permanenti
If you don't make it for Christmas, you can often see what are called presepi permanenti ("permanent creches" that are up year round, often in churches). We once saw one in San Silvestro Monastery in Fabriano. It was made by one of the monks. The beautiful nativity scene alternated between day and night because the monk had painted the buildings with glow-in-the-dark colors, allowing the city to light up without any electricity.
2. Treats For Every Sweet Tooth
Panettone
Italians cannot imagine Christmas without panettone, the traditional Christmas bread that originated in Milan. Panettone is a huge sweet cake, filled with candied fruits, nuts, and/or chocolate. The box will take up half your kitchen counter! In fact, Italians consume 29,000 tons of panettone each year, which equates to nearly 9 pounds for every man, woman, and child!
Pandoro
The pandoro is another popular cake/bread served as a traditional dessert at Christmas dinner. Star-shaped, pandoro is rich with eggs and butter, and served with powdered sugar dusted on top.
Boxes of panettone and pandoro are popular gifts, and one Christmas I ended up with 5 in my house. Last Christmas when I saw a good friend arrive with one, I told her to put it back in her car! They are monstrously dangerous for any diet!
Panforte
But perhaps my favorite Christmas sweet is panforte, the traditional holiday dessert from Siena dating back 1,000 years. This compact, decadent treat contains no flour at all but is loaded with cocoa, fruits, and nuts; sweetened with honey; and spiced with cloves, cinnamon, and nutmeg.
Torrone
Let's not forget the jaw-breaking torrone, the Italian equivalent of nougat. If you don't buy the torrone morbido ("soft"), you can easily chip a tooth on this sugary treat filled with toasted almonds. Traditionally made with honey, sugar, egg whites, and nuts, torrone can even be covered with chocolate. After the holiday meal, torrone is usually served already cut on a plate along with a glass of strong vin santo (holy wine) or homemade nocino (an Italian walnut liqueur).
3. The Christmas Vigil
Christmas eve is a special time in Italy, equating to family, fish, and midnight mass. As a traditionally Catholic country, most Italians will not eat meat on Christmas Eve. But that doesn't mean there isn't a feast! Italians don't just enjoy one fish dish; it's almost as if they think because there isn't any meat, that must mean you need at least 5 or 6 fish dishes — from calamari to baccalà (which is salted cod) to eel.
The women line up early that day at the fish shops to buy the best, freshest, and often most expensive fish to feed the tableful of relatives who will descend on them that evening. Fish is served in a variety of ways — raw anchovies floating in olive oil, garlic, and parsley; fried squid; clams with pasta or potatoes; sea bream smothered in coarse salt and then baked — all depending on the region and traditional family recipe.
After the evening meal, everybody (even the least pious) heads off to midnight mass. The churches are usually packed that evening and on Christmas Day.
Did you know that the tradition of singing Christmas carols actually started in Italy in the 13th century, under the influence of Francis of Assisi? From Italy, singing popular Christmas songs spread to France and Germany. Two of the most popular songs you will hear in Italy are "Tu Scendi Dalle Stelle" (or "You Come Down from the Stars") and "Astro Del Ciel" (or "Silent Night"). Click here to listen to Andrea Bocelli's rendition of "Silent Night" in Italian.
4. La Befana
While Babbo Natale (Santa Claus) can be seen in Italy during Christmas, it's La Befana (The Good Witch) who traditionally delivers gifts on Epiphany, or January 6. A national holiday, Epiphany is considered the last day of Christmas. Presepi vivente typically enact the arrival of the Magi or Three Wise Men paying homage to the Baby Jesus that day, complete with real camels and a royal entourage. However, it is La Befana who steals the show. Flying in on her broom, she gives good children gifts and treats, while the bad boys and girls get lumps of coal.
According to legend, La Befana herself was visited by the Three Wise Men, who sought her help in locating the newborn Jesus. Stopping at Old Befana's cottage, they asked if she knew where the Child was. When she admitted that she did not, the Wise Men bade her farewell and went on their way.
La Befana, however, decided that she would join the search. Setting off on her broom, she carried a large sack of gifts to give to Jesus if and when she found him. Unfortunately, La Befana lost her way and never did arrive in Bethlehem. Nevertheless, she has never given up the search. Each year she takes to the skies, renewing her quest to find the Child. Whenever she nears a house in which children are living, she stops to see if one of them might be the child she seeks. It never is, but Old Befana leaves gifts for them anyway.
Throughout Italy, you can buy your own Befana doll to hang from your ceiling and fly around your living room. In my village, the children gather in the church on the afternoon of January 6th to excitedly wait for her arrival. One of the village women does her best to disguise herself with a headscarf and fake nose, carrying a bundle of toys and sweets to pass out to the eager children. But everybody always has the most fun trying to guess who in the village she really is!
Italy Does Christmas Well
Christmas is a special time of year wherever you are, but Italians seem to know how to celebrate it best. Whether it's the delicious food, religious spectacle, family spirit, or ancient folklore traditions, even the most humbug of Scrooges will end up joining in the fun and saying "Buon Natale!"