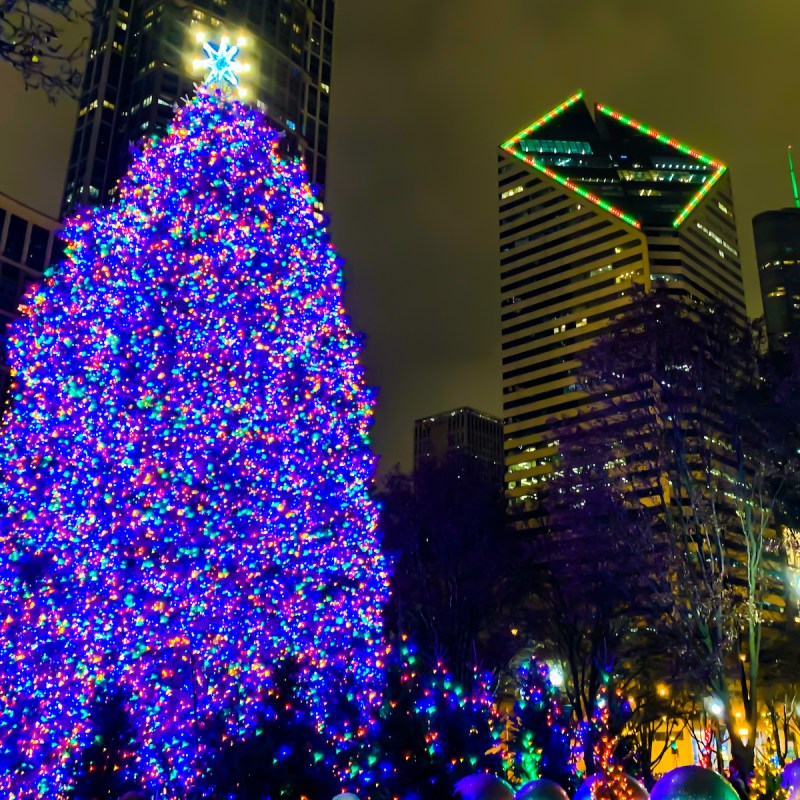 One of my favorite holiday activities is viewing the festive light displays that make the season oh-so bright and merry. Chicago and its surrounding suburbs are especially dazzling with an array of events and experiences, many accompanied by holiday and symphonic music, interactive features, high-tech imagery, and other-worldliness. Follow along as I guide you to some of my favorite holiday light displays, in no particular order, in the Chicago area. I also let you know which ones require tickets and which ones are free.
Pro Tip: Most holiday light displays run mid-November through New Year's Day, but exact dates and times will vary. Check the websites so you won't be left in the dark.
Chicago City Holiday Lights
1. ZooLights, Lincoln Park Zoo
The city's historic Lincoln Park Zoo is transformed into a winter wonderland called ZooLights. Now in its 28th year, the annual event features hundreds of themed 3D and LED light displays set amid the sprawling grounds and animal habitats.
Wander along the pathways, and you'll discover a light tunnel, a choreographed light show on the lawn, an interactive light maze, and even a Ferris wheel. Many of the lights are configured into animal shapes and figures like paw prints, sprinting tigers, dancing penguins, and monkeys leaping from vine to vine. On weekends, look for live ice-carving demonstrations and roaming carolers.
Many of the zoo's denizens will be sleeping after dark, but the aquatic creatures may pop out to see what the fun is all about.
When you're ready for a break, stop at the holiday-themed pop-up bar, where you can roast s'mores over an open fire, savor hot drinks and specialty cocktails, and indulge in sweet treats.
Tickets are required to visit ZooLights — even on Mondays, when admission is free. Rides and special attractions like the carousel, kiddie train, and Ferris wheel are additional.
Pro Tip: Order your timed tickets in advance to assure you can get in. It's sure to get crowded closer to the holidays.
2. Christkindlmarket, Daley Plaza
The annual German outdoor holiday marketplace positively glows beneath the city's monumental, unnamed Picasso sculpture in Daley Plaza. It's the Christkindlmarket, where dozens of brightly lit red-and-white-striped wooden booths purvey all sorts of imported gift items and tasty delights.
Meander for free amid the cheery live music and wafting smells of roasted nuts and hot spiced wine. Shop for Christmas ornaments, cuckoo clocks, hand-knit textiles, beer steins, and more. A favorite souvenir is the collectible mug, which is different every year. Indulge your taste buds in sweets and savories, perhaps hot chocolate and pastry, or my favorite — long, skinny bratwurst links topped with sauerkraut.
Be on the lookout for Christkind, an elusive and angelic being dressed in white and gold robes who, according to folklore, brings gifts to German children on Christmas Eve.
Additional Christkindlmarkets are held in the Chicago neighborhood of Wrigleyville and suburban Aurora.
Pro Tip: Head one block east on Washington Street to 111 N. State Street, where Macy's window and facade decor always draw a crowd. Take the elevator to the 7th floor to view the 45-foot Great Tree anchoring the historic Walnut Room restaurant. This year the tree is trimmed with a toy shop theme.
3. Christmas Around The World, Museum Of Science And Industry
In the magnificent rotunda of the Museum of Science and Industry, the towering four-story Grand Tree anchors the annual Christmas Around The World exhibition. The tree is surrounded by a forest of 50-plus smaller trees decorated with lights and handmade ornaments to showcase holiday traditions and cultures around the globe. Countries represented this year include Kenya, China, Finland, and Syria. A special tree honors the Chicago Sky's historic Women's National Basketball Association championship win.
A companion exhibit to Christmas Around The World is Holidays Of Light, which presents symbolic items and ornaments used to celebrate Diwali, Chinese New Year, Hanukkah, and other shining holidays.
Both exhibits are included with museum admission, and advance ticket reservations are required.
4. The Nutcracker, Art On theMART
Formerly known as the Merchandise Mart and renamed "theMART," the historic 25-story Art Deco structure spans two city blocks on the Chicago River. Since 2018, the southern facade has become an immense projection screen for Art On theMART, a showcase for renowned artists and contemporary moving digital art. Programs — referred to as "projections" by the makers — run year-round and change seasonally.
During this year's holidays, the lineup features a return of The Nutcracker, the beloved tale of a young girl who receives a nutcracker for Christmas and finds herself transported to a magical world. Animated images and production photography from the Joffrey Ballet, Chicago's resident ballet company are accompanied by Pyotr Illyich Tchaikovsky's rousing score.
The free program runs nightly at 7:30 p.m. and 8 p.m.
Pro Tip: For best viewing and to hear the audio, position yourself across the river from theMART on the Chicago Riverwalk between Franklin and Wells streets.
Chicago Suburban Holiday Lights
5. Illumination: Tree Lights, Morton Arboretum, Lisle
A jewel of the western suburbs any time of year, Morton Arboretum in Lisle is an internationally known tree-focused botanical garden and research center. Sprawling over 1,700 acres are dozens of specialty tree collections and several thousand plant types. It was founded a century ago by Joy Morton of Morton Salt fame.
The arboretum's signature holiday event is Illumination: Tree Lights, where nature, technology, and art merge beneath darkened skies. The landscape is painted with a rainbow-hued palette of beaming, chasing, twinkling, flashing, cascading, and rolling LED lights. It's a dazzling innovative experience where you'll see trees in a new light. A gentle 1-mile paved walking path leads into the woods and past Meadow Lake to 18 different illuminated features.
My favorites are the Festival of Lanterns, where more than 100 overhead chandeliers hang from tree boughs, and Symphony Woods, where an illuminated field and forest seems to dance in time to the music of the Chicago Symphony Orchestra. Some features are interactive like the Hug-A-Tree that changes color when you give the trunk an embrace.
A new event I'm looking forward to this year is the limited-run Electric Illumination, an adults-only, late-night experience where the light displays are synched to trance and progressive music. I also want to see the laser-light finale at the new Grand Garden, which opened in September to commemorate the arboretum's centennial.
Timed reservation tickets are required. Advance purchases are highly recommended.
Pro Tip: Don't fret about being too cold while strolling the trail. You'll find crackling bonfires and tented concession stands, so the s'mores and hot chocolate aren't far away.
6. Holiday Lights, Lilacia Park, Lombard
Lilacia Park in west suburban Lombard is nationally known for its brilliant lilac and tulip displays each spring. In fact, the nearly 9-acre community park was listed on the National Register of Historic Places for its contribution to horticultural history. In December, the park's Holiday Lights exhibition dazzles nightly with seasonal joy, and, from my annual visits, it seems to grow with more color and more lights every year.
Meander the winding walkways through hundreds of decorated trees and shrubs, animated animal figures and choo-choo train, a gingerbread house, a canopied bridge, and photo ops galore. It's all free, with plenty of street parking.
Pro Tip: Lilacia Park is footsteps away from the Lombard stop on the Union Pacific West Line of the Metra commuter train from Chicago.
7. Lightscape, Chicago Botanic Garden, Glencoe
Chicago Botanic Garden in north suburban Glencoe is a magnificent 385-acre living plant museum with dozens of cultivated gardens, natural areas, and waterways. Nature-themed events fill the calendar all year, but the holiday Lightscape is a nightly spectacle that brings the natural world alive through light, color, fire, and music.
Follow an easy, illuminated 1.25-mile-long trail to view special features like fire and Japanese gardens, gigantic "flower" sprays, and lanterns galore. Perhaps the most dramatic — and widely photographed — feature is the Winter Cathedral, in which blankets of string lights form a pointed archway like those often found in church architecture.
A new exhibit I'm looking forward to seeing is called Starscape. We'll enter a 130-foot-long tunnel to be surrounded by 700-plus handmade acrylic stars and flashes of animated color.
Timed reservation tickets are required, but buy early. This event sells out every year.
8. Sparkle Light Festival, Rosemont
I haven't been to the Sparkle Light Festival yet because it's all-new this year, but it's definitely on my list. Rosemont's vibrant entertainment and convention district is perpetually reinventing itself by piling on the fun and glitz.
In addition to brilliant light displays, Sparkle Light Festival features a host of outdoor recreational activities. Stroll through five "villages" or areas of light and decor with themes like Snowflake Circle and Winter Wonderland. You can also ride the Holly Trolly train, fend your way outside a maze, tube down a two-story alpine slide, and more.
Sparkle Light Festival is held at Impact Field, home of the Chicago Dogs independent league baseball team.
Timed ticket reservations are required. Unlimited tubing and the all-you-can-eat buffet are extra.
Pro Tip: If you still have holiday shopping to do, my favorite indoor mall, Fashion Outlets of Chicago, is across Balmoral Avenue.