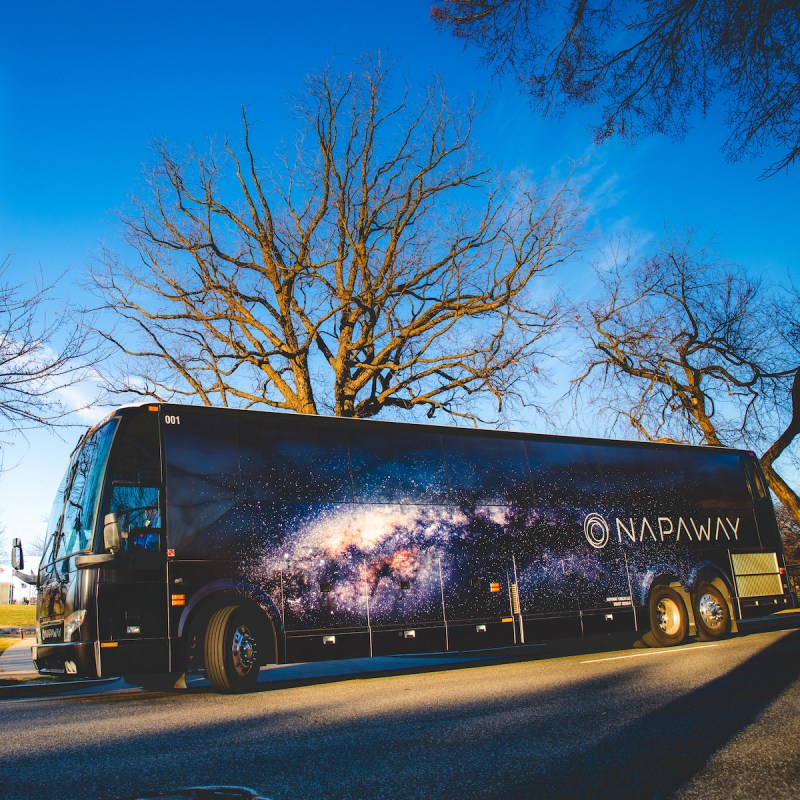 If flying is keeping you from traveling — whether it's inconvenience or fear — a new premium sleeper coach service may help you take that trip. Napaway is a new type of travel that offers comfortable, convenient, overnight journeys between cities across the country.
"We all want to travel more, but most of us rarely do — because traveling isn't easy. That's why we set out to build a method of travel that's convenient, comfortable, and stress-free," said Napaway founder, Dan Aronov.
Napaway sees itself as the alternative to the stress and discomfort of air travel by offering private suites and lie-flat beds creating an easy, relaxing experience.
Napaway Routes
Right now, Napaway trips go from Washington D.C. to Nashville and back, with a stop in Knoxville.
"D.C. was a natural starting point for us because it's the middle of the coast, we can go in all directions, it's a densely populated area and it's on the east coast. Nashville was picked primarily based on looking at the number of travelers and availability of alternative options," says Aronov.
A regular schedule leaves Washington at 10 p.m. on Friday, stops in Knoxville at 6:15 a.m. on Saturday, and arrives in Nashville at 8 a.m. For the trip from Nashville, the trip departs on Sunday at 7:30 p.m., stops in Knoxville at 11:20 p.m., and arrives in Washington D.C. on Monday at 7:30 a.m. There is a special holiday schedule with additional routes.
Tickets will begin at $125. Additional days and routes will become available in the coming months.
Napaway Personal Suites
Napaway's concept divides its coaches into 18 private suites. Each has over 13 square feet of usable space. There are 48 inches of legroom and 40 inches of hip width. It has two seats that can be folded down into one 6.5-foot-long, 40-inch-wide life-flat bed, with a half-inch memory foam mattress pad. They can be transformed into a personal lounge or two separate seats. There is a full-size pillow, sheets, and blankets.
These innovative convertible suites were developed in close collaboration with Butterfly Flexible Seating Solutions, an industry pioneer in traveler comfort, and are based on the patented Butterfly® flexible seating concept currently in development for the aviation industry.
"We've had very positive feedback from those who have been on board. The most common refrain I've heard is 'I slept really well — better than I was expecting,'" says Aronov.
You can also get work done if you need to with a proprietary 14 by 13-foot fold-out desk with features like power outlets, USB ports, cup holders, and lots of pockets.
Other Napaway Amenities
To help you get a good night's rest, Napaway provides a Nap Kit to each passenger. It includes a Napaway eye mask, a set of earplugs, a toothbrush and toothpaste, face wipes, and a bottle of water. Snack items are available to buy when the coach makes a stop.
Napaway also offers a free entertainment package that includes high-speed Wi-Fi, fast enough to stream your favorite services like Netflix or Hulu, an onboard library of movies and TV shows you can access on any device, and ways to mount your devices so you don't have to hold them.
Each Napaway has one airline-style restroom, meaning there is one restroom for 18 people.
Why Napaway?
Napaway believes that not all time is created equal. Sleeping time isn't equal to awake time, relaxed time isn't equal to stressed time, and productive time isn't equal to unproductive time. Napaway says you're going to spend 8 hours in bed away, so why not spend the time getting a good night's rest while headed to your destination?
To read other articles about road trips, check out: