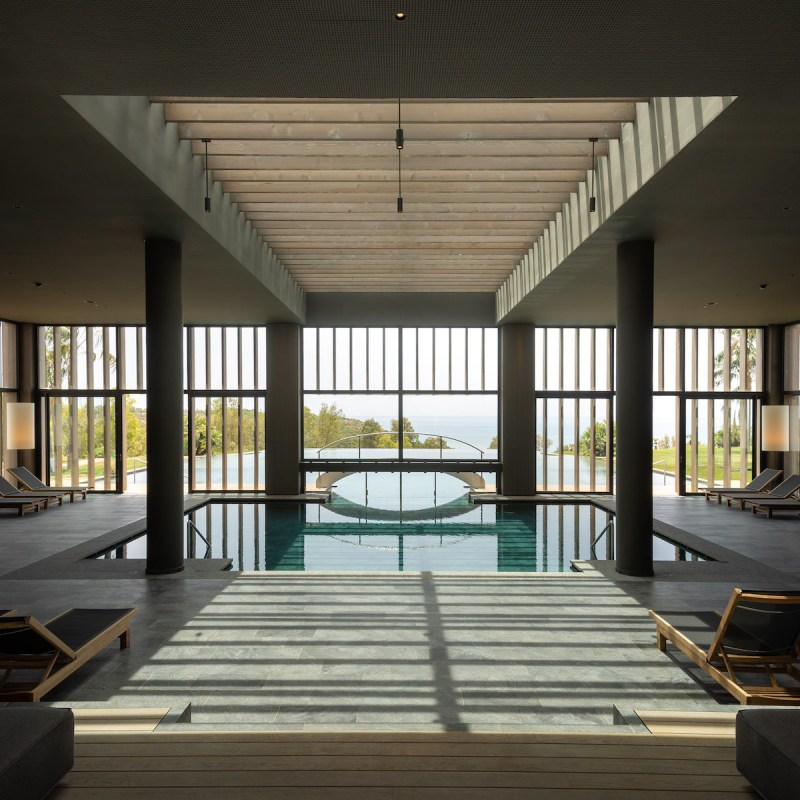 Returning to Sicily after 16 years was a pandemic dream, and I realized while on Italy's most celebrated island that selecting the right hotel can transform one's entire experience, creating memories that last a lifetime. Situated in areas ripe for exploration, gain a deeper appreciation for Sicily's diverse landscapes with a stay at these boutique hotels that offer fascinating history, tantalizing traditional cuisine, and undeniably stunning views.
Pro Tip: Consider visiting Sicily during shoulder season (spring and fall) when the temperatures are less extreme and the crowds less intense.
1. Casa Cuseni
Taormina
Deemed a National Monument of Italy, this yellow villa in the hilltop town, 650 feet above the Mediterranean Sea, can now be experienced as a living museum tribute to its alluring past. Casa Cuseni welcomed artists and scholars from all over the world in the first half of the 20th century, including Pablo Picasso, Salvador Dali, Roald Dahl, Daphne Phelps, Henry Faulkner, and Tennessee Wiliams. Ernest Hemingway wrote his first short story here. The property's dramatic location surrounded by multi-tiered historical gardens was designed and built by British artist Robert Hawthorn Kitson in the 1900s. Besides the stunning cliffside views atop the ocean with fiery Mount Etna in the distance, this hotel is a short walk to the romantic bougainvillea-swathed Taormina town filled with boutiques, restaurants, and cannoli and gelato shops as well as the ancient Greco-Roman theater still used today.
Sleep where former greats created big ideas and admire works by these masters who shared their traveling experiences here as the hotel is the official Museum of Fine Arts in Taormina. Soon guests will be able to luxuriate in a pool in the lower gardens with panoramic views. Recently, Casa Cuseni was the hub for the 2022 Taormina Film Fest, while Christian Dior and many other notables have held events here.
Since the villa is situated on a steep hill, staying at Casa Cuseni is advisable for those who are comfortable climbing a fair number of stairs to reach the hotel. The short walk to town can be arduous.
Pro Tips: Book the Greta Garbo suite (with her original chair), pop open an outstanding (and reasonably priced) Sicilian wine in the room from Mount Etna, and watch the sunset's pastel colors melt on the sprawling sculptured terrace. And don't miss the generous homemade breakfast with Italian treats served on the top floor with even more grand views of earth, wind, and fire.
2. Hotel Gutkowski
Ortigia/Syracuse
In ancient Ortigia, an island connected by three land bridges from Syracuse in southeast Sicily, find the quaint hip Hotel Gutkowski at the edge of the sea, in the center of town, where the location makes it easy to walk the labyrinth of narrow streets to explore many attractions. Two and a half thousand years of history exist here with numerous ruins and gorgeous churches like the Cathedral of Syracuse.
The Piazza Duomo dates back to 5th century B.C. and is within a few minutes' walk, as is the Temple of Apollo, arancini (deep-fried stuffed Italian rice balls) shops, the famous Fountain of Arethusa, the Jewish baths, a seaside promenade, museums dedicated to papyrus, puppets, and the innovations of Archimedes and Leonardo Di Vinci, and oh so much more.
Once former fisherman homes in 19th-century buildings, the restored hotel's two properties share 25 rooms. Foyers are filled with eclectic furniture and artsy, intriguing decor. Rooms are simple but come with incredibly comfortable beds. The complimentary breakfast is loaded with local delights like plates of cheeses and traditional milk biscuits, seasonal fruit and cherry tomato salad, organic eggs and honey, homemade yogurt and jams, and a wide selection of cereals and breads. At the end of a long day of admiring Ortigia's Greek heritage, rest your weary legs atop the hotel's open-air terrace above the sea, perfect for sunset aperitivo.
Pro Tips: Book a room with a sea view. Don't miss dinner at the hotel outside on the street, where guests indulge in millefeuille eggplant, pasta with anchovies and lemon bread crumbs, grilled sea bass, and Sicilian Brut from Mount Etna. Parking can be challenging, so it is best to walk from the train or be dropped off.
3. Giardino Sul Duomo
Ragusa Ibla
First, your car spirals up through tightly carved roads to the top of the baroque town of Ragusa Ibla in the southern part of Sicily, then your mouth may drop as you enter Giardino sul Duomo. This sanctuary, perched atop a cliffside with a panoramic view of the old town, is just a short walk from the historic town center, a UNESCO World Heritage Site. Swoon over palaces, garden parks, and churches dating back to the 17th century. Today the area is famous for the TV series Inspector Montalbano.
An included continental breakfast is served poolside under the citrus trees in this extraordinary ancient setting and is an exciting way to start a day. Listen to the church bells as you are transported back in time and cool off from the Sicilian heat with a refreshing dip in the pool for sunset aperitivo. For less than 120 euros a night, you might quickly realize one day here is not nearly enough.
Some rooms hang over the meandering alleys with balconies offering direct views of the church in the Piazza Duomo. Shops, restaurants, and cafes abound, making it easy to sample Italian dishes like Pasta alla Norma, mussel soup, lobster pasta, arancini, and mortadella pizza.
Be ready to sweat as the slender streets require some climbing.
Pro Tips: Book dinner in advance at Duomo Ristorante, the 2-star Michelin eatery that sits directly across from the hotel. Ask for a room situated above the charming streets. If the hotel is sold out, the neighboring sister property, Neropece Suites, offers stylish quarters with private terraces located in what looks like a former wine cellar but is actually where farmers once lived and housed their livestock.
4. Whitebay Resort
Fontane Bianche
You might think you are in the Caribbean in the beachside enclave of Fontane Bianche, located about 7 miles above Siracusa on the Ionian Sea. The seaside resort and spa dubbed "7 steps away from the sea" was a surprising discovery as we wanted to be located somewhat near the Catania airport.
A nearby walk in the adjacent neighborhood looked as if fancy homes had been abruptly abandoned long ago, although many estates and a yacht club still exist here. While there may be no actual centrally located business district, there is no need to leave Whitebay Resort. Wade into the calm aquamarine water and appreciate the beauty of the secluded section of sand with petite white coastal cliffs in view — where we watched locals break off pieces to use as natural mud masks in the sea.
Throughout the property, guests can admire massive colorful elaborate paintings from artist Alessandro Sanfilippo that push the viewer to reflect. I met him on the beach for complimentary sunset yoga, taught in Italian, of course, where he shared with me that the painting in the lobby hallway took over 5 years.
Atop the resort, guests happily dine on traditional Sicilian dishes at the sprawling terrace restaurant with scintillating ocean views. A continental breakfast buffet showcases seemingly endless options, making it a nice way to try the local cuisine. Fresh seafood platters arrive with olive oil and the famed pink shrimp. Sample stuffed seafood cannolis, various pastas, and red Sicilian Frappato wine.
Pro Tip: Request a sea view room with a terrace and direct access to the beach. To amp your stay, book the Spa Suite with private access to the sauna, steam room, and ocean views from the indoor pool that are all yours from 10 p.m. until morning.
5. ADLER Spa Resort SICILIA
Siculiana (Agrigento)
This newly opened oasis features the natural environment as the star. The ADLER Spa Resort SICILIA rests on a plateau overlooking the Mediterranean sea with a fragrant pine grove and ribbon of golden sand separating it from the sparkling waters. Situated next to the Salsa Nature Reserve, flora and fauna abound in this unspoiled coastline in the province of Agrigento, an hour and 40 minutes from Palermo and Trapani.
The environment and construction were thoughtfully considered to create perfect harmony with the landscape, reminding me of the clean lines, neutral colors, rectilinear forms, and earthy materials of Nobu Hotels. Each modern-style room crafted with natural woods comes with a private terrace with access to the gardens and pools, providing both seclusion and sea views. For those who want to put their toes in the sand, guests can access a private sheltered sandy beach below.
Find the utmost zen at every turn, whether that be Sicilian fine dining with a sunset vista or a massage at the contemporary spa complete, with far-reaching views of the coast and azure waters below.
Pro Tip: Book a unique package stay, such as a yoga retreat, a gourmet tasting experience, detox days, a romantic escape, and more.