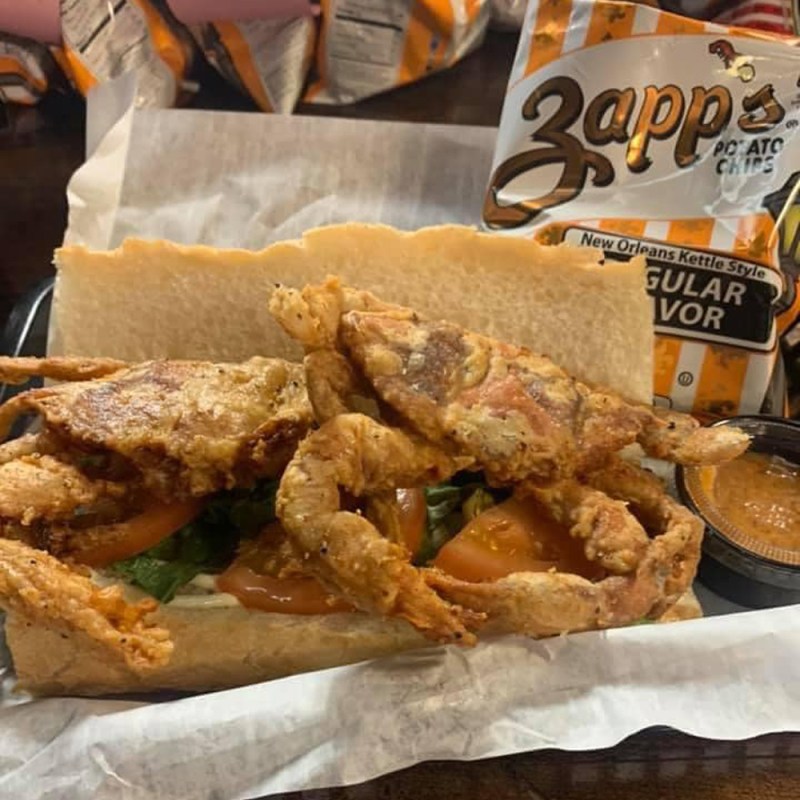 The history of Mobile, Alabama, is quite amazing. Having been established by the French in 1702, the city has been under not one but four international flags — France, Britain, Spain, and the United States. With over 320 years of history and such a wide and diverse collection of cultures being established in the city, you can well imagine that Mobile has quite the eclectic collection of dining experiences, and it does.
The Mobile area has seen not only a revitalization of some of its famous classic restaurants but also a burst of incredible new dining experiences popping onto the scene. Let me introduce you to some of my favorite restaurants in Alabama's Port City and a couple of Mobile treats that have become city traditions as well. Just don't ask me which one is my favorite. They all serve up equally delicious menus (or, in the case of my last three picks, delicious sweet treats), so this list is in no particular order.
1. Debris Po-Boys And Drinks
A New Orleans' specialty, the po' boy, is given a Mobile twist at Debris Po-Boys and Drinks at 276 Dauphin Street.
Debris' wall of six doors face out onto historic Dauphin Street and are open during business hours (weather permitting), allowing a cool breeze to infiltrate the scene during the hot months of summer while the music and excitement of the entertainment district wafts in.
Everything on the menu is made in-house daily including their incredible seafood gumbo.
On The Menu At Debris Po-Boys
A po' boy is a sandwich that is literally stuffed with just about anything you can imagine slathered in a gravy or sauce, and Debris has perfected them! the Debris po' boy is the establishment's anchor sandwich: mouthwatering, melt-in-your-mouth slow-cooked braised beef shoulder and short rib topped with provolone, lettuce, and, of course, plenty of au jus.
A personal favorite is the fried soft shell crab po'boy: crispy fried blue crab served over a bed of lettuce, tomato, and pickles and either remoulade, cocktail, or tartar sauce.
Pro Tip: There is no need to worry about a place to sit. Debris is noted for their 50+ foot bar lining the wall as you walk in, which comfortably seats 30, and there is ample outdoor seating. That said, during Mardi Gras and Friday and Saturday nights, plan to get there early. Dauphin Street will be packed with people.
2. LoDa Bier Garten
A unique restaurant for downtown Mobile opened on New Year's Eve, 2012, and quickly became a Mobile dining favorite — the LoDa Bier Garten.
LoDa can be found at the corner of Dauphin Street and South Joachim. What makes it unique in Mobile is that it is an authentic German pub. LoDa features the largest selection of beer in the Southeast with over 100 on-tap draft beers and an additional 100+ bottled beers.
Stepping into the Bier Garten, one is immediately struck by its fun, vibrant yet cozy and friendly atmosphere. The restaurant has outdoor dog-friendly seating and is well known for their delicious towering burgers. In fact, they are regularly voted the best burger in town by locals.
Amaze your friends with a little trivia: LoDa stands for "Lower Dauphin," as in Lower Dauphin Street.
On The Menu At LoDa Bier Garten
Begin with a starter, an authentic German soft pretzel served with a unique beer cheese dipping sauce, or spice it up with a Jalapeno Jack Pretzel with jalapeno jack cheese blended right into the dough.
Then it's off to the burgers. A favorite is the Saenger. Named after the famous theater next door, the Saenger is the Bier Garten's take on a bacon mushroom Swiss burger but with a huge twist — the mushroom on the burger is an entire fried Portabella cap that is topped with a good helping of herb aioli sauce served on a soft bun.
Pro Tip: Loda Bier Garten is located next to the historic Saenger Theater, making it the perfect place to grab a bite to eat or a beer or cocktail after a concert or play.
3. Original Oyster House
The Causeway (U.S. Highway 90/98) that spans the width of Mobile Bay from the city to the bay's eastern shore is dotted with amazing seafood restaurants. Arguably one of the most popular is the Original Oyster House, which is located only 5 miles east of the city.
The Oyster House originally opened in 1983 in Gulf Shores. Its success led to the opening of this location on Mobile Bay in 1985, and they have never looked back.
The restaurant serves up the best of both worlds — an aperitive menu of the freshest, most delicious locally harvested seafood plus a show: a gorgeous golden sunset overlooking Mobile Bay.
On The Menu At Original Oyster House
I am a sucker for a great gumbo and a cup or bowl of this traditional Southern dish is always my go-to to get things started at the Oyster House. The chefs use an old Mobile Bay recipe and fresh, locally caught seafood that includes fish, shrimp, and crab meat swimming in a bacon-rendered roux over rice.
Being the Original Oyster House, it goes without saying that the menu has a lineup of incredible oyster dishes running the gambit from Oysters Rockefeller to Parmesan Garlic Oysters, but for the main meal, I go for the Shrimper's Delight, a plate full of crispy fried, boiled, and stuffed shrimp along with a slightly sweet crab cake and flounder filet. As for cocktail sauce, the wait staff will gladly show you how to make your own with the ingredients provided at each table.
Pro Tip: The Oyster House is always packed for dinner no matter what day of the week it is, so get there early. Reservations are only accepted Monday through Thursday for groups of 10 or more.
4. Bluegill Restaurant
Another fabulous seafood restaurant located on the Mobile Bay Causeway is the Bluegill.
Located next door to the Original Oyster House, the Bluegill — which is described as a "great local dive" — has been offering up those famous bay sunsets from their covered outdoor deck and an eclectic array of entertainment spanning genres from Southern rock to 1940s big band and swing music since 1958. Oh, and the fresh, Gulf and bay seafood is amazing.
On The Menu At Bluegill Restaurant
The Bluegill is famous for its Flamin' Oysters, fresh locally sourced oysters cooked up over a flaming hot grill then served at your table still sizzling. The oysters are topped with a special seasoned butter, a drizzle of cheese, and then more butter and can be ordered by the half or full dozen.
A personal favorite is the Crabby Patty po' boy, a toasted bun crammed with Gulf crabmeat, lettuce, and a special remoulade sauce. Don't forget the spicy Voodoo Sauce!
Pro Tip: Parking can be a challenge at the Bluegill, but be patient. You'll find a spot.
5. A&M Peanut Shop
I've talked about dining experiences in Mobile — now let me introduce you to a few of the incredible shops that dot the city streets and offer something for the sweet tooth in all of us, or just a quick snack, beginning with A&M Peanut shop and followed by two other eclectic treats.
A Mobile tradition, the A&M Peanut Shop on Dauphin Street across from Bienville Square has been serving up hot roasted peanuts and popcorn to Mobilians since 1947, but A&M has more than just your standard roasted peanuts…although they are the best around and are still roasted in the original roasters. The shop offers up dozens of varieties of nuts like Brazil, Virginia, and spicey Cajun, to name only a few.
Pro Tip: You will also find tons of delicious candies in A&M's glass counters.
6. Three Georges Candy And Nuthouse
Speaking of candy, Three Georges is another Mobile tradition. Located in the old Harris Grocery building that was built in 1866 on the corner of Joachim and Dauphin streets, Three Georges has been making homemade candies and fine confections since 1917, including their famous Heavenly Hash, Southern Pralines, and Holiday Peppermint Chocolate.
Oh, and don't forget their selection of nuts that are available in a variety of tins.
7. Mo'Bay Beignet
Celebrate Mobile's French history with the sweet goodness of a French donut, a beignet, from Mo'Bay Beignet on Dauphin Street. Mo'Bay's beignets are made fresh daily in house. Crispy on the outside, light and fluffy on the inside, and topped with a good dose of powdered sugar, you will find that you can't stop at eating just one
Pro Tip: Top our Beignet off with a Café au Lait Frappe, and your day is off to a great start.
More Mobile Restaurant Pro Tips
For downtown dining, the Dauphin Street Entertainment District can be very crowded any time of the day. While there are metered parking spots along many of the streets, your best bet is to use one of the many lots and parking garages that dot the city.
And don't forget that many downtown streets are blocked during Mardi Gras season (the two weeks before Lent begins). Visit the online home for all things Mobile Mardi Gras for details, the Mobile Mask.
Finally, keep in mind that this is only a brief list of the dozens of incredible dining experiences you can have when visiting Mobile. Visit the city's website for a complete list.