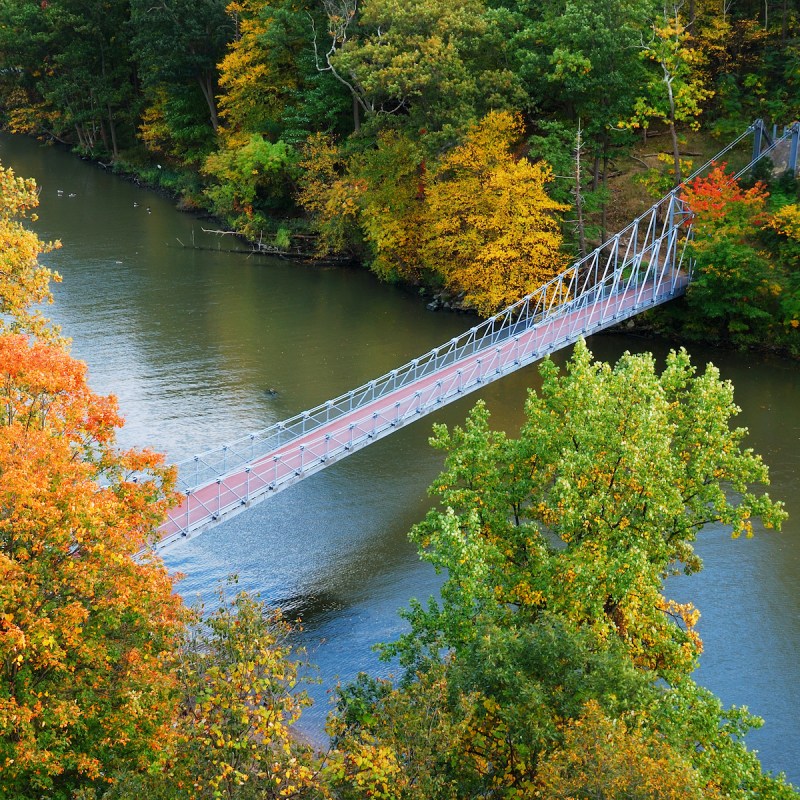 Get into the fall season with a trip up the Hudson River. Circle Line is celebrating the return of its annual Bear Mountain Cruise. Enjoy the sights of the autumn season during this Oktoberfest-themed experience with German food specials, Oktoberfest beers, live music, and unbeatable views of the fall foliage.
"We are thrilled to announce the return of our Bear Mountain Cruises and invite passengers to experience New York from the water as the leaves start to change and the fall season begins," said Craig Kanarick, CEO of New York Cruise Lines. "Offering hours of breathtaking views of New York's stunning colorful foliage and a fun day-trip getaway from the city, this is one of our most anticipated cruises throughout the year."
Bear Mountain Cruise
The 50-mile cruise up the Hudson River takes you to Bear Mountain State Park. During the 8-hour sail, you'll get breathtaking views of sites like the 800-foot-tall Hook Mountain, Hudson River Palisades, the Cloisters, George Washington Bridge, Mario Cuomo Bridge, and more.
Festive foods include schnitzel and bratwurst feast plates, a Prop & Peller Uber Pretzel, and a quarter-pound hot dog with sauerkraut. It will also feature a wide selection of hot and cold beverages, including specialty fall-favorite beer offerings like Samuel Adams Octoberfest and German favorites like Warsteiner Premium German Pilsner.
On-board, you'll have access to a huge outdoor deck space, heated/air-conditioned indoor seating, and large windows with 360-degree views perfect for sightseeing.
The round-trip excursion runs every weekend from September 17 through November 13. Boarding is at 8:30 a.m. and returns at approximately 5 p.m.
Bear Mountain State Park
There's plenty to do when you arrive at Bear Mountain State Park. The 5,205-acre park is on the west bank of the Hudson River in Rockland and Orange Counties.
You'll have a few hours to explore trailside museums, check out a local zoo, enjoy Bear Mountain Lake, and hike plenty of trails. The merry-go-round features hand-painted scenes of the park and 42 hand-carved seats of native animals including black bear, wild turkey, deer, raccoon, skunk, Canada goose, fox, swan, bobcat, rabbit, and more. You'll also discover natural landmarks of Bear Mountain with the vibrant colors of the newly turned fall leaves.
About Circle Line
Since opening in 1945, Circle Line has hosted over 80 million passengers on its cruises. It's the only cruise company in New York Harbor exclusively dedicated to sightseeing with boats specifically designed to let you see as much as possible in any weather. It operates seven ships in the New York Harbor.
To learn about other places to experience fall foliage, check out: