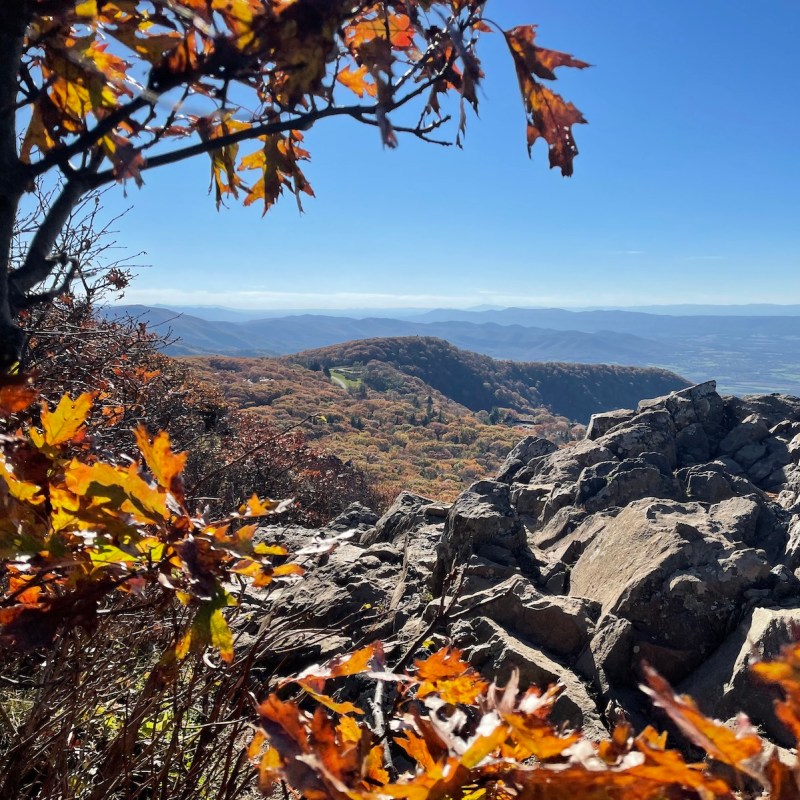 If you had your choice of a hike that took you to a cascading series of waterfalls or one that took you to "top of the world" scenery, which would you choose? At Shenandoah National Park, you don't have to choose, because these two hikes are near each other, doable (even on the same morning), and my favorites.
Just 75 miles from Washington, D.C., Shenandoah National Park is "bursting with cascading waterfalls, spectacular vistas, fields of wildflowers, and quiet wooded hollows. With over 200,000 acres of protected lands that are a haven to deer, songbirds, and black bears, there's so much to explore," the National Park Service says. I couldn't agree more!
My husband Dean and I love the national parks (I've previously written about Yellowstone, Grand Teton, and Acadia, for example), and we think time spent at one is always time well spent. Dean hadn't been to Shenandoah National Park since he was a boy, and I never had. We visited at the end of October when the color was post-peak but still lovely and temps were a perfect 60-65 degrees Fahrenheit, great for hiking.
Before we dig into the trails, a few general notes on Shenandoah National Park. I'm a big fan because this park is easy to navigate, even for someone like me who's a little "directionally challenged."
Skyline Drive runs north and south for 105 miles through the entire length of the park. The impressive, curvy road was built on the crest of the Blue Ridge Mountains, so you can see the National Forest on one side and the Shenandoah River Valley on the other. Don't miss stopping at some of the overlooks along the drive (not that you could; they're everywhere).
Every mile of Skyline Drive is marked with a small signpost called a milepost (MP). Starting at the north entry, at MP zero, and driving south through the park, the milepost numbers increase with each mile to MP 105 at the south entry, so it's easy to get your bearings.
Pro Tip: Visitors are required to purchase an entrance pass to access Shenandoah National Park, whether you're driving into the park on Skyline Drive or hiking in from the park boundary. Prices vary, especially depending on the day so make sure to check out the link provided above.
Now, let's take a closer look at these two hikes.
1. Dark Hollow Falls
Length: 1.4 Miles Round Trip
Estimated Hiking Time: 1 Hour And 15 Minutes
Elevation Gain: 440 Feet
Location: Milepost 50.7
Rating: Moderate
Our exploration started at the Harry F. Byrd Sr. Visitor Center at Big Meadows, where we asked a park ranger for hiking suggestions. She told us the Dark Hollow Falls hike was the park's shortest hike to the best waterfall view. Shortest and best — sounds like a winning combination!
We hiked on a Wednesday morning, and it wasn't busy, but typically this is a very popular hike. From the trailhead, we hiked through a forested area and the path soon curved away from the road. The trail follows a beautiful stream to the foot of the falls. The path is well-traveled but rocky, with stairs in the steepest parts.
We paused at an overlook, where I loved how the blue sky reflected in the water. We were standing above the crest of the falls here; we could hear them, but couldn't yet see them. It was another 1,000 feet to the lower falls (a sign told me so).
As we hiked into the canyon, there was a big rock wall on our left as the trail curved around to take us to the foot of Dark Hollow Falls. The park ranger was right — shortest and best! We loved this cascading 70-foot-high series of waterfalls.
As we lingered at the falls, I struck up a conversation with an older woman who said she'd been hiking here for decades. This hike was part of their family heritage; they had enjoyed it through the generations (kids and grandkids). She asked me to take a photo of her at the falls and told me that although her husband could no longer hike, he was waiting in the car for her. How generous and sweet. I thought about the seasons of life, and it made me so grateful for Dean and all the hiking and adventures we shared.
Although other hiking trails connect at the falls to take you deeper into the park, we turned around and headed back the way we came.
Pro Tip: The park warns that "the return hike is challenging, know your limits and take your time, especially when the trail is wet and slippery." We had great weather for this hike, so this wasn't our experience. It was a bit steep in parts, but very doable. Still, it's wise to listen to the park's advice.
Ready to go? Check the Big Meadows area trail map for all the details.
2. Stony Man Summit
Length: 1.6-Mile Round Trip
Estimated Hiking Time: 1 Hour
Elevation Gain: 340 Feet
Location: Milepost 41.7
Rating: Easiest
This Stony Man hike had views that made us feel like we were on top of the world! It also didn't hurt that the trailhead was in the backyard of our lodging at Skyland Resort.
Pro Tip: Skyland is great because of location, location, location. It's fairly central on Skyline Drive. There's something for everyone at this expansive resort (178 lodging units, from rustic cabins to spacious luxury suites), located between MP 41.7 and MP 42.5 at Skyline Drive's highest elevation, 3,680 feet.
We started at the trailhead and hiked a small part of the Appalachian Trail (it's not unusual for national park hiking trails to intersect and overlap with the Appalachian Trail). When the trail split, we followed the well-marked trail to Stony Man Summit.
When we arrived at the summit, there was a large outcropping of rocks (and no guard rails). We had spectacular views of the Shenandoah Valley, Massanutten Mountain, and more. We shared the view with quite a few fellow hikers perched on this broad ledge of flat rock, and there was plenty of room for all!
Dean, the sensible man that he is, stayed on the safe footing and enjoyed the view, while I maneuvered around on the rocks like a billy goat, looking for just the right camera angles (typical).
In my quest, I noticed an overgrown footpath, so I took it and came upon another large rock clearing, this time with fewer people. Large black birds were swooping up and down the cliffs. Bushes with red berries grew impossibly out of the rock. I could also see the curvy Skyline Drive from this vantage point, and I loved this view of the road and the fall trees. Even post-peak, it was magnificent!
Hiking back to our car, we saw an offshoot on the trail. We took "the road less traveled," but soon it became apparent this was not the way to go, and we decided to right our wrongs.
Pro Tip: Trail blazes (markings) are found on trees and rocks throughout Shenandoah National Park. Blue indicates a national park hiking trail and white identifies the Appalachian Trail. If you find yourself on a yellow-marked trail, you just might be sharing it with horses. Just sayin'.
Once we were back on the right hiking trail, I noticed a family, heading down the trail in front of us. The parents were each holding the hand of the little girl sandwiched in the middle. Of course, sometimes they lifted their daughter off the ground, and I could hear her squeals of delight, and their talking and laughing. I love this "slice of life" stuff; it's precious to me.
Pro Tip: We did this hike during the day and it was spectacular, but Stony Man Summit is also popular for sunset views if you're willing to hike later in the day.
Ready to go? Check the Skyland Resort area trail map for all the details.
Hike Both Trails
Cascading waterfall or "top of the world" view? Now, which would you pick? These two hikes are so close together and so doable that you don't have to choose. I don't think you can go wrong with either one, but better yet, try them both.
Shenandoah National Park offers more than 500 miles of hiking trails, but these two are my favorites. So, lace up your hiking boots, grab your hiking poles, some trail mix, and water, and head out into the wide-open spaces. When you visit this beautiful National Park that's brimming with beauty, I hope you enjoy these trails as much as we did.