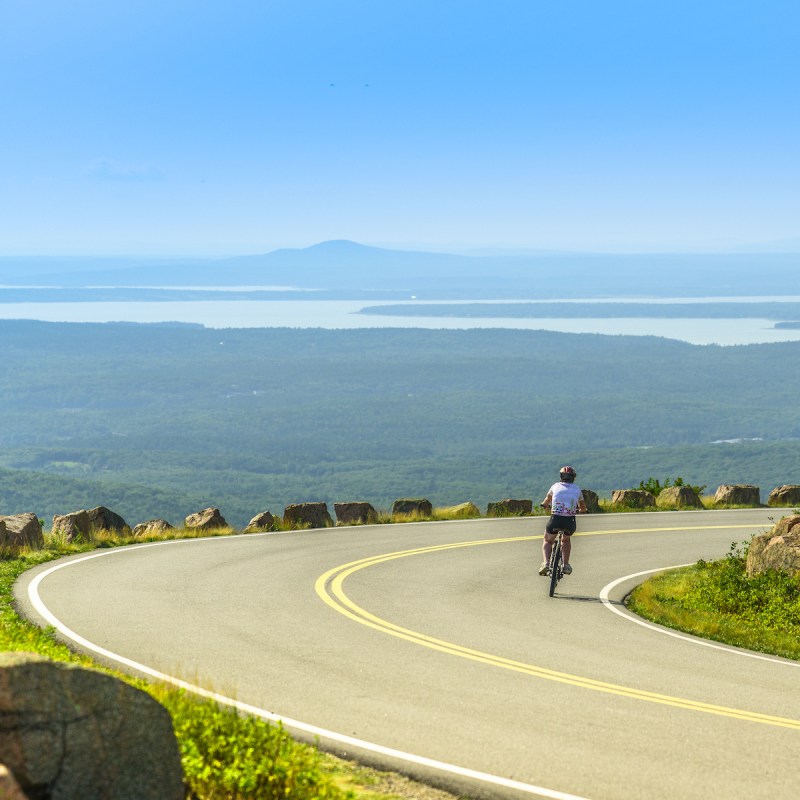 Looking for a great vacation with cycling, fishing harbors, lobsters, rugged shoreline, carriage roads, and "Rockefeller's Teeth"? All of this awaits you in beautiful Acadia National Park.
My husband Dean and I were new to biking outfitter tours, so we selected VBT's Maine: Acadia National Park tour. (Spoiler alert: We've become big fans of VBT, with subsequent trips to Ireland and Slovenia/Austria/Italy with them.) In addition to the appeal of riding in a national park, we liked the idea of a supported ride, planned itinerary and routes, and the comradery that would undoubtedly come from other cyclists on the journey with us.
The trip description promised, "cozy beaches, craggy shoreline, fishing wharves … refreshing and unspoiled landscapes … forested coves, and fishing harbors … deluxe comforts at charming seaside inns where surf and seagulls lull you to sleep." Hmmm… where do I sign?
No false advertising or fake news in that description! Here are 11 amazing experiences I loved on my Acadia National Park bike tour.
1. Stay At The Delightful Bar Harbor Inn
Our bike tour started in Bar Harbor, the gateway to Acadia National Park, with lodging at The Bar Harbor Inn. It's a stately, elegant building with impeccable floral grounds, gazebos, benches, and incredible views of the harbor and adjacent islands. The tour description promised, "In idyllic Bar Harbor, practice your lobster-cracking skills and browse galleries, boutiques, and seafood bars," and all of it was true. 
Pro Tip: In Bar Harbor, a great lunch choice is Café This Way. I loved the roasted Brussels sprouts, sweet potato/quinoa cakes, cauliflower hummus, and wonderfully big, fresh salads. Everything was fresh and delicious.
2. Soak In The Scenic Beauty Of Acadia National Park
Acadia is another treasure in a long line of national park treasures. The National Park Service calls it the "Crown Jewel of the North Atlantic Coast." It's one of the top 10 most-visited national parks in the United States, with about 4 million annual visits.
Pro Tip: Purchase an Acadia or National Park Pass (valid for 7 days) online or at information centers throughout the park.
Bike The Carriage Roads
Carriage roads make for great bike riding. In the early-mid 1900s, philanthropist John D. Rockefeller Jr. and his family created these roads to take horse and carriage on motor-free byways through the heart of Mount Desert Island (home to Acadia). Today, the roads are for pedestrians, bikes, and horse-drawn carriages/horses only.
One of the benefits of going with VBT: Their daily cycling routes maximized the 45 miles of carriage roads, managed our road riding to secondary roads, and minimized sharing the busiest roads with tour buses and car traffic.
See "Rockefeller's Teeth"
Carriage roads were designed to preserve hillsides and trees. Large granite rocks that line the carriage roads as guardrails are lovingly called Rockefeller's teeth to this very day. (I'm telling you, if those were Rockefeller's teeth, he needed some serious dental work!)
Appreciate The Historic Bridges
Beautiful stone bridges take you over waterfalls and streams and are evidence of the planning that went into these roads, and they make for some lovely bike riding.
3. Ferry Across Frenchman Bay From Bar Harbor To Schoodic Peninsula
Our tour included a 45-minute ferry from Bar Harbor across Frenchman Bay to Winter Harbor on the Schoodic Peninsula, the only section of the Acadia National Park that's on mainland Maine (you can also drive to it). A biker's dream, the roads follow the shoreline through classic Down East fishing villages with many shorebirds, a resounding surf, as well as lobster pot markers and lobster boats dotting the horizon.
Pro Tip: Stop for lunch at the authentic Wharf Gallery and Grill in Corea. Try a whoopee pie, a whipped cream filling sandwiched by two round chocolate cakes. The treat was huge, the size of a small dinner plate (about 8" wide x3" high), and made to be shared!
4. Watch The Sunrise From Cadillac Mountain
The brave and hearty among us biked up the narrow, winding, two-lane, 3.5-mile Cadillac Summit Road some 1,530 feet to the top of Cadillac Mountain, the highest point on the U.S. eastern seaboard. Dean and I were not among them. But the tour did offer an early morning shuttle to the top. Either way, it's a view worth the effort.
Pro Tip: We visited in September, and it's windy at the top! Dress in layers. Also, while this doesn't apply to cycling, reservations are required to drive Cadillac Summit Road from mid-May to mid-October.
5. Cherish The Lovely Asticou Inn, Northeast Harbor
The trip description promised "deluxe comforts at charming seaside inns where surf and seagulls lull you to sleep." They were right. This is a beautiful, historic inn on a protected harbor, and every room is unique.
6. Stroll Through Floral And Fragrant Thuya Garden
From the Asticou, we walked to the gorgeous Thuya Garden. The big, ornate wooden door opens to a floral wonderland. The gardens were beautiful, well-tended, and impressive, with walking paths, a gazebo, and benches for sitting, lounging, and pondering. Even a small red utility shed seemed to fit the garden serenity.
7. Enjoy All The Fascinations Of Little Cranberry Island
The tour description promised we'd, "take a lobster boat to Little Cranberry Island, … to explore the authentic Down East." Little Cranberry Island is home to year-round residents who are lobstermen (and women), boat builders, and craftsmen/artists.
Learn About Lobstering
When we arrived, lobsterwoman Stephanie gave a presentation about making a living on lobsters (the only woman on Little Cranberry with that full-time occupation) and mentoring apprentices (called sternmen): two girls, ages 10 and 14. She explained that each lobster they catch is measured from the eyeball to the beginning of the back shell. Too small or too big? Throw it back. Likewise, if it's a female with eggs, throw it back. They want a sustainable lobster industry, so they don't "fish out" the waters. She was a fascinating woman with a story to match.
Purchase Hand-Crafted Pieces At Islesford Pottery
The women in our tour group loved the downtime for harbor shopping and were fascinated with the hand-thrown clay pottery at Islesford Pottery. I couldn't resist a beautiful garlic plate and covered bowl. If you visit, you might have the chance to chat with a potter, or watch them throw clay on a potter's wheel, trim or handle pots, glaze, or load or unload the kiln.
Get A Closer Look At Lobstering
As our ferry/authorized lobster boat headed back to Northeast Harbor, we stopped to check a few lobster pots. The first mate pulled up the first trap with five lobsters in it. He sized up the lobsters one by one and banded the claws of the keepers. If they're too small, his parting words as he tosses them back in? "Catch you later."
8. Grab A Photo At Jordan Pond's Scenic Shoreline
Jordan Pond is an Acadia classic — a pristine lake surrounded by mountains. We can thank glaciers for this stunning landscape.
Pro Tip: Try a popover at the nearby Jordan Pond House; they're famous for them, and for good reason. Delicious!
9. The Refreshing Water At Sand Beach
Maine has plenty of rocky coastline — and it's spectacular — but it's also wonderful to walk a sandy beach, and the aptly named Sand Beach is great for this. This natural pocket beach, about 300 yards wide, was a great place to kick off our shoes and put our feet in the refreshing water.
10. Try Great Food: Lobster Rolls And Blueberry Pie
I already have expounded on the virtues of the local whoopie pie, but obviously we are in lobster country. Lobster, lobster rolls, lobster bisque — all delicious. A lobster roll is a grand contradiction. This is my theory: Take the cheapest bread known to mankind (a white hot dog bun) and fill it with one of the most expensive kinds of seafood known to mankind (fresh lobster). Top it with a dollop of mayonnaise and maybe a little sprinkled paprika for good measure.
Maine is also blueberry country, and I'd be remiss if I didn't extol the blueberry pie. On our 6-day bike trip, I ate blueberry pie and ice cream for five of them, but who's counting?
11. Enjoy The People On The Journey
As usual, the people make the journey interesting. We were joined by 16 fellow cyclists from Ohio, Montana, Florida, Arizona, Massachusetts, South Dakota, California, and Minnesota.
The VBT guides were once again stellar; Tracy and Anne were everywhere, doing everything. Completely confident, warm, funny, caring, and able to handle any situation with the utmost skill and grace.
The cycling route in Acadia is rated easy/moderate, with an emphasis on moderate. It's hilly, but there's always a support van to help you out if needed. Throughout the trip, when we asked Anne what the terrain would be like for the next leg of the trip, she'd always say, "More of the same. Some up, some down." We had to chuckle at the story of a previous cyclist, who, after hearing Anne repeatedly describe the route this way, responded: "The only thing going down around here is your credibility." These people are so easy to love!
These are some of the amazing experiences I loved from our Acadia National Park bike tour. If you go, you'll have your own set of unique adventures that will make Acadia National Park unforgettable for you. And you'll be glad you went.