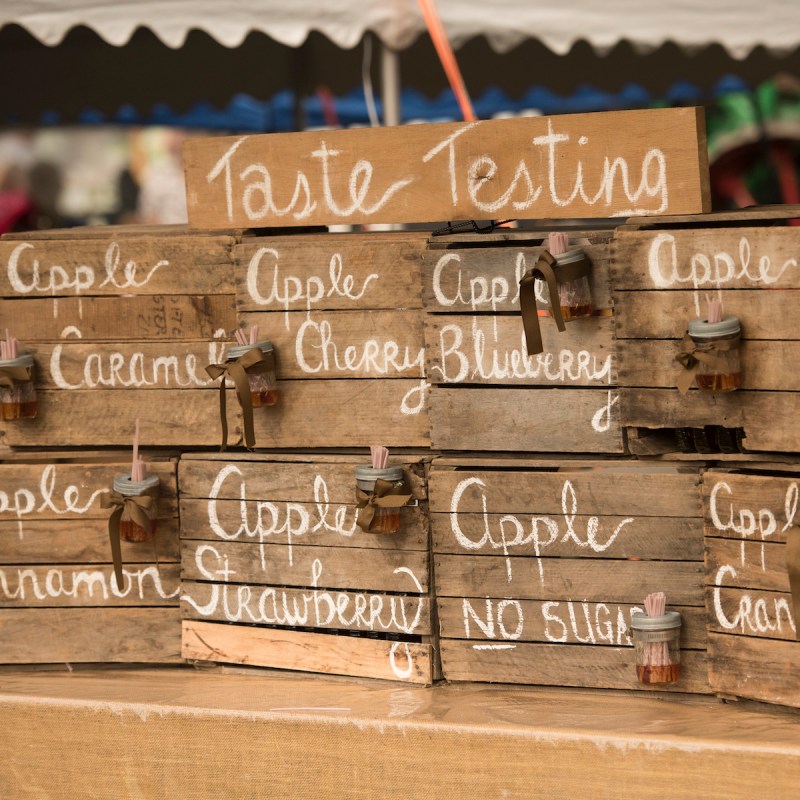 The Northeast is home to many wonderful apple festivals of all sizes. Along with your leaf-peeping tours this fall, you'll want to experience all things apple at the following festivals:
1. Southington Apple Harvest Festival
Southington, Connecticut
The Southington Apple Harvest Festival is a 6-day event that takes place over the course of two weekends each fall. This annual event is one of the largest and longest-running festivals in the Northeast and typically draws a crowd of more than 100,000 people. The Festival is one of Connecticut's top tourist events held during the height of New England's beautiful fall foliage season. Visitors enjoy a jam-packed schedule of events, entertainment, activities, specialty foods, crafts, and fun for all ages.
2. Bridgeville Apple-Scrapple Festival
Bridgeville, Delaware
Bridgeville is celebrating its 30th annual Apple-Scrapple Festival in October 2022. "Apple Scrapple" has grown from 2,500 visitors in 1992 to over 20,000 today. Festivities include carnival rides, kids' games, live entertainment, a car show, a trade show, and two craft shows. Specialty foods include apple dumplings, scrapple sandwiches, oyster sandwiches, and more.
Admission: Free, some fees for events
Parking: Directions, parking, and schedule can be viewed here
Contact: Karen Johnson at (302) 245-2038, Contact Form
3. Darlington Apple Festival
Darlington, Maryland
The Apple Festival has always been a celebration of the character and pride of the Darlington Community. Each year the festival has grown with new attractions and new organizations participating. It is now the largest single-day event in Harford County, drawing an average of 50,000 visitors per year for the past several years. See this map for locations of vendors, entertainment, hayride, etc. This year, the event will take place on October 1 from 10 a.m. to 5 p.m.
Admission: Free
Parking: See this map for parking and shuttle service
Contact: Contact Form
4. Franklin County Cider Days
Franklin County, Massachusetts
The 28th Annual Cider Days will celebrate all things cider, apples, and orchards at local venues from November 4 through 6. Last year, there were more than 23 venues offering workshops, tours, tastings, and demos! The festival includes cider pressing, orchard tours, a heritage apple workshop, a history of cider presentation, a cooking-with-apples demonstration, and many other apple-oriented events.
Admission: Free
Parking: Free, at various venues
Contact: Franklin County Chamber of Commerce, (413) 773-5463, fccc@franklincc.org
5. Apple Harvest Day
Dover, New Hampshire
Apple Harvest Day is a day-long family event featuring more than 300 vendors, great food, live entertainment, and more on October 1 from 9 a.m. to 4 p.m. The event was first held in 1985 and now draws more than 60,000 people to downtown Dover, making it one of the most popular regional festivals.
Admission: Free
Parking: Free lots/shuttles at 150 Liberty Way and 118 Central Avenue; paid parking downtown
Contact: Margaret Joyce, Greater Dover Chamber of Commerce, (603) 742-2218, info@dovernh.org
6. Busti Apple Festival
Jamestown, New York
The Busti Apple Festival originated in 1975. It offers more than 600 apple pies,
authentically-made apple butter, a farmers market, and 100+ craft booths. Other features include a live one-room schoolhouse demonstration, Civil War reenactment, music and dance, antique and model engines, mill tours, and grain milling. The festival will take place on September 25 from 11 a.m. to 5 p.m.
Admission: $5, children under 12 free
Parking: Free on the adjoining Busti Volunteer Fire Department grounds
Contact: Busti Historical Society, (716) 483-0134, Bustihistorical@gmail.com
7. Huntington Historical Society Apple Festival
Huntington, New York
The 2022 Apple Festival features traditional games, seasonal crafts, live music, fall foods, and historical demonstrations by costumed interpreters on October 16 from noon to 4 p.m. Delicious Long Island-grown apples will be sold by the bag along with other fall food favorites, such as candy apples, apple cider, and an assortment of baked goods from local bakeries. Visitors can dive into history by going on a tour of the 18th-century Kissam House. They can watch traditional folk artists like woodworkers and musicians demonstrate their crafts.
8. Ithaca Apple Harvest Festival
Downtown Ithaca, New York
What better way to kick off New York Cider Week than with 3 days celebrating apple growers, cider makers, and, of course, cider donuts in downtown Ithaca, New York?
Apple Harvest Festival will host plenty of farmstand-fresh apples and produce, delectable apple and seasonal baked goods, a variety of food trucks offering tasty bites, and a craft fair with artisans from around the region. There will also be live music and entertainment, plus a cider trail to enjoy refreshing cider in-store and plenty of great apple and apple-inspired products for sale inside shops in and around downtown. The event takes place on September 30 from noon to 6 p.m. and October 1-2 from 10 a.m. to 6 p.m.
9. Warwick Apple Festival
Warwick, New York
The Warwick Applefest began in 1989 as a simple harvest celebration. The event, held in the streets and parks of the Village of Warwick, was previously voted "Best Fall Festival" in Hudson Valley Magazine. This year, it will be held from 9 a.m. to 5 p.m. on October 2.
Named one of the "Top 100 Events" in the country, more than 30,000 visitors now attend the one-day festival, traveling from neighboring states to experience the extraordinary variety of Warwick's apples, culture, and entertainment. The Festival includes 200 craft vendors, dozens of food vendors, music and entertainment on several stages all day, an apple pie baking contest (slices for sale!), a farmers' market, and a children's carnival.
10. Hickory Apple Festival
Hickory, Pennsylvania
The 2022 Hickory Apple Festival offers visitors their favorite experiences: live entertainment, unique crafters, homemade brick oven bread, and a multitude of apple delights! Fan favorites include homemade apple crisp and apple butter, hand-dipped candied/caramel apples, apple dumplings, and chilled or warm apple cider. This year, the festival welcomes nearly 100 crafters and attractions, many demonstrating their skills while you shop. The festival takes place October 1 and 2.
Pro Tip: Festival-operated booths are cash only! ATMs are available.
Admission: Free
Parking: Free parking and shuttle; instructions here
Contact: (724) 356-FEST, ​HickoryAppleFestival@gmail.com
11. National Apple Harvest Festival
Biglerville, Pennsylvania
Located in the heart of Pennsylvania apple country, the National Apple Harvest Festival celebrates the fall season with beautiful handmade crafts, delicious food, and jam-packed entertainment. The festival is a gas tank trip from Washington D.C., Baltimore, Harrisburg, Philadelphia, and Pittsburgh. Take a lovely ride through farmland and apple orchards to the fairgrounds.
Festival-goers will enjoy 300+ arts and crafts vendors, an antique cider press, apple art, apple jellies, apple pancakes, apple syrup making, applesauce, and a variety of other local food specialties.
The National Apple Harvest Festival is open October 1, 2, 8, and 9. For hours, see the festival's website.
Admission: Various, buy tickets here.
Parking: Admission tickets include parking in one of several parking fields and a shuttle bus or wagon service to the festival grounds.
Contact: (717) 677-9413, Contact Form
12. Wachusett AppleFest
Westminster, Massachusetts
Saturday and Sunday, October 15 and 16, 11 a.m. – 5 p.m.
Visitors to Westminster will enjoy the 38th annual Applefest, the area's most popular fall festival. The festival — which is held from 11 a.m. to 5 p.m. on October 15 and 16 — includes more than 100 craft exhibitors, a farmers' market, entertainment for kids, and peak fall foliage viewing from the SkyRide. Also enjoy live music, apple pie baking and eating contests, and other family entertainment.
Admission: Adults 13 and up, $11 advance/ $15 door; juniors 6-12, $6 advance/ $10 door; kids 5 and under free; package available for combination admission and SkyRide. Buy advance tickets here.
Parking: Free
Contact: (978) 464-2300, info@wachusett.com
13. Boxford Apple Festival
East Boxford Village, Massachusetts
The Apple Festival is the Boxford Historical Society's signature event, dating back to the 1960s. On September 17, the entire East Village is transformed into a pedestrian mall between the hours of 10:00 a.m. and 3:30 p.m. The streets are lined with artisan vendors. Local musicians entertain, and apple pie and barbecue abound. Festival-goers also have the opportunity to tour the historic Holyoke-French house.
14. Monmouth Apple Fest
Monmouth, Maine
The Apple Fest serves as the Monmouth Museum's end-of-season fundraising event and brings the community together for a day full of fun and interesting activities for adults and children. Thanks to kind donations of homemade apple pies from Monmouth's great cooks, Apple Fest is the museum's way of celebrating the apple for which Monmouth orchards are famous.
The Apple Fest also exposes people to a variety of apple-related activities such as cider pressing, apple arts and crafts, stenciling, displays of apple varieties, and historic artifacts associated with the harvesting and processing of apples. Guests can attend this event on September 24 from 9 a.m. to 3 p.m.
15. Alfred Shaker Museum Apple Fest
Alfred, Maine
The Shaker drawing known as "The Tree of Life" is the most famous of all the Shaker "gift drawings." To the Shakers, fruit-bearing trees represent the unspoiled loveliness of the Garden of Eden. It was painted at Hitchcock Shaker Village in 1854.
This festival celebrates the gift of the harvest with homemade apple pies (buy the whole pie or a slice), pony rides, a silent auction, and vendors offering chair caning, fiber crafts, free-range eggs, handbags, jewelry, metal art, nature and paper crafts, mobiles, quilts, and wood crafts for sale.
The Alfred Shaker Museum apple Fest takes place September 24 and 25 from 10 a.m. to 4 p.m.
Admission: Free
Parking: Free
Contact: (207) 324-9630, jamontgomery@live.com