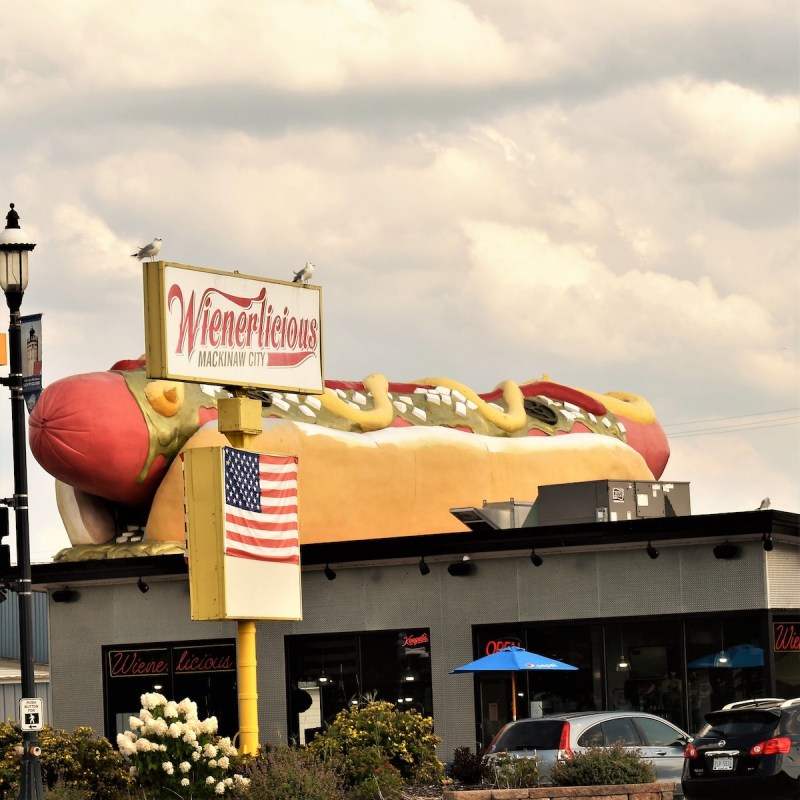 Mackinaw City sits at the southern end of the Mackinac Bridge, the gateway to Michigan's Upper Peninsula. One of Mackinaw City's main attractions is Colonial Michilimackinac, a fort and an important meeting point in Michigan's fur trading days. In the late 1700s, fur traders met with Native Americans, resupplied, and refueled before continuing their journey west. Today, the town plays a similar role as a meeting point for tourists as they refuel and have a meal before taking in the local attractions or heading north.
Mackinaw City menus feature regional Midwest staples like the fish from the Great Lakes. You find most menus offer several preparations of whitefish and at least one version of walleye and lake perch. Of course, homemade pie is a highlight of many dessert menus.
Here are seven of my favorite Mackinaw City restaurants listed in random order.
1. Darrow's Family Restaurant
Since 1957, Darrow's Family Restaurant has stood at the corner of Louvingney and Jamet Streets, serving all-American comfort food. They've continued serving a menu of homemade favorites through four generations. They make their soups every day from scratch, bake their bread, and offer a wide selection of homemade pies.
Midwest-style hot sandwiches are a local favorite. As a pre-teen, my parents always ordered these filling hot sandwiches when we traveled through northern Michigan. They offer beef, turkey, hamburger, and meatloaf hot sandwiches.
What To Order At Darrow's Family Restaurant
Midwest-Style Hot Beef Sandwich
My favorite is the slow-roasted beef chuck roast, thinly sliced and sandwiched between two slices of white bread. Served with mashed potatoes and stuffing alongside the sandwich, then topped with gravy.
Coconut Cream Pie
Did I mention the pie? Their coconut cream pie reminds me of what my mother used to make in the 1970s, with meringue and toasted coconut instead of whipped cream. So good!
Pro Tip: If you're over 60 years old and your appetite isn't what it used to be, they offer senior portions on their dinner entrées. Ask the server for a half portion of their dinner entrées, and you'll get $2 off.
2. Audie's Restaurant
Audie's Restaurant has been serving meals since the bridge opened. They have two full-service restaurants and a lounge conveniently open seven days a week. The first, called The Family Room, serves breakfast, lunch, and dinner in a casual environment. The Chippewa Room serves a casual fine dining dinner in a white tablecloth atmosphere. Finally, the Welcome Lounge features a northern Michigan rustic lodge vibe.
While I enjoyed their burgers and crisp, fresh salads in the Family Room, they're known for their whitefish and house-made desserts. They feature Great Lakes fish, such as whitefish, walleye, and lake perch. The whitefish comes in almost a dozen preparations — Parmesan-crusted, New Orleans, Cajun, and Almondine, to name a few.
The Chippewa Room is decidedly more formal, and rather than burgers, you'll find items like escargot and baked Swiss onion soup. They receive the whitefish daily from local fisheries, where boneless Great Lakes Whitefish are a specialty. Also, the wine list at the Chippewa Room is a Wine Spectator Award of Excellence winner.
What To Order At Audie's Restaurant
Barbecue Burger
They season the Barbecue Burger with their dry rub and top it with melted cheese and crispy bacon. Finally, they add Kansas City-style barbecue sauce and two crispy onion rings for a cooked-to-order burger.
Michigan Maple Sundae
One of my favorite desserts is the maple ice cream sundae swirled with real maple syrup, candied pecans, and topped with maple caramel sauce.
Pro Tip: You can take some of Audie's Restaurant home at their gift shop. In addition, they have house-made jam and locally sourced maple syrup for purchase.
3. Wienerlicious
Wienerlicious is easy to spot as the building has the world's largest wiener sitting on its roof. I have to say, standing in front of the building in the correct position to take a picture that looks like you're eating the giant hot dog is half the fun.
What brought me to Wienerlicious is that my husband is a die-hard hot dog fan. So, with the giant hot dog on the roof, we had to try it. The fast food-style restaurant has a laser-sharp focus on hot dogs, which serve Michigan-made Koegel's brand hot dogs. Koegel has been making wieners since 1916. They dress the hot dogs up in a variety of ways. They have regular, foot long, all beef, veggie, corn, and kiddie dogs.
Named for the city, The Mackinaw is a bacon-wrapped hot dog with cheese sauce. Other options include a Coney dog, a Chicago dog, a Reuben dog, a bratwurst, and a spicy Italian.
Also, on the menu, you'll find waffle fries, shakes, and fountain drinks.
What To Order At Wienerlicious
Footlong Chicago-Style Hot Dog
A local favorite is the footlong wiener served on a honey bun with all the Chicago toppings, yellow mustard, onion, pickle, tomato, relish, peppers, and celery salt.
Pro Tip: They have veggie dogs on the menu, perfect for the vegetarians in your group.
4. Keyhole Bar & Grill
Open year-round, the Keyhole Bar & Grill is a restaurant where the locals hang out. They got their name from their growing collection of locks and keys. Through the years, this unique collection has grown to more than 25,000, which they display throughout the restaurant.
They offer an extensive menu that includes sandwiches and burgers to complete dinners. You'll also find a section on the menu with Mexican fare, where a favorite is a wet burrito.
What To Order At Keyhole Bar & Grill
Barbecue Ribs
The ribs are fall-off-the-bone tender with a flavorful barbecue sauce.
Electric Slide
A house specialty is the Electric Slide, an alcoholic beverage made from a variety of vodkas, juices, and grenadine.
Pro Tip: Friday nights, they offer an all-you-can-eat perch and rib special.
5. Dixie Saloon
Since 1890, Dixie Saloon has stood at the end of the Old Dixie Highway, which initially ran from Florida north to Mackinaw City. Later, Interstate 75 replaced the Old Dixie Highway. Travelers celebrated the road trips with a drink or meal at what was then known as the Dixie Tavern. Today, they call the landmark the Dixie Saloon.
Located across from the Shepler Mackinac Island Ferry Docks in the center of downtown Mackinaw City, the two-story Dixie Saloon has large windows offering views of the Mackinac Bridge and Straits of Mackinac. Open year-round, their extensive menu has something everyone in your group will enjoy.
If you get up late and regret that you missed breakfast, don't despair. Dixie Saloon serves breakfast all day.
Although they offer American comfort food in their mac n' cheese, Mexican fare in their burritos, tacos, and famous ribs, their bestseller is the fish and chips. They serve over a pound in an order. They use battered cod, deep fry it, and serve it with tartar sauce, a lemon wedge, and French fries.
What To Order At Dixie Saloon
Chicken Cranberry Walnut Salad
The bed of mixed greens comes topped with chicken sweetened with dried cranberries. Then they add walnuts, blue cheese crumbles, apple wedges, cucumbers, and tomatoes. Then, the salad is topped off with a raspberry vinaigrette.
Dixie Brewhouse Bratwurst
They slow cook the bratwurst in their Mackinac Island IPA, then chargrill it and serve it in a soft brioche bun. You can opt to get it Chicago-style with red onion, pickle, and tomato.
Pro Tip: During weeknights, the Dixie Saloon has karaoke, and they feature live entertainment year-round on the weekends.
6. Mama Mia's Pizzeria And Restaurant
Mama Mia's Pizzeria & Restaurant is a seasonal restaurant open from April through November. While you can build your pizza, they feature several specialty pizzas you should consider. If you're a chicken, bacon, and ranch pizza fan, give this one a try. It starts with a ranch base, adding chopped chicken, crispy bacon, and a blend of cheese for a deliciously different pizza.
Although they are a pizzeria, try their lasagna or any of their pasta dishes. They're equally as good.
What To Order At Mama Mia's Pizzeria And Restaurant
Breadsticks With Cheese
While they have plain garlic breadsticks, you'll want to try them topped with cheese. They serve them with a choice of pizza sauce or ranch dressing.
Pro Tip: While waiting for your pizza, go upstairs and explore the Mackinac Bridge Museum. It features displays that tell the story of the Mackinac Bridge construction.
7. Rusted Spoke Brewing Company
Rusted Spoke Brewing Company offers 20 taps from Michigan breweries, so they designed their menu to compliment the brews. For example, their award-winning chili pairs wonderfully with their brews. Unfortunately, when I visited, it was the middle of summer and not on the menu, but I have heard rave reviews.
Check out their deck seating, perfect for a summer day in Mackinaw City.
What To Order At Rusted Spoke Brewing Company
Barbecue Short Ribs
Slow-cooked with carrots, onions, and garlic for fall-off-the-bone tender short ribs, served with mashed potatoes and asparagus, made for an extraordinary comfort food dinner.
Barbecue Nachos
The nachos start with tortilla chips. They top it with a zesty cheddar cheese sauce, then comes the smoked pork and brisket, tomatoes, and crispy onions. Finally, they add a drizzle of barbecue sauce to finish the dish.
Pro Tip: Check out their current tap list on Digital Pour. It makes it much easier to decide what you want.
For other articles about northern Michigan, check out these articles: