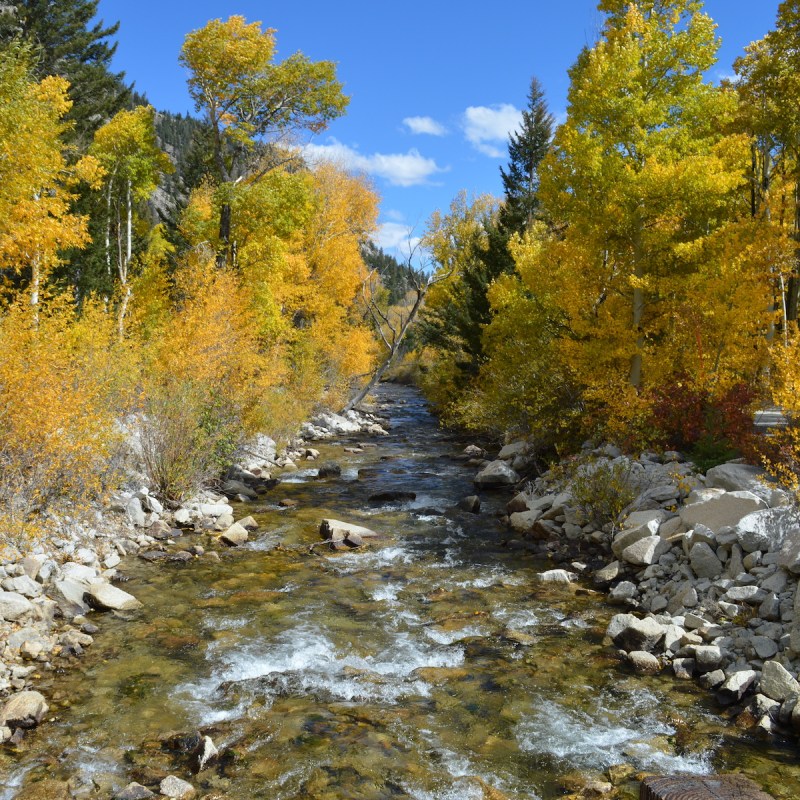 Hiking the entire length of the Continental Divide National Scenic Trail is on many a hearty soul's bucket list. However, only 200 people a year actually touch the ground of the entire trail from the beginning to the very end.
Every continent on planet earth has a divide; some have multiple divides going in different directions. Interestingly, not all flow north to south. North America has many, and five exist in the United States. The longest is the Great Divide, a whopping 3,100 miles long originating in northern Canada before passing through Montana, Wyoming, Colorado, and New Mexico and then continuing through Mexico.
Every year, I take a pilgrimage to South Dakota from Texas to visit friends and family. Fall is always my preferred time to take this journey. The roads and restaurants are less crowded, the weather is cool and inviting for camping along the way, and the path is a canvas of colors and textures only harvest season offers.
One year, a beautiful fall season in the Rocky Mountains was predicted. Colorado was quite a deviation from my normal path, but being retired meant I had lots of time to take a slow road trip with my dog Tipper. The golden Aspen forests beckoned this avid leaf peeper.
My goal to follow the Continental Divide was a lot less lofty than the hikers, and I was extremely glad to discover asphalt roads winding alongside the national scenic foot trail. Leaving Texas in early October we uncovered amazing places plus a few crazy chipmunks along the way.
Leaf Peeping In The Colorado Rockies: Where To Begin
Our starting point in Colorado was the small Victorian-era preserved town of Trinidad, considered the gateway to the scenic Colorado State Highway 12 also called the Highway Of Legends. In 2021, this route through the foothills of the Rocky Mountains was designated a National Scenic Byway which was already tinted with various oak trees in splendid red and purple hues and brought us to our first four fall foliage destinations.
1. Spanish Peaks
The 82-mile Highway of Legends has many interesting features along the way, such as unusual volcanic formations from the Spanish Peaks, tales of outlaw hangouts, and sacred Native American sites. Near the town of Cokedale is an interesting long rock wall with holes resembling an ancient Roman road that is actually a string of old coke ovens used for smelting coal from a nearby mine. At this lower elevation, the fall colors are still a hint at what's to come.
2. Stonewall Gap
As the road heads north and rounds the bend, the Spanish Peaks meet the valley floor, an amazing thin slice of rock shoots out of the mountain at Stonewall Gap where a small mountain village grew. Surrounded by Ponderosa pines that stay forever green, there are few fall colors in this area, but the unique stone formation has colorful legends attached to this Colorado icon.
3. Weston Monument Lake Resort
As our elevation rises, the autumn season hues become more vibrant as Monument Lake appears. If I had known about the Weston Monument Lake Resort, this might have been my choice for lodging. The temperature was lowering as we went higher, and much colder than expected for sleeping in our tent at the Great Sand Dunes National Park. The resort's adobe cabins would have been perfect, a place of tranquility obtained while taking a step back in time at ancient Native ruins near the cabins surrounded by red and yellow cottonwoods.
4. Cuchara Pass And Cuchara Village
Entering the San Isabel National Forest, jaw-dropping views of the West Spanish Peak interspersed with green gold and red oak and hickory trees dotted along the Cucharas Pass flow past our window. In the heart of the Cucharas River Valley, I arrived in time for lunch at a favorite respite for Colorado outdoor enthusiasts, the Cuchara Village. Established in 1883, the once stagecoach stop is still a place to find good food, lodging, and mountain supplies.
Pro Tip: Download the Highway of Legends audio tour before you go. The actual Legendary route takes 2 hours; however, I spent 2 days on this route, so if you have a time constraint, plan each stop carefully.
5. San Isabel National Forest
Just north of Alamosa, we catch Highway 24, slowly coasting at a lower elevation as the prairie evolves into a forest ablaze with golden aspens. Entering the San Isabel National Forest, all roads lead to fall foliage beauty. Crystal clear rivers slice their way deep into the forest, often running along the highway.
The San Isabel National Forest is broken up into sections interspersed between mountain peaks. Most of the forest is the perfect elevation for aspen trees, and they were in their full golden glory. No matter what road we took, we satisfied our leaf-peeping dream.
Pro Tip: Aspens grow between 6,000 and 11,000 feet but are at their best at altitudes above 8,000 feet.
As we approached the Rocky Mountains, we found many roads called passes that cross over the mountain peaks historically created by miners, loggers, or trappers. These industries cut down the original mountain pine trees, which nature replaced with deciduous trees that lose their leaves in style in the fall. As a result, over the years a few of these passes have become popular for fall foliage scenic drives.
6. Monarch Pass
Crossing the Continental Divide at 11,375 feet, the original pass was established in 1880 and was only passable in the summer. The present-day Monarch Pass is along US 50 near the town of Salida. For an amazing view of the Sawatch Mountain Range now ablaze with color, take the Monarch Crest Scenic Tramway located in Salida, which allows pets.
7. Tincup Pass
The Tincup Pass road is a rugged way to cross the Continental Divide and is best used for those in high-clearance 4×4 vehicles. To take a much easier route near this road, head north on Highway 285 and make a left on Country Road 162 just before Nathrop. The road eventually becomes a well-maintained dirt road, and one of the most beautiful leaf-peeping drives I found on this trip.
16 miles from Nathrop at the very end of the road is St. Elmo, a ghost town that has not been forgotten with recently-restored buildings offering coffee, pastries, and trinkets. Guarded by noisy and hungry chipmunks, the main street ends at a popular trailhead. A nice campground covered in fallen aspen leaves that appear to be gold coins is nearby, flanking the Iron City Cemetery. We opted to move on.
8. Independence Pass
Leaving the ghosts behind in St. Elmo, we head back to Highway 24 for Independence Pass near Leadville. The elevation increases with each switchback turn, leaving behind golden aspens for fir, spruce, and pine trees. The Chalk Mountain range rises above the tree line; its bare slopes of gray rock are popular with off-road vehicle drivers. A long line of golden oaks and cottonwood trees anchor the massive stone growing after loggers removed the pines.
9. Tennessee Pass
The Eagle River runs through the Tennessee Pass, allowing level land for a major railroad line. The Rio Grande's Tennessee Pass line was the highest active mainland railroad mountain pass in the United States for many years. This drive includes hairpin turns and twists with scenic views of a tumbling river and railroad bridges against a backdrop of mountain pines streaked with slivers of golden trees. The majestic Red Cliff Bridge looms suddenly joining mountains with train tracks.
10. Boreas Pass
Boreas Pass is a twisting road built in the 1860s as a route to reach gold mines. Considered one of the most scenic drives through the Rockies, the road is used extensively by workers and vacationers in the ski industry. During the fall season at this higher elevation, the Rocky Mountain maple trees turn rusty red and cottonwood trees are various shades of yellow backdropped by never-changing green pinon pines.
Soon after passing the Red Cliff Bridge, which is actually green, we took a slight detour off Highway 24 on Water Street, a steep road through a beautiful red rock canyon to the small town of Red Cliff, a summer fly-fishing paradise.
A forecast of snow led me and Tipper to the Green Bridge Inn, a riverboat-styled lodge that uses beetle-damaged wood for a unique rustic look on interior walls. The Mango Mountain Grill across the street served amazing mango shrimp tacos and craft beer.
11. Rocky Mountain National Park
Aiming for the Rocky Mountain National Park after an early winter storm the night before, we entered the park on the eastern side of the mountains at the entrance near Estes Park. The scene was unique, only possible maybe once in a lifetime. The fall season was near the end, but not over.
Snow-dusted trees with yellow, orange, and red leaves that refused to fall were backdropped by Ponderosa pine trees and snow-covered mighty mountains. Thick gray clouds passing over our heads threatened our visit but didn't stop us from enjoying the day regardless of lost time, cold fingers, and frozen paws.
Pro Tips
Touring the Colorado mountains in the fall has lots of pros and a major con — unpredictable weather. Being flexible is crucial. A new app designed for tracking future weather situations along your route is Drive Weather.
Take Colorado one trip at a time. There simply are not enough minutes on a clock to see every part of these mountains perfect for hiking, biking, skiing, snowmobiling, or fishing. Go back, many times, during different seasons to see Colorado's diverse habitats with an unbiased lens each time.
For more on Colorado and fall travel, explore these articles: