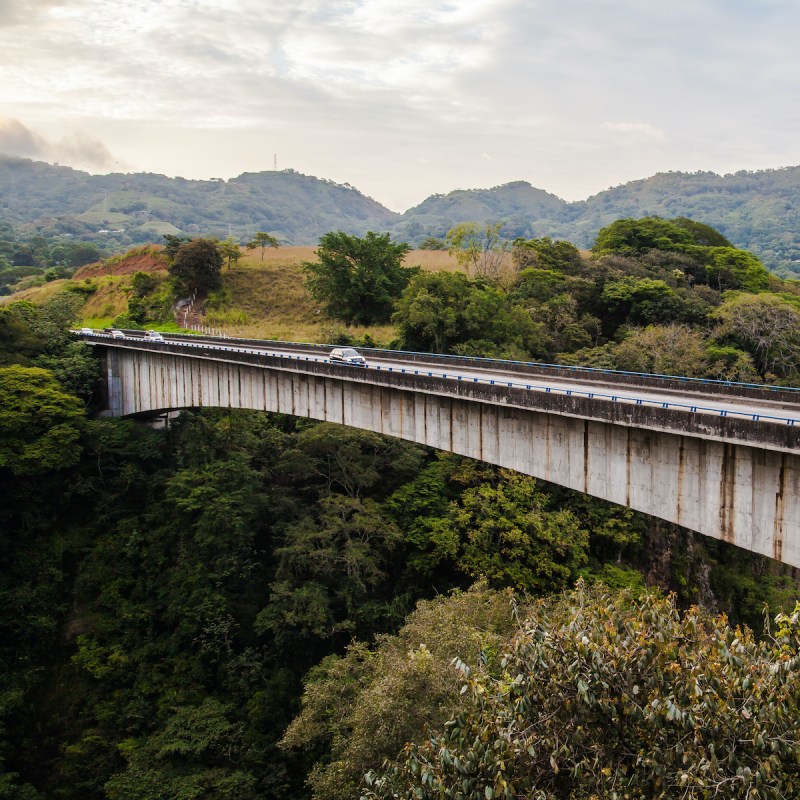 Being in the business of assisting retirees in their residency, legal status, and moving, I field many questions every week on all topics about Costa Rica. They ask everything: where to fill their prescriptions, should they bring their own toilet paper, how to open up a bank account, and the necessity of learning Spanish just to name a few. One question that always is on the top of their "most-asked" list is, "Is it safe to drive in Costa Rica and how do we get a driver's license?"
Driving in Costa Rica can be scary for those who have never driven here before. With that said, the good news is that much of that uneasy feeling is only in one's mind. It is not as bad as people think!
Back when I first arrived here in November of 2002, those were the days when you may have been taking your life into your own hands when sitting behind the wheel. Not only did we have to navigate around the huge potholes, but there were not too many major routes from San Jose to the Central Pacific coastal areas. The approximately one hour trip today used to take at least two and a half hours, perhaps three hours on a rainy day. What a mess! Pretty darn dangerous as well. Winding, slippery, and lots of traffic were usually a recipe for disaster. Now, with the new toll road being utilized, it's much easier and safer than it was before.
Having a car in Costa Rica gives us the freedom to get up and go as we please. I would venture to say that after a few days on the open road, it will get easier for you!
1. You Can Rent A Vehicle Short Term And Long Term
Many tourists who stay here for more than a couple of weeks have the option of renting a car or truck for a longer time. There are many international rental car companies here. Enterprise, Alamo, Adobe, Hertz, and Budget to name a few have offices all over Costa Rica. Just like in any other country, you need to do research online and get the best prices. There are also smaller companies that are based in Costa Rica that will have cars available. I cannot give you any set pricing at this moment because fees and availability change all the time. Again, you need to set the dates that a car is needed and then look around for the best deal. Another option is to find individuals who have their vehicles for rent. They tend to offer their vehicles at a lower price. A couple of suggestions: be sure to get full coverage on the vehicle and to rent a four-wheel drive. You have two choices regarding buying insurance for your rental vehicle. First, you can purchase it through a rental car agency or you can buy international vehicle insurance. The latter choice is usually less expensive. It is worth the time to compare prices.
Many off-road areas will be worth the trip to see a view to die for! Many times, you will be driving down the road on the main highway and will see a turnoff that will take you to a high vista. Then your 4-wheel-drive vehicle will come in handy. I want to emphasize once again to pay extra for full coverage on the vehicle that you rent. It will save many headaches if anything happens while you're renting the vehicle, especially if you are going to take advantage of those dirt roads leading to wonderful views!
2. Obeying Traffic Laws In Costa Rica Is Very Important
In earlier times, many of the traffic laws were there to be broken. When pulled over, a $20 bill offered to a traffic cop would make any problem go away. It was easy to drive "at your own leisure" and not worry about any fines for your lack of following the rules. Now, it is a totally different story. I urge you to learn about all the traffic laws here in Costa Rica and know how much the fine will be when you disobey these laws. For example, passing on a double yellow line can cost you over $500! Many fines were recently reduced, but they still hurt when having to pay them. Follow the law and drive safely. It's only common sense to do so.
3. Some Buy Their Cars In Costa Rica; Others Ship Them From Home
Many people decide to either purchase a vehicle when they move here or they ship their car from their home country. There are a few things to consider when buying here or shipping a vehicle. First, with the current tariffs in place, purchasing a vehicle in Costa Rica is considerably more expensive than in your home country. Prices can run from 30 to 50 percent higher, depending on the model and brand of vehicle. The same situation stands true when shipping a vehicle to Costa Rica. The taxes can add thousands of dollars to the cost of shipping. With that said, the vehicle you shipped is already worth more in Costa Rica than it was in your home country. Another consideration when shipping your vehicle is to be sure to do research regarding the availability of parts. A Toyota is very common here. A Ferrari is not. Consider your options when thinking about this.
4. As Of Now, Getting A Costa Rican Driver's License Isn't Necessary
This law seems to change quite a bit every few years. In 2022, here are the facts. You do not need an international driver's license to drive here. You will need to have your passport and your home country's driver's license with you at all times. If a traffic cop pulls you over, you will need to furnish these items, as well as the rental car papers if your car has been rented. Your passport will need a valid tourist stamp. You can only drive for as long as your tourist visa is valid. If you are going to renew your visa in Costa Rica, you will need to visit another country and get your passport stamped again. At that time, your home country's driver's license will continue to be valid.
If you plan on staying in Costa Rica for an indefinite amount of time, then you may consider getting a Costa Rican driver's license. Both legal residents and tourists alike can obtain one. You will need your current passport with a valid entry stamp of no more than 90 days, your residency cedula (identification card), or any other document that will prove either permanent residency or temporary residency.
There is a very simple driver's license application to complete. You will need to go to the Council for Road Safety in an area of San Jose called, "La Uruca." You can search online for the exact address and directions.
5. There Are Two Ways To Obtain Your Costa Rican Driver's License
"Homologating" A Foreign Driver's License
To do this, you will prove that you've been living in Costa Rica for at least 90 days. You will need to have a temporary residency or permanent residency. You will set an appointment for yourself and present your home country's valid driver's license, Your Dimex card, work permit, refugee card, and a medical health certificate submitted by a General Practitioner that states that you are in good health.
Acquiring A Driver's License For The First Time
You will have to go through the process of passing two tests, the first being a multiple choice in the office, and a driver's test as well. Once you have gone through either of these procedures, you will be able to drive legally in Costa Rica with a Costa Rican driver's license issued in your name. There are many specifics to the entire procedure and you can learn more by contacting the COSEVI office.
Getting your Costa Rican driver's license is a big hurdle. It is one of the steps required to feel like you are indeed a part of the community! Enjoy the process and remember that everything you do takes longer in Costa Rica. This will be a test in becoming a patient person. In Costa Rica, the acquisition of total patience is a requirement for being a beneficiary of the pura vida (pure life) lifestyle.
6. If You Don't Drive
The good news is that for those of you who simply do not want to drive for one reason or another, Costa Rica has a wonderful public transit system. Throughout the country, some buses can take you across the neighborhood, and those can carry you to Nicaragua, Panama, and beyond. For the most part, buses are clean, safe, and comfortable. They do get crowded at times, so you may decide to wait for one that doesn't have so many people. There are alternate ways to get from one place to another. Taxis are very safe and Uber has a strong presence as well in Costa Rica. For those who want to be pampered, you can find private shuttles to nearby towns and other parts of the country as well. They are priced well and are indeed an option for you to consider.
For more information on traveling to Costa Rica, check out these articles: