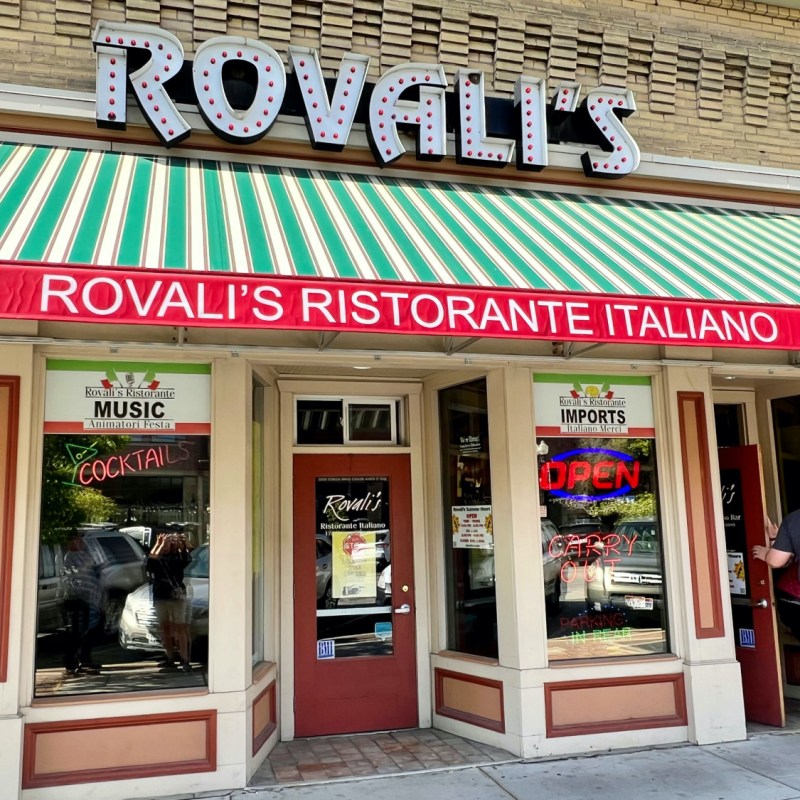 My husband and I finished a year of full-time RVing in Ogden, Utah. Ogden, the first settlement in Utah, is 10 miles east of the Great Salt Lake and 35 miles north of Salt Lake City. If you are a snow skier, you probably recognize the name Ogden as it is the gateway of Powder Mountain and Snowbasin ski resorts. Ogden is continually growing and thriving, and they have a great food scene. Here are the seven amazing restaurants we tried in Ogden, Utah, on our travels and what we had from each. My list falls in the order of which we ate there.
Due to staffing issues that are the way of our world currently, expect a little longer time for food to be prepared and be gracious to the waitstaff, please.
1. Rovali's Ristorante Italiano
Located on Historic 25th Street, Rovali's Ristorante Italiano is a family-owned and operated restaurant with raved about pasta dishes and pizza. It is one of the top restaurants, as per TripAdvisor, a source I actively use when seeking out where to eat in new towns, and it is in a great part of town.
Besides being a full-service restaurant, Rovalis also has a bakery with many desserts to choose from. The pastry chef Andrea makes some of the best desserts in the whole state. Selections range from cream puffs, cookies, tiramisu (a variety of flavors — like whiskey cherry), cannoli, cheesecake, and dozens of cake options.
Rovali's is closed Sundays and Mondays.
What To Order At Rovali's Ristorante Italiano
We started with an order of fried zucchini and fried ravioli. They were both tasty starters, and I loved how they cut the zucchini into sticks. There are classic pasta dishes and a few specialty items to choose from for your entree. You could also order sandwiches, pizza, and salads. The pasta menu has all the necessities — ravioli, spaghetti, lasagna, and sauces like pesto, Alfredo, meat, and marinara.
I chose the sampler platter, Tour of Rovali, with small portions of lasagna, cheese ravioli, and fettuccine Alfredo. It was a full plate of food, with some leftovers to take home, and each item was flavorful and terrific. Entrees come with a side house, Caesar salad, a cup of soup, and a bacci roll, their specialty bread item. I could eat a dozen of them!
Rovali's has a full bar or you could try one of the non-alcoholic Italian cream sodas or lavender lemonades.
2. Mountain Donuts
Our East Coast friends moved to Ogden (hence why we are visiting) and set up shop in a donut store they created from scratch. Mountain Donuts meets all my sweet tooth needs since donuts are my favorite. Here's what to try.
What To Order At Mountain Donuts
Mountain Donuts prides itself on hand-dipped hot cake donuts done the way you want them while you watch. In reality, many people don't have time to wait for the production, so they offer packaged donuts made up fresh daily. Custom creations include picking your coating, toppings, and drizzle. My top pick is the blueberry, but the Paulie, with peanut butter icing, Reese Cup crumbles, and both peanut butter and chocolate drizzles, is a show-stopper.
This business is closed on Sundays. Order by texting, calling, scanning orders, or going online. For your convenience, they have a drive-through and curb service.
3. Ruby River
Ruby River is an American restaurant with items on the menu that will please every guest that comes through the door. It has also been voted Ogden's best steakhouse for 9 years.
What To Order At Ruby River
We met friends at Ruby River for lunch, which offers smaller portions and prices. I wasn't very hungry, so I had an appetizer for lunch. The Steak & Avocado Egg Rolls were spectacular and enough to share and fill me up. Fresh avocado and mozzarella accompanied the award-winning steak mixture inside with cilantro ranch dressing as the dip. These little beauties were fantastic. My friend had the Avocado Lime Salmon, which was beautifully plated and looked amazing.
4. Rosa's Cafe
The biggest surprise of our meals came from Rosa's Cafe, a retro-looking cafe that you might otherwise miss if not for the cute sign. Rosa's is a stool counter–serve eatery with amazing burritos and authentic Mexican cuisine. The spicy chile verde is a must!
Rosa's Cafe, run by the mom-daughter team, specializes in burritos (huge and tempting), and breakfast items. We heard stellar reviews about the Chile Colorado Breakfast, chicharron burritos, and the huevos rancheros. They are closed Mondays and Tuesdays.
What To Order At Rosa's Cafe
Rosa's Cafe was a bit confusing for us at first. We went to the cash register to order but were unaware of what was offered. So, I looked at what others were eating and just ordered what looked good. My husband did the same. We quickly learned that if you are coming here for tacos, don't come. Simple as that. Whatever I ordered turned out to be fantastic (I think it was the Chile Colorado Burrito) as another level of good Mexican food. The homemade flour tortillas were a bonus.
If you want salsa to accompany your meal or add some heat to it, just ask. They will bring you some. Add a glass of horchata to cool down the spiciness on your tongue.
5. Slackwater Pub & Pizzeria
My favorite meal in Ogden came from the River District's Slackwater Pub & Pizzeria. Though we got our food to take home for dinner, Slackwater offers riverside dining and live music.
Besides pizza, you can also get soups, salads, and sandwiches at Slackwater. Brunch is served Sundays from 10 a.m. to 2 p.m.
What To Order At Slackwater Pub & Pizzeria
I'd been told by several locals how freaking fantastic Slackwater Pizzeria was, but it wasn't until I sunk my teeth into a bite of the fabulous pie creation that I was sold. It didn't hurt that the roasted "check your garlic breath" appetizer, whole roasted heads of garlic over a gorgonzola cream cheese spread and pico, checked all the bases for original, extraordinary, addictive, and to die for. Though my breath smelled horrible for days, dipping those little herb crostinis in the garlic cream cheese mixture was heavenly.
My pizza was called Hulk, a green goddess base with grape tomatoes, jalapeños, feta, and fresh avocado, while my husband chose the Cardiac Arrest, a meat lovers recipe. The pizzas were a smashing hit, from the toothsome crust to the quality toppings. Two other pizza names that caught my eye were the Tastes Like Burning (I love anything hot and spicy) and the Indian-inspired Tikka Masala.
6. The Sonora Grill
After exploring the Saturday Market in downtown Ogden, we visited The Sonora Grill on the weekend. The Sonora Grill offers regional Mexican dishes in a sophisticated locally-owned cantina with great ambiance.
What To Order At The Sonora Grill
Eddie and I started our dining experience munching on the chips and two salsas, a roasted red and green (verde). The sturdy chips were freshly made and still warm. The first basket is complimentary. A refill will cost you $2.95.
For lunch, I chose the half order ($4 savings from the whole order) of chile rellenos, a dish I love but don't see on many menus. It came with two poblano peppers and sides of refried beans and rice. Sour cream, cheese, and an avocado cream sauce that was insanely good covered the dish, which was so amazing that I nearly licked the plate clean. I loved the freshness of our meals at The Sonora Grill and highly recommend it.
Something unique about The Sonora Grill is that their margaritas are created with locally made spirits from New World Distillery. My husband claimed his mango habanero margarita was perfect. For non-drinkers, there are several virgin frozen drinks on the menu and a flavor-of-the-day agua fresca.
Pro Tip: Sonora Grill also has a seasonal and brunch menu to choose from.
7. Ramblin' Roads
Eddie and I set out for breakfast on our last morning in Ogden, and on the way to the place I had picked, we drove by Ramblin' Roads. I immediately liked its curb appeal, and the restaurant was packed. We figured it must be good, so we had a change of plans. Smart move; this family restaurant was excellent.
What To Order At Ramblin' Roads
I struggled between ordering an omelet, French toast, or Benedict, as they all looked delicious going by me on delivery trays, but the California omelet won. My extra-large omelet contained bacon, mushrooms, Swiss cheese, and was topped with fresh avocado slices. Toast and hash browns were the sides, though you can swap one out for a pancake or scone.
I asked for a side of hollandaise to see how it was (I do this everywhere), and it took my omelet to a whole new level. Imagine the creamy and cool avocado, rich hollandaise, melty Swiss, and hearty mushroom/bacon together — perfecto!
For more information on traveling to Utah, check out these articles: