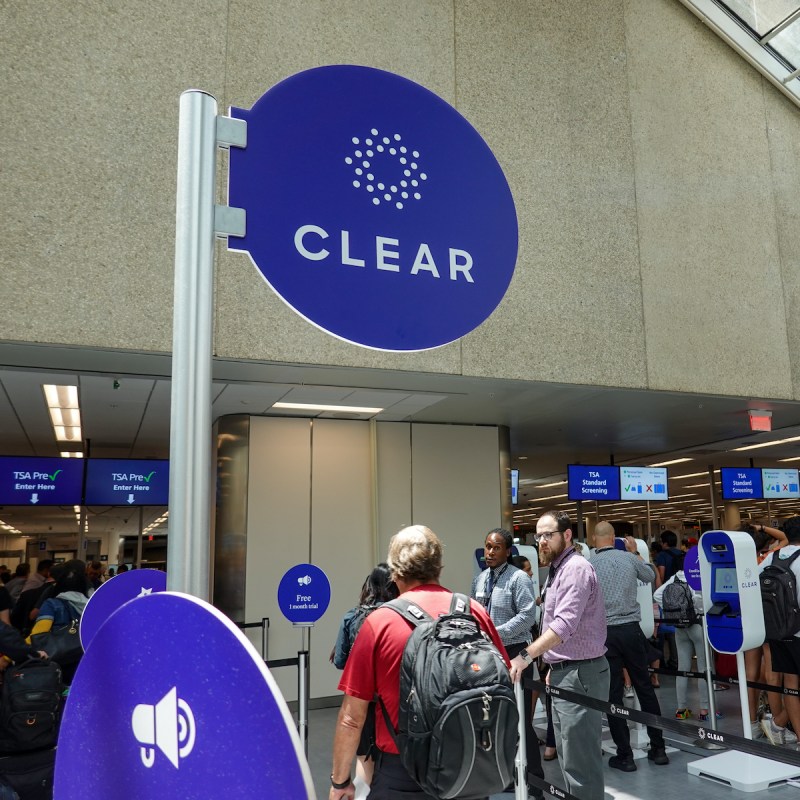 Clear has made a business out of getting airport passengers through the TSA screening process quickly.
Now in one location, the company is testing a program to get them all the way through the airport from curb to boarding.
The company has launched a pilot program called Clear Premium at Florida's Orlando International Airport. Clear members can make a reservation to have a Clear employee meet them at the curb and help them navigate the entire airport process.
Not only will the employee get them quickly through the TSA checkpoint like all other Clear members, but he or she will help the traveler with the check-in and luggage tagging process, and get them to their proper gate.
"With Clear Premium, an ambassador is your personal guide to your gate," the company said in an email last month. "They help you check your bags at your airline, navigate through the airport to the Clear lane, and guide you to your gate with less stress."
This personal ambassador comes at a cost — $79 for a reservation.
The service is only available in Orlando for the time being as Clear works out details and kinks. Orlando was one of the early proponents of Clear for the standard TSA service.
"Since the very beginning, Orlando International Airport leaders have guided growth and development of Central Florida's main airport to include innovative technology and to enhance the travel experience," Brian Engle, director of customer experience for the Greater Orlando Aviation Authority, said when the program launched. "The reservation lane service will offer a streamlined process for the modern traveler, allowing us to better deliver The Orlando Experience."
Clear has made no public announcement of the premium program or any plans to expand it should it prove successful in Orlando.
Clear has been growing at numerous airports across the country. Travelers can become a Clear member and enter their flight details into its system in advance of traveling.
Once at the airport, travelers head to the Clear kiosks near the TSA checkpoints, confirm their identity, and are then escorted to the front of the TSA line.
Clear officials say their product takes some of the unpredictability of air travel away. Travelers never know how long that TSA line is going to be, so Clear allows them to speed through no matter the wait times.
Clear has also expanded at some concert venues and sporting events where there are security lines.
Clear charges $189 for a membership.