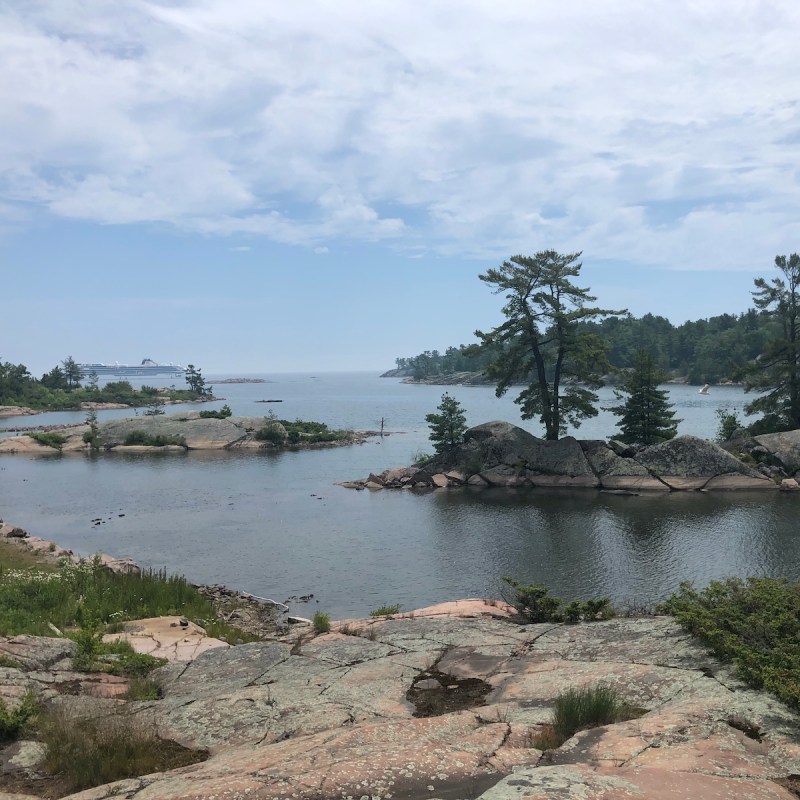 An incredibly gorgeous natural jewel nestled into northeastern Lake Huron, Georgian Bay might just be the most beautiful place you've never heard of…until now.
I certainly hadn't before visiting the UNESCO Biosphere Reserve this summer. The Canadian region is a hidden travel gem and an outdoor lover's paradise. It's packed with national parks that feature unspoiled forests, miles of sparkling lakeshore, pink granite outcrops, rocky beaches, remote islands, historic towns, and plenty of places to explore.
Here are seven reasons you might want to plan your next adventure getaway in Georgian Bay, Ontario!
1. You Have To Really Want To Get There (And That's A Good Thing!)
Georgian Bay, the world's largest freshwater archipelago, is a complex mash-up of lakes, rivers, bays, and inlets often referred to as the sixth Great Lake. It's long been a favorite summer stomping ground for Canadian families and nature lovers, but this magical, rugged spot isn't the easiest to reach. Located about 100 miles due north of Toronto, the region wasn't even accessible by road until the early 1960s. Those who wanted to enjoy the pristine beauty of Georgian Bay had to get there by water, or air.
Indeed, there are still far-flung areas of the preserve that can only be reached by plane, ferry, or private charter by air or water. I spotted many small planes and private watercraft during my visit, and even got the chance to visit a lodge in the bay's northern region that received all of its guests — and supplies — via boat. It made the entire area feel remote but in the best way possible. The work you put into getting to Georgian Bay will be paid off with some of the most stunning scenery on the planet, not to mention the chance to really and truly unplug.
2. It's Got Brilliant Biodiversity
The flora and fauna on full display in Georgia Bay are incredible. Let's face it, UNESCO doesn't just give a Biosphere Reserve status to just any place! Huge stands of pine, spruce, and oak tower over the shoreline's outcrops and shade the region's thousands of islands. Word to the wise: don't forget your allergy medicine if you're visiting in the summer. These trees can literally explode with pollen, and when they do, it leaves thick dust on your clothes, glasses, and even coats the water! Plan accordingly if you're sensitive to allergy attacks. The pollen was intense.
There are treasures to be found at ground level as well — I was delighted to spot gorgeous pink lady slippers, small strains of wintergreen, and lovely blooming mosses while exploring.
As far as animal friends, the reserve is home to threatened species including the eastern massasauga rattlesnake and spotted turtle. Conservation efforts are underway to preserve and keep the reptiles safe, including mitigation strategies to prevent them from getting hit by cars, particularly in provincial parks. Other northern favorites, including moose, black bears, and otters live in and around Georgian Bay. You might be lucky enough to spot a few of these critters but remember, keep a respectful distance for their safety, and yours!
3. Hiking Here Is Incredible
I'll be honest, I'm not a huge outdoor enthusiast. Usually, the idea of being in the wilderness slightly terrifies me. However, I jumped on the chance to go on two separate, guided hikes while visiting Georgian Bay, and both were incredible. When you consider that there are more than 30 thousand islands and more than 12 hundred miles of shoreline here, it's no wonder we were treated to incredible views and vistas during both outings.
Some of the trails here can be challenging, especially if you're traversing over some of those granite outcrops or cliffs described earlier. Walking sticks didn't help much; staying low to the ground and using your hands when necessary to crawl up or down was the best way to power through. It should go without saying a good insect repellent is a must to keep black flies at bay and hydration should always be a top priority on the trails. That said, all of the work was worth it when we got incredible glimpses of where the forests met the lake. During one adventure, I was able to see several islands in the distance, dotting the bay.
If you're considering a hike while visiting Georgian Bay, do make it a priority to stay present. Really keep your eyes and ears open. You won't regret it. From seeing the tiniest, most beautiful flowers to spotting warblers and woodpeckers, the scenery during my treks in Killarney Provincial Park and near Silver Islet were both unforgettable.
4. Take The Time To Learn About Indigenous Culture
The Georgian Bay area is located in Anishinaabek territory and is recognized as such in two different treaties — The Robinson-Huron Treaty of 1850 and the Williams Treaty of 1923. Indigenous peoples who have been here for centuries — and were indeed there first — are of Ojibway, Chippewa, Odawa, and Pottawatomi ancestry. All have deep connections to this beautiful land and share a deep sense of accountability for it.
I learned this first-hand, as I was fortunate to spend time during my trip with members of the Georgian Bay Anishinaabek Youth or GBAY. The indigenous youth-led initiative partners with the Georgian Bay Biosphere, the non-profit founded to support UNESCO's designation. GBAY is located in the town of Parry Sound and works with indigenous youth in the area.
GBAY members are passionate about their land and culture and are committed to preserving both. One of their biggest projects to date was hand-constructing a traditional birch bark canoe — or wiigwaas jiimaan — they call Oshkinigig, which means "The New Ones." The group worked for weeks to harvest all of the materials from the land and were mentored by other Indigenous groups for the actual build. It's a stunning, and incredibly functional watercraft, and seeing members of GBAY paddle her in Killbear Provincial Park is something I won't soon forget. If time permits, seek out a similar experience in Georgian Bay.
5. It's Always Been A Fishing Paradise
The lakes and rivers in and around Georgian Bay are an angler's dream come true. For generations, charter operators have brought fishermen and women to the region to try their luck at reeling in the big one. A wide variety of species exist here, including small and largemouth bass, walleye, pike, muskie, and rainbow trout. The waters near the small town of Killarney in particular are known the world over as a top angling destination.
If you'd like to cast your line while visiting Georgian Bay, consider hiring a guide or a private tour. There are many regulations involved, especially when it comes to catching and releasing. Your best bet is to have a knowledgeable person with you to make sure you don't inadvertently break any conservation rules.
6. There's A Rich Art Tradition
Once you set foot (or sail) in Georgian Bay, you'll realize why artists have long been drawn to the region. The Group of Seven, Canadian landscape painters who were most prolific in the 1920s and 1930s, focused their works on the stunning natural beauty of the area. The Toronto-based artists returned again and again to the remote region—no easy feat at a time when there were no roads leading to the bay — and found fame for their oil depictions of the Canadian wilderness. The Group of Seven produced thousands of works. They now grace galleries and museums across the country and are appreciated for their modern, rugged style.
Today, that rich tradition continues. Georgian Bay routinely hosts art festivals, and the towns along the coastline boast art centers and studios focused on the region's incredible landscapes. Consider taking a look, and perhaps bringing home an artist's rendition of the region as a souvenir that will remind you of Georgian Bay for years to come.
7. The Towns Are Tiny And Charming
From Collingwood to Killarney, Parry Sound to Honey Harbor, the towns nestled along the bay's coast are cozy and charming. Most would make a great home base for your Georgian Bay adventure, but you'll want to factor your tastes and vacation goals into the location equation.
The southern shore is more developed, so many folks from Toronto make it their summer second home. There are plentiful beaches, restaurants, shops, and resorts. Further north, you're still going to find charming accommodations, but with a more remote, far-flung vibe and perhaps fewer amenities. This is the portion of the bay that draws anglers in particular.
No matter where you home base, if you do your research, you're not going to go wrong or be disappointed. Be prepared to be astounded by the natural beauty of the reserve. There are ample opportunities to paddle, hike, swim, and sun all around Georgian Bay.
For more information on traveling to Canada, check out these articles: