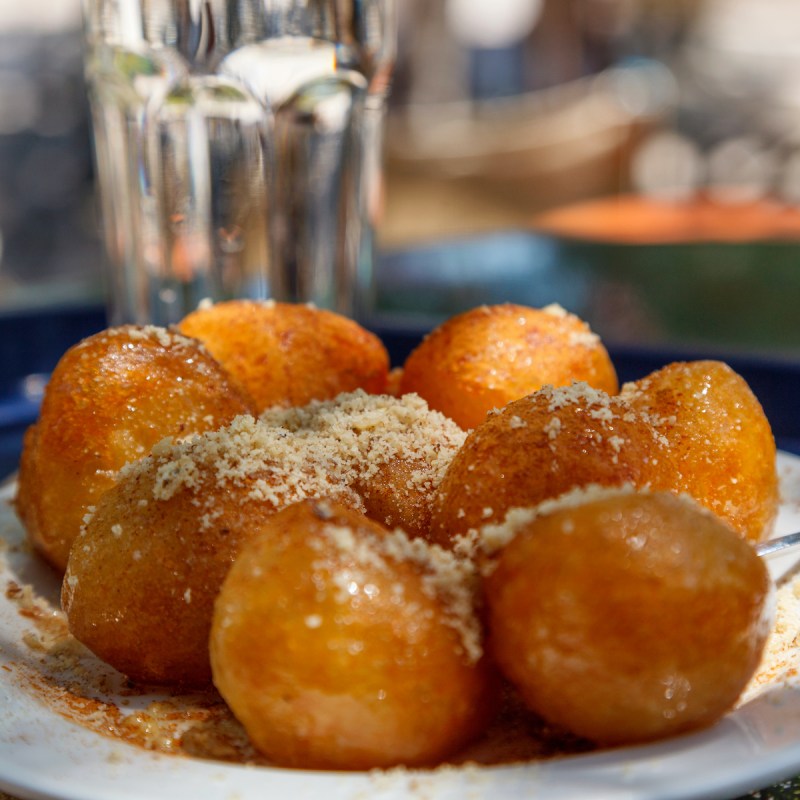 If there's one thing that the Greeks know how to do well, it's to eat. They love to eat with an abundance of friends and family around them while taking their time. Greeks recognize that food is more than just a way to fill your stomach and should be enjoyed with good company. More than that, food is indicative of how a nation lives its life and health. We've already seen that food is key to the longevity practices on the Greek island of Ikaria. One thing is for sure, Greek desserts are no exception. Reflecting Greece's eclectic history, many desserts are syrup-rich treats that can be found throughout Turkey and the Middle East, while others date back to ancient Greece or the Roman era.
From the very simple to the more complicated, from desserts that are consumed at specific times of the year, one thing is for sure. If you've got a sweet tooth, then Greece is the Mediterranean country to go to for their delicious desserts. Many have filo or phyllo pastry as their base.
1. Greek Yogurt And Honey
We start with the simple, yet delicious Greek yogurt and honey.
Made traditionally, Greek yogurt is made from pure sheep's milk and strained through a muslin cloth to remove any whey or liquid. The result is a deliciously thick, creamy, and pure yogurt that has health benefits. The straining process removes some lactose. The yogurt is high in protein and calcium, with a lower sugar level.
Since ancient Greek times, the founding father of medicine, Hippocrates, swore by pure honey and its medicinal properties. Modern-day research has found that honey has excellent anti-bacterial characteristics, is good for wounds, burns, and general upkeep of a strong immune system. Pair pure Greek yogurt and honey together and you have not only a delicious dessert or snack, but something you know is very good for you.
As you'd imagine, this staple Greek diet can be found at all eateries or patisseries, but mainly in smaller tavernas. Eating local in Athens highlights Stani, one of the capital's oldest dairy patisseries founded in 1931 in the heart of the city. Their yogurt is made on the premises and is still popular today with locals and tourists alike.
2. Loukoumades
Another delicious dessert that can be found in Stani is the deep-fried donut balls of Loukoumades. Stani serves them drizzled with honey, but they can also be served with chocolate on top or sprinkled with sugar.
Their origin is mixed from Greece, Persia, Egypt, and Turkey. These days, they can also be seen throughout most of the Balkan states too. In Greece, it's thought that Loukoumades are the oldest recorded dessert, tracing back to the first Olympic Games of 776 B.C., where deep-fried dough balls covered in honey were served to the winners as "honey tokens."
This delicious dessert is served warm and nowadays offers a selection of toppings like sesames and walnuts. They may also be injected with a cream filling. My advice? Have it simple with honey, and eat like the ancients.
This dish is so popular that shops that exclusively serve this delicious staple can be found popping up across the country — little loukoumades bars. My favorite is in central Athens in the Platia (Square) of Agia Irinis. Lukumades, which opened in 2013, is right in the hub of all the cafes. You can see these little balls of heaven being created in their open kitchen.
3. Galaktoboureko
Forget custard pies like the ones being thrown around at fairs or in films such as Bugsy Malone. Get a real custard pie experience. Your trip to Greece isn't complete without at least one, preferably more, slices of the Greek "custard pie" — galaktoboureko.
This Byzantine equivalent, translating to "milk pie," is more than a runny milk product. The layers of crisp filo pastry are initially brushed with butter, filled with milky custard and semolina, then baked and coated in syrup.
Yes, it sounds like a heart attack on a plate. Remember, the beauty of Greek food in general, including its desserts, is that much of them lack the number of ingredients that prevail in our diet. You're guaranteed a fresh, albeit rich, and mouth-watering experience.
It was initially served across Athenian bakeries over 100 years ago and is in patisseries around the country. Some specialty shops in Athens, such as Kosmikon, opened in the city center in 1961. Varsos is in the leafy, affluent northern Kifissia suburb of the city, and Galifianakis is in an Athenian suburb called Agios Paraskevi.
If you're ever visiting a Greek friend, it's always polite to take a sweet dessert from a patisserie. On a Sunday, you'll often find Greeks carrying a box of some sweet treat to take to relatives they're visiting. A few slices of galaktoboureko will be welcomed by all.
4. Baklava
Baklava is a simple, delicious, yet contentious dessert. One for nut lovers, this original Ottoman recipe is made with layers of crispy filo pastry filled with crushed nuts and honey syrup. Depending on which region of the country you eat it, the nuts will differ. Southern Greece tends to use chopped almonds while the north uses walnuts, and some recipes use hazelnuts, sesame seeds, and raisins as a twist. The traditional pistachio baklava is more of a Middle Eastern and North African ingredient but is also found in Greece.
Baklava is contentious because whilst many ethnic groups claim baklava as their own and prepare it with varying ingredients, in 2006 Turkey raised an issue, coined the "Baklava Conflict" to Brussels with a grievance that Greek Cypriots wanted to claim ownership of Baklava (it is worth noting that Turkey was an aspiring member of the E.U.). It was finally resolved in 2013 when the E.U. awarded Turkey the honor of a "protected status" and named the dessert Turkish Gaziantep Baklava.
However, there are variations of the dessert, so it could be surmised that Greece still maintains some ownership of its recipe and it can be found throughout the country.
In Athens, some of the best patisseries to buy baklava from include Mitropolitikon in the center which cuts small pieces into cubes and wraps them in paper — perfect for eating on the go, and Chatzis in Syntagma (Parliament) Square which fills theirs with fresh whipped cream. Enjoy and be careful about engaging in a conversation about its origins.
5. Kataifi
Similar to baklava, this dessert with Middle Eastern roots is stuffed with chopped walnuts, almonds, or pistachios. However, the pastry is the most interesting.
Kataifi — from where the dessert gets its name — is shredded filo, giving it its stringy appearance similar to angel hair pasta. Once filled, it's brushed with butter, doused in syrup — often with orange blossom or rose water for fragrance, then baked.
The resulting product, either as a whole round cake or in little pieces, looks like shredded wheat and is very crumbly. It is best eaten with your friends who won't mind a crumbly mess. After all, they'll be in the same boat.
Stani in central Athens serves great little pieces, as does Divan in a southern suburb of the city called Palio Faliro. Make an effort to spend time in this suburb and visit the unique Stavros Niarchos cultural center and other places in the area, then round off your afternoon with a lovely slice of traditional Greek dessert.
6. Bougatsa
Many Greek desserts stem from Byzantine origins. Bougatsa is yet another one of those desserts. Another filo pastry-based dessert, Bougatsa can come with a sweet or savory filling, usually custard cream, and sprinkled with cinnamon and powdered sugar on the top. Cheese or minced meat can be added for a savory version.
The pastry, sweet or savory, is popular as a breakfast dish.
The recipe originates from Asia Minor, when Constantinople was owned by the Greeks. The area at this time was famous for its desserts and sweet pies.
After the fall of Constantinople, immigrants to Greece imported the recipe and it remains a popular dish throughout the country in several bakeries and patisseries, especially in the north of the country such as Greece's second-largest city — Thessaloniki, and the town of Serres in central Macedonia. American celebrity chef, Anthony Bourdain, came to Greece to film a food show and looked at the process of how bougatsa was made by hand in Serres.
7. Melomakarona
Now, we move on to seasonal cookies and desserts. This oval-shaped cookie's main ingredients are flour, olive oil, honey, semolina, orange, and sprinkled with walnuts. So, it's not a cookie in the western sense of the word and is surprisingly low in calories due to the number of natural ingredients used.
It harks back to ancient Greek times when makaronia — a flat piece of bread in the shape of a small oval egg was eaten after funerals as a signifier that the deceased was a blessed person.
As the dessert evolved, it was dipped in honey or "meli" in Greek, hence its new name. Nowadays, it's the most popular Greek dessert to be consumed over the Christmas period, especially during the 12 days of Christmas.
If you're in the country during this time, expect all bakery windows to be festooned with this delight. Pop into any neighborhood bakery and you're sure to be given one to sample.
8. Vasilopita
If you're lucky enough to be in Greece during the New Year's period, on January 1st (St. Basil's Day) there'll be the traditional cutting of the Vasilopita cake, usually at midnight on New Year's Eve to celebrate Saint Basil's life. It's a simple cake with many regions of the country having their own versions. Usually, there's no fancy icing on the top, just straightforward cake batter. Many people add juice from fresh oranges to give the cake a lift or zingy taste.
A coin is inserted before the cake is baked and tradition maintains that the person who gets the coin during the cutting and eating of their slice of cake will have good luck throughout the year.
Greeks make a party out of the "pita cutting," which they call the Vasilopita celebration. I hope to get the coin one day!
For more information on traveling to Greece, check out these articles: