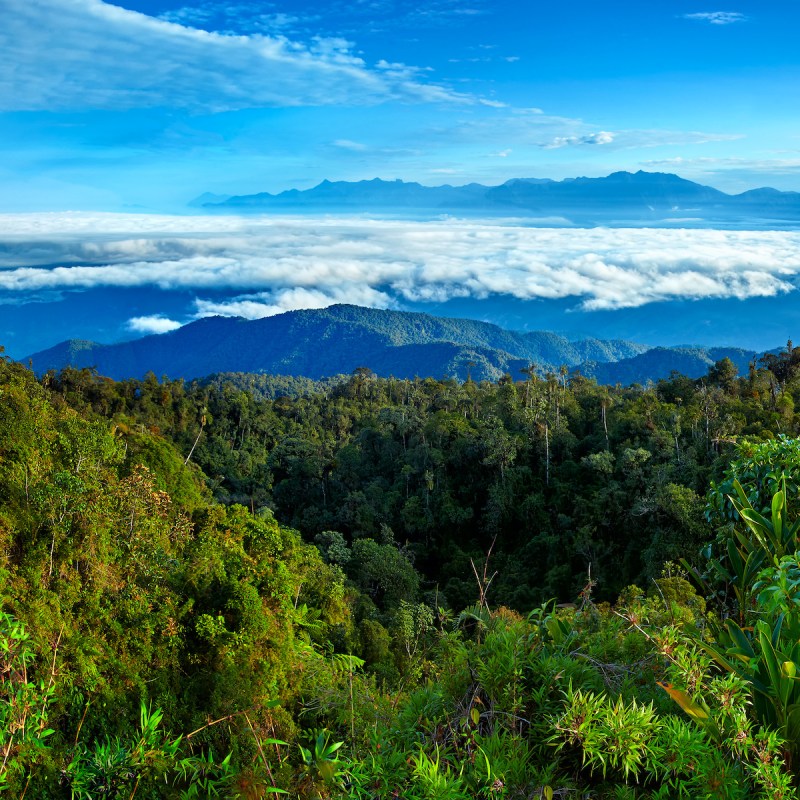 Just slightly larger than Texas and California combined, the country of Colombia in northern South America has a remarkable ecologically-diverse habitat rich in fauna and flora. A few years ago, my simple 2-week birdwatching trip turned into a 3-year love affair with Colombia, and I've returned to this beautiful country again and again.
Encompassing the Andes Mountains, a Caribbean/Pacific Ocean coastline, an Amazonian rainforest, savannahs, and a mysterious Atlantic Ocean coastline make Colombia one of the most beautiful and important natural habitats in the world. Subsequently, it is no surprise that Colombia has beautiful national parks, regional nature preserves, private parks, wildlife refuges, and sanctuaries.
As an avid outdoor enthusiast, I turned over every fascinating rock, bird, and flower I could find. There are so many wildlife treasures in Colombia that it is difficult to know where to begin. Let's start with my favorite national parks — first in the Andes, then to the Pacific Ocean.
Andes Mountains
The Andes Mountains stretch for 5,000 miles beginning in Venezuela and flowing south to the tip of Chile, with the widest section of these spectacular mountains located in Colombia. The Andes dominate central Colombia covering roughly 25 percent of the country and is home to over 60 percent of its population.
As a result of a complex pattern of tectonic collisions, three parallel ranges were formed and named the Occidental Cordillera, the Central Cordillera, and the Oriental Cordillera. Each mountain range differs in height and is separated by wide valleys, creating uniquely different habitats in each cordillera. Different habitats result in amazing diverse ecosystems in a relatively small space on the planet, drawing people from all over the globe to enjoy and study Colombia.
1. Parque Nacional Natural Los Nevados
Covering 583 square kilometers (225 square miles), the rugged raw landscape of this park is due to the very active Nevado del Ruiz volcano. Los Nevados is in the Central Cordillera between the cities of Manizales and Pereira high above the forest line almost eye to eye with the volcano. Large pieces of lava are scattered among a treeless, short, and scrubby landscape. I will never forget the sight after hiking up a steep hill out of breath due to the thin air and seeing this snow-covered volcano spewing steam in all directions.
Serious hikers descend on the Las Brisas visitor center to purchase their once-in-a-lifetime permit to climb within 200 meters (656 feet) of the volcano summit. Lumbering through lava rock, fog, glacial ice, steaming hot creeks, and barren slopes, they are rewarded with sightings of mountain tapir, puma cougar, deer, the rare spectacled bear, and 15 species of birds, many of which are endemic to the area.
Pro Tip: The top of the park is very cold due to the elevation, so take plenty of warm clothing you can ditch at the hot springs. Near the park's entrance is the Termales del Ruiz, a hot springs resort and favorite stopover for hikers to sooth sore muscles and get lunch. I aimed for their hummingbird garden.
2. Parque Nacional Natural Sumapaz
Within a 3-hour drive of Bogota, the largest city in Colombia, is a high-altitude wetland found only in South America and one of the largest in the world. Paramo means "peaceful moorland," but the park was once a busy corridor used for moving hostages during the drug wars. Today, it is protected, peaceful, and incredibly unique.
When our tour van stopped, the landscape resembled dry Arizona. But look closer and the plants are so full of moisture they are dripping water. Fields of flowering Espeletia plants stretch across dark lagoons with tall grass misleading the unsuspecting walker until they drop a few inches into a soft sphagnum moss. These plants, which can live for hundreds of years, are known for capturing water vapor from passing clouds in their spongy trunk and releasing droplets through the roots into the soil. Sumapaz provides enough water for more than 8 million people living in Bogota and the surrounding villages.
Pro Tip: Bring warm clothing, rubber boots, and rain ponchos due to the never-ending dampness. Rubber boots are used regularly in this humid farming region — not expensive to foreigners — and can be purchased easily at a local market. If you do not want to tote the boots home, please give them to your guide who might know someone who needs them.
3. Parque Nacional Natural Chingaza
Located in the eastern region of the Colombian Andes, this lovely park includes 40 natural glacier lakes and numerous rivers, streams, and waterfalls. There are many entry points to this 76,000-hectare park (187,800 acres) that wanders in and around private property.
Kayaking and white-water rafting are common activities, but my favorite excursion is hiking slowly, soaking in the beauty of the Andes's diverse array of flowers and trees. The most popular hiking trail is 3.5 hours long and leads to the Lagunas de Siecha, three turquoise mountain lakes. Many areas require a four-wheel drive-vehicle. Rain boots are a must if taking the hiking trails since many mountain springs use the trails as the fastest route down and it can get very muddy in certain spots.
Many tourists find their way to the quaint town of Guasca and stay the night at hotels that offer tours, such as the Posada Café La Huerta. This was my route into this park, with a special bonus of seeing the stunning Capilla de Siecha, a historic white chapel guarded by sheep on a quiet farm.
Pro Tip: The park takes preservation seriously and limits the number of visitors by requiring a permit, found here. I recommend hiring a tour company from Bogota or Guasca to make all the arrangements, take you to the best places, and explain the terrain and history of the area.
4. Parque Nacional Natural Tatama
Between the Pacific Ocean and the famous Coffee Triangle is the impressive Tatama, a 51,900-hectare park (128,247 acres) with a subtropical rainforest, cloud forest, paramo habitat, but few paved roads. Over 450 species of orchids, 700 species of butterflies, and 550 species of birds draw photographers from every corner of the globe.
There are few paved roads to enter the park and the main one is Montezuma Road near the town of Pueblo Rico. After just 3 days in the park, I came home with a lot of new bird species on my list, almost 600 photographs of flowers and frogs and lots of good memories.
Pro Tip: It is best to use a tour company to see this wild remote park, especially if you do not speak Spanish. There are many global tour agencies that organize specific tours of this area especially for bird-orchid-amphibian enthusiasts.
Pacific Ocean
The Caribbean side of Colombia is not known for stunning beaches or water sports, unless fishing is your game. Strong undertows make many of the beaches dangerous where swimming is often not allowed, but that does not stop visitors from enjoying scenic views of a cerulean ocean along rugged shorelines and large waves crashing into rocky inlets.
Most visitors fly into the lively city of Santa Marta with towering hotels overlooking one of the most popular swimming beaches that provides music, good seafood restaurants, and trinket markets. This region has two rainy seasons: April–June and September–November.
5. Parque Nacional Natural Tayrona
Tayrona is one of Colombia's smallest parks, but very popular, qualifying as the second most visited park in the country. Covering 12,000 hectares (29,652 acres) along a lengthy, slender strip that hugs the coast, Tayrona offers almost 40 golden-sand beaches. A lush forest flourishing with wildlife surrounds the beaches, where the main attraction are four species of monkeys that are very entertaining.
Trails snake throughout the forest from a central area with lots of family activities such as renting bicycles and horseback riding. Lodging ranges from simple hostels to elaborate eco-lodges overlooking the ocean. I was there to see the very famous and almost extinct blue-billed curassow, a shy large brown bird with curls on top of its head.
Pro Tip: Tayrona is extremely busy on weekends so make reservations early. A nice cool treat are the ice cream bars sold from bright-red hand-rolled carts — orange crema was my favorite.
6. Parque Nacional Natural Sierra Nevada De Santa Marta
Covering almost the entire Sierra Nevada mountain range, the highest coastal mountain range in the world, this park hosts the famous twin peaks named Chinundua by Indigenous groups.
Infrastructure is intermittent, leaving the land free of development. Surrounded by large corporate coffee plantations, the ocean or Venezuela, this island of untouched forest has 187 mammal species and 46 species of amphibians and reptiles found nowhere else on the planet.
The main attraction is Ciudad Perdida (or "Lost City"), an archaeological site built before Machu Pichu and a strenuous 3-day hike to the ruins. Many are drawn to this park for an amazing off-the-beaten-path place to relax and unwind. The park also draws university students, bird watchers, photographers, and flora specialists. My trip was monumental when a rare Andean condor flew within 20 feet over my head.
Pro Tip: Spend the night at the El Dorado Nature Reserve located in the heart of the Sierra Nevada mountains. The rustic eco-lodge and cabins are located on one of the highest points in the park. My cabin had a glass wall facing the mountains and valley below with stunning sunset views.
Check out the incredible experiences to be explored in Colombia, including: