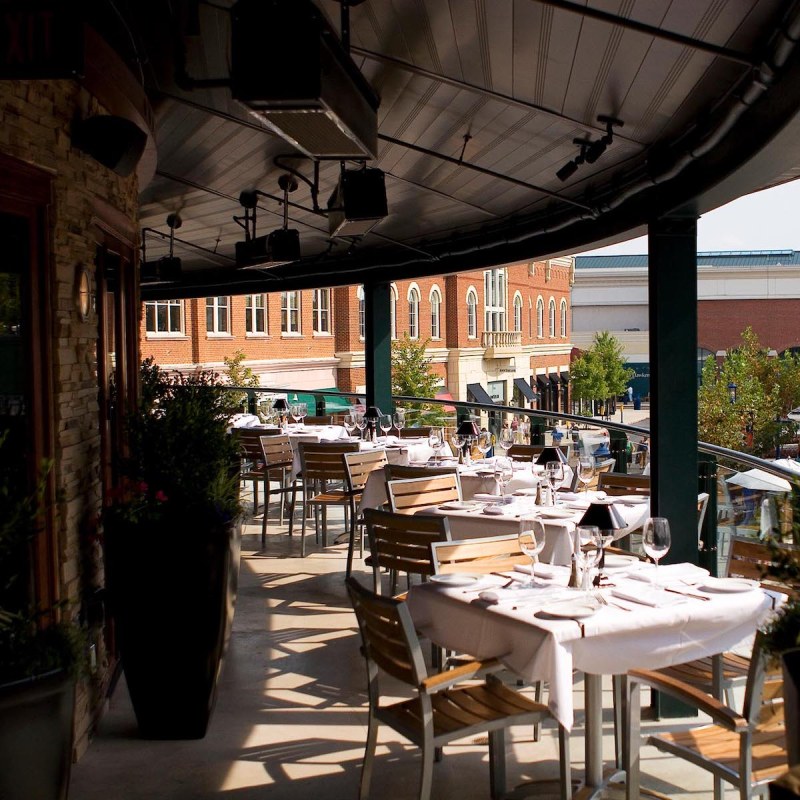 Winters can be long in Ohio, making outdoor dining once the sun peeks out and days become long even more of an experience to treasure.
If you have not been to Columbus in a while or have never even thought about it, now may just be the time to explore this Midwestern city that is doing many things right. Columbus has pivoted from a manufacturing town to a service, insurance, and technology capital, has developed formerly forgotten neighborhoods, preserved their historic areas, and attracts culture in mass quantities (like the incomparable Dale Chihuly exhibit at the art museum).
The capital city has a zoo that was the subject of a national television program for years, has a giant university known for football as well as higher learning, is the seat of power and government for the state, and, finally, has a cutting-edge restaurant scene that embraces all of the diversity and history the city has to offer.
Let's start from the top. Rooftops and terraces abound, and what a view they have to offer.
1. Lincoln Social
I was here when Lincoln Social first opened and it was all the rage. It still seems to be the ultimate popular rooftop bar in the vibrant area known as the Short North. It's a Cameron Mitchell restaurant with insane views, yet the quality food and cocktails are what this restaurant group is known for.
Lincoln social is glamorous yet accessible and is easily the place to take out-of-towners and impress them with both the heights, views, and sophistication that makes up this happening downtown area.
2. Budd Dairy Food Hall
A newcomer on the scene which is also propelled by the Cameron Mitchell quality, integrity, and creativity, Budd Dairy is the quintessential food hall, featuring restaurants like Cousins Maine Lobster, Cluck Norris, Borgata Pizza, Boni Filipino Street Food, Pablo's Havana Cafe, Pokebap, Modern Southern Table, and The Cheesecake Girl. Two bars serve up $10-11 cocktails like the Budd's Apothecary — made with gin, citrus, aloe water, and strawberry — and the spacious rooftop is a perfect place to eat and drink it all in.
3. BrewDog
This happening brewery is located in one of those areas one never imagined would be a social center of Columbus. This once edgy and high-crime area was transformed by a few visionaries who saw the beauty of the location and potential in old warehouses and abandoned buildings.
Although deeper in Franklinton things are still progressing, BrewDog is the place to be for a craft beer, burger, or taco on a sunny day. Bring the family, eat well, and revel in the outdoor spaciousness while trying beers flavored with mango, blueberry, or simply a low ABV offering titled "Cold Beer." As it should be.
4. Antiques On High
Walk around German Village and revel in an area of Columbus where early settlers worked in factories and restaurants served good German beer and Wienerschnitzel and brats. While you can still find German grub, this area of Columbus is renowned for its preservation of magnificent brick homes, quaint shops, and charming eateries. AOH is not your typical German beer hall but a crafter of sours as well as cocktails and other beverages. Eclectic furnishings with club-style leather sofas and, of course, the rooftop over the Village.
5. VASO Dublin
Dublin is one of the suburbs families tend to migrate to for its adorable downtown (Jeni's ice cream started here and is now nationwide), great schools, shopping, and fantastic dining options without having to drive far. The AC Marriott is the home of VASO with its cabanas and firepits and the option of a cozy igloo in winter. In Bridge Park, the happening new area of Dublin, settle in for some killer views while sharing tapas Spanish-style and a variety of wines and cocktails.
6. Seventh Son Brewery
In Columbus, breweries and rooftops seem to go hand in hand. Seventh Son, a sister of German Village's AOH, is in the historic Italian district and features a tasting room and beer hall with a retractable roof. Yes, enjoy these craft beers year-round and munch on an array of food truck options that are regularly scheduled on a rotating basis.
7. Lumin Skybar Arena District
On the eighth floor near downtown Columbus in yet another AC Hotel (they love rooftops because their guests love rooftops!) find Lumin Skybar, which is another nod to tapas-style dining that really concentrates on the views. Check out their happy hour for both food and drinks as well as the bar's nod to Pride Month with an array of Pride cocktails with names like The Bird Cage and Acceptance.
8. Mitchell's Ocean Club
As you might imagine, this is another Cameron Mitchell and the original of his Ocean Prime chain. The food here is based on what comes from the sea, but there are plenty of other menu choices. The Mitchell's Ocean Club expansive patio terrace here wraps around a half-circle, which means there is a good chance for a view no matter where you sit. It's perfect for business lunches and those special occasion dinners.
9. Cap City Diner
Approachable and fun, I have heard about Cap City for years from my Columbus-based sister with five kids, all of which can be accommodated at their year-round, heated patio. During harsher weather, drop-down enclosures ensure warmth whenever you may need one of their famous salads, large plates, or a happy hour cocktail at one of their three locations (Dublin, Grandview, or Gahanna). Upscale diner is the theme here, and there is really something for everyone, young, old, or in between.
10. The Pearl
There are two locations, but insiders say the one in Dublin is the best of the best. It has the best view, best outdoor dining, and best happy hour, and the ambiance can not be beat. Grandview has a different vibe but the same high-quality dining experience, upscale seafood. The view from The Pearl overlooks the Link Bridge in Dublin, and patio dining around tables with fire pits means guests can dine outdoors any time of year.
Pro Tip: The Octopus is half price at happy hour and is totally memorable, as is the entire happy hour menu at The Pearl. Cocktails are a highlight. Reserve a fire pit table to be sure you get the true ambiance.
11. Lindey's
Lindey's is a longtime Columbus favorite with a great family backstory. Sue Doody, a divorced mother of four, started the restaurant that has become a landmark with no formal training but a desire to serve good food and support her family. Lindey's Restaurant and Bar has beautiful indoor and outdoor dining and the menus from brunch to lunch to dessert are extensive. Special occasions or a girls' lunch around the outdoor fountain is a quintessential Columbus experience.
12. Barcelona German Village
In my sister's opinion, this is the most private, intimate patio dining and the perfect spot for date night. It's not a newcomer, but Barcelona is a local treasure with a patio surrounded by greenery and fans hidden amongst the landscaping so you remain discreetly cool while dining on upscale Spanish cuisine in one of the loveliest and historic areas of the capital city, German Village.
13. Kona Craft Kitchen
Kona has quickly become a local favorite. This is a retirement project for owners Fran and Stacy, who fell in love with Kona coffee in Hawaii and decided to bring the whole Hawaiian experience back to their hometown. All day long, fresh with something for everyone is their guiding philosophy, even if you just stop by for a cup of really good coffee.
14. Standard Hall
This is the epitome of indoor and outdoor casual dining and focuses on something Columbus seems to get right, converting warehouses into cool food halls or dining venues with the same kind of vibe. Standard Hall has open spaces that flow easily from outside to in, the menu is comfort food and popular trends, like bloody marys and German pretzels or Nashville hot chicken and a local craft brew.
Pro Tip: Standard Hall can be vibrant and noisy, so for conversation, choose your table well. Short North Market is the original food hall and in operation for decades but is known more for food than outdoor dining. You really can't go wrong with much in this cutting-edge culinary stand out of a city.