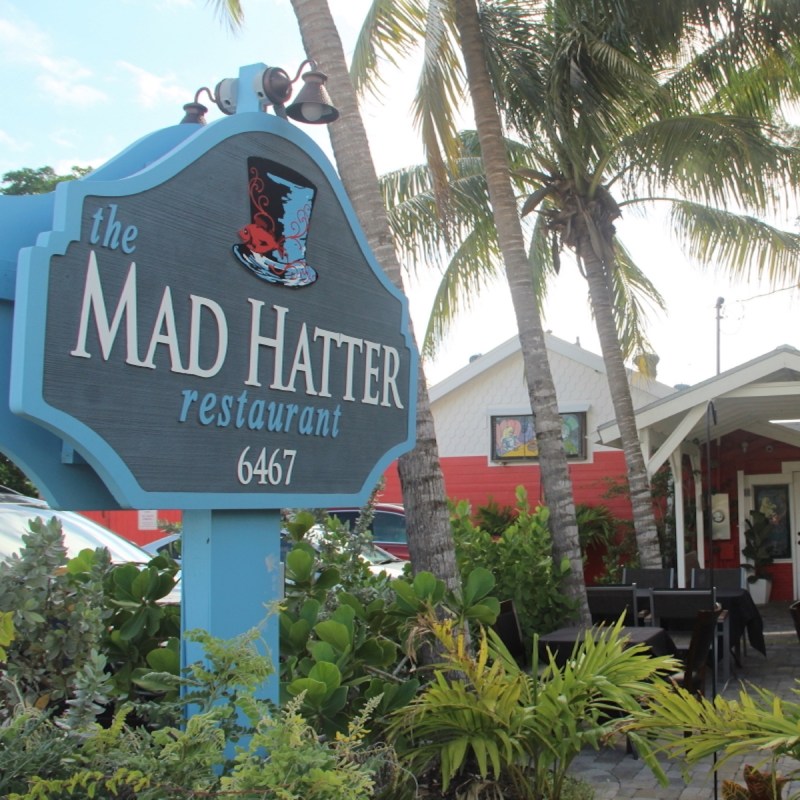 Since 1981, I have worked in and reviewed restaurants on my home islands of Sanibel and Captiva, Florida — beach destinations foremost, dining destinations close behind. My years of insider information have resulted in the following curated dine-around. Presented in no particular order, it leads you to the gems and eschews the tourist traps.
Note: I have dined at these restaurants either on my own dime or on a publication expense account.
Sanibel Island Restaurants
1. Sweet Melissa's Café
Chef Melissa Donahue is the only James Beard semifinalist in Southwest Florida, and you will quickly taste why when you sit down to dinner (lunch in season only) at her locally loved dining room with wood chair-railing and large oil paintings. Sweet Melissa's Café gathers well-spaced tables around her exhibition kitchen, where she more often than not works along with her team. (If I don't see her in the kitchen, in fact, I leave.) A separate bar serves craft cocktails, and the wine list consistently wins Wine Spectator awards.
The lawyer-turned-chef's training in prestigious New Orleans houses lends her style a Creole tweak. The pricing is a little high, but I love that she offers most entrees in two sizes and price points.
What To Order
Although grilled romaine Caesar salad has become more commonplace these days, Sweet Melissa's Café has one of the first and best I've ever tried. I also have a hard time passing up the fish stew in tomato saffron broth with Pernod aioli. The menu changes seasonally, but the stew is near constant.
2. Traders
Our go-to restaurant — not only because it's within walking distance, but also for its consistency — Traders is a favorite among locals. It lives inside a warehouse-sized building it shares with a retail store. Its bar separates the store from the dining room, with its vaulted ceilings and open kitchen. The menu stays pretty much the same, but nightly specials bring variety in a Floribbean vein. COVID-19 resulted in more outdoor seating. Live music entertains nightly.
What To Order
I think I could live on Chef Mike's white gazpacho. Skip the oysters Florentine, however. I usually pick something from the seafood du jour selection, but on the regular dinner menu, the seared scallops (with lobster ravioli and key lime basil beurre blanc) or pan-blackened mahi (with mango salsa and coconut curry sauce) won't disappoint. The sea salt caramel cheesecake is worth blowing your diet for.
Pro Tip: Traders' sister restaurant on Sanibel, T2, serves both lunch and dinner. Reserve far in advance for both in season. Traders closes for about a month in September.
3. MudBugs Cajun Kitchen
The Aussie-Italian-descended chef at MudBugs Cajun Kitchen somehow makes you feel he's straight from N'awlins. And the setting, with its balconies and live music, feels like Mardi Gras every day. Casual and decorated with beads and masks, as a Cajun restaurant should be, it has two lively bars upstairs and ground level (with a lift between the two floors). Opt for outdoor seating if you want to enjoy conversation away from the solo (amplified) musician. MudBugs serves lunch and dinner plus take-out beignets and coffee in the morning.
What To Order
Speaking of beignets, they're a must any time of day, served with your choice of dipping sauces. I inevitably start with a Cajun margarita and an order of chargrilled oysters or boudin balls. Or both. The sandwiches and entrees are all good. The shrimp po'boy gives you a generous portion, and the crawfish etouffee is not shy with spices.
Pro Tip: Plan on an early dinner, around 4 p.m., to avoid crowds and a wait for a table.
4. Normandie Seaside Café
Ssssh! This is a true locals' secret. Guests of the West Wind Inn Resort, where Normandie Seaside Café is located, may discover it, but otherwise mostly islanders are eating there. Breakfast is particularly popular, but it also serves lunch and dinner.
I can't say the atmosphere draws people in, because it's fairly plain, with church pews and tables scattered around an open dining room. And don't let the "seaside" in its name fool you: There's no view, although the beach is steps away.
What To Order
For breakfast, the bar pours a generous mimosa or bloody mary. I regularly order the bennies, which are textbook perfect, and the home fries and fried ripe plantains are delicious. The burgers star on the lunch-dinner menu
Pro Tip: You can score a seaside view and much of the same lunch and dinner items if you sit at the West Wind Inn Resort's bar above the pool and looking out at the beach.
5. Thistle Lodge
Hands down, Thistle has the best dining view on Sanibel Island. It's a beauty inside and out, fashioned after a historic, Victorian-style island mansion. It dwells today within the seaside Casa Ybel Resort. Below its elegant main dining room windows spreads a green lawn begging for a wedding party and ends at the beach. A second dining room and outdoor patio are poolside, with a gulf backdrop. It serves brunch/lunch and dinner with tropical flair and class-act service.
What To Order
You can't go wrong with the grouper sandwich on a brioche bun at lunch. The dinner menu changes seasonally, with global temptations like Basque chicken in red wine with andouille sausage, seafood Provençal, and Angus filet with Jamaican BBQ shrimp. Order a fine bourbon or scotch neat for a satisfying nightcap.
6. The Mad Hatter
Culinary sophistication with a side of whimsy: For decades The Mad Hatter has quietly built a clientele of connoisseurs who don't mind paying top dollar for finely, creatively executed American cuisine in a rabbit hole of a restaurant themed around Alice in Wonderland. Sunset from its linear front room of about a dozen tables offers glimpses of the gulf peeking through low-lying vegetation. More tables outside and tucked in hall-like spaces feel even more storybook. It's the succinctly inventive menu, however, that makes the experience. Linen table cloths, comped amuse bouches, and a fine wine list (no liquor here) add the final, special-occasion touches.
What To Order
The strawberry blue cheese salad makes a playful flavor profile with a well-balanced balsamic vinaigrette. I've ordered the seafood martini appetizer as an entrée — a medley of lobster tail, barbecue shrimp, and delicately dressed crab in a martini glass. The crab cake entrée is properly crabby, and the espresso crème brulée a fitting finale.
Restaurant On Both Sanibel And Captiva Islands
7. Doc Ford's Rum Bar & Grille
It started on Sanibel Island a decade or so ago and now has grown to three other restaurants, including one at the threshold to South Seas Island Resort on Captiva. The concept is novel in more ways than one. It brings to the table the bestselling murder-mystery novels of Randy Wayne White, who lives locally. Doc Ford's takes its name from the series' protagonist and its menu cues from the tropical locales he travels to from his Sanibel Island base. Dining at either location becomes an adventure of Caribbean, Florida, and Latin American flavors infused with rum.
What To Order
Doc Ford's mojito is signature, and its Yucatan shrimp is a star that has spawned its own national holiday. Messy and spicy, the original peel-and-eat variety is outstanding. Since then, the menu has added peeled versions — easier to eat, but then what's the point? Some other favorites on its all-day menu include flatbreads, tropical salad, shrimp and grits, and banana leaf snapper.
Pro Tip: The Captiva location hosts live music.
Captiva Island Restaurants
8. Old Captiva House
A historic part of the 'Tween Waters Island Resort, the Old Captiva House makes a special occasion statement with tablecloths and fine fare, but you won't feel out of place in dress shorts. The cottage dining room, with its windows facing the gulf, and the courtyard exude an old-Florida charm that fits well with its menu of tropically inspired delights. In my honest opinion, it serves the best breakfast on Captiva Island, while its dinner menu concentrates on seafood and fine meats. Historic drawings and photos decorate the walls, furthering the deep sense of place here.
What To Order
For something unusual and luscious at breakfast, try the artichoke chorizo benedict, which subs artichoke bottoms for English muffins. When I'm in a seafood mood, it's pan-seared branzino with mushroom risotto at dinner for me. On carnivorous days, I'll go for the pomegranate-glazed lamb chops.
9. The Mucky Duck
It's sort of a rite of passage on Captiva Island. You haven't really been to the island if you haven't experienced lunch or a sunset at "The Duck."
An island institution since 1976, it parodies England's pubs with its name and some of its menu items, such as fish and chips. It started as a tiny dining room and beer-and-wine bar, but in the past decade has spilled out onto the sand that is its front yard. Vegetation separates it from the actual beach along the gulf, but this is as close as you'll get to a beach bar on these islands.
Live bands play outdoors, where you're on your own ordering and picking up food inside. The interior dining room is only slightly more formal, with windows facing the water.
What To Order
Some deservedly legendary dishes include the shrimp bisque, BBQ shrimp wrapped in bacon, and roasted duck a l'orange. The key lime is nicely tart and served frozen.
Pro Tip: I recommend skipping dessert at The Duck and heading instead to the Boops soda fountain, a Bubble Room sidekick that serves its famous orange crunch, red velvet, and other cakes in mammoth slices meant to share. (Otherwise, the Bubble Room is kitschy, touristy, and its food unremarkable.)