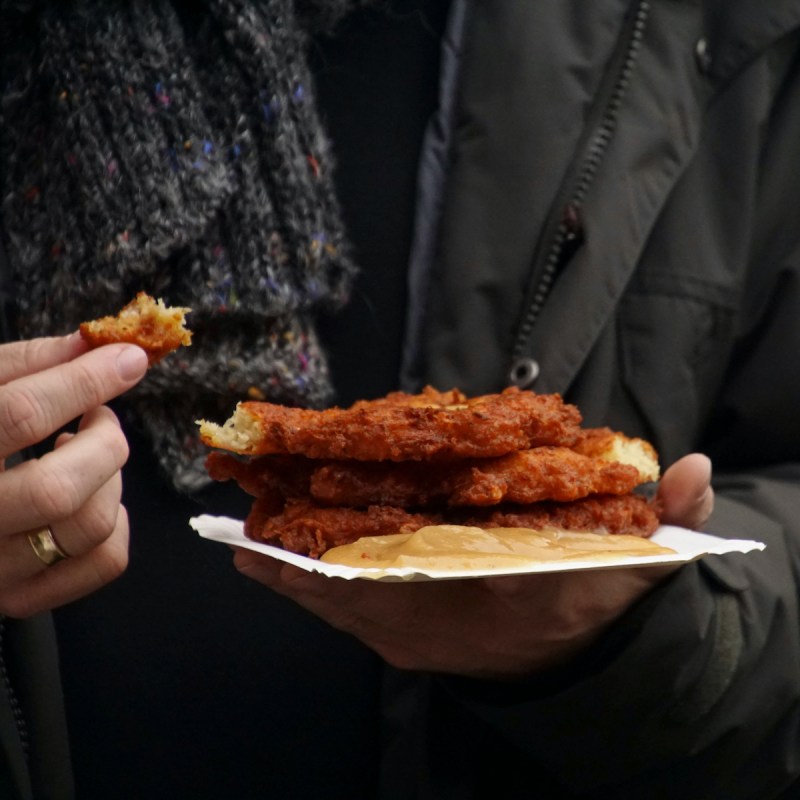 Each country has its very specific cuisine, and even in Germany where the cultural influences and cuisines may be somewhat blurred along its borders, there are certain dishes that stand out as being very typically German. Some have crossed global borders and have been embraced worldwide — just think of pretzels and Black Forest Gateau, which was voted the world's fifth favorite cake — while others are so unique and local that barely anybody outside the city limits has heard of the dish, even within Germany.
Here I have included all the above. The dish which is thought of as the German dish; some which everybody has heard of and have traversed borders; and yet others which I rush out to eat as soon as my plane touches down back in my home country. It is funny how often you miss food items when you live abroad, isn't it? Food and a sense of home are very closely related, so much so that I am already getting hungry as well as homesick just writing this.
Here are some dishes you will really need to try when you find yourself in Germany. Many you will be able to find in every city, others you might have to travel a little for, but all are worthwhile searching out.
Guten Appetit!
1. Labskaus
This is one of my all-time favorite dishes, but you can only get it in Hamburg or in the close surroundings. An odd-looking stew of beef and potatoes, it has its origins in the seafaring folk, who were served Labskaus when provisions started going off during a long voyage. Today, it is always served with fresh ingredients, some beetroot on the side, and a fried egg on top.
The best place to try it is at the Old Commercial Room right next to the city's iconic St. Michael's Church. With a long tradition dating to 1795, the restaurant serves all kinds of local specialties such as Scholle (plaice) and Matjes (soused herring), but Labskaus is the must-try — even George Clooney has previously been served here. Alas, there is no record as to whether he enjoyed it or not.
2. Lubecker Nusstorte
When you think of Germans and cake-eating, Black Forest Gateau often springs to mind. I have had to endure much rile whenever I say "no" to a piece of cake as Germans are supposed to be eating it all the time. But one I do like eating on special occasions is the Lubecker Nusstorte, a cream cake filled with nutty cream and covered in the finest marzipan by Niederegger, a world-famous marzipan producer from Lubeck.
Not found south of the border of Hamburg, this is a very regional treat. It is sweet, it is creamy, and it probably has enough calories to sustain you for 2 weeks, but it is so worth it. To enjoy it in style, go to the old-fashioned and lovely Café Lindtner in Hamburg.
3. Bratwurst
The grilled sausage, as well as the so-called Frankfurter, are the food that everybody knows from Germany. And, let me tell you, there is nothing better than a hot bratwurst straight from the grill, preferably served with fries and mayonnaise. Wherever you go in Germany, there will be variations of said grilled sausage.
In Hamburg, my favorite is the Mö-wurst, sold on the Jungerfernstieg in a small kiosk. In Berlin, you get the best Currywurst, a pork sausage doused in tomato sauce spiced with curry powder, while in Nuremberg you get the tiny little Rostbratwürstchen, which are also a best seller at the famous Christmas markets. In Bavaria, you get the popular Weisswurst, which is much paler than the others, and hence the name.
Which one is your personal favorite either depends on taste or where you grew up, but to get the best of each region, either pop to the Saturday morning markets in any city you are visiting and get them straight from the sausage stand, or go to snack bars near a train station. Often the oddest-looking places do the best sausages.
4. Kartoffelpuffer
Kartoffelpuffer is the northern version of Reibekuchen or the Swiss Rösti. Basically, they're grated potatoes formed into a flat, round shape and either deep- or pan-fried until golden brown and crisp on the outside and still a little soft on the inside. Usually found on fairgrounds, these sinfully delicious potato cakes are often served with applesauce and taste best when eaten while walking around, or standing outside at a table next to the stall which cooks them.
5. Vollkornbrot
There is nothing a German, or at least this German, misses more when living abroad than good bread. And especially what my husband calls "your funny German bread" is actually Vollkornbrot — translated as "whole grain bread." This is nothing other than bread baked with whole grain flour, with seeds or whole grains inside of it. 
Much darker in color than white bread, there is as much, or even more variation in Vollkornbrot as there is in German sausages. There is the infamous pumpernickel, which is truly dark and strong tasting, but perfect with cheese, and then there is everything in between: from dark to lighter and with a variety of seeds and grains to none.
When you find yourself in Germany, head to the local bakery in the morning and you'll find a hustle and bustle of people buying fresh bread. The variety is seemingly endless, as are the shapes and sizes. Many bakeries also sell coffee, and in Germany, there are few foodie delights better than breakfasting surrounded by the smells of freshly baked bread and freshly brewed coffee.
6. Sauerbraten
Sauerbraten, roughly translated as pickled or sour roast meat, is a traditional dish that is often seen as the most representative of Germany's cuisine. A vinegar- or wine-marinated large cut of beef, veal, or even venison is stewed with vegetables until tender and the vegetables soft. Slices of the meat are served with the resulting gravy, with Knödel (dumplings) or Spätzle (a type of egg noodle), maybe even some rather iconic Sauerkraut or red cabbage on the side.
This traditional meal's recipe may well vary slightly across the various states of Germany but is found on most menus of traditional restaurants. It is hearty comfort food, best enjoyed in the colder months.
7. Kartoffelsalad
The humble potato is ever-present in Germany, be it in the shape of fries, called Pommes Frites and usually eaten with mayonnaise or ketchup; new potatoes served with butter and quark, a kind of curd cheese; or simply boiled. But the best way, in this German's mind, is to have a decently made potato salad with your sausage, or Bratkartoffeln, small squares of potato pan-fried with onion, sometimes mushrooms, and butter, a dish that works a treat when eaten for breakfast after a long night out.
One of the best places to try both dishes is the Hamburger Fischmarkt the traditional fish market by the port, on an early Sunday morning, either coming straight from your night out (it opens at 5 a.m.) or for breakfast. Here you can feast to live music, start the day or finish the night off with a beer or a glass of champagne, or even coffee should you have come straight from your bed.
8. Rouladen
Another dish often seen as typically German, even if it is served in every country further east and southeast, such as Poland or Czechia, is Rouladen. Rouladen are basically rolls of either thinly sliced meat filled with bacon, onions, and various other goodies, or indeed Kohlrouladen, in which case it's rolled-up leaves of cabbage stuffed with numerous ingredients. It's another hearty, warming dish that is best eaten in winter, preferably with a roaring open fire next to you, and whose different versions are served in all traditionally German restaurants across the various states.
9. Spaghettieis
And to round up this mouth-watering list, here is a dessert for you. This is a strange dessert indeed, an ice cream that looks like a plate of spaghetti. Invented in the 1960s by an Italian immigrant in Mannheim, Germany, I guess it reminded him of two dishes eaten back home: gelato and pasta.
You get it in any ice cream café, and it always looks the same: like a plate full of vanilla ice cream that has been pushed through a potato-ricer — or no doubt a by now specially designed implement that makes the ice cream look like long strands of spaghetti. The "pasta" is topped with strawberry sauce instead of tomato sauce, and shavings of white chocolate standing in for parmesan, with the only giveaways as to that it is a sweet treat rather than a pasta dish, being a strawberry, and the little wafer or a dollop of whipped cream on the side.
Does it taste good? Personally, I prefer a true gelato, but ask any child — including your grandchildren, should you have them in tow — and spaghetti ice always wins!