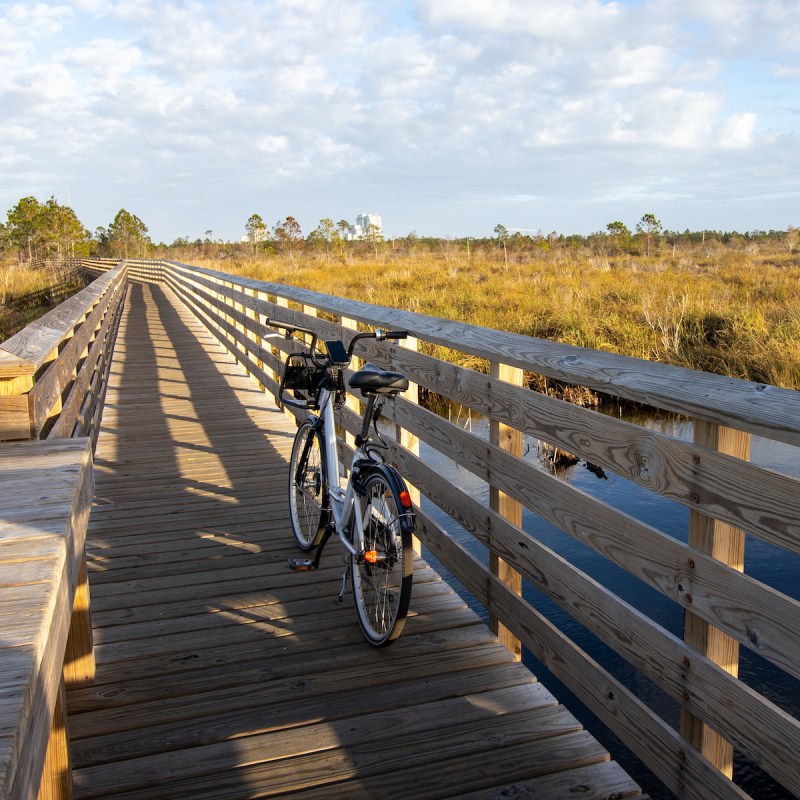 I have been a fan of Alabama's Gulf State Park for years, and it was on my first visit in 2015 that I fell in love with the area. Since then, Alabama's Gulf State Park has developed more than 28 miles of paved trails and boardwalks, which are perfect not only for walkers but also for those who want to do some biking. So which type of bike is best?
I have ridden a mountain bike, beach cruiser, and an eBike on these trails, and my best experience was on the beach cruiser. When you hop on a beach cruiser, you move at a slower pace, which is what life is all about along the Alabama Gulf Coast.
That said, if you want to ride all of the trails in one ride, I would hop on an eBike for the total experience. And of course, mountain bikers will enjoy themselves here, too.
Where To Find A Bicycle
You can bring your own bicycle to ride the trails in Gulf State Park. My husband and I have rented beach cruisers from Beach Bike Rentals in Orange Beach. You can hop on the trail from this bicycle shop, making it a handy place to rent. We have brought our mountain bikes and eBikes from home, as well.
Pro Tip: If you do not have the option of traveling with your bike, you can always grab one of the complimentary bikes at Gulf State Park through the bike share program. The first 3 hours of use are free, and for a small fee, you can continue your ride.
As you plan your time in Gulf State Park, here are my tips for the best activities based on the type(s) of bike you bring, borrow, or rent — based on my recent experience cycling in the park.
1. Pack A Lunch And Visit Lake Shelby Picnic Area
Best For: Beach Cruisers And eBikes
The Lake Shelby Picnic area can be a great place to start your bike ride, with ample free parking for all bicyclists. This is a fantastic place along the bike trails in Gulf State Park to have a picnic. Pack a picnic lunch and find a table near the lake for a memorable lunch with a view.
A short bike ride would be to ride the 5.3 miles around Lake Shelby. This loop trail is level and offers incredible lake views, which occasionally include a bald eagle overhead. If you prefer a longer bike ride, follow the signage to take you to other areas of Gulf State Park.
Pro Tip: If you are adventurous and want to kayak or try riding a Segway, you can do these activities at Lake Shelby, in addition to enjoying your bike ride. Be sure to explore both directions of the trail, as you can easily go to the Beach Pavilion and other areas of the trails from this picnic area.
2. Spend Time On The Beach And At Gulf State Park Pavilion
Best For: Mountain Bikers
Gulf State Park Pavilion offers another fantastic area to begin your bike adventure through Alabama's Gulf State Park. There is a daily parking fee when you begin your trek here at the pavilion. If you are a beach enthusiast, this is a great place to experience the biking trails and then spend time on the beach. Shower houses are on site, making it easy to change your attire for the day. Once you hop on the trail and cross the highway on the bike overpass, you will have an opportunity to go several ways.
The Interpretive Center near the Beach Pavilion is an incredible place to learn about the park's nine ecosystems. With over 6,000 acres to explore, these ecosystems are diverse, with marine life and wildlife on land. Several hands-on family-friendly exhibits are located within this center.
Visit before, during, or after your biking adventure in Gulf State Park. This venue is one of the places you will want to include on your route, as it's educational, fun, and unique.
Fun Fact: This pavilion is Alabama's most environmentally friendly building and the first Fortified Commercial Building in the entire world.
3. Visit A Living Museum At Gulf State Park Nature Center
Best For: Bike Renters
This biking trail is more than a path; it's an educational experience that includes an opportunity to explore and learn new things around every bend. The nature center is a living museum that showcases native plants and animals in the region. If you are lucky, you will stop here when a program with a naturalist is ready to begin.
Pro Tips: If you need to rent a bicycle, you can rent one from the Gulf State Park Nature Center. If you desire a picnic lunch, the area around the nature center is sure to have the perfect spot for you.
4. Enjoy Beautiful Water Views On The Boardwalk Loop
Best For: Mountain Bikes And Beach Cruisers
The Boardwalk Loop is great if you want to experience a little bit of everything. Plan to ride 7 miles to complete this route, making this an excellent option for someone biking with a mountain bike or beach cruiser. You can ride on almost 3 miles of boardwalk, which offer incredible water views that you won't find while biking on the pavement.
Pro Tip: If you need a bike, begin your ride at the Gulf State Park Pavilion, where you can pick up a bike through the bike-share program.
The scenery changes quite frequently as you go from boardwalk to boardwalk. Be alert, as this trail is shared with walkers, Segway riders, and other bikers.
Lefty, the three-legged alligator is a popular attraction along this route. I have biked this trail several times and have seen him once. Of course, Lefty is not the only resident alligator in Gulf State Park.
Riders who take to the Boardwalk Loop will trek across Middle and Little Lakes, Beach Mouse Bypass, Boulder Park, Butterfly Garden, and a scenic shelter on Little Lake.
5. Gulf State Park Loop: Ride Through The Forest And Stop At Woodside For A Bite
Best For: Mountain Bikers
If you want to experience a lot of the park and ride your bike a lot, this is the bike trail you will want to ride. The northern side of this trail offers shade with several large oak trees along Gulf Oak Ridge Trail. Park your bike and walk out on the deck that overlooks the area. This view is one that I never expected to find in Gulf State Park. With so much of the park being flat, it's eye opening to see the difference in the terrain from above.
The Gulf State Park Loop trail will rack up 15 miles and maybe a little more with some of your little stops and detours. I would also plan on eating a meal at Woodside Restaurant.
This is where you can enjoy a locally sourced meal all day long. Breakfast is my favorite time of day to dine at Woodside. The quiet of the morning is welcoming, and I can never get enough of their biscuits and gravy. A game of cornhole or yard dice will be at your fingertips when you stop for a break from your bike ride at Woodside.
When was the last time you had the opportunity to relax at a restaurant in the woods with locally sourced food while biking? If your taste buds are like mine, you will be planning a return visit to Woodside!
6. Camp And Bike Alongside Wildlife At Gulf State Park Campground
Best For: Ebikes And Beach Cruisers
There are more than 2 miles of paved trails in and around Gulf State Park Campground. If you are a camper and are curious as to what the Gulf State Park Campground is all about, I highly recommend that you bike the trails for an inside look.
You will notice there are several level campsites that are located in the thick of the wildlife in Gulf State Park. Snakes and alligators are near the campground, making this an adventurous place to camp! Before you visit, understand the rules of the area, as wildlife safety is your top priority. Make note of your favorite campsite and reserve it for your next biking adventure in Gulf State Park.
When you ride a bicycle through Gulf State Park, you will quickly become connected with nature. Several of the times I have ridden through the park, I have seen bald eagles, snakes, alligators, and numerous birds. If you are camping and riding the biking trails, you will have a prime parking spot. Signage is located in the area indicating free parking for bikers, and it's up to you to take advantage of these areas. Water fountains and tire repair stations can also be found near the parking areas and along the trails.
Depending on what type of bike you ride, the speed at which you travel will determine how many miles you cover. The last time I rode the trail, I had my Lectric eBike with me and I loved cruising on the north side of the Gulf State Park Loop trail. I enjoyed cruising under the shaded oak trees and I fell in love with the overlook along the way.
Most importantly, follow the excellent signage for bikers in the park. You will have an enjoyable time biking Gulf State Park along the Alabama Coast. Spend 2 hours or the whole day exploring. Pack your sunscreen, water bottle, bug spray, jacket, and binoculars for a fun-filled day you will not forget.
A Note On Best eBikes For Travel
For this particular trip, we packed our Lectric eBikes. They fold up nicely and fit in the back of our Subaru Outback. Once we decided on where we wanted to start biking from, we took them out and hopped on
There are many different types of eBikes to choose from. I also own a Propella eBike and it is much lighter weight than my Lectric eBike, but it does not fold and fit into the back of our Subaru Outback. I have been riding my Propella eBike closer to home, where it is transported in the bed of our Dodge Ram truck. If you want an eBike that is easy to ride and lightweight, a Propella eBike will meet your needs in a heartbeat.
For more on eBikes, consider