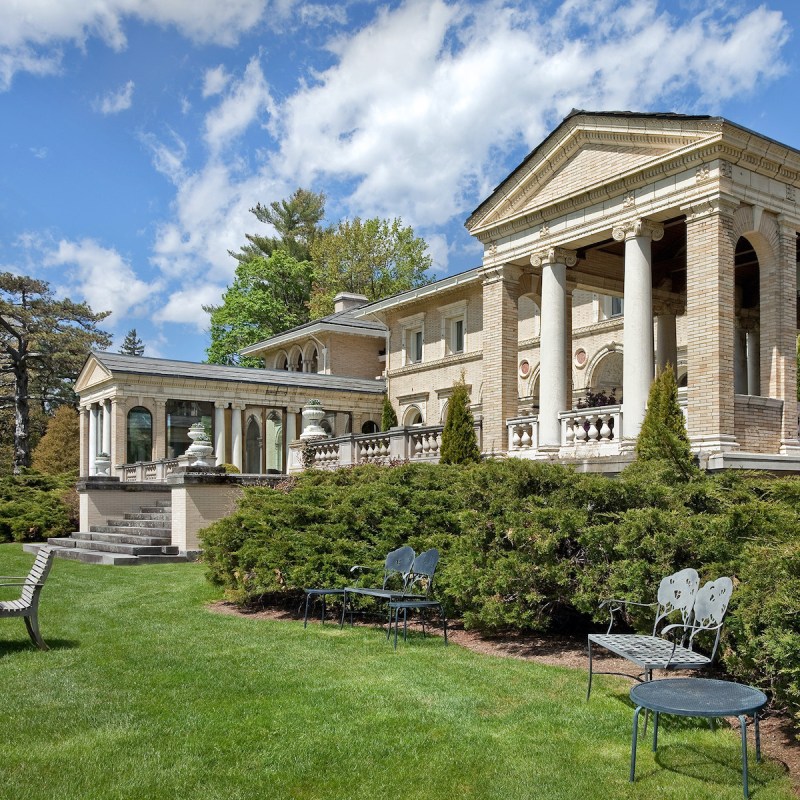 The western corner of Massachusetts is a culture-rich outdoor paradise that reminds you why the Gilded Age took hold here. Stretching from Connecticut to Vermont and only 3 hours from Boston or New York City, the Berkshires cover a range of small towns with attractions for all seasons. Once you've explored for your summer holiday — which we'll focus on here — you'll want to revisit for fall foliage at its most glorious, in winter for the area's ski slopes, or perhaps in spring to hike the more than 50 trails adorned with flowers and trees erupting in pinks and whites.
Most visitors arrive by car or fly into Boston or New York City. Amtrak and bus service from both cities make it easy to avoid the traffic that snakes along the Taconic Parkway or Mass Pike. Towns in "The Berks" synonymous with the rich culture and bohemian lifestyle here include Lenox, Lee, Stockbridge, Pittsfield, Williamstown, and Great Barrington.
A Culturally Rich Summer
Visitors love the area for its concentration of performing arts and world-class museums. Once schedules are published, tickets sell out in a flash.
1. Tanglewood
Tanglewood is the summer home of the Boston Symphony Orchestra. Patrons have the choice of sitting in the covered but open-air shed or on a blanket on the expansive lawn. The summer schedule is anchored by the Boston Symphony Orchestra and the Boston Pops, but popular artists also play at Tanglewood. This summer the schedule features favorites like Bonnie Raitt, Judy Collins, James Taylor, and Earth, Wind & Fire.
Pro Tip: If you can't get tickets to Tanglewood, book an unreserved seat for a Saturday morning rehearsal. It's a special experience to watch the conductor interact with the orchestra or guest performer close-up.
2. Jacob's Pillow
One of the premier dance festivals in the US, Jacob's Pillow attracts companies the world over. Ballet, swing dance, jazz, and modern productions are scheduled throughout the summer on the outdoor Henry J. Leir stage or in the newly renovated Ted Shawn theater. Summer 2022 marks the festival's 90th season.
Pro Tip: Tickets for Jacob's Pillow can be hard to get. Sign up for their newsletter so you can stay abreast of new performances, and check the website frequently for released tickets (yes, it does happen). Wear comfortable shoes if you're watching an outdoor performance in the amphitheater-like setting.
3. Shakespeare & Co.
Celebrating 45 years, Shakespeare & Co. returns this summer with seven productions on multiple stages. Shakespeare's Much Ado About Nothing and Measure for Measure are in repertory with modern titles.
4. Berkshire Theatre Group And Williamstown Theatre Festival
Set in multiple venues throughout the Berkshires, The Berkshires Theatre Group and Williamstown Theatre Festival showcase emerging and established artists. Theater locations are in Pittsfield, Stockbridge, and Williamstown.
Museums
The Berkshires has world-class museums with world-class exhibits. Review the ticketing and timing requirements for each, as COVID-19 protocols have affected capacity and scheduling.
5. Clark Art Institute
The Clark is acclaimed for its Impressionist, Old Master, Renaissance, and European and American paintings, along with notable collections of silver, glass, and other decorative arts. This summer's Rodin exhibit explores the French sculptor's reception in America. The museum invites outdoor exploration of its grounds with nearly 5 miles of walking trails.
Pro Tip: The museum is free on the first Sunday of every month.
6. Hancock Shaker Village
A living history museum, the 20 historic buildings in the village offer a look at Shaker life from the 18th to 20th centuries. A schedule of events is geared for all ages with goat yoga, back porch concerts, and workshops illustrating Shaker activities.
7. Norman Rockwell Museum
Norman Rockwell is considered to be one of America's finest illustrators and social commentators with oeuvres spanning a 6-decade career. The lower floor of the museum displays his Saturday Evening Post covers while illustrations on the main floor offer a walk through American history. This summer's Stockbridge retrospective shows the influence of the small town on Rockwell and his use of residents in his illustrations.
Pro Tip: This is the Berkshires' most popular museum. If you have your heart set on visiting, book this one first.
8. MASS MoCA
One of the country's most distinctive museums, MASS MoCA mounts evocative, contemporary art in a complex of 26 former 19th-century mill buildings. Some of the exhibits are permanent, others are temporary. And, even more exciting, some are purpose-built for the unusual gallery spaces. On select summer dates, concerts and other performances are scheduled.
Pro Tip: To get a sense of the importance of MASS MoCA to the town and area, view the documentary Museum Town. Some of the original proponents of the project are still involved as docents and guides.
The Gilded Age Comes To Life
The Berkshires gives you an opportunity to bone up on everything Gilded Age, just in time for the launch of the second season of HBO's The Gilded Age and the release of the Downton Abbey movie. Advance reservations are required for tours and visits to the Berkshires' Gilded Age "cottages," built as summer retreats for wealthy American tycoons and artists.
9. The Mount
The not-so-humble home of author Edith Wharton, The Mount offers a self-guided tour through the main house and gardens. Designed by Wharton and built in 1902, the cottage is unusual in its adaptation of classic European architecture to an American landscape. In the summer, The Mount is especially attractive with its formal gardens in full bloom. Summer concerts require reservations.
10. Naumkeag
The 44-room, shingle-style Naumkeag "cottage" and its magnificent stepped gardens are open for tours in the summer. Here, you'll get a rich sense of how the wealthy spent summers in the Berkshires.
11. Ventfort Hall & The Gilded Age Museum
For a more extensive look at "cottage" life in the Berkshires' Gilded Age, the Jacobean Revival-style mansion built by J.P. Morgan and its on-site Gilded Age Museum offer explorations into the history, industry, and society of the times.
Wellness And The Great Outdoors
If big city life, or even small city life, has you itching for an escape, the Berkshires make for a great summer refresher. Cool mountain air, gorgeous scenery, and a myriad of wellness-oriented resorts and cultural programs will clear the mind and keep you fit.
12. Kripalu Center For Yoga & Health
Kripalu teaches people to calm down and find inner peace through yoga and workshops. Built in a former monastery on a former Gilded Age estate, Kripalu is a no-frills wellness institution with indoor and outdoor activities, including forest bathing, lake kayaking, hiking, or simply recharging outdoors. Kripalu is alcohol-free and the cuisine is vegetarian.
Pro Tip: Both day passes and overnight stays are available.
13. Miraval Wellness Resort & Spa
A luxe spa resort that uses its gorgeous setting to the fullest, Miraval offers a varied program of fitness classes and wellness programs to reach your inner soul, while challenging you to try new things. Outdoor activities complement indoor classes with hikes, kayaking, paddle boarding, an extensive equine program, and more. The spa mixes Eastern and Western modalities. Miraval's noted Life in Balance program includes cooking classes, wine tastings, and private chef-led dinners. New for this summer, rooms in the adjacent Wyndhurst Manor's historic mansion and cottages are now available for booking.
14. Canyon Ranch
Set on a beautiful estate with its own hiking trails, Canyon Ranch tailors programming to your personal goals with life-enhancing "Pathways." The bespoke programs combine fitness, spirituality, and wellness with activities such as hiking, biking, aerial yoga, and pilates. Wellness scheduling features consultations with medical experts and life coaches, and all manner of spa treatments and physical activities are offered. Special events include monthly dance weekends and nightly speakers. Cuisine is low-calorie and healthful, and alcohol is not allowed.
Pro Tip: Ask the spa resort counselors to devise an at-home program to continue your wellness journey after you leave.
Food, Glorious Food
Greenmarkets are a big deal in the Berkshires, with abundant berries, greens, and beautiful flowers in the summer. Utilizing this bounty, the Berkshires' restaurants fully embrace the concept of farm-to-table dining.
15. John Andrews Farmhouse Restaurant
The 1700s farmstead-sited restaurant offers rustic charm with lovely outdoor seating as well. Offering what he calls "taste of place" dining, Chef Dan Smith incorporates fresh, seasonal ingredients from local purveyors, farms, and the farmstead's own gardens into the menus.
16. The Old Inn On The Green
The Old Inn is pure history. Housed in a former stagecoach relay station, the restaurant uses only candles and fireplaces for lighting. The prix fixe fine-dining experience includes three courses with frequent menu changes. Save this one for a romantic gathering in one of their private dining areas. The restaurant is open for dinner only, Wednesday–Sunday.
17. Pleasant And Main
Pleasant and Main is one of the more unusual restaurants in the Berkshires. You'll feel like you're dining in your grandmother's home, albeit in the middle of an antique shop, with home-style cooking to match. On warmer days, request a table in the beautiful garden.
Pro Tip: Brunch here is the best in the Berkshires.
Fabulous Places To Stay
There's a homespun feel to the Berkshires. Bed and breakfasts and inns are plentiful, but, if you prefer luxury, that's available too.
18. Cornell Inn
The Cornell Inn began life as three standalone buildings built between 1777 and 1888. Unified as one property, the reimagined bed and breakfast features the works of 23 BIPOC designers.
19. Porches Inn At MASS MoCA
The Porches Inn at MASS MoCA is a collection of 19th-century Victorian row homes that form a welcoming boutique hotel by the museum.
20. Wheatleigh
Wheatleigh gives you the opportunity to stay at your own Berkshires "cottage." The five-star mansion sits on 22 acres overlooking the Berkshires Mountains and a lake. Built in 1893 at the height of the Gilded Age, the Italianate mansion is the epitome of privacy and luxe, surrounding you with art and antiques.
Pro Tip: Wheatleigh is a cash-free property.
21. Red Lion Inn
The Red Lion Inn is your go-to if you favor tradition and history. One of only a few American inns operating continuously since the 1700s, and depicted by Norman Rockwell in a famous winter illustration, the Red Lion is an icon in the Berkshires. You'll always find people on the rocking chairs on the front porch, or maybe a duo or trio playing live music. Rooms are traditional, and the dining room and menu fare are New England classic.
Check out all of our Berkshires content: