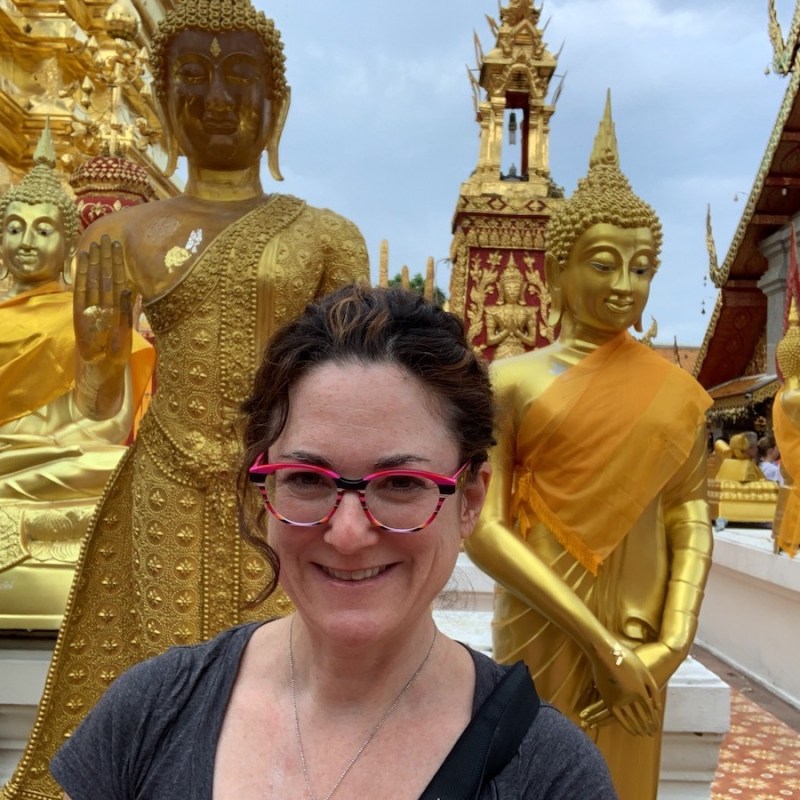 When I quit my job in 2017 to spend a few months traveling in order to find more meaning and purpose in my life and work, I thought I was crazy. The Great Resignation came along a couple of years later, and it turns out I was a trendsetter!
I genuinely thought I was taking a career break; I had planned to travel for 3 to 6 months and then return to "real life." Instead, I fell in love with full-time travel, and, 4 years later, have been to 27 countries on six continents — and the first 2 years were on my initial budget. If you've read my other articles, you'll know I spent 2 years marooned in New Zealand due to the pandemic, and it isn't cheap!
More and more people are quitting their jobs and traveling. Some do it solo, others with another. What's clear is that what started as a few "crazy" people jumping ship is an idea that the pandemic made the new normal. There are many types of full-time travelers; some want to take a break and reconnect to themselves, and others are opting to work remotely and trade a home office for a world office. Still, others have reached retirement, or are about to, and intend to travel the world as the next step in their lives.
The question I'm asked the most often, no matter what kind of full-time traveler they intend to be, is, how do you afford it? As a full-time travel coach, I teach people to afford full-time travel. I'm going to share some of my top tips to help you afford to travel full time, if that's on your radar. Whether you're retired, leaving your "normal day job," or becoming a remote worker, all these tips will help.
Create A Budget
The foundation of affording full-time travel is having a travel budget. There are many factors that go into this, and a lot of the methods have to be customized to your specific goals and assets. That being said, here are some thinking points to guide your travel budget creation.
1. How Long Do You Want To Travel?
The duration of your travel is hugely important. Obviously, money will stretch farther in a shorter period of time than in a longer one. So, if you're traveling for 3 months on $10,000, you can afford a lot more than you could if you planned to travel for 6 months on that budget. Your desired timeframe is essential to know to set the right travel budget. That's just the beginning.
2. Where Do You Want To Travel To?
Next, think about where in the world you want to travel to, and what currency you're traveling on. If your home currency is the dollar or the euro, much of the world will be more affordable to you than those with other currencies. Parts of Southeast Asia and South America will be so inexpensive you'll be stunned. But an African safari or trip around Europe or America will be more expensive. The places you go play an important role in how far your budget will stretch.
3. How Are You Traveling?
Do you plan to fly, rent cars, take trains, buses, or boats? The methods of transportation you choose have a direct impact on your budget. The more willing and able you are to take buses, the less expensive your travels will be. Obviously, long bus rides can be taxing on the body, so it's a choice that may be less comfortable.
4. Be Honest About Your Travel Style
If you're used to vacation travel with a corporate job, you may have stayed in luxury hotels and eaten at some of the best restaurants in the world. If you try to travel full time in this style, you won't be able to travel long, unless you're wealthy. (And if you are, good for you!) If you want to make travels last longer, then adapting to a more budget-conscious style will afford you more time. This is a choice you have to make.
I've shared a few rooms with roaches and lizards, used shared bathrooms, and lugged my own bags up staircases. But that's not for everyone. I fell in love with traveling, so I do what I can to extend it. If you prefer luxury travel, be honest about that. The worst thing you can do is travel in a style you hate and find yourself frustrated with the entire experience.
Reconsider How You Use Money
The value of money will change when you travel full time. When you're in a fixed location, you buy bottles of shampoo, olive oil, and lots of stuff on Amazon you don't need. When you travel, you want to save money and space. You will most likely carry your own bags, so consider reducing the weight of your luggage — this can be a back and money saver, as you'll frequently see fees for extra baggage. You'll change from prioritizing the purchase of souvenirs to buying experiences that you'll remember for the rest of your life.
5. Save Before You Go
You may realize that you need to create a savings padding before you go, but it can be overwhelming to figure out how to do it. I took a Financial Planning 101 class years ago, and it opened my eyes to spending and savings and allowed me to start being smarter with money. If you're ever looking for some good reading about how you spend your money, there are some good titles by Olivia Mellan. Though they were written some time ago, I found her insights really helpful, especially around understanding your money spending style — and how to fix it.
The more money you can save before you travel full time, the more time you can travel. This is a good time to get clear on your travel goals and then assess each expense as to whether it takes you toward those goals or away from them. Also, cutting out "nice-to-have" and recurring expenses are great places to start cutting down costs. You can then put that money into your savings account and watch it grow.
6. Save On Flights
If you're flying, there are some great ways to save on airfare. You likely know that choosing flights with stopovers can save you a lot of money, but, of course, take more time. If you get a credit card that helps you rack up points toward future travel, this can make flying virtually free. There are a few other great strategies to help cut down on flight costs.
Be flexible on the dates you travel. Flying mid-week is often significantly cheaper than flying on a weekend. On a recent trip to Florida from New York City, I shaved $300 off the price by flying on a Wednesday. As a bonus, I also find I get upgraded more on the mid-week flights than on the weekends.
Apps like Secret Flying (or following them on Twitter) will keep you informed of amazing flight deals and mistake airfares. Note, though, that mistake airfares come with the risk that your ticket might not be honored.
7. Save On Lodging
Since you'll need a place to rest and shelter every night, anything you can do to reduce this daily cost is key to affording full-time travel, at least if you intend to do it for more than a few months. One way to save is by staying in the same place for more than a week. This is often when discounts kick in. If they don't, then speak to the property or hotel manager and see if they will reduce your rate for a longer stay.
Housesitting is an ideal way to cut out the cost of accommodations altogether. You typically look after someone's pets while they're away, and you can use their kitchen, which helps reduce your food costs as well. If you adore animals, you have the added bonus of wonderful companionship as you travel. However, it can be hard to leave some of the pets behind, speaking from personal experience. Trusted Housesitters is the best-known one, but you can also find in-country petsitting companies.
The advantage of joining an international housesitting service is being able to build up good reviews. However, depending on in-country competition, member prices, and availability, locals may list on a local website.
There are other options, like Couchsurfing and Host A Sister, where you can get a few nights for free at someone's home. If you're able to rent your existing home while you travel, that's a great way to fund your travels.
Traveling Full Time Can Be For Everyone
As you can see, traveling full time is available to anyone, but it requires some in-depth planning and strategies to make it happen. Your unique situation will determine the best ways to save money, earn money while you travel, and how long you can keep going. I jumped in believing my budget would last 3–6 months. The more I traveled and committed to the lifestyle, the more I was able to make that budget last. In the end, my initial budget lasted for over 2 years. This lifestyle truly is available to anyone who wants to do it.
Further Reading: