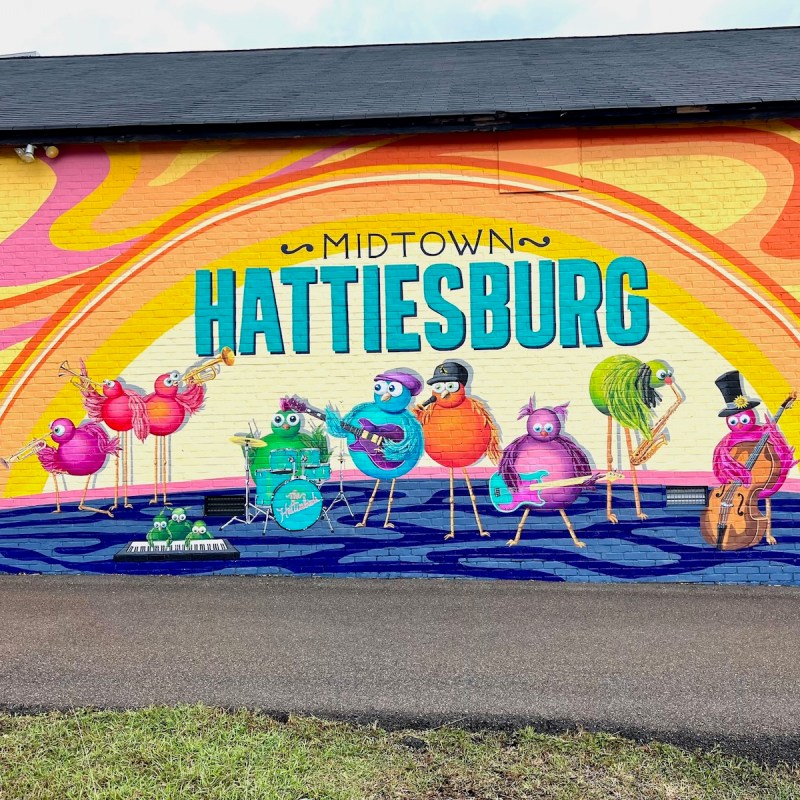 Hattiesburg, Mississippi, is one of those cities that you simply cannot ignore. With a resident population of less than 50,000, the number swells by another 15,000 when students are on campus at the University of Southern Mississippi and William Carey University. Camp Shelby, the nation's largest state-owned training site, is located within a quick drive, and Hattiesburg shares the title of "Birthplace of Rock and Roll" with Clarksdale, Memphis, New Orleans, and Detroit. With its 1964 Freedom Summer Trail, it is an important destination in telling the story of the Civil Rights Movement.
Hattiesburg's location is strategic by being where Interstate 59 and Highways 49, 98, and 11 intersect, but earlier it was a major connector station for trains. It is a midway point between Jackson, Mississippi; Biloxi, Mississippi; New Orleans, Louisiana; and Mobile, Alabama, thus earning it the nickname "Hub City." Public art is beginning to appear more frequently, and its Pocket Alley was born during the pandemic.
One of the most surprising identities of Hattiesburg is its lure for foodies. Even though there are many chain restaurants in the city, there are also a whopping 200 locally owned eateries lending regional flair and culinary options.
During a short visit to Hattiesburg recently, I tried as many of these local restaurants as I could fit into my schedule. Here are my recommendations listed in no particular order.
My visit was hosted by VisitHattiesburg, but all opinions are my own.
1. Crescent City Grill
Robert St. John, a talented chef who is also a creative genius, is making a strong impact on the palates of Hattiesburg diners. He owns six distinctively different restaurants in town, and Crescent City Grill is considered the poshest with its inviting wood and stained-glass accents and its appealing courtyard. At the same time, it is family-friendly with a Cajun-leaning menu featuring seafood fresh from the Gulf of Mexico. Crescent City Grill's white chocolate bread pudding won Best Dessert in a local competition. I chose to sample a couple of the appetizers and can highly recommend the crawfish pie and the Gulf shrimp wontons.
Pro Tip: Everyone looks forward to the seasonal crawfish menu which runs generally between January and July.
2. Mahogany Bar
Diners can walk straight into Mahogany Bar from Crescent City Grill, and yet the bar has a different vibe. As expected, there is an extensive selection of beer and wine, but the bartender is also skilled at making creative and delicious mocktails.
Beautiful herb-infused citrus and blackberry drinks were crafted for my husband and me. Both were refreshing and imaginative.
3. El Rayo Tex Mex
Walk through another doorway and you will find the colorful atmosphere of El Rayo Tex Mex which spills out onto its patio. Saturdays are great times to visit El Rayo. A "Bottomless Tex Mex Brunch" is offered from 11 a.m. to 2 p.m. A crawfish boil takes place on the patio from 3 p.m. to 6 p.m.
Popular Mexican favorites appear on the menu along with unexpected items such as crawfish enchiladas, barbecue baby back ribs, and smoked gouda queso. El rayo is Spanish for "the lightning," so you will see those bolts throughout the menu, logo, and décor.
4. Ed's Burger Joint
At Ed's Burger Joint, all the burgers are double-patties with Certified Black Angus ground chuck. If you order a Fat Ed, you will be greeted with a triple-patty burger described as "enormously humongous." For those who are not in the mood for a burger, Ed's got you covered with hot dog choices and several sandwiches. The homemade bacon jam puts many of the menu choices over the top in terms of flavor, and the buns are baked fresh every morning.
The Outrageous Shakes are works of art, and the size is shareable. I ordered the Candy Shop creation and had my sugar quota for a week! It was so good and such fun to devour.
Pro Tip: Be sure to ask for a side of sweet potato fries. The marshmallow dipping sauce is made in-house.
Note: The first four recommendations are located at Midtown Market, so you can park once and walk to any of them. They are also all owned by Robert St. John and the New South Restaurant Group, which helped to start an agency called Extra Table, providing healthy food for hungry and food-insecure people in the Hattiesburg area.
5. Sully's Tavern
At Sully's Tavern, it is all about the steaks which are cut from wet-aged, never frozen, Certified Angus Beef. For appetizers, I recommend the South of the Border Egg Rolls, the Sully Sacks, and the jalapeno cheese curds, or you can try all three with a combination plate.
Sully's atmosphere is enhanced by live music every night Monday through Saturday. I was happy to find that the level of the music was pleasing and not too loud to be able to have a conversation with my fellow diners. The décor and the name reference John Sullivan, a world champion bare-knuckle heavyweight fighter from the late 1800s. The restaurant is near the site of the last known bare-knuckle fight in 1889, which Sullivan won against fierce contender Jake Kilrain. Both men survived the fight — barely — and Kilrain eventually served as a pallbearer at Sullivan's funeral.
This is a casual, family-friendly place with great food.
6. The Depot Kitchen & Market
Gourmet coffee and freshly baked biscuits are just two of the reasons to start your day at The Depot Kitchen & Market. The location near the train depot is appealing and conducive to a relaxing breakfast or lunch. Bru's Breakfast Bowl is a menu favorite. It is anchored by a cheddar biscuit which is topped with sausage gravy, bacon, a scrambled egg, and cheddar cheese.
Another excellent choice is the Breakfast Plate, consisting of two poached eggs, bacon, cheese, fruit, a small salad, and brioche toast. And did I mention the coffee? The blend chosen for The Depot comes from Coava Coffee Roasters based in Portland, Oregon.
Lunch is also special at The Depot with an attractive choice of sandwiches and salads.
7. The Birdhouse Cafe
Owner and Chef Katie Dixon is a refreshing burst of energy whenever she is in the room. Her petite, fit frame is a great advertisement for her passion for exercise and healthy, nutritional eating. You can be sure that the plant-based dishes served at The Birdhouse Café are filled with fresh produce and great flavors. Even though she has had no formal chef training, she grew up watching her grandmother serve the people she loved, and Katie started cooking to motivate the clients she was helping as their personal trainer. Her skills have risen to the level of being a MasterChef Season 7 finalist and a Food Network Star in Season 14. Katie has also traveled to 50 countries and brings the culinary goodness found around the world to Hattiesburg.
My husband and I sampled one of The Birdhouse Café's smoothie bowls with wonderful granola, acai, fruit, oats, strawberries, blueberries, and banana and a sandwich called Heavy Tee consisting of turkey, brie, green apple, spinach, and bacon.
Do not be surprised when you arrive at the address on Highway 98. The Birdhouse Café is inside an appliance store.
Pro Tip: Plan to get a copy of Katie's beautiful cookbook, Be Nourished, which is filled with healthy, creative tips and gorgeous photos.
Note: The restaurants above are the ones I visited personally, but there are four more that are on my list for a future visit because I heard such rave reviews from the locals while I was in town.
8. Jutamas Thai Restaurant
Jutamas Thai Restaurant's original location is at 910 Timothy Lane, but they have recently added a second storefront on Highway 98. The words "fine" and "authentic" are often used as descriptors for the atmosphere and menu at Jutamas. Made-to-order dishes with fresh ingredients keep diners returning often. The pineapple fried rice served in a pineapple shell is extremely popular, but everything sounds amazing.
9. Movie Star Restaurant
Classics such as fried chicken, country-style side dishes, cornbread, and cobblers are the headliners at Movie Star Restaurant. Their lunch buffet and family-friendly atmosphere are great magnets for hungry Hattiesburg folks.
10. The Midtowner
The Midtowner is across the road from the main entrance to the University of Southern Mississippi, so it is guaranteed to draw students with its sweet tea-brined chicken and gigantic buttermilk pancakes. This is primarily a breakfast and lunch diner serving everyday food to people who want familiar Southern comforts.
Pro Tip: The new "Hattiesbirds" mural is directly in front of The Midtowner, so choose your favorite bird and take a selfie while you're in the area.
11. Mario's Italian Restaurant
Mario's Italian Restaurant is a pasta lover's paradise. Three Italian brothers serve Sicilian dishes made from scratch, and their alfredo sauce is said to be divine. Those brothers are often seen cooking, serving, and even bussing tables as they kindly interact with their guests and staff.
These 11 restaurants are just the beginning, considering the count is up to 200 local restaurants in Hattiesburg, but I can verify that the city is well on its way to becoming a recognized foodie mecca. Pack your stretchy pants and plan a visit soon. To assuage your conscience, plan to burn off some calories with a hike or bike ride along Longleaf Trace which starts in Downtown Hattiesburg and extends for 44 miles.