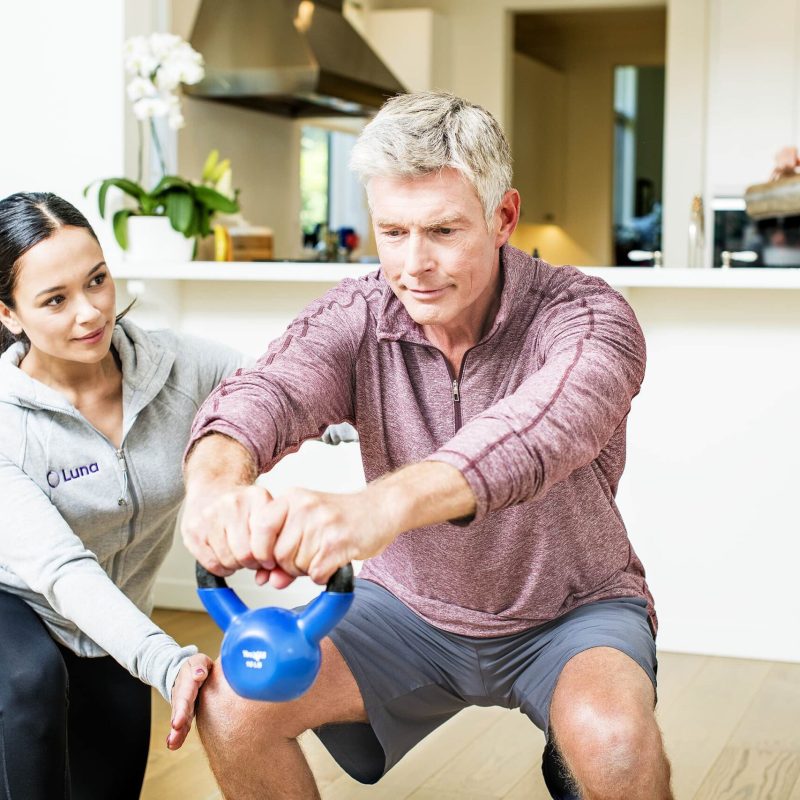 Spring has sprung across the U.S., and many of you are probably ready to hit the course and outdoor courts. But a recent injury may be interrupting your golf game or tennis match.
If you're hesitant or don't think you have the time for physical therapy, there may be a simple solution: in-home physical therapy. 
The goals of physical therapy are to identify the root cause, find the proper movements for your muscles, relieve pain, and improve strength so you can start enjoying life again. The therapists discover the best exercises and movements for your particular injury, and 90 percent of problems can be resolved right in your own home.
An in-home physical therapy provider like Luna can have you back up and running before you know it. 
But you may be hesitant, like Leah was.
"I was referred to Luna by my neurologist. I wasn't enthusiastic about getting physical therapy. The first time she brought it up I said 'no thanks.' The second time I went in she brought it up again and I said I haven't had much help from physical therapy in the past, so no thanks."
So how was Luna different in the services they provided? First, they provide the same quality of care you would receive at a traditional physical therapy clinic.
The third time Leah's doctor suggested therapy, while still skeptical, she said she would give it three sessions.
"It only took one before I realized this (physical therapy) could be very helpful."
Quality of Care
With about 50 percent of Americans suffering from musculoskeletal (MSK) disorders, such as back pain, arthritis, and osteoporosis, the level of care is the number one priority when determining treatment options. You want to know how quickly and successfully you can return to your favorite activities.
Luna can support 87 percent of all patients needing outpatient PT. Each session is 45 to 55 minutes of dedicated 1:1 time with a licensed physical therapist. You aren't working around other patients receiving care at the same time. It's just you.
Convenience 
"My doctor recommended Luna and said they would come to the house. I said, wait a minute, they will come to me, and I don't have to drive and park, and she said yes." 
Convenience is a big deal for all of us. Like Leah, we all know it's inconvenient to go to physical therapy appointments, especially with limited days and hours. Luna removes this obstacle. The therapist works with your schedule and they come to you. On-demand physical therapy gets you started quickly and makes it more likely for you to complete care.
"What they do is helpful, and the fact that the work actually happens in my house makes quite a difference. It makes me more inclined to do my homework if I can do it from home," said Leah.
In-Home Physical Therapy Vs. Traditional Clinics
Physical therapy patients typically don't need heavy machines to find relief. As a matter of fact, only 10 percent of clients need the heavy machines found in traditional clinics, and most patients benefit more by having care delivered to them. With in-home care, Luna patients see a 45 percent reduction in pain within 10 visits versus the 30 percent average. And some clients say they are more comfortable in their own homes and the treatment is more practical.
"We figured out different places to do different exercises. Lying on the table and having something done to your body, I feel, doesn't translate very well out into the world or in terms of practicing. I'm the equipment. The floor, the house, and the chairs are my equipment, and I'm doing the work. I'm doing the practice."
Insurance and Medicare
You have several payment options when it comes to in-home physical therapy. Luna accepts commercial insurance, Medicare, or self-pay. Within 30 seconds, Luna will verify that your insurance covers the therapy. You will pay the same copay you would at a clinic. Currently, Luna accepts Aetna, Anthem Blue Cross Blue Shield, United Healthcare, Cigna, and Humana. Fill out this form to see if Luna is covered with your insurance.
If you have Medicare with a secondary plan, you should pay nothing out of pocket; your plan should cover the entire cost. The self-pay option is $125 per visit. You will not be charged until after your visit.
Pro Tip: You can add your FSA or HSA card in the Luna app. This would cover any patient responsibility that does occur in the form of deductible, coinsurance, and copays.
Prescription
You do not need a prescription to get started with your treatment. However, direct access prescription rules do vary state by state. For example, in Missouri, direct access rules allow patients to be seen for physical therapy without a prescription as long as reasonable progress is made within six visits or 14 days. If care needs to be extended past 30 days, the Luna team will work with your doctor to obtain a prescription.
If you have Medicare, you will need a signed plan of care for physical therapy. During your first visit, the therapist will assess your injury and determine a treatment plan. The Luna team will contact your doctor for approval. You will need to reevaluate your plan every 10 visits or 90 days, whichever comes first. 
How Do I Sign Up?
Luna books patients over the phone or online. When they do, they will walk you through the process of downloading the app. Their website also contains helpful tools to get started.
As for Leah, she said it's worth giving on-demand physical therapy a try. 
"I came to it as someone who wasn't enthusiastic about it. And the truth is, it's been helpful."
For more information on Health & Wellness in Retirement, check out these articles: