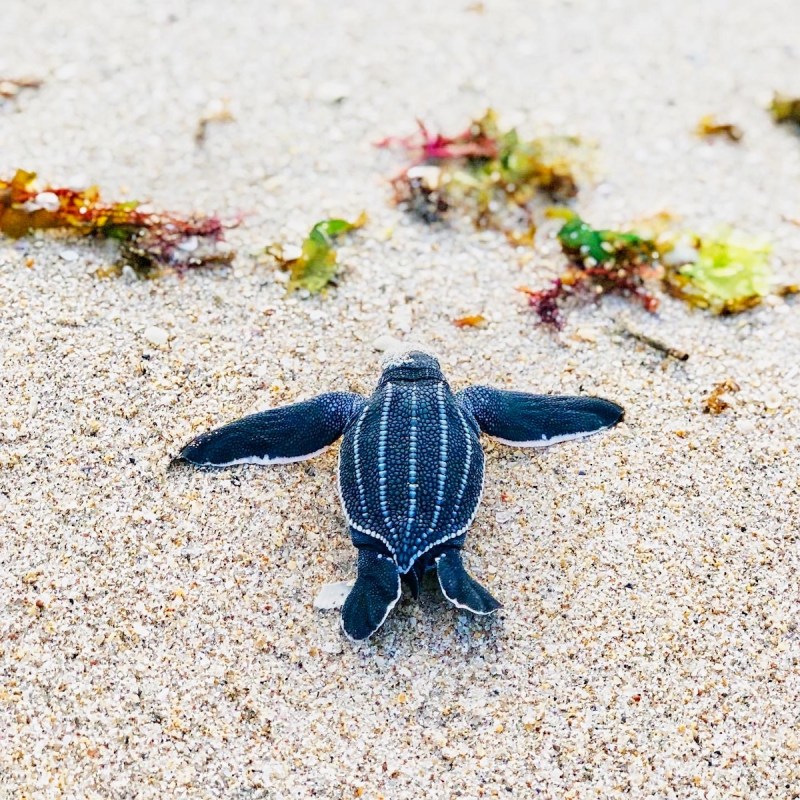 They're born on beaches under a layer of sand, and instinct immediately kicks in. They start working their way to the sandy surface and embark on their journey to the ocean. So begins the sea turtles' fight for survival and that of their species.
Florida is home to five of the seven species of sea turtles, three of which build their nests on the beaches along the Treasure Coast, of which Indian River County is a part. It was on a delightful visit to Vero Beach that my husband and I learned of the tragedy and triumph of these noble creatures. I asked why the lights along the beach at and around the Kimpton Vero Beach Hotel & Spa where we were staying were red. The answer was fascinating — and inspired me to explore further.
So, what do the colored lights along the Florida coast have to do with the survival of the sea turtle? Read on as I do my best to explain and inspire you.
Disclosure: Our visit to Vero Beach was generously hosted by Visit Indian River County. However, all opinions are entirely my own.
The Decline Of The Sea Turtle
In the 1970s, the once prolific sea turtle made its formal appearance in the U.S. Endangered Species Act. I contacted Kendra Cop Founder and Executive Director of Coastal Connections, Inc (CCinc) to find out why. CCinc is an organization providing interactive and educational programs focused on protecting sea turtles and their fragile habitats. She answered my questions and provided valuable insights.
Each year, the three species, loggerheads, greens, and leatherbacks lay hundreds of thousands of eggs along Florida's beaches. They also contribute to the balance within marine ecosystems.
"Sea Turtles don't reproduce quickly," Kendra explained. "It's a very slow process. It takes from 15 to 20 years for them to build their first nest. And that's if they can even make it to adulthood."
Shedding Light On the Plight Of The Sea Turtle
Sea turtles are estimated to have a natural lifespan of over 80 years. Sadly, man is the greatest threat to sea turtles reaching that milestone, or even their reproduction age. Coastal development, human consumption, commercial fishing, beach litter, and light pollution are among the causes of the sea turtle's predicament.
These issues are being addressed, and although not always perfect, solutions and compromises are giving the sea turtles along Florida's coast a fighting chance.
Take light pollution for instance. And here comes the reason for the red lights along Vero Beach. "Sea turtles have this natural instinct to be attracted to light when they are hatchlings," Kendra explained, "which comes from a need and desire to go to the brightest horizon. On a natural dark beach devoid of nearby roads and buildings, turtles are drawn to the reflection of moon and stars on the water." Bright white lights from beachfront hotels, resorts, homes, and businesses are a natural draw for turtles to head away from the sea and into danger.
Lighting ordinances are in place along Florida's coast because all the state's sandy beaches are considered nesting spaces for sea turtles. The goal is for artificial lighting along Florida's beaches to be red, orange, or amber to keep the sand darker than the natural reflections on the water. "Sea turtles don't see these colors very well," Kendra noted, "so they're not attracted to them. We can give up bright white lights for red, orange, and amber to make our beaches sea turtle-friendly."
Protecting The Nests
Between March and October, sea turtles come up on Florida's beaches to build their nests. Vero Beach is one of the most important nesting grounds in the state. In 2021, approximately 8,000 sea turtles built nests in Indian River County. On average, loggerheads alone lay approximately 150 eggs every time they nest, and they nest four to six times a season.
The motherly instincts of mamma sea turtles may seem somewhat counterintuitive to human mamas. They expend all their maternal energy seeking out a safe area to nest, lay their eggs, and give their babies the best chance to hatch. Then they're gone for good, leaving their hatchlings to fend for themselves. You could say it's a sea turtle version of Home Alone.
The eggs take 50 to 60 days to hatch. This period is critical for the survival of baby sea turtles.
CCinc staff and volunteers step in to protect these nests as best they can. They tend designated nesting areas for scientific research. They also mark off nests in danger of being disturbed or destroyed.
Sea Turtle Tourism
Scientific research and lighting ordinances are helping in the sea turtle's recovery, but what can visitors to Florida's beaches do to make a difference? Once again, CCinc has answers. "There's a lot more in terms of education: immersive experiences, bringing people on the beaches to teach them why it's so important to protect sea turtles," Kendra said. Based on our conversation, here are some suggestions for making your next Florida beach vacation sea turtle-friendly:
When researching accommodations, look into staying at a certified sea turtle-friendly hotel. CCinc administers annual certification for hotels that meet sea turtle operating standards on nesting beaches: appropriate colored lighting, guest education, making sure beaches are prepared for nesting, reducing or eliminating single-use plastics and other waste that cause injury and death to sea turtles.
Join a permitted nighttime turtle walk with a trained guide. Following a presentation, you will be led onto the beach to observe sea turtles nesting. You can also go on a scientific turtle dig to watch researchers extract information on hatched eggs and eggs that didn't hatch. The Florida Fish and Wildlife Conservation Commission has list of organizations that offer these activities.
They may be cute, especially the little ones, but curb your desire to get physical. It's a federal offense to interact with sea turtles, so no touching, picking them up, or taking their eggs as souvenirs.
Don't litter, and reduce use of single-use throw-away items. Not all waste makes it to landfills. Some lands in rivers and canals then ends up in the ocean
Pick up some of the trash you encounter. It may not be yours, but removing it helps.
Bring reusable shopping bags, and either carry your own reusable straw or don't use one at all. Sea turtles manatees, dolphins, fish, and sea birds are all affected by plastics and other trash.
The Bottom Line
According to Kendra, "The sea turtle populations on the Atlantic side, and also in the Gulf of Mexico and the Caribbean are trending upward." Unfortunately, the same is not true everywhere.
"It's still a challenge," she says, "but every year we seem to be doing a little bit better. We still have a lot of work to do moving forward in terms of keeping our beaches dark or replacing white lights with turtle-friendly colors. We sometimes have roads right beside our beaches, and there are recorded instances where hatchlings decided to cross the road, and not all of them made it. We collect hatchlings in stormwater drains, from people's lawns, and people's pools, because they went in the wrong direction."
Rehabilitation facilities treat sick sea turtles and those injured with strike wounds from boat propellers, intestinal blockage from ingesting plastics, balloons, and styrofoam, as well as from shark bites. From colored beach lighting to medical care, it's all about the sea turtles.
CCinc's mission is to "protect coastal habitats for sea turtle survival by educating and connecting people to the environment." Their vision is to "be a driving force for the recovery of sea turtles." Since 2017, Kendra and her team have been steadfastly walking the talk, and with help and support from Florida lawmakers, residents, and visitors, the sea turtle population will continue to recover.
Want to experience sea turtles and other Florida wildlife in their natural habitats? Consider