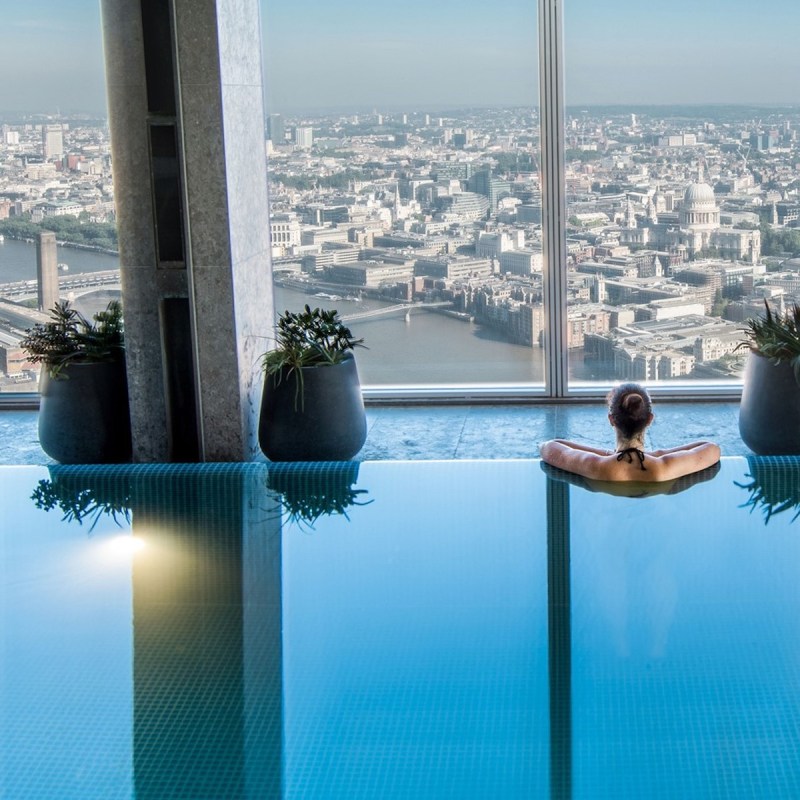 London is a truly amazing city to visit, full of theaters, shopping, parks and gardens, a royal palace, museums, art galleries, and the best bars and restaurants. There's enough to see and do to keep you coming back time after time. But with so much going on and such busy streets, you need a little time out now and then. What better way to recharge, reset, and ready yourself for more sightseeing than with a beautiful luxury spa?
London has everything you can think of, and yes, that includes some incredible spas. Step in from the bustling London streets and find an oasis of calm and relaxation in one of the city's hotel spas, or indulge in the latest treatments at a luxury day spa.
1. Ila Spa At The Londoner Hotel
One of the newest additions to the Leicester Square hotel scene is The Londoner, a luxury boutique hotel. All 16 floors are designed to be intimate, eclectic, and curated, and this extends to their spa, The Retreat. The spa features a swimming pool, hydro pools, relaxing cabanas, a gym, and a beauty salon. Guests can refuel with superfood drinks or return to the room to soak in the bath and have lunch delivered to the door.
Ila Spa has just partnered with The Londoner Hotel to showcase their latest body treatments. They include energy-boosting, detoxifying, and CBD, targeting digestive and anxiety imbalance issues. Practitioners can incorporate crystals and a bespoke blend of oils if they wish.
Pro Tip
The Londoner is located in busy Leicester Square, not far from the West End. There's a lot to do in this area, including shopping and seeing a show, so the spa is perhaps never more needed than it is right here.
2. Jiva Spa At Hotel Taj
Just a stone's throw from Buckingham Palace in the heart of the capital, there are a stunning collection of self-contained, six-story townhouses. These historic townhouses include two Taj properties: the luxury 5-star Taj 51 Buckingham Gate Suites and Residences, and St. James' Court, a Taj Hotel. These beautiful properties are ideal for a staycation in the city as they surround a central, secluded courtyard, which is a perfect oasis to get away from the hustle and bustle of city life. But for complete relaxation and to really switch off while you're here, these two properties play host to the sumptuous Jiva Spa, the first Jiva Spa in Europe. Visitors can relax, restore and refresh and enjoy the unique fusion of Indian wellness philosophy teamed with luxury British innovation.
3. Bokeh Spa at Montcalm East Hotel
Step off the bustling streets of East London and enjoy a dose of relaxation at Bokeh, a peaceful new subterranean urban spa that has opened in the Montcalm East hotel. The spa only opened in November 2021, so it's an exciting new spa to discover. Bokeh has harnessed the very particular East London undertone to create a cool and sleek wellness retreat, which is the perfect antidote to busy London living. Embracing one of the biggest wellness trends of 2022, a selection of spa treatments have been crafted in collaboration with British CBD and wellness brand OTO. Using the highest quality essential oils and botanicals that are 100% natural, vegan and cruelty-free, OTO's treatments are centered around focus, amplify and balance. Some treatments incorporate tailored sound therapy and healing bowls for a deeper state of relaxation. This is one of the capital's largest spas, and there is an indoor pool, hot tub, sauna, steam room, and a gym, where wellness classes will be held later this year.
Pro Tip
Montcalm East was designed as a hub to foster creativity with a focus on photography. In keeping with this, the name "Bokeh" takes its cue from the photographic term that refers to the hazed, soft focus of a photographic image. Look out for references to this as you explore the hotel and spa.
4. Aman Spa At The Connaught
The Aman Spa is a comprehensive wellness center and a sanctuary for hotel guests and non-residents alike, with five treatment rooms that include private dressing areas, showers, and a vitality pool. Aman's spa treatments are carefully tailored to provide guests with personal experiences, so you get a very focused visit. In December 2021, the spa announced the arrival of a new CBD massage treatment using a pioneering CBD oil blend developed exclusively for Aman by experts in luxury CBD skincare, La Rue Verte. The treatment is available in 30-minute, 1-hour, 90-minute, or 2-hour sessions and combines a lymphatic drainage massage, designed to eliminate toxin build-up, release muscle tension and manage pain. All of this is done with La Rue Verte's CBD CannabiSPA technology. Incorporating reflexology body mapping, the treatment will target key areas of concern, drawing on the non-psychotropic properties of CBD.
Pro Tip
Although Aman Spa is introducing the new CBD therapies, there are plenty of alternatives to choose from if you're not comfortable with this.
5. Grey Wolfe
Grey Wolfe is a new wellness space located in Barnes, West London offering the highest level of holistic experiences through its pioneering self-titled "Grey Wolfe Method." The Grey Wolfe Method uses a combination of energy medicine and traditional earth elements to restore a natural state of wellbeing. These include wellness touch, smudging therapy, chakra balancing, breathwork, visualization, crystals, numerology, body and foot mapping, as well as skin reading. This unique approach benefits overall health including improving gut health, strengthening the immune system, improving sleep, and boosting skin-munity. This is a really interesting space that's very visual and bridges the gap between counseling and therapeutic healing, marrying traditional spa experience with complementary therapies including mindfulness, energy healing, reiki, and reflexology. It really is an experience in treatment rather than simply a place to relax.
6. Shangri La At The Shard
This is perhaps the most incredible location for a hotel and spa in London: high up in The Shard. Now you can splash out and spend the day looking out over London from Shangri La's famous infinity sky pool, the highest hotel pool in western Europe. Treatments by Neal's Yard are the perfect way to fast track to relaxation. After a morning in the spa, head back to the 65m2 Premier Shard Suite and spend the afternoon drinking champagne in the bath. The in-suite binoculars are ideal to admire the expansive views towards Kent, Surrey, and Sussex, from the comfort of a bathrobe.
7. The Kallima Club Spa, Hilton London Syon Park
The Kallima Club Spa has a luxurious relaxation lounge, nine treatment rooms, a steam room, and a couple's villa. If you like a spa that feels like a boudoir, you'll love this. The pink and purple soft furnishing, carpets, and décor make this spa reminiscent of the Moulin Rouge. The spa offers luxury Elemis facials and a range of massage therapies and techniques such as bamboo, seaweed, prenatal, and hot stone techniques. Guests can also enjoy other kinds of pampering at the hair, nail, and beauty salon.
Pro Tip
Located in beautiful Syon Park in Brentford, this hotel and spa isn't in central London, but is close to Kew Gardens and is situated in a green area of West London. Though still a part of London, Brentford is like a small town with lots to explore.
8. Ushvani
Ushvani is an incredibly discreet spa with just five treatment rooms, including the stunning Asmara Suite. It's a true hidden gem located at No. 1 Cadogan Gardens, tucked away behind Peter Jones in Sloane Square. Ushvani's philosophy is based on ancient Asian culture that focuses on both spiritual harmony and natural treatments. The holistic approach is taken to treat the mind, body, and spirit, going beyond mere superficial pampering. The spa has original Edwardian features, wood paneling, and a vast wooden staircase mixed with commissioned Malaysian artworks and hand-painted batik hangings, hibiscus flowers, and the aroma of ginger, nutmeg, and pandan leaves – a beautiful little spa.
9. Banya No.1
Banya No.1 is an authentic Russian bathhouse in Chiswick, London. It's a traditional spa, but with a modern design offering treatments that are helping to reset and recharge. One of the classic treatments is Parenie, a rejuvenating hot treatment performed with bunches of birch twigs followed by a contrast shower and icy plunge pool dip. The contrast between a hot steam room and the icy cold water is great for the skin, body, and mind. This is a more spiritual spa with its roots in Russian therapies and treatments. You can hire out the Karelia lounge for private use and it accommodates up to six people, so you can relax between treatments in peace. The spa also runs women-only Wednesdays and men-only Thursdays for those who feel more comfortable with single-gender use.
Pro Tip
There are some interesting guidelines at this spa. Flip flops must be worn at all times and Banya hats are available to purchase once you get there. On single-gender days, swimwear is optional, so be aware of this in regards to your comfort levels around nudity. On mixed-gender days, swimwear is essential.
For more to see and do in London, check out these articles: