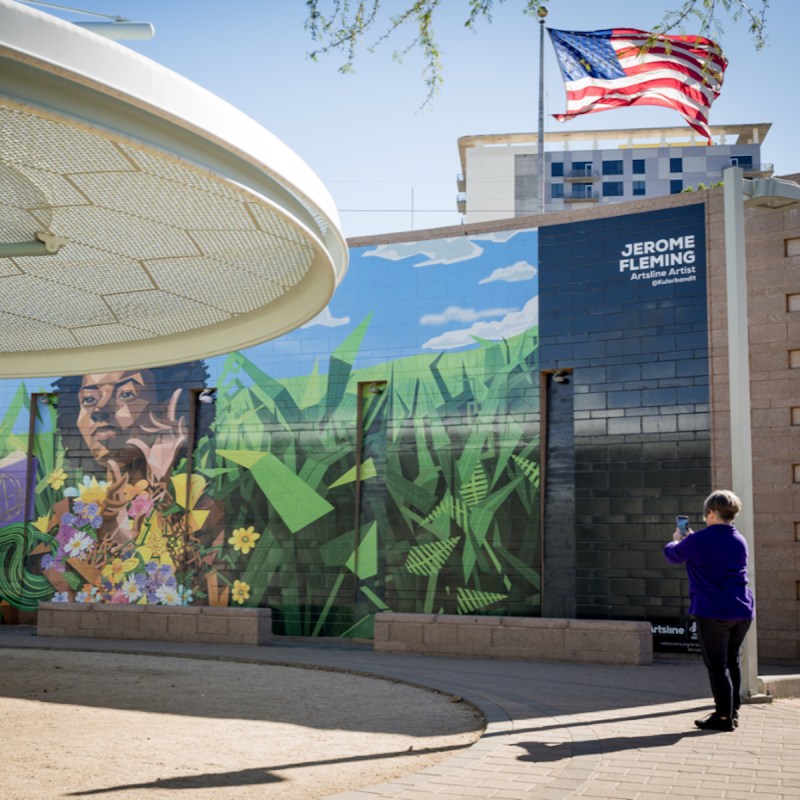 Sometimes, I like to ride public transportation in a destination city. Getting boots on the ground gives me an in-depth perspective of the heartbeat of a city. All the better to have public art on display to increase my enjoyment.
On the Valley Metro Rail in Phoenix, Arizona, each station is a work of art — from vivid, building-sized murals to small iron works of art; from mosaic tiles on the platform to shoe soles embedded in the cement. Installations by local and national artists connect the community and enhance the transit experience.
This light rail train trip is perfect for art lovers of all kinds. Make a day of the Valley Metro Rail, or take a couple of days and explore more art experiences along the route.
How To Get There
Phoenix Sky Harbor International Airport, PHX, is an accessible destination in the Desert Southwest. Many carriers serve this airport owned by the City of Phoenix, and it's just three miles from downtown. By way of the Sky Train, escalators, elevators, and moving walkways, you can reach Valley Metro Rail from the airport.
While I took the bus from Goodyear to downtown Phoenix to experience more of the Valley Metro system, I recommend that you drive or rideshare to the Roosevelt Row Arts District and find parking there.
Eleven Park-and-Rides offer free parking for daily transit use. Fifteen strategically located transit centers also provide parking and vending machines to purchase fares.
Know Before You Go
Purchase fares at vending machines on the light rail platforms and from participating retailers or online. Online orders are not downloadable, not available to print, and are shipped via FedEx.
Current adult full fares are around $5 per day. Children, seniors, Medicare, and people with disabilities ride at a discount. Validate your ticket at the kiosk on the platforms.
All Valley Metro vehicles are accessible to riders using wheelchairs and other mobility devices.
Where To Start On The Light Rail
Trains run from northwest Phoenix through Tempe to east Mesa approximately every 15 minutes. Thirty-eight stations host public art exhibits. If you take refreshment and meal breaks, you could make this art lover's train trip in 2–3 days. I dedicated 1 day to riding the rails and another half day exploring the Roosevelt Row Arts District in depth. Several world-class museums in the Roosevelt Row Arts District highlight the area's history and showcase local and international music, art, and culture.
Start in the Roosevelt Row Arts District at the McDowell and Central Avenue station in Midtown Phoenix. Heading westbound for a few stops introduces you to art, culture, and creativity.
Artists And Stations
Those were the logistics. Now for the art along the Valley Metro Rail, arranged by stop, from beginning in Midtown and ending in Tempe.
A Thousand Points Of Reference At Mcdowell/Central Ave., Roosevelt Row Arts Disrict, Midtown Phoenix
Michael Maglich, a local artist, created his artwork because of the proximity of the Burton Barr Public Library and Phoenix Art Museum. A Thousand Points of Reference is a celebration of diversity in the patrons of the library and museum and the nearby neighborhoods. The bronze sculptures refer to influential artists, like Rodin, and movements in art history.
Presence Of Water At Thomas/Central Ave., Business District, Midtown Phoenix
Brian Goldbloom, a Washington artist, designed artwork that touched on the evolution of desert into a modern urban oasis. Intricate carvings emerge by degrees of the presence of water, indications of life, and details of encroaching civilization. The sequence of these stone carvings requires that the viewer keep moving along the walkway to transition to the "oasis."
Tapping Time At Osborn/Central Ave., Midtown Phoenix
Thomas Sayre, a North Carolina artist, created artwork that emphasizes the audience and subject for the project are the riders themselves. Waiting is the theme, and what people do while waiting for the next train.
Historical Photography At Indian School/Central Ave., Midtown Phoenix
Mary Lucking observed the changes transforming this neighborhood. In this Native American photography project, she focused on the people and institutions that existed before the station was built. Historical photographs of buildings and streets provide a unique view of how Central Avenue appeared then.
Hyperbolic Parabola At Campbell/Central Ave., Uptown Phoenix
Al Price, a local artist, provides a timeless elegance for the neighborhood. His hyperbolic parabola creates a water-like motion for the viewer in motion. The geometric shapes reflecting the sun also play on the ground with the sun's movement.
Landmark And Trough, Seat, And Tree At Pierson Place, Central Ave./Camelback, Uptown Phoenix
Ilan Averbuch created Landmark, the massive 24-foot ring of desert stones that frames the transit center access drive and Central Avenue. The Hopi belief is that life is a circle that we enter at a particular place, and this landmark represents an entry point.
The Trough, Seat, and Tree, also created by Averbuch, is meant to be seen, to sit on, and to rest and meditate about the interconnectedness of all three elements — under the shadow of a growing tree, next to a fragile line of water carved in stone.
Terrazzo Pavers At 7th Ave./Camelback, Melrose District, Uptown Phoenix
Nubia Owens, a Phoenix resident, crafted the carpet of more than 200 terrazzo tiles to create an experience for commuters who would see this daily and imagine the metaphorical to straightforward messages in the imagery.
Returning through downtown and heading eastbound, I went as far as Veterans Way/College Avenue station on the Arizona State University campus, also a transit center. Another visit will take me out to Mesa to experience the public art in those stations along the way and other art venues.
Representation Matters At Roosevelt/Central Ave., Downtown Phoenix
Jerome Fleming, aka Kulorbandit, was the Artsline Spotlight Artist during my visit. Easily visible from the street, you don't have to catch the train to enjoy this building-sized mural, Representation Matters. Kulorbandit drew inspiration from Amanda Gorman, the youngest inaugural poet in history, who performed at the presidential inauguration.
Kinetic Shade Trellis At Roosevelt/Central Ave., Downtown Phoenix
Peter Richards, a San Francisco artist, created a place for people to gather and linger. The kinetic shade trellis is in two parts, with the upper canopy freely suspended over the stationary lower canopy. The perforated metal panels generate geometric shadows on the ground.
Bronze Sculptures At Veterans Way/College Ave., Tempe
Tad Savinar, a Portland artist, placed 18 bronze sculptures on stone pedestals. Each sculpture depicts a local or regional landmark. Braille quotations on plaques attached to the pedestals are quotes from visually impaired residents who related their experiences at the landmarks in this station.
Papago Portal At Priest Dr./Washington, Tempe
Laurie Lundquist created a metaphorical canal for the Salt River Project, referencing the ancient Hohokam canals. Pennies equated with water, currency in local landmarks, the metal wavelets overhead, and red granite walls with granite pavers tell the local environment's story.
Pro Tips
Before boarding, take your time to walk the entire length of the station. Depending on the installation, the themed pieces may be at either end.
Also, the only way to see some artwork is to enter the station because it is small and not visible from the street or sidewalk across the street.
Finally, study the artists and artworks here or on Artsline before embarking on this train trip. It will make each experience more meaningful. And as always, when on public transportation, stay alert and be aware of your surroundings.
If You've Worked Up An Appetite
Tocaya Modern Mexican is an easy three-block walk from the transit station on the ASU campus. This casual eatery offers light fare with vegan, vegetarian, or meat options as proteins that you add to the base dish. The open-air bar gives a sense of light and spaciousness. Place your order at the counter, and they bring your meal to a table you select inside or outside.
Match Market & Bar, located on Central Avenue at Roosevelt in the Roosevelt Row Arts District, is upscale but casual. It's a local café, bar, and market overlooking Portland Park. Curated merchandise like fun clothes, unique kitchen items, locally sourced swag, and gourmet essentials is a lovely setting for socializing at the bar. After a full day of branding photography, we enjoyed great tart, delicious Moscow Mules served in chilled copper cups that kept our adult beverages icy cold.
Final Thoughts
What I liked the best about this public art is that I could get up close and touch it, walk on or around it, or sit on it. I wonder how many people experience the art at the light rail stations. Are they intent on reaching their destination, or do they take the time to share in the community of Phoenix?
If you're looking for more art in the Copper State, consider:
And if you're left looking for things to do in and around Phoenix when you hop off the light rail, consider these articles to get you started: