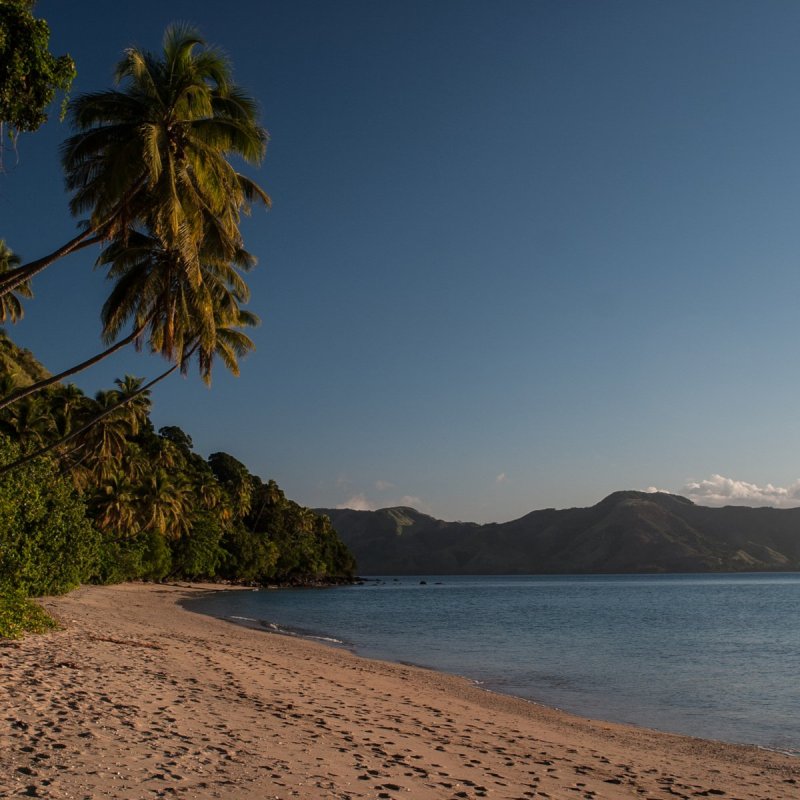 It's imperative to feel comfortable and safe while traveling. Medjet provides premier air medical transport, travel security, and crisis response memberships, providing peace of mind for an affordable price.
It takes some doing to get to Fiji but once you look up at a night sky full of the Southern Cross stars, feel the soft breeze, and the warm smiles of your hosts fill your heart, jet lag will evaporate — or nearly. I can still hear the soft harmonies of a trio of guitarists at dinner on my first night on Taveuni, Fiji's third-largest island. We were close to the Namena Marine Reserve, which Jacques Cousteau helped create. He inspired thousands of divers and snorkelers to visit local waters that are home to whales, dolphins, a vast variety of corals, at least four species of sea turtles, and more than a thousand species of fish.
While rich waters are the main attraction, there are many other unique experiences across the island country. You'll enjoy the sandy beaches, but don't miss cultural exchanges like village visits, local markets, sampling the seafood, and the Indian-influenced cuisine. Language is no barrier, although most locals speak Fijian and Fiji-Hindi.
At this time, Fiji is closed to international visitors, but it's a temporary situation as tourism is a big part of the economy, and vaccines will allow travel to resume safely. Check before setting dates and selecting which islands to explore during your trip to Fiji.
1. Viti Levu
Think of Viti Levu, Fiji's main island and largest, as the center of a spoke surrounded by 300 islands. Only a third are inhabited. Most visitors fly into Nadi International Airport and catch flights, small ship cruises, or local ferries to reach the outlying locations. There are many attractions around Nadi and Suva; the second-largest city is on the other side of the island.
Visit The Sri Siva Subramaniya Swami Temple In Nadi
Rising above the city street, this colorfully decorated temple complex is one of the few places outside of India to see traditional Dravidian architecture. I was amazed at the ornate and brightly painted wooden carvings of deities, plus impressive ceiling frescoes.
There are on-site custodians happy to answer questions. Visitors are asked to dress modestly and remove their shoes. Photos are allowed on the grounds but not inside the temple.
Local Viti Levu Markets
While many choose all-inclusive resorts and never leave their compounds, wise travelers know that exploring local markets is an easy way to immerse in authentic local cultures.
The Handicraft Market in Nadi is fairly quiet, with authentic handicrafts and opportunities for people-watching. Visit the Nadi Produce Markets for fresh flowers, fruit, and vegetables. Be wise about purchasing perishables — they aren't allowed on flights.
Drive, bus, or tour away from Nadi for other island attractions like the Lawai Pottery Village. It's a center of pottery production where you can meet the women making the pieces, attend a Kava Ceremony, and pick up authentic souvenirs.
In Suva, on the other side of the island, there are two main markets. The ROC market convenes on the third Sunday of the month in Dolphin Plaza with homemade foods and cultural handicrafts; traditional dancers and musicians perform throughout the day.
The big Suva Curio and Handicraft Market inside the Suva CBD is a tourist market with genuine Fijian textiles and curios. Still, wise shoppers check for quality or mass-produced items.
Family-Friendly Fun In The Kula Wild Adventure Park
The award-winning Kula Eco Park, Fiji's only wildlife park, has changed its name then added zip lines and rope bridges to water slides and animal exhibits. There are several tour options with something for every age. The most popular, a self-guided tour, gives you access to bridges, air-conditioned displays, photo ops, and a chance to hand-feed Hawks Bill sea turtles. If all that action makes you hungry or thirsty, there are two cafes on site.
Waterfalls Near And Far
Join a tour or hire a driver to experience island culture away from the beach and dive resorts. Getting to the giant falls of Biausevu requires a bit of planning. Wear water shoes with good thread and your swimsuit (no changing rooms are available). Pack water and toilet paper. Some visitors bring gifts (small toys, school supplies, for example) for the village, although small donations may be acceptable.
The hike was casual years ago, but today, guides bring visitors into the village for a Kava Ceremony and permission before trekking along coast and jungle trails for over an hour. Be prepared to cross several streams and at least one rope bridge. It's tempting to be distracted by birds, views, and tropical flowers but watch your footing on slippery rocks. It's all worthwhile as the large waterhole at the falls is perfect for swimming and if you're intrepid, climb the falls to jump into the water.
The Colo-i-Suva Forest Park, about a 10-minute drive from Suva, is easier to get to. It has numerous pools, waterfalls, and trails. Wildlife flourishes here, and bird calls pierce the forest canopy. Be prepared as the National Heritage Park is often 10 degrees cooler than the coast and is wetter.
2. Taveuni Island
The Garden Island of Fiji is one of the most popular Fijian destinations for water lovers and is considered the soft coral capital of the world. Rainbow Reef, between Taveuni and the island of Vanua Levu, is one of the most famous dive sites in the South Pacific.
Snorkelers will enjoy Fiji year-round, but divers plan for cooler waters between July and December for the clearest waters. The hotter summer waters attract plankton. It lowers underwater visibility but attracts larger species like whales and manta rays who feed on the rich blooms.
Taveuni is also home to prolific birdlife, bushwalks, and waterfalls. Gardens need lots of water to stay lush, so plan on rain if you go to the island's interior.
Getting to Taveuni is simple with small-craft flights from Nadi International Airport or Nausori airport, which is close to Suva. There are ferries from Suva as well.
Stand On The International Date Line
The International Date Line wraps around the Fijian archipelago so the entire country can share the same time and date. That said, you can stand on the 189th-degree meridian line with a foot in two different zones. Fiji is also one of the first places in the world to see the dawn of a new day.
3. Beqa Island
Beqa is 6 miles from the main island but feels like another world with its quiet pleasures, natural beauty, and famous features. Here, generations of Beqa men have preserved the tradition of firewalking. According to legend, a warrior was fire-proofed after helping a spirit god in the form of an eel. Today, the ritual continues for guests using stones that are roasted in pits for hours.
Surfers are fond of Beqa for the unique wave break on the outside reach of the atoll. Inside the lagoon, there are over 100 dive sites including wrecks and walls. The thrill of diving near feeding sharks is one of my fiercest memories of Fiji. The Beqa Lagoon Resort operates one of the Shark Tours. Fijians consider seeing a Tiger Shark a blessing, and I felt so as a massive Tiger Shark swam in for a hand-served fish head. The practice is controversial, but one perspective is that Shark Dive operators have helped the species survive by working with Fijians to turn from shark fishing to shark tourism.
4. Kadavu Island (Look But Don't Touch)
Giving its name to the island, the endemic Kaka bird is one of the rare species that fill the air with honks, whistles, and cries. Originally the locally protected species roamed forests exclusively, but crimson parrot pairs now forage for seeds and fruits in gardens and farms. It makes them easier to spot but has also made them more vulnerable to poaching. The Whistling Dove, Kadavu Fantail, and Kadavu Honeyeater are also endemic to the island. Removing any of them is a violation of international as well as Fijian laws.
Matava Eco Resort And Turtle Rock
There are several hostels and small hotels near the Kadavu airport. The Matava Eco Resort can only be reached by boat, and the remote location has made the resort truly self-sustaining. Small bures, bamboo, and thatch-roofed huts are built into the hillside. A well-stocked dive shop, view-rich trails, and village tours available. I loved being called to meals by a log-drum beat echoing through the jungle. Matava has well-earned awards for local sourcing and won a World Responsible Tourism Award in 2015.
Pro Tip: Make Time For Traditions
Wherever you go across Fiji, make sure to enjoy at least one Kava Ceremony. It's common for families and friends to gather for the daily ritual where the powdered Kava herb is mixed with water into a muddy-looking concoction. The slightly psychoactive brew contains kavapyrones which act like alcohol, inducing a calm and happy relaxation. I felt a very slight buzz and loved being welcomed into Kava ceremonies with their mix of music and song, clapping and laughter.
There are other rare traditions to enjoy. Don't miss attending exciting South Pacific knife and fire dancing shows. Meke performances are rousing displays of local dances and songs where movement symbolizes legends, love stories, spirits, and great battles.
Watch for Billibili boat/raft rides where the traditional bamboo rafts are pushed through rivers by pole. If you visit in October, after the annual rains, be sure to attend the Suva Bilibili Race where more than 12 teams compete.
Related Reading: