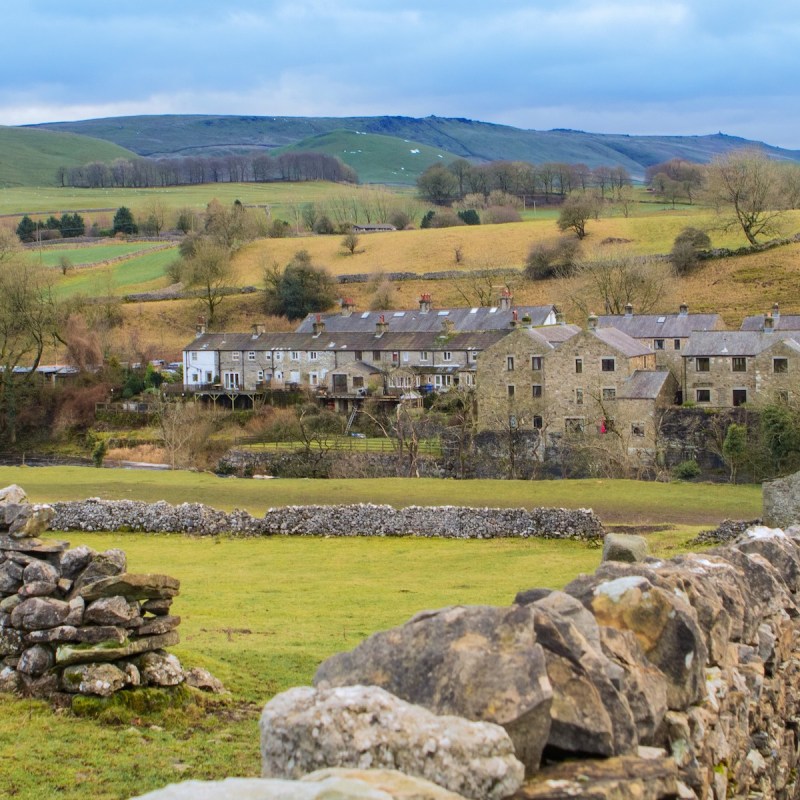 The clouds had come down so low in the late afternoon that the peaks had disappeared. It had started to rain. I was cradling my beer inside a pub in front of a roaring log fire, the warmth forcing the sprawled out retriever to retreat a few inches. Locals, propping up the bar in their usual spots, were eagerly chatting to visiting hikers, asking about their day's walk. A weather-beaten Yorkshireman, a twinkle in his eye, turned towards me. "You know you can call God directly from this pub's phone for only 50p a minute." "Oh yeah," I replied. "How so?" "Well lad, you're in God's country now, so calls to Him are local rate." He smiled and took another swig of his pint.
I was in the north of England, 200 miles north of the capital — in the county of Yorkshire, home of cricket, tea, Yorkshire pudding, great ales, stunning scenery, and the friendliest folk you're ever likely to meet. Covering over 3 million acres, visitors have an endless list of places to see and things to do. Rich in Roman and Viking history, there are dozens of churches, castles, and abbeys that date back over 800 years. Yorkshire has almost 100 miles of coastline with pretty coastal towns and beaches where the North Sea can retreat for miles. To many, the real gem is the Yorkshire Dales with its craggy limestone outcrops, tumbling waterfalls, verdant valleys, meandering rivers, and windswept moors where only the wooliest sheep survive. Ancient stone villages that have withstood the ravages of time and weather fill with tourists in the summer. Farms dot the landscape which is crisscrossed by dry-stone walls and public footpaths. Arguably the best-ever English invention, sign-posted public footpaths give walkers a legal right to pass through private (usually farmers') property. You need to remain on the designated path, which is often no more than a worn route through a field where many others have trodden before you, and which often cuts directly across a grazing field or skirts along the edge of a cropped field. On other occasions, it may lead you through the farmyard itself. It's this web of public footpaths that allows you to safely dive into the heart of the Dales and breathe in scenery that will last you a lifetime. 
There are countless hikes, numerous pubs, and many places of interest to visit in the Yorkshire Dales, and for the first-time visitor who enjoys rambling but is definitely not a Sherpa, here are a few suggestions.
1. Stay In A Pub
Find a good base where you can eat and drink well and from which you can start many hikes. The village of Grassington, sometimes referred to as the "beating heart of the Yorkshire Dales," is a market town with a small cobble-stoned square and home to many places to eat and stay. It's a very popular visitor spot, especially in the summer, so parking here can be difficult. A quieter base is less than 2 miles away in the tiny village of Hebden (population less than 300 in 2011), which is designated as a conservation area by the Yorkshire Dales National Park Authority.
Check out the Clarendon Hotel in Hebden. It's an 18th-century inn, though "country pub with rooms" is more accurate and appealing. You can get to Grassington easily enough — it's only a mile's drive or a pleasant 20-minute hike along the River Wharfe. Rooms are clean and modern, the food is excellent (they have won awards for their culinary excellence), and it's only 30 steps from bar to bed.
Pro Tip: The last few miles to Hebden can be over the top of the moors. Weather changes quickly here and driving, especially at night, can be tricky. Try to arrive in daylight.
2. Walk And Walk Some More
There are many routes to follow, some arduous up the pikes, others gentle rambles along riverbanks. Choose the length and intensity wisely.
A popular starting point is the National Car Park in Grassington. Numerous trails spread out from the car park including an easy 4-mile circular route by the river and back up to the village. Alternatively, walk from Grassington to Burnsall by the River Wharf. Along the way, you will cross the river on the smallest suspension bridge you will likely ever see. Single file only, and, yes, it does swing. Needless to say, walking boots are recommended.
The weather can change quickly around here, so be prepared for all eventualities. Similarly, the River Wharfe can be treacherous — rising and falling quickly depending on what's happening upstream. One particular spot on the river (see the Strid below) has prompted some to call the Wharfe the deadliest river in Europe.
3. Eat, Drink, And Be Merry
Grassington is a good place for dining, with many eating options available. Both the Foresters Arms and The Devonshire are excellent choices and very popular. Do make a reservation in advance. Menus vary, but you will always find traditional fish and chips and various game dishes including pheasant and duck. There are, however, two dishes everyone should try at least once when in Yorkshire.
4. Try Real Yorkshire Pudding
Traditional Yorkshire puddings are a meal unto themselves. I'm not talking about the small add-on-to-a-full-English-roast-dinner pudding, but the dinner plate size one loaded with roast beef and gravy — lots of gravy and then more gravy. When meat was scarce or unaffordable, this crisp shell with a light chewy base served as the main meal.
5. Indulge In Gourmet Sinfulness
For dessert, you absolutely have to try the sinfully delicious sticky toffee pudding, a moist sponge cake covered with a rich toffee sauce and served with vanilla ice cream or lashings of cream. During our 4-day stay, we tried four different offerings — they were all spectacular. Worried about calories? Hike another mile tomorrow.
6. Drink Your Beer At Cellar Temperature
Yorkshire is famed for its beers with many established large breweries now sharing bar space with smaller local breweries that have sprouted up. Don't expect the beer to be 29 degrees Fahrenheit either — this is England, where we like our beer at cellar temperature (54 degrees Fahrenheit). Personal favorites include any beer starting with T: Timothy Taylor, Theakston, or Tetley. Many pubs will offer you a free taster.
If you prefer gin to beer, The Devonshire in Grassington's market square will offer you a choice of over 50 types of gin with every botanical under the sun. A "Sipsmith Orange and Cacao Gin" anyone? It has rich dark chocolate, candied orange, and Madagascan vanilla.
7. Take Afternoon Tea
If you think afternoon tea is the preserve of the upper classes, think again. A mid-afternoon cuppa of Yorkshire tea is the perfect warm refresher after a day's hike. To complete the picture, add a freshly baked scone with oodles of jam and cream.
8. See The Sights
Be Awed By Ancient Bolton Abbey 
One of the most iconic views along the banks of the River Wharfe is the 12th-century Augustinian priory. Although the priory today is a spectacular ruin, the church itself remains active and open to visitors. There are good hikes in the area, particularly along the riverbank to Barden Bridge where you cross the river to return on the opposite bank — a round trip of about 7 miles. There are some hilly parts, but all are very manageable with care and well worth it for spectacular views. When the water is low, a series of stepping stones allows the brave to cross from one bank to the other. A short walk along the Wharfe leads to The Strid, a series of narrow, deep rocky gorges through which the river rushes. The fast current and underwater rocks have proved fatal to those who enter the water here.
See An Engineering Marvel Up Close
The spectacular Ribblehead Viaduct, constructed in the 1870s to carry railway passengers up to Carlisle and beyond, is over 1,300 feet long and towers 100 feet above the valley. Trains still run on the line today. Its massive 24 stone arches are a true work of Victorian engineering, but they came at a price. Over 100 men lost their lives during construction, resulting in the railway company having to pay for the expansion of the local cemetery.
It can be bleak and windy in this area, so come wrapped up. It's a short walk to the viaduct from the parking area and also to the quaint Ribblehead station — maintained today by railway enthusiasts. The aptly-named pub — the Station Inn — is well worth a visit for lunch. In the summer, the beer garden is an excellent place to relax and watch the trains go by. No visit here would be complete without popping into the "Loo with a view." Through an open lavatory window, you get a perfect view of the viaduct spanning the valley.
Stroll Around A Quintessential Yorkshire Village 
You likely won't find this village with a population of 110 on many "Must-See" lists, but you would be missing out if you don't go to Burnsall. Just a mile walk from Hebden along the bank of the River Wharfe is the quintessential northern English village. A four arch stone bridge crosses the Wharfe as it gushes through the village with a wide expanse of grass on either side — a perfect location for a summer picnic or game of cricket. A church, ancient school, and of course, the pub complete this picturesque village.
As we left our temporary pub home, we saw a sign advertising it was number 26 on "The Inn Way" — a popular 76-mile hike over 6 days visiting 26 pubs. My new friend at the bar was right — this is God's country.