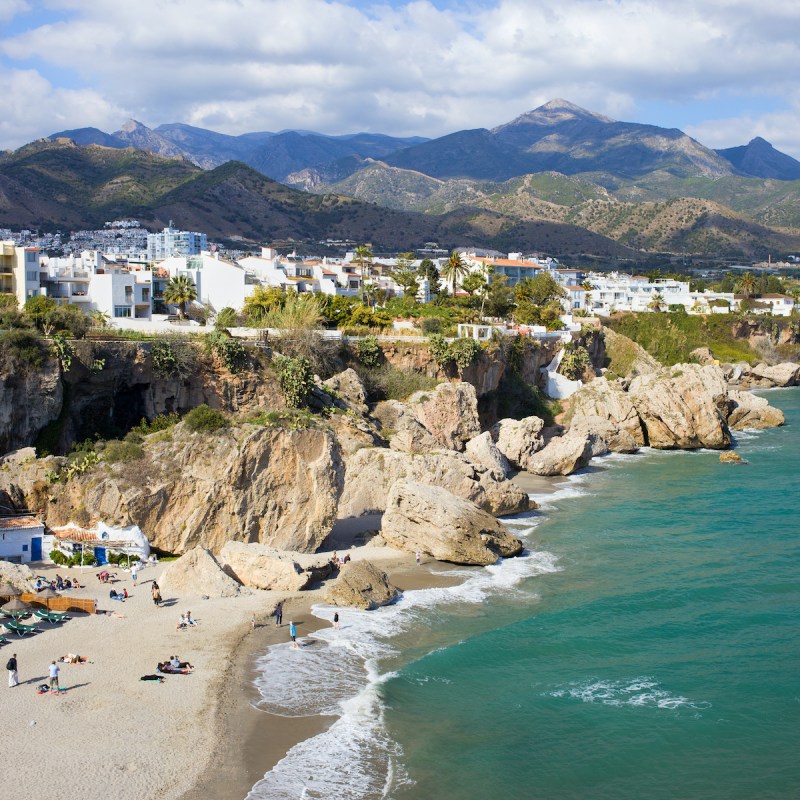 Retirement in Spain is a dream of many pensioners, especially those from countries with cold or rainy winters who are seeking sun, warmth, and the beach life all year round.
The two most popular regions are Spain's Costa Blanca (White Coast) and Costa del Sol (Sun Coast). Costa Blanca is a 120-mile-long stretch along the Mediterranean coast in the Southeast of Spain.
Costa del Sol is approximately 95 miles long on the south coast of Spain in Andalusia. Costa Blanca reaches from Denia in the north to Pilar de la Horadada in the south with the largest city being Alicante. It's adjacent to Costa Calida and many other beach resorts and historical cities like Cartagena.
Costa del Sol extends for 95 miles along the southern coast of the Mediterranean and reaches from Sotogrande in the west to Nerja in the east with Malaga being the capital.
The sheer number of retirees who have made one or the other coast their home shows how desirable these two destinations are. The census registered 37,000 foreigners on Costa Blanca and 300,000 on Costa del Sol. There are plenty of similarities between the two but also differences. I have lived for several years on each, most recently in Torrevieja near Alicante and before that in Marbella, and have had a long time to become familiar with the ambiance, expat communities, and lifestyle of each. Here's what you need to know.
Location, Size, And Population
Costa Blanca is in the southeast, Costa del Sol is in the south, and the distance between Alicante and Malaga is 360 miles more or less in a straight line. Costa Blanca is slightly larger than Costa del Sol with a coastline of beaches, coves, the huge lagoon of the Mar Menor, and mountains beyond the beaches. Costa del Sol is slightly shorter, with equally beautiful beaches although somewhat smaller because they are bordered by mountains, for instance, the Sierra Bermeja and the foothills of the Sierra Nevada.
The steep mountainsides are the locations of a string of charming white-washed towns, known as Andalusia's white villages, beach resorts, and ports like the exclusive Puerto Banus in Marbella or the upscale Sotogrande near Cadiz.
The population of both coasts is a mixture of foreigners and Spaniards, including locals born and bred there and those who come from other parts of Spain, some on vacation or owning a second home or retiring there to escape the winter cold in the North of Spain, like Galicia and the Basque country. The foreign population comes predominantly from the UK, Germany, the Netherlands, and Scandinavia but also from the U.S., Russia, and more recently from Morocco and other Arab countries.
Both coasts have lively and active expat communities, foremost among them from the UK.
Transportation Options
Alicante on Costa Blanca has an international airport, although the one in Malaga on Costa del Sol is bigger and serves more airlines.
Public transport on both coasts is good, with some high-speed trains from Malaga to Madrid and Barcelona and more train connections from Alicante to cities like Santander in the north and Bilbao to the south. What is not covered by train or plane is served by coaches, with ALSA being the biggest bus company.
If you wish to travel by car, there are plenty of motorways running from north to south and along the coast, the best known being the 68-mile-long Autopista del Sol, which runs from Malaga to Estepona on Costa del Sol. It's a toll road as are several others.
Local bus connections are far better and more frequent on Costa del Sol than on Costa Blanca. To really move around there you are better off with buying or renting a car.
Geography And Architecture
Costa Blanca's Alicante province features a very mountainous landscape in the north and west regions whereas the south is rather flat with the Segura River flowing through. The region is separated into the Upper Marina with towns like Calp, Teulada, and Xabia and the Lower Marina comprising Benidorm and Altea.
The architecture in cities like Alicante is beautiful with broad avenues and art deco buildings. Altea is famous for its roofs covered with blue tiles, many art galleries, and murals. Benidorm, in contrast, is the typical beach resort with high rises and holiday apartment blocks, as is my current hometown, Torrevieja. All have nice beach promenades with flowers and palm trees.
Costa del Sol is also mountainous, but the ranges sometimes extend to the many beaches and protect them from the wind, which makes for a very pleasant climate. Apart from the beaches, there are coves, valleys, ports, and cliffs, not to forget the spectacular caves of Nerja. Malaga is a city with many historical buildings and over 30 museums, among them the Picasso museum. The most interesting architecture along the coast are the white villages, the most famous among them being Frigiliana (near Nerja) and Benalmadena.
Typical beach resorts are Estepona, Torremolinos, Benalmadena Costa, and Marbella.
Beaches
Both coasts have plenty of beaches — that's why they are such popular holiday and retirement destinations. Alicante has a particularly wide and wide beach, called Playa de San Juan, located just below the Santa Barbara Castle and the Platja de Postquet.
On Costa del Sol, the beaches of Marbella — with their beach clubs and watersport activities as well as lively nightlife — deserve a special mention.
Vibe
The vibe of a place has a lot to do with the average age of the population. Here is one of the biggest differences between Costa Blanca and Costa del Sol: Whereas the average age of the residents in for instance is Torrevieja is pension age, and there is probably no great difference to the second retirement hotspot, Benidorm, the average age of those in Marbella is between 40 and 45 years old.
That means the atmosphere on Costa Blanca is a lot quieter. You'll see more people sitting in the sun on benches on the beach and moving around town with some kind of walking aid. They also dress more casually, sit longer in bars having a tipple, and are certainly not visiting any discos. Marbella, the best-known resort on Costa del Sol, on the other hand, is far more glamorous and romantic. The city is also known for its nightlife, with many of the clubs and bars located in Puerto Banus and what is known as the Golden Mile, where the most expensive mansions are located.
Torrevieja has a theater and a concert hall but very rarely are top-notch artists performing. Marbella is a totally different story. Take for instance the yearly charity event called Starlite or the Red Cross Ball, which are among many charities active in Marbella. All attendees of course dress up in their best finery that they buy in the many chic boutiques in Marbella and Puerto Banus, including Valentino and Gucci. People are younger and more international on Costa del Sol, and that is reflected in their more upscale lifestyle.
In Torrevieja, for example, there is one reasonably chic shopping mall called La Zenia Boulevard, but no Dior or Chanel, and it's outside the town center, so to get there you either need to go by bus or taxi or take your car.
It's not only food, culture, and fashion that makes the difference, but also the fact that the various nationalities on Costa del Sol mingle far more. As Costa Blanca's foreign residents are predominantly from the UK, they tend to socialize with each other, which also applies to the Russians and Chinese, although expats of both nationalities are remarkable for their efforts to learn Spanish.
Pro Tip: Spanish shops, with the exception of supermarkets and some pharmacies (also called chemists), adhere to closing hours of the siesta (2 p.m. to 5 p.m.), and foreign shops, especially those run by Asian immigrants, don't open on Sundays.
Cost Of Living
If money is an important factor when it comes to picking a coast to retire to, then Costa Blanca is definitely your coast of choice. A friend of mine rents a two-bedroom apartment there with a communal pool and garden for 350 euros per month.
Costa del Sol is a more expensive location, even if you avoid glamorous Marbella. Here is a selection of rentals in Torremolinos that vary between $1,000 and $2,000 a month. As always, it depends on your lifestyle, your requirements, and your budget as a whole, but overall, Costa Blanca is less expensive.
Pro Tip: If you're seriously considering Costa Blanca, consider this overview of other equally economic places to live.
Healthcare for retirees is an important factor, too, but there is no difference between the two coasts. It's advisable to get private health insurance, as I have, that, with the exception of dental work, covers just about everything. The hospitals here are excellent. So are dentists in Spain, but you have to pay out of pocket.
A word about COVID: Each autonomous province in Spain has its own restrictions and regulations, requirements for the Covid Pass, et cetera, so before making a move, ensure you're totally up to date as these can change at a day's notice.
In summary, I have to say that advantages and disadvantages are equally distributed between Costa Del Sol and Costa Blanca. Both have great weather year-round, interesting cities, and fabulous beaches. I personally plan to return to Costa del Sol simply because life on Costa Blanca is too quiet for me. But if that is exactly what you are looking for, you'll be choosing the right place.
For more inspiration, also consider