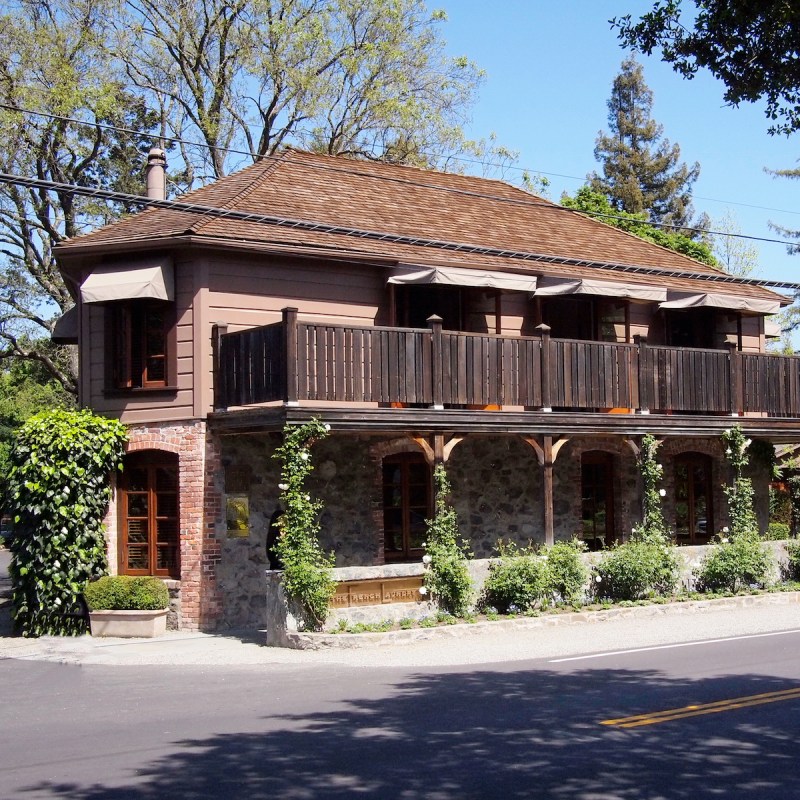 In the early 1800s, Mexico owned the land that would become the town of Yountville, California. George Calvert Yount received an 11,000-acre land grant from the Mexican government in 1836. In the 1850s, Yount designed a small public square and called it Yountville. He is also credited with planting the first vineyard in the Napa Valley.
Today, Yountville is a small town known for its world-class restaurants, wine, and luxury accommodations. The Michelin Guide lists seven restaurants in Yountville that are a cut above the rest. While other fine restaurants abound in Yountville, these seven represent the best Yountville offers. You can walk, drive, or ride the Yountville Trolley to most restaurants. Parking in town is free. The one-mile-long street through Yountville is an experience in itself. Businesses line the road, all with charm and incredible curb appeal. The Yountville city planners have created a fantastic destination for all to experience. 
Pro Tip: Flying into the Bay Area airports of San Francisco and Oakland can be hectic. During the day, traffic can be quite heavy and can lead to a longer than necessary drive to Yountville. The Sacramento International Airport is closer to Yountville, and the traffic is lighter. The drive is pleasant and more scenic. Consider flying into the airport at Sacramento (airport code SMF).
1. Ciccio Italian Cuisine And Pizza
Italian cuisine with fresh local ingredients and a wood-fired pizza oven? Menu changes made every few days to include seasonal vegetables grown and harvested in the local area? Yes, please! Ciccio appears in the Michelin Guide because of its dedication to quality, atmosphere, and service. Their produce comes from the nearby Altamura Ranch and Winery, owned by Frank and Karen Altamura, the owners of Ciccio.
The restaurant looks like an old store from the outside. It resembles an old store from 1916 because it is! The Western look is warm and inviting inside and provides comfort and charm that all enjoy. Although the restaurant is busy, making a reservation is possible for same-day dining. Book ahead when your itinerary is firm to get a table.
Pro Tip: The menu changes according to seasonal availability. Check with the restaurant website to see their offerings (think cacio e pepe, pork and potato cappelletti, ricotta gnocchi with duck ragu, or a delightful wood-fired pizza!).
2. The French Laundry Has Three Michelin Stars
Made world-famous by Chef Thomas Keller, The French Laundry resides in a building dating from the 1900s. The facility operated a French steam laundry business in the 1920s, supplying the name for the restaurant to come. Added later to the National Register of Historic Places, the building owners made several renovations over the years.
The French Laundry opened in 1994. Chef Keller has created a fine dining experience using locally sourced produce. A large garden directly across the street supplies many herbs and vegetables served. Choose from the Chef's Tasting Menu or A Tasting of Vegetables. The French Laundry has twice been named the best restaurant in the world.
On one visit with my family, we walked through the courtyard and saw the kitchen staff through the windows hard at work preparing for the evening meal. Several cooks stopped what they were doing and brought small ice cream cones to our grandchildren. We chatted with them before they had to go back inside. A memory that I will not soon forget.
Pro Tip: A reservation is a must. With three Michelin Stars, the restaurant is notoriously difficult to book. If planning to dine at The French Laundry, check availability immediately for the best chance of securing a table.
3. Bouchon Bistro Is Also A Thomas Keller Restaurant
Within a short distance of The French Laundry, Chef Keller opened Bouchon Bistro a mere four years later, in 1998. A fun, noisy French bistro, Bouchon has all the charm of a Parisian eatery. And, it is a more affordable option than The French Laundry. Bouchon may not currently have a Michelin Star, but it had one in the past. The food and service are still top-notch.
The building is a beautiful red, with lights on the exterior and outdoor tables obscured by bushes in the front. Inside are several dozen tables with red and white decor and marble trim. Chef Keller started Bouchon Bistro so that his cooks and staff would have a place to go and eat after work — a place that reminded them of the New York or Paris restaurants that they loved. It seems to have taken off from there!
Bonus: Bouchon Bakery – Bread Of The Highest Quality
Next door to Bouchon Bistro is Bouchon Bakery. Chef Keller opened Bouchon Bakery in 2003 to supply top-quality bread to his restaurants. The bakery was a hit with locals and tourists alike. People line up to buy wonderful muffins, coffee cakes, croissants, cookies, and tarts. Enjoy espresso and coffee, salads, sandwiches, and quiche in this wonderful artisanal bakery inside or outside in the shaded courtyard.
Pro Tip: Parking is available in a large lot across the street for Bouchon Bistro and Bouchon Bakery. Parking is easier to find on weekdays. Expect long lines at Bouchon Bakery on weekends.
4. Ad Hoc + Addendum
In 2006, Chef Keller opened Ad Hoc, a casual dining experience focused on American comfort food. Ad Hoc was intended to be temporary while his team developed a new restaurant concept for the building. But it was such a hit with locals and visitors that they kept it. The latest Thomas Keller restaurant was born. Ad Hoc is listed in the Michelin Guide.
The menu changes daily and features classic American foods like pot roast, grilled flank steak with braised bok choy, fried chicken, and excellent chopped salads. People enjoy the family-style food presentation. Ad Hoc provides a feeling of being at home with family and friends. The sign on the front of the building states, "For temporary relief of hunger."
Pro Tip: Order the menu of the day and add additional courses to supplement your meal. Sign up to receive the DAILY MENU.
Editor's Note: Addendum is an outdoor dining experience on the Ad Hoc property that is currently closed but might be in full swing when you visit.
5. The Blanket Of Yellow Mustard Flowers Inspires Mustards Grill
Each year, the vineyards of Napa turn bright yellow with mustard flowers. The yellow flowers inspired the new restaurant's name. A listing in the Michelin Guide touts the fresh vegetables and the not-to-be-missed desserts at Mustards Grill.
A two-acre organic garden provides most of the vegetables for Mustards Grill, such as beets, purple potatoes, watermelons, and chives. The produce is picked just hours before being served fresh and ready for the table. Fish, ribs, steaks, chops, and meatloaf grace the menu as well. According to the menu, the Mustards Grill menu offerings are "Deluxe Truck Stop Classics."
Pro Tip: Beware, as the menu states, "SORRY, EVERYTHING IS DELICIOUS."
6. La Calenda Mexican Restaurant
Chef Keller strikes again, opening this Oaxacan restaurant run by Chef Kaelin Ulrich Trilling, who grew up in Oaxaca, Mexico. La Calenda is a family-friendly restaurant serving traditional menu items of the finest quality. Listed in the Michelin Guide, La Calenda is a fun and lively place to have a beer or cocktail and enjoy stone-ground tortillas, tacos al pastor, enchiladas verdes, and tres leches cake (fabulous) for dessert.
A friendly bar with four big-screen TVs has sports on constantly. Fast service makes this restaurant a good choice for an excellent quick lunch.
Pro Tip: Seating on the patio is very comfortable. An efficient built-in heating system provides a warm, relaxing outdoor experience under the patio cover on chilly nights.
7. North Block Restaurant
Led by Chef Nick Tamburo (formerly of New York City's Momofuku), North Block found a place in the 2021 Michelin Guide. The restaurant is inside the North Block Hotel and provides guests with an exceptional place to dine. The seasonal menu showcases meat and vegetarian dishes and wood-fired pizza.
Dig into the house-made sourdough bread and creamery butter while waiting. A 45-minute wait is not uncommon for some dishes because they are made to order. Your waiter will let you know. Choose a bone-in ribeye with roasted bravo radish and mustard greens, or sample the Yellowfin tuna toast. Pacific halibut is served hot and moist, with baked celery root, buddha's hand, and chervil — a crowd favorite. Dine inside or on the patio for maximum people watching.
Yountville is a carefully planned, unique town. The quaint appearance of the older buildings and the luxury design of the new provides charm not often found in most places. All of the businesses in town strive to deliver excellent service and a welcoming atmosphere. Yountville is a destination in and of itself and wants people to return again and again. Seasonal decorations provide a festive mood each time you visit. Overnight stays or just dinner reservations to enjoy a great meal are fun, relaxing, and should be on everyone's bucket list!
Considering a Yountville getaway? Here's why it made our list of 6 Quaint Towns To Visit In Northern California, and here's a sampling of the best wine tasting venues in town.