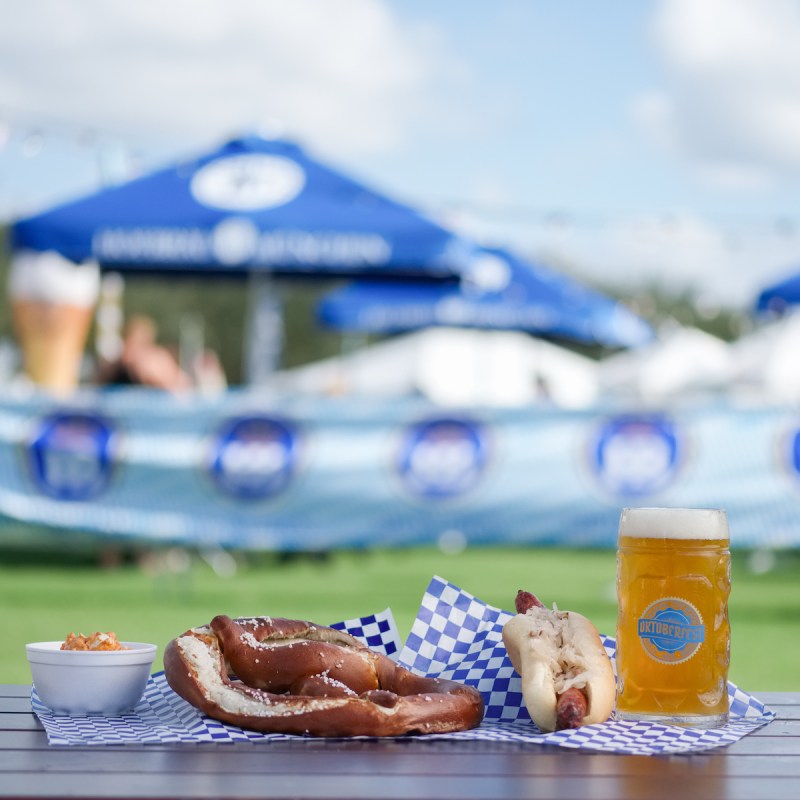 Nestled on the northern Gulf of Mexico along a dazzling stretch of sugary-white beaches outlined with the emerald-green waters of the Gulf is arguably the most popular vacation destination on the coast: Panama City Beach, Florida.
Panama City Beach is much more than just a spring break destination. In fact, it is the perfect year-round destination, no matter your age. You will find that the city is an affordable beach destination that's packed with plenty of amenities and attractions that will keep you coming back time and time again — championship golf, award-winning dining, outdoor adventure, and more.
When we say it's a year-round vacation destination, we're not kidding. The city boasts 320 days of sunshine annually, making it the perfect vacation spot no matter what time of year you visit.
Of course, being a seaside town, Panama City Beach serves up some of the best seafood around, but dining goes way beyond oysters and crabs. In fact, the city is known for the many food festivals it hosts to celebrate the city's cultural heritage and its wide range of culinary experiences.
When you plan a trip to Panama City Beach, wrap your itinerary around one of these fabulous food festivals to truly experience the taste of the city.
1. Food Truck And Craft Beer Festival — First Weekend In February
Food trucks have come a long way since they first started rolling down America's streets in the 1930s selling hot dogs, hamburgers, and sandwiches. Today's food truck brings the best national and international cuisine to you without you having to get dressed up.
One of the county's best food truck fests — the Food Truck of America and Craft Beer Festival — takes place at the beautiful Aaron Bessant Park in Panama City Beach the first Saturday and Sunday in February from noon to 5 p.m. both days.
In 2022, the event is celebrating its fourth anniversary with 30 food trucks serving up incredible dishes ranging from the quintessential food truck menu (like fall of the bone BBQ and tacos) to more international fare (like the intense and spicy flavors of Korean cuisine, Pan-Asian cuisine, and the warm, spicy, yet earthy flavors of Indian dishes). And of course, everything in between — funnel cakes, juicy prime rib, even mac and cheese.
And then there is the craft beer side of the weekend where the best brewers from along the Gulf Coast and Southeast gather to share their latest brews.
Throughout the weekend, you will be treated to some great music by local musicians at the park's amphitheater. It's the perfect place to bring a blanket or lawn chair and take in the music while enjoying the best food truck feast and craft beer around.
Pro Tips
There are a wide variety of ticket packages available for the event. Single-day admission is $5 in advance or $10 at the gate (plus an administrative fee). Two-day admissions are also available.
I recommend you consider the VIP packages. There is one for foodies, another for beer connoisseurs. Each package gives you a commemorative koozie and, depending on the package, three craft beers of your choice, a free dessert, and best of all, early admission at 11 a.m. This is one popular event
Visit the festival's ticketing website for details and to purchase yours.
2. UNwineD Festival — March 18–19
Raise a glass and experience award-winning wine from around the world at the annual UNwineD Festival at Aaron Bessant Park.
The stylish garden party is sponsored by Southern Living magazine and features the finest craft beer, spirits, and wine and incredible culinary delights created by northwest Florida's award-winning chefs.
The festival begins at 6 p.m. with the Friday Night Kickoff. The exclusive and limited-ticket event (only 250 tickets are available) is a chance for you to mingle with old friends and meet new while you sample cuisine and beverages prepared by the region's leading chefs, mixologists, and tastemakers.
Gates open Saturday at 1 p.m. for the Grand Tasting. Stroll the booths sampling the world's best wine, craft beer, and spirits and nosh on incredible culinary creations from local chefs. There is also an Art and Vendor Row featuring booths by local shops and boutiques. Southern Living will have a tent set up showcasing home décor, cookbooks, and more.
Pro Tips
Tickets are limited and go fast so purchase yours as soon as you can. Tickets for the kickoff are $185 (plus fee), which will also get you entry to Saturday's event, and a gift bag and commemorative tasting glass. Saturday admission is $85 (plus fee) and includes a commemorative tasting glass.
While you must be 21 or older to attend, children 12 and under are permitted if accompanied by an adult for no charge.
3. Schooner's Cajun Festival — April 18–24
There's nothing but a foot-stomping good time at Schooner's Cajun Festival. You'll be shouting "aiyee!" with plenty of live Cajun music and fun. The highlight of the festival is the Cajun food, dishes cooked up with a blend of spices that heats up your palette but is oh so good.
The fest features a crawfish eating contest. And the view from Schooner's can't be beat. It's right on the snowy white beach and emerald waters of the Gulf of Mexico. Oh, and it's not just over a weekend, but a full week.
Pro Tips
Parking is located across the street from Schooner's but is limited. Additional public parking can be found 300 feet north of the venue, on Gulf Drive.
The food and fun isn't only confined to Schooner's Cajun Fest. Schooners has a delicious daily menu with incredible seafood, and every night there is a spectacular light show – sunset on the beach. The "last local beach club" celebrates the end of each gorgeous day on the Gulf Coast by firing their canon at sunset.
4. Grand Lagoon Tacos & Tequila Fest — May 7
You can't lose when the most creative taco chefs and tequila mixologists in Panama City Beach compete for the title of Best Taco / Best Tequila Cocktail. They all come together at the Grand Lagoon the first Saturday in May to vie for the title at the Tacos and Tequila Festival. Best of all, you are the winner, as you get to sample their best.
The day is filled with live music, and you get to vote to determine the winner.
Pro Tips
The fest runs from 2 to 6 p.m. A $30 admission gets you all-you-care-to-sample tacos and tequilas. If you don't want to sample the drinks, don't worry. There is a $20 admission to sample tacos only. But get your tickets early. Admission is limited.
5. Panama City Beach Oktoberfest — October 14–16
Lederhosen is not required for Panama City Beach's annual Oktoberfest, a celebration of the local German heritage.
The event is held under an authentically decorated Oktoberfest tent the third weekend of October at Aaron Bessant Park. The fest features two beer gardens with live music playing throughout the day and plenty of mouth-watering German brats, meterwurst, or hot dogs (with or without sauerkraut) and other traditional Oktoberfest fare. The giant pretzel with the beer-infused cheese comes highly recommended.
One of the beers featured at the Oktoberfest is Erdinger Weissbrau, a 130-year old wheat beer brewed exclusively in Erding, Germany.
Oktoberfest is not only for grownups. If you have kids or grandchildren, there are plenty of games for them. For the adults, you're invited to test your strength during the stein holding competition.
Pro Tips
Once again, a variety of ticket packages are available. Your best value is the 3-day VIP package that gives you a half-liter stein, an official t-shirt, and unlimited beer. Tickets can be purchased at the gate or online.
6. Grand Lagoon Bloody Mary & Music Festival — November 4–5
A visit to Panama City Beach isn't complete without a visit to the Grand Lagoon, the area that surrounds St. Andrew Bay. The area is described as the "epicenter of entertainment, adventure, and dining" in the area. Each year, the area hosts the Bloody Mary & Music Festival.
The festival is held at the Sheraton Panama City Beach Golf and Spa Resort on Jan Cooley Drive and celebrates the cocktail with local bars and restaurants competing to concoct the Best Bloody Mary in the Grand Lagoon. A secret panel of judges will also crown the "Big Tomato." The contest is described as a "friendly but fierce competition."
Recipes run the gambit — Asian Mary's with wasabi, ginger, and soy. Bloody Cesar's with clam juice. The list goes on and on, but, of course, each restaurant and bartender adds their own unique twist.
Related Reading: