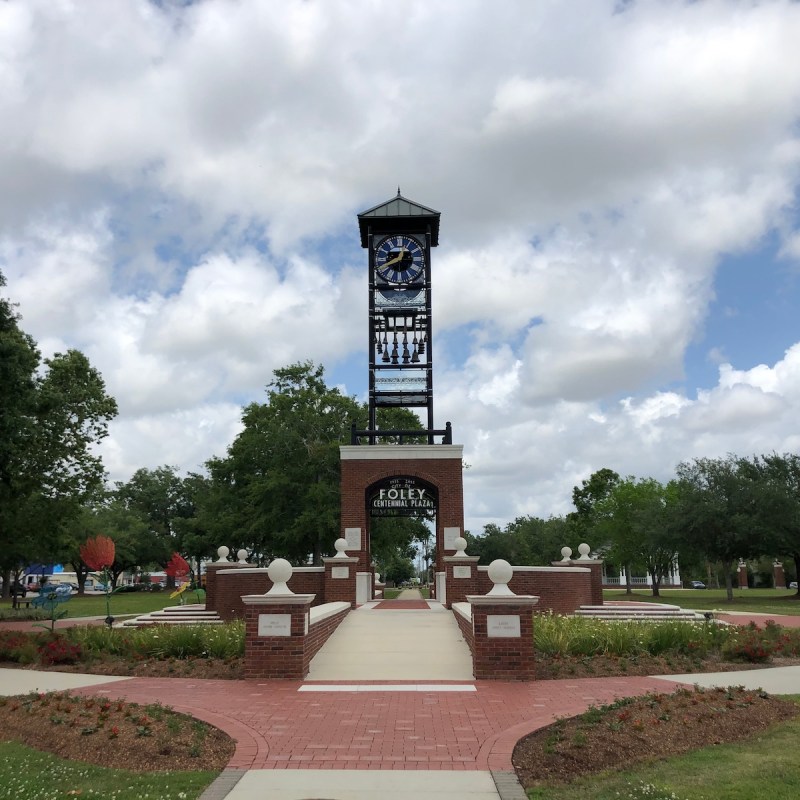 If you're looking for some exciting day trips from Gulf Shores, Alabama, look no further! We've got a list of fun day trips perfect for mature travelers. There's something for everyone on this list, from charming small towns to natural wonders, from active adventures to relaxing scenic views. No matter what your interests are, there's sure to be something perfect for you in this list of fantastic day trips from Gulf Shores, Alabama!
We selected day trips that you could drive for a minimal time, enjoy the activity or event, and then return the same day to your base destination of Gulf Shores. We also note great places to stay if you decide to make it an overnight trip.
I visited the area on several press trips and some events and activities were provided by destinations, DMOs, and local CVBs. All opinions are my own.
1. Fort Morgan
Located 22 miles west of Gulf Shores at Mobile Point, Alabama, a star-shaped fortification, Fort Morgan is at the end of Scenic Fort Morgan Peninsula. Fort Morgan was designed by French engineer Simon Bernard and built by Confederate troops during the Civil War era. It features cannons used in battles against Union forces.
In August 1864, during the Battle of Mobile Bay, the fort played a significant role.
The fort was used intermittently throughout the Spanish American War, WWI, and WWII. Fort Morgan showcases the evolution of seacoast fortifications and adaptations made by the U. S. Army for the defense of the USA.
The site was turned over to Alabama as a historic site in 1946. The grounds offer much more than just a history lesson; the site also has nature areas, picnic areas, a boat launch, and plenty of beaches for visitors to enjoy.
It is a spectacular scenic drive along State Highway 180 traveling west from Gulf Shores. The views from the top of the fort are equally gorgeous, but getting there requires the climbing of steps.
Pro Tip: If visiting May through September, plan to do your hiking in early a.m. or evening and enjoy the beach in the afternoon. Remember to take bug spray and sunscreen.
2. Dauphin Island, Alabama
Head to Dauphin Island for a day spent at the historic fort and exploring the island's gorgeous beaches. Located on the Gulf Coast, It's known for stretches of crystal white sand.
The best/shortest way to get to this barrier island is to drive to Fort Morgan and take the ferry (you can take your car on the ferry, too, or park at Fort Morgan and pick it up when you get back). The ferry provides quick access across Mobile Bay, and during the 40-minute ride, you will take in some beautiful scenery. You can check out the schedule online.
Once on the island, there is much to see and do. Near the entrance to Mobile Bay, Fort Gaines features original 19th-century cannons.
Bird watchers will enjoy visiting the Audubon Bird Sanctuary on the island. The Dauphin Island Sea Lab's Estuarium offers aquariums and a living marsh boardwalk.
A day at Dauphin Island will be one to remember for years to come.
Pro Tip: This is a trip you will want to plan in advance and double-check ferry schedules.
3. Gulf State Park
Sitting between Gulf Shores and Orange Beach is the beautiful Gulf State Park. Just a 10-minute drive up the beach, and you are there, with an abundance of things to see and do in the 6,500-acre state park.
If you are into angling, you can enjoy world-class fishing from the pier or try your luck at beach casting.
If sunbathing and beaching are more your liking, you will find 2 miles of vast, white-sand public beach areas.
Check out the 29 miles of boardwalk and paved trails for your hiking and walking pleasures. All are wide enough for wheelchairs.
See more of the park by bicycle. Bikes are available to use free of charge within the park for 3 hours at a time.
If you're feeling adventurous and have decent balance, there is also the option of taking a Segway tour. You can rent Segways at Coastal Segway Adventures within the park.
Learn more at the large nature center within the park. They host interesting programs for every age.
Pro Tip: Watch for animals. We saw several alligators along swamp areas during our time there. Just be alert and stay on the boardwalk and paved areas.
4. Pensacola, Florida
The beautiful Pensacola area is less than an hour's drive (48 minutes) from Gulf Shores. Many people only think of the beach when they hear Pensacola, but there is much more.
You can easily spend a day visiting Historic Pensacola that includes 14 interpreted properties. A few of the buildings available are the Pensacola Museum of Art, Old Christ Church, the Pensacola Museum of History, and more.
Two other places to be sure and visit are the Pensacola Lighthouse and the National Naval Aviation Museum. Just check their website to see what current visitor rules are in place since it is located on a military base.
If you want to make it an overnight trip, stay at the Oyster Bay Boutique Hotel. It is gorgeous inside and out.
Pro Tip: If you only eat one meal in the area, head to the Grand Marlin and enjoy two things, an appetizer and a dessert: the Crispy Lobster Fingers appetizer and the TGM Signature Praline Basket for dessert. (It is a crispy pecan praline basket filled with Vanilla bean ice cream topped with caramel and chocolate sauces and seasonal berries!) Both the appetizer and the dessert are to die for!
5. Foley, Alabama
Foley is just a short 10 miles from Gulf Shores. It is a quaint city with lots to offer the mature traveler. There is a lovely Heritage Park in the downtown area that includes fountains and is just a delightful place to walk around and stretch your legs.
Next door is the Foley Depot Museum, which shows Foley's history and the railroad's critical role via memorabilia, photos, and tools.
Housed in the same building is a Model Train Exhibit. The display is quite impressive with many moving parts, not just trains but an operational car wash, farm equipment, a moving Ferris wheel, and so much more.
Foley is also home to the Holmes Medical Museum, a unique and fun place to visit. Be sure to check out the "Quackery" medical devices.
Nature lovers will adore a visit to the Graham Creek Nature Preserve. It is a beautiful place for a hike with five different hiking trails. But there are also three 18 basket disc golf courses, an archery park, an interpretive Nature Center, and more.
There are over 110 restaurants to visit in Foley, so you will have no trouble finding the perfect place to enjoy a delicious meal. We enjoyed dinner at the Fish River Grill. Be sure to try their "Swamp Soup!"
Pro Top: If you want to spend the night, stay at the historic Hotel Magnolia. Not only is it absolutely gorgeous, and the owners treat you like family, but wow … so much history and classic Southern charm. It is the perfect location for visiting Foley. Everything mentioned above (except some restaurants) is within walking distance.
6. OWA, Alabama
If you enjoy amusement parks, live entertainment, and great food, OWA is a great day trip. The amusement park has 23 rides. An indoor waterpark is coming spring of 2022. I enjoyed viewing all the fountains within the park. Located near Foley, it is a 20-minute drive from Gulf Shores.
Downtown OWA is steps away from the park and has plenty of entertainment for the mature traveler. They have dazzling fountain shows choreographed to music you can view throughout Downtown OWA for free. We enjoyed the Brandon Styles Show and Legends in Concert when we visited.
Dining at OWA is a delight for your tastebuds since they have a large variety of experiences. Our favorite was Lucy's Retired Surfers Bar. It was a laid-back restaurant full of beach vibes with great food and outstanding drinks.
Paula Deen's Family Kitchen would be an excellent choice for a family-style meal if you are with a group.
Pro Tip: A visit to OWA could be combined with a visit to Downtown Foley. Or make it a 2-day event and spend the night at the Towneplace Suites by Marriott. All OWA activities are within walking distance of the Towneplace Suites, and it is a flat walk.
7. Flora-Bama
Flora-Bama is a destination in itself. This world-famous beach bar sits on the border between Orange Beach, Alabama, and Perdido Key, Florida, and is about 20 minutes from Gulf Shores. Flora-Bama is a funky place with live music venues happening 365 days a year, plus they host famous beach concerts throughout the year.
Sip one of their famous Bushwacker drinks at one of the beach-front bars as you enjoy a beautiful Flora-Bama sunset over the ocean.
There are several dining and snack opportunities. We enjoyed a delicious meal at the Flora-Bama Yacht Club when we visited.
Pro Tip: They also feature a gift shop stocked full of t-shirts, sweatshirts, and everything needed for the beach.
If you're looking for exceptional sights and experiences, then the Gulf Shores area has what you need. From historic sites to beautiful nature trails, we hope this article has given you some ideas for some fantastic day trips from Gulf Shores, Alabama, perfect for the mature traveler.