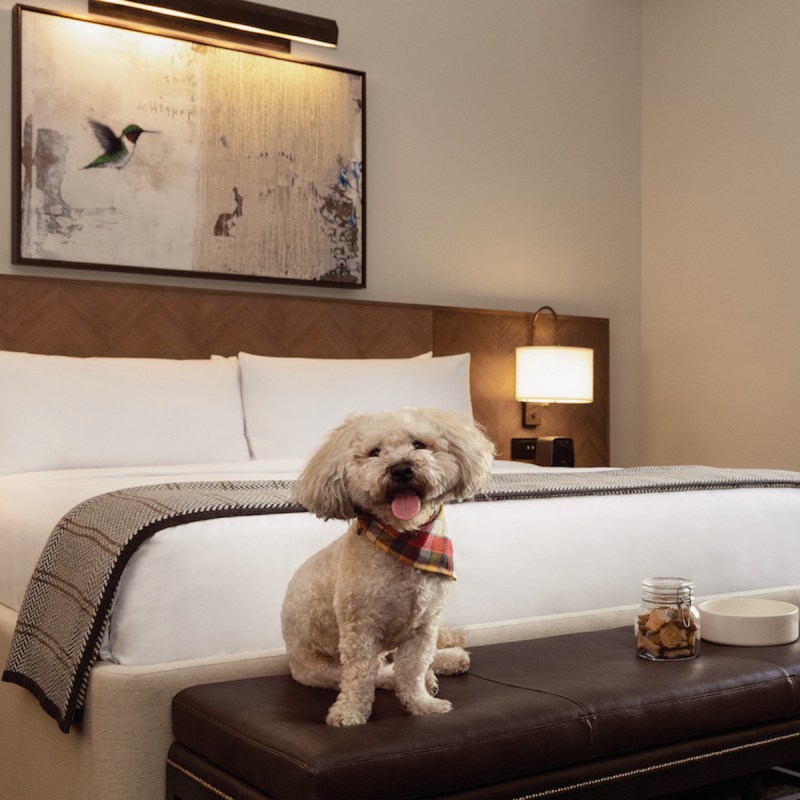 Dogs are part of many families, after all, dogs are man's best friend. For many, it feels natural to share your travel experiences with your four-legged friends.
"If you're a dog owner, you know that finding places to take your pup can be challenging. It's even more difficult if you like to travel and explore the great outdoors. Your dogs are welcome to vacation with you in Franklin, Tennessee.
The city of Franklin welcomes dogs in many public spaces, including parks, trails, restaurants, and shops. With over 120 miles of walking paths throughout town, there are plenty of places to explore with your pup while on vacation.
Visit Franklin hosted an individual press trip in Franklin. All opinions are my own.
The PetCare Better Cities for Pets Program
Franklin was a pilot city for the Mars PetCare Better Cities for Pets Program in 2017. The Better Cities for Pets Program was launched by PetCare to educate and help businesses and guests learn about the possibilities of building happier communities through awareness and inclusion of pets. According to the BETTER CITIES FOR PETS™ website, "Pets help make cities happier, healthier places to live."
Four key focus areas are the highlights of The BETTER CITIES FOR PETS™ model. Businesses, shelters, parks, and homes are the focus. It believes the bond between people and pets makes everyone healthier, and responsible pet ownership is essential.
According to science, people with pets tend to get more exercise, are less lonely, create stronger social ties, and have less stress. Most consider pets members of the family and want to spend as much time as possible with them, including vacations.
The BETTER CITIES FOR PETS™ program wants more people to enjoy the benefits of having pets and helps cities be pet-friendly. The program was created by Mars Petcare and includes an assessment tool, a playbook for cities, a certification program, and some free online resources.
Tennessee was the first certified dog-friendly town in America. Approximately 90 Franklin business owners participate in the program welcoming dogs into their establishments.
Video – https://www.youtube.com/watch?v=aLiNxo4ROFI
Vacation With Your Four-legged Friend
Franklin has everything a dog owner could want for a vacation with a pet. From stores that welcome pets to bakeries with special cookies for canines, outdoor areas for dogs to hotels that pamper the dogs and the owners.
Franklin Tennessee is full of fun things to do with your pup.
Fun Dog Parks
There are several dog parks in the area, and there are even some pop-up parks.
Check out the K-9 Korral Dog Park at Harlinsdale Farm. There is an off-leash, four-acre fenced dog park your four-legged friend will love. It is a favorite of locals, so you will probably find other dogs visiting. The area is double-gated, and you will find benches, a covered sitting area, grass, gravel, and a spectacular view of a historic horse farm.
K-9 Korral welcomes dogs of all sizes, and it has a special small dog area adjacent to the main park.
Places to Walk Your Dog
The farm grounds also have walking paths if you desire to take the dog for a leashed walk.
Another great place to hike is nearby in Thompson's Station. Sarah Benson Park is a local favorite. Mars PetCare, in conjunction with the town, created a dog sensory garden filled with all kinds of scents for your dog to walk through and sniff. Scents such as lemon thyme, mint, and rosemary are included. There are other walking trails nearby.
Hiking options are available at the gorgeous Timberland Park off the Natchez Trace Parkway.
Shop With Your Pooch
As you stroll down America's favorite quintessential Main Street in the heart of Franklin, your dog will be happy. Your pet will quickly discover a place lined with fresh dog bowls outside each business for hydration, treats at almost every stop, and shop owners happily welcoming all their new furry friends through the doors.
Check out the unique shopping scene in downtown Franklin. Shops that welcome dogs have a sticker in their window to let you know pets are welcome. Many of the local businesses will share treats for your pet.
A few favorite places to stop include the Visitor Center, Tin Cottage, Gallery 202, and Finnley's Good Findings. Check out the downloadable map of participating businesses here.
Easy Cleanup
All along the downtown area, you will find "Doggy Cleanup Stations" with everything you need to clean up after your four-legged friend when he does his business.
Eating With Your Fur Baby
Restaurant owners have made their patios pet-friendly since health codes won't allow pets in indoor dining areas. Franklin has numerous outdoor seating options at restaurants where you and your dog can enjoy a meal, and take-out and delivery meals are also an option.
Since piloting the Better Cities for Pets program, restaurant staff also provide drinking water for Fido on their patios.
Dogs are often great conversation starters. Owners report patrons are staying longer and lingering to talk with others when their dogs are sitting at their feet.
When we visited, there were several people eating outside with their dogs,
even though it was a chilly day.
There are many delicious restaurants in Franklin with patios welcoming dogs.
A few you won't want to miss in the area are
Great Places to Stay With Fido
Your dog can spend the night with you at various Airbnb's in the area, delightful cottages, and private apartments. If hotels are more to your liking, there are several in the area that love dogs.
When I visited, I stayed at The Harpeth Hotel. It is a new Hilton hotel in downtown Franklin. The rooms were beautiful and generously sized. Many of the rooms have balconies.
I didn't have a dog with me, but others mentioned there were dog-friendly rooms and dogs received treats, and there were dog beds for use upon request.
Dogs are welcome throughout the hotel except in the dining areas. So eating on the patio would be your best bet.
Other hotels that welcome pets include the TownePlace Suites, Aloft, Drury Plaza Hotel, and Hyatt Place Hotel.
Airport Receives Certification
Suppose you are traveling by air with your dog. In that case, you will be happy to know that Nashville International Airport BNA® became the first airport in the nation to earn the BETTER CITIES FOR PETS™ Airport Certification with new pet-friendly amenities.
The new Airport Certification aims to please pet parents who have a desire to travel with pets and to make the experience welcoming.
Nashville International Airport added new amenities that include:
An indoor relief area that is also equipped with both hydration and waste stations in Concourse D.
Hydration and waste stations are installed in two curbside relief areas in the North and South terminals.
A dedicated dog park to provide outdoor green space
Enhanced visual signage throughout the airport indicates where pet-friendly amenities are located
An emphasis on pet ownership with pet-themed murals perfect for travelers to snap a selfie with their fur baby to remember the trip
Nashville International Airport has made the safety and ease of traveling with pets and service animals a priority and is the first airport to obtain the new pet-friendly designation.
If you're a pet owner and want to travel with your dog, Franklin is the place for you. Bringing your pet along for vacation is easy! As the pilot city for Mars Petcare's National Better Cities For Pets campaign, Franklin, Tennessee, is one of America's most pet-friendly destinations and a great place to make new memories with your best friend. Now that is something to bark about!
Some information to heed while traveling with your pet: