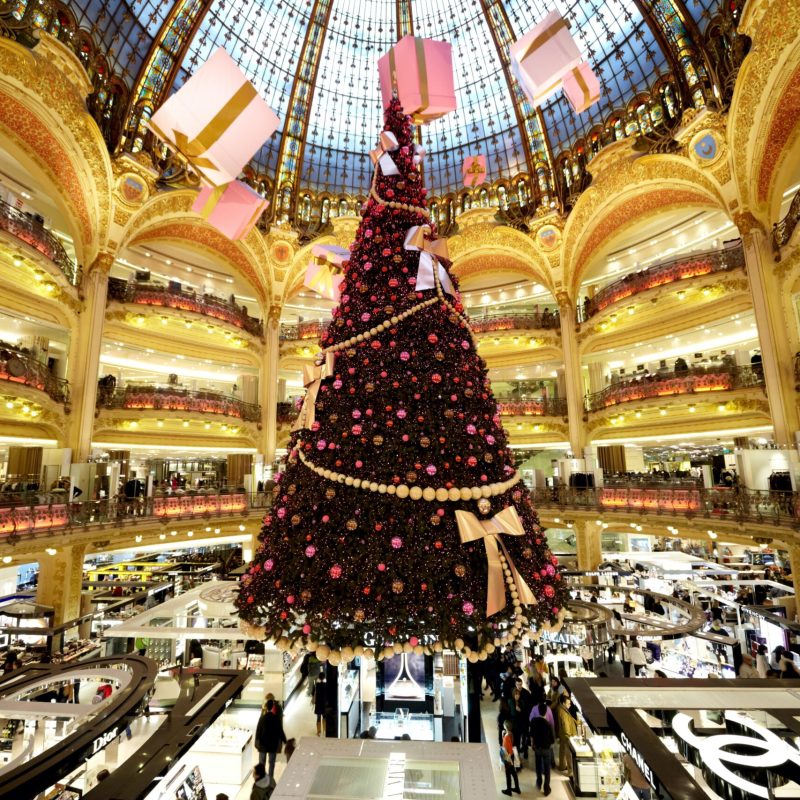 The holiday gift season is just around the corner, and soon you will have to choose gifts for the special people in your life. Your Francophile and Paris-loving friends will appreciate gifts from France, so we have gathered a list of our favorite websites selling French products and delights.
1. Postcards From Paris
Richard Nahem, an American blogger and photographer living in Paris since 2005, has recently launched a collection of exclusive postcards of the iconic doors of Paris. He has photographed hundreds of doors since 2007, and his art photo postcards are printed on thick matte coated card stock, à la vintage postcards. They come in sets of three (9 postcards) or six (18 postcards) from the Eye Prefer Paris Etsy shop. The series of six includes blue doors, red doors, green doors, iron doors, wood doors, and elegant door knockers. The doors range from massive wood doors from 17th-century palaces to the ornate metalwork of the Haussmann style to Art Nouveau buildings.
Each set of postcards is hand-wrapped with love and mailed in an elegant, French blue envelope. For the holiday gift season, Eye Prefer Paris will include a handwritten personalized note to the giftee. The cost for a series of three packets is $35 plus $5 shipping or a series of six packets for $65 which includes free shipping. These lovely French keepsakes are exclusively available on Etsy.
Pro Tip: Check out Nahem's cool Instagram Parisian Doors.
2. Diptyque Candles
Diptyque was one of the first companies to produce scented candles starting in 1961. This year, they are celebrating their 60th anniversary with special edition candles and products. In recent years, Diptyque has extended its product line to include a line of perfume and eau de toilette, skincare products, scent diffusers, and blankets.
On November 26, Diptyque is launching The Black Candle, a limited-edition candle, and it's available for sale for only four days. The proceeds from the sale will be donated to the World Health Organization (WHO) to support its commitment to supporting the fight against COVID-19 around the world.
One of Diptyque's more extravagant holiday gift offerings is its 2021 Advent calendar, which is a collection of 25 scented treasures packaged in a gorgeous box that makes a wonderful keepsake — and costs $425. Solid fragrances, in the form of a balm, are another popular item, and for the holiday season, Diptyque is selling a limited edition, refillable box named Eau Capitale which has an intense scent of chypre rose.
Three unique holiday candles include a pine tree scent with notes of logs, holiday pastry with notes of biscuit and cinnamon, and snowflake with accents of mimosa, white musk, and iris.
All Diptyque's products are manufactured in France and they have a U.S. website where you can order gifts that will be shipped in a few days.
3. Petit Bateau
One of the most beloved children's clothing labels from France, Petit Bateau has grown up and now offers most of its products in adult sizes, too. Initially known for their super soft, premium cotton tee-shirts, Petit Bateau also has a full range of apparel including pajamas, underwear, socks, dresses, jackets, tops, coats, sweaters, and raincoats.
For the holidays, Petit Bateau is offering a treasure trove of gift items for everyone from newborns to grandma. Among their popular gift sets, prettily packaged in a festive box, there's an adorable cotton dress with a heart print and a pair of gray jersey tights for girls ages three to 12 and a pair of brushed fleece overalls for infants with a classic French horizontal-striped long-sleeve tee-shirt.
Play dress up for Christmas with special clothes and outfits. Boys can sport a wool and cotton pullover with jacquard snowflakes across the front; girls can swirl around the Christmas tree in a sparkly dress with white tulle skirt, silver stars, and a long sleeve cotton top; and accessories include adorable bow ties, suspenders, scrunchies, and headbands.
Petit Bateau is also famous for its high-quality cotton, and flannel pajamas.
4. Chocolate And Macarons
As the expression says, the best way to a person's heart is through their stomach, and French chocolate and macarons will gloriously prove it.
Discerning Parisian foodies get their chocolate fix at Maison du Chocolat, a brand with some of the highest quality chocolate in France.
For the holidays, Maison du Chocolat is filling a pink hatbox with a selection of their premium chocolates, which include ganache, truffles, pralines, and tablets.
Another holiday treat is an edible, handmade Christmas ornament with a red ribbon that's made of dark chocolate studded with almonds, pistachios, caramelized hazelnuts, and candied raspberries.
The ultimate chocolate decadence, 35 Champagne flavored truffles come in a handsome teal green box with chocolate-colored ribbon.
Spare the usually disastrous fruitcake and send a delectable combo of a chocolate almond cake and a lemon pound cake instead.
The iconic macaron maker and the inventor of the modern-day macaron, Laduree is pulling out all the stops for their holiday collection.
Twenty-four irresistible confections including marzipan, chocolate bonbons, caramels, and chocolate-covered orange rind are inside the specially designed Advent calendar box.
Laduree has collaborated with Mellerio dits Meller, a noted French jeweler, to create festive packaging in Christmas tree green with gold trim. You can order a selection of 16 or 24 macarons in a Meller box, or a hamper with four chocolate-coated macarons, a Mellerio tea, a chestnut cream (250g), and a box of 14 assorted flavor chocolate squares.
Besides the classic macaron flavors such as chocolate, pistachio, coffee, and vanilla, Laduree offers more exotic flavors such as rose and cardamom, pear and chestnut, black currant, passion fruit, and their exclusive vegan macaron flavored with blood orange and ginger.
You can also extend the Laduree holiday experience at their luxurious tearooms and cafes in Miami, New York, Washington, D.C., and Los Angeles.
5. Gourmet French Foods
A foolproof gift for any Francophile is gourmet French foods. From mustards to paté to French cheeses, below are our picks for top gourmet food sites.
Bon Appetit Box
A French couple, Zoe and Bertrand, relocated to the U.S. from their native France in 2014 and started a new business, Bon Appetit Box, selling top-notch, gourmet gift baskets. They fill their baskets with the best artisanal food products from France and offer one-off baskets and two- and four-month subscription baskets. The Noel Box, designed especially for Christmas, combines savory and sweet goodies such as pure butter, dried waffles, a chocolate and hazelnut spread, nougat candy with caramel and nuts, a sun-dried tomato spread, and mini chocolate chip madeleines. Another offering is the Holiday Box, which includes a terrine with foie gras, authentic butter cookies from Brittany in a vintage-style tin, cherry jam, sea salt with truffles, and a milk chocolate bar studded with caramelized pecans.
Pro Tip: Bon Appetit Box offers a 10% discount on your first order.
Le Panier Francais
Le Panier Francais is a U. S.-based company that specializes in gourmet foods imported from every region of France at reasonable prices. Their expansive product list includes foie gras and pates, cookies and biscuits, chocolates, mustards and vinegars, pickles, and olives. Specialty items for the holidays include a chocolate Eiffel Tower from Maxims, fruit jelly bars from Francois Doucet, an angel Advent calendar filled with 24 individual milk chocolates, a limited-edition jar of the Bonne Maman cranberry-cherry preserves, and three chic mini-tins from Maxims with vintage, turn-of-the-century illustrations, filled with mink and dark chocolate bonbons.
Another great gift from Le Panier Francais is La Box, a subscription for $59.99 a month, that treats the giftee to 8 to 12 French gourmet products packaged in an elegant box every month. The price includes free shipping in the U.S.
Still on the hunt for the perfect present? Don't miss these 16 Gifts Everyone Will Fight Over At Your White Elephant Party.