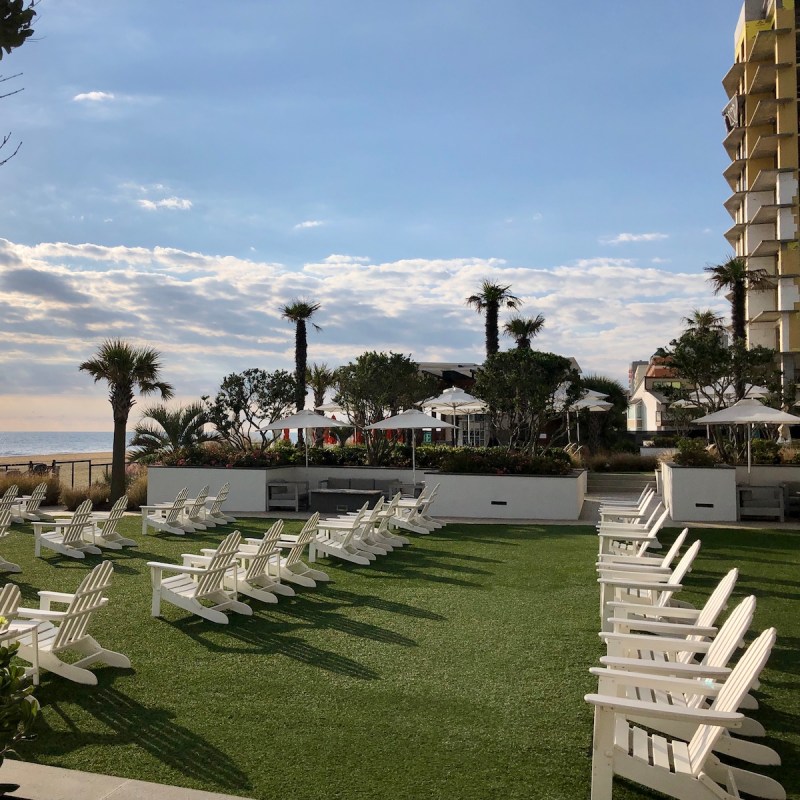 A sandy beach is just a few steps away, a lively boardwalk is virtually at your doorstep, and the sunrise scene over the Atlantic seems close enough to touch: When it comes to well-located oceanside locations, Virginia Beach's hotels and resorts tick a lot of boxes.
In fact, if having your toes in the sand within minutes of your arrival is a priority, Virginia Beach's plentiful accommodations will more than deliver. Several dozen hotels and resorts line the 3-mile boardwalk that runs adjacent to the Atlantic Ocean.
Although many of the locations will get you within a quick walk to the beach, there are a few that stand out — for their extraordinary ocean views, their luxurious rooms, or their historic ambiance.
Note that I was hosted on my recent stay by the Virginia Beach Convention and Visitors Bureau, but all opinions remain my own.
Here are seven places for a wonderful oceanside stay in Virginia Beach, Virginia.
1. Marriott Virginia Beach Oceanfront
Located on the far northern end of Virginia Beach's row of hotels and resorts, the Marriott Virginia Beach Oceanfront puts a stylish exclamation point on the city's famous boardwalk. As one of the newest additions to the Virginia Beach lineup, the Marriott Virginia Beach Oceanfront offers 305 chicly modern rooms and suites.
All of the rooms and suites come with an ocean view, and many also have spacious balconies — the perfect option for sitting and watching the waves roll in. An added bonus: I found the balcony in my upper-level room to be the ideal spot to catch the morning sunrise over the Atlantic Ocean.
Along with the guestrooms, the Marriott Oceanfront also offers a full-service resort with swimming pools, a spacious lobby with comfortable seating areas, and two restaurants with sweeping ocean views.
With its oceanfront setting, the hotel's Tulu Seaside Bar & Grill offers a front-row seat for the sunrise during breakfast. Ask for a patio table for an especially good show. Or, for a sumptuous seafood dining experience with some of the best ocean views around, Orion's Roof is a not-to-be-missed Virginia Beach attraction.
Pro Tip: Because the Marriott Oceanfront is a part of the Cavalier Resort, guests can easily walk across the street to check out the Historic Cavalier Hotel & Beach Club and its luxurious SeaHill Spa.
2. Cavalier Virginia Beach, Autograph Collection
Built nearly a century ago, the 1920s-era Cavalier Hotel & Beach Club retains the luxury of a bygone era even as it boasts modern touches from a recent multi-million-dollar renovation. Over the decades, the hotel known as the "grande dame" of Virginia Beach has attracted a host of luminaries ranging from U.S. presidents Harry Truman, Dwight Eisenhower, and John F. Kennedy to celebrities like Elizabeth Taylor, Judy Garland, and Muhammad Ali.
From its spot at the top of a hill, the Cavalier overlooks the Atlantic Ocean and is a quick walk to the beach. Combined with the nearby Marriott Oceanfront, the historic hotel is a part of the sprawling Cavalier Resort that offers a range of restaurants, pools, lounges, and a spa.
Guests can stop by the Cavalier's rustic Hunt Room tavern for an evening of hand-crafted cocktails in front of a roaring fire, or the elegant Becca Restaurant & Garden for brunch in the sunroom or terrace.
The Cavalier, a part of the Marriott's Autograph Collection, is listed on the National Register of Historic Places and features 85 luxurious guestrooms and suites.
Pro Tip: For a unique experience in hand-crafted spirits, plan to stop by Tarnished Truth, a distillery located in the lower level of the Cavalier Hotel, where regular tastings will allow you to sample the locally made bourbon, gin, and moonshine.
3. Oceanaire Resort Hotel
For a family-friendly stay complete with four oceanfront pools and rooms and suites of various configurations, the Oceanaire Resort Hotel is the go-to spot on the Virginia Beach Boardwalk.
The resort bills itself as your "home away from home," and it offers suites that feature living rooms, kitchens or kitchenettes, and private bedrooms. Oceanaire, which is a Diamond Resort, features an 18-story tower and four oceanside pools, including an adults-only infinity pool.
Located right along the Virginia Beach Boardwalk, the Oceanaire offers easy access to the beach, as well as to local attractions like First Landing and False Cape state parks and the Back Bay National Wildlife Refuge.
4. Hyatt House Virginia Beach/Oceanfront
Visitors who want to be at "beach central" gravitate to the Hyatt House Virginia Beach/Oceanfront, which is a 2-minute walk from the boardwalk and beach, about 5 minutes from the massive King Neptune statue that overlooks the boardwalk, and about 18 minutes from Virginia Beach's quaint fishing pier.
The hotel offers 156 light and airy dens, studios, and one-bedroom suites with kitchens, living spaces, bedrooms, and work areas. All of the rooms feature balconies that overlook the Atlantic Ocean and the Virginia Beach Boardwalk.
The hotel's pool and free breakfasts make it a popular spot for families. In addition, located right next door to the hotel, is the fun Ocean 27, a beach bar and beach park that features The Yard, which has three different areas of entertainment and fun, including a kid-friendly grass/turf area for chilling, games, and food. The Yard offers a menu of wood-fired pizza, sandwiches, barbecue, cheesesteaks, salads, and ice cream.
Pro Tip: The Hyatt House Virginia Beach is among a handful of oceanfront Virginia Beach resorts that are pet-friendly.
5. Ocean Beach Club
For a taste of the Caribbean in Virginia Beach, head to the Ocean Beach Club by Diamond Resorts, an upscale resort featuring island-inspired décor and cuisine.
The resort offers four pools, including an oceanfront adults-only infinity pool with bar service, an indoor pool with cascading water features, and two outdoor oceanfront pools. The outdoor pools are adjacent to the hotel's Tortugas Café and Tiki Bar that offers tropical poolside cocktails like frozen daiquiris and margaritas, along with seafood fare like fish tacos and crab dip. The resort also features a 10th-floor lounge and sundeck overlooking the beach.
The Ocean Beach Club offers a range of room types and price points, ranging from cozy city-view studios to partial ocean view one-bedroom suites to oceanfront suites with a balcony and private bedroom.
6. Hilton Virginia Beach Oceanfront
Located just steps from the striking Neptune statue that towers over the Virginia Beach Boardwalk, the Hilton Virginia Beach Oceanfront offers one of the most convenient locations for visitors who want to be in the middle of the action.
The 21-story, 291-room Hilton is the centerpiece of an entertainment complex that features an oceanfront park, retail shops and boutiques, and the beautiful Catch 31 Fish House & Bar.
The hotel is topped by a rooftop Sky Bar and an infinity pool that offers spectacular ocean views. In fact, the guestrooms come with dramatic Atlantic Ocean views of their own. Many of the rooms have private balconies, and the ocean views from the upper floors are considered among the best in the region.
7. Barclay Cottage Bed And Breakfast
If a smaller venue located slightly off the beach is more to your liking, the Barclay Cottage Bed and Breakfast is a local favorite for its historic ambiance, beautiful gardens, and wrap-around porches.
Located two blocks from the beach, Barclay Cottage Bed and Breakfast is convenient to the oceanfront and the Virginia Beach Boardwalk, but it is a bit removed from the crowds that can gravitate there.
The bed and breakfast is housed in an 1895 historic beach cottage that served as a school for 50 years. It is said to be the oldest lodging in Virginia Beach that is still receiving guests. The cottage is situated on a corner lot and features scalloped hedges, lush gardens, a great room, and a massage room.
Breakfast consists of a two-course meal that features fresh ingredients and alternates between a sweet and savory menu. Each breakfast starts with fresh fruit with a twist — grilled, poached, baked, or served in a puree.
Barclay Cottages offers a number of complimentary amenities, including bikes and helmets, beach towels, chairs, umbrellas, and boogie boards.
Pro Tips
Late May through early September is considered the peak season in Virginia Beach because of the warm, sunny days and numerous summer activities and festivals. Summer temperatures are warm, with average highs in the 80-degree Fahrenheit range from June through September, and in the high 70s in May. Hotels and restaurants tend to be at their busiest in the summer, and rates are at their highest.
For milder temperatures and fewer crowds, fall and spring are also good choices in Virginia Beach. April posts an average high temperature of 68 degrees, and October has an average high of 71, while November's highs are in the low 60s. Winters tend to be cool in Virginia Beach, with December, January, and February all posting average highs in the low 50s.
For ideas on activities in Virginia Beach, see: