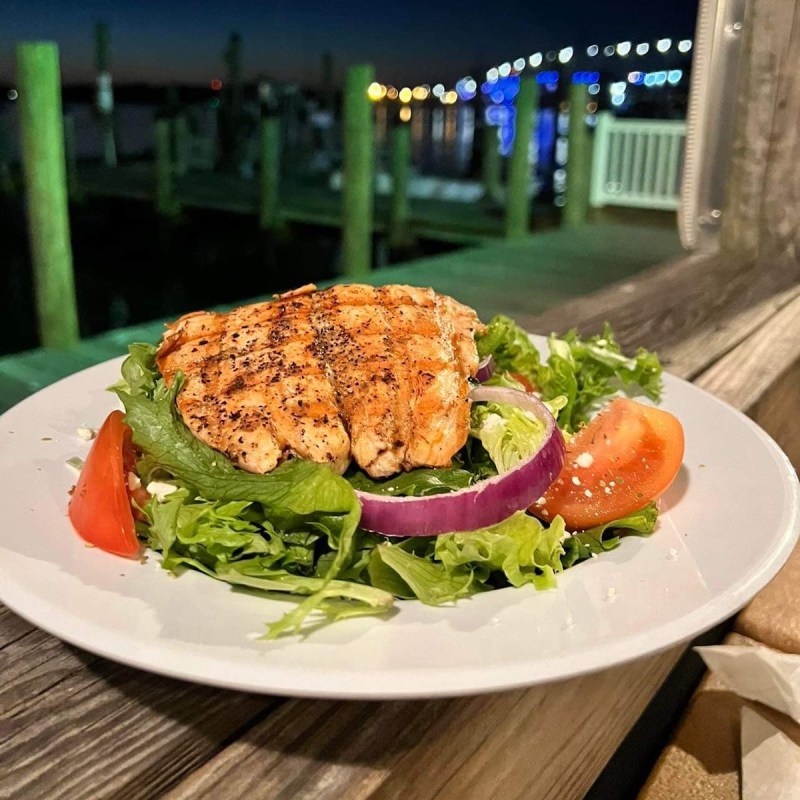 Considering its location on the southern edge of the Atlantic Ocean's Chesapeake Bay, it stands to reason that Virginia Beach would be synonymous with fresh and delectable seafood. For centuries, the Chesapeake Bay area has been the source of delicacies like Lynnhaven oysters, soft-shell blue crabs, and rockfish.
The Visit Virginia Beach website notes that the rich waters of the bay, as well as the hundreds of inlets snaking through the city, provide a seemingly endless supply of great seafood. Today, dozens of restaurants in the southern Virginia city play up their oceanside location in venues that range from fun dockside cafés to elegant dining establishments.
Among my favorite dishes on a recent trip to Virginia Beach were the signature she-crab soup, the succulent crab cakes with lump crab, and sushi creations featuring local ingredients. I found that restaurants all up and down the famous Virginia Beach Boardwalk, as well as spots in the Chesapeake Bay area in the north and the Rudee Inlet area in the south, were serving up delicious variations of all of the local favorites.
Regardless of your seafood favorite, there is sure to be a restaurant on the beach that serves it as a specialty. Here are seven of the fantastic spots to try seafood in Virginia Beach.
My trip was hosted by the Virginia Convention and Visitors Bureau, but my opinions are my own.
1. Steinhilber's Restaurant
A Virginia Beach staple since 1939, Steinhilber's Restaurant is known as the oldest family-owned eatery in Virginia Beach and also the home of one of the community's most famous menu items – the jumbo fantail fried shrimp with its signature remoulade-style sauce.
Don't be surprised if you hear about the shrimp dish even before you have a chance to visit the iconic restaurant; it is a well-known local favorite that has been featured in the local newspaper. Although the large golden-crispy prawns certainly live up to the hype, they are far from the only dish worth trying at Steinhilber's. Other delicious appetizers include the fry mix with calamari, shrimp, and cherry peppers, as well as she-crab soup made with a splash of sherry.
Steinhilber's is also known for seafood favorites like Eastern Shore oysters, grilled tuna, and sauteed crab cake, along with a large selection of steaks and chicken.
Housed in a sprawling building in Virginia Beach's Thalia neighborhood, Steinhilber's is fronted by a large, manicured lawn that leads down to the Lynnhaven River — all serving as a worthy backdrop for the stellar menu.
Pro Tip: For a wonderful outdoor dining option, ask to be seated on Steinhilber's large patio that features fire pits, string lights, and water views.
2. Waterman's Surfside Grille
Another Virginia Beach staple can be found at Waterman's Surfside Grille, located along the 3-mile-long boardwalk, and just steps from the sandy beach that fronts the Atlantic Ocean.
Waterman's has been a beachside mainstay for more than 40 years, serving up favorites like the rich bisque known as she-crab soup and crab cake sandwiches — either of which makes for a hearty and tasty lunch.
Or for something lighter, consider the large selection of salads including the endless summer salad made with greens, mango, jicama, feta, red pepper, almonds, avocado, and pickled onion, or the Greek salmon salad consisting of blackened or grilled salmon, romaine, kalamata olives, tomatoes, pickled onions, feta, cucumbers, capers, banana peppers, and grilled pita.
For dinner, Waterman's is famous for its seafood selections like local lump crab cakes or classic Virginia crab imperial, a rich and creamy crab bake.
Pro Tip: If a signature orange crush cocktail is on your list of Virginia Beach favorites to try, Waterman's is the place to do it. According to the restaurant's menu, Waterman's has been serving up its original crush made of fresh-squeezed orange juice, orange vodka, triple sec, and a splash of Sprite ever since the family-owned restaurant opened in 1981.
3. Mahi's Seafood & Sushi
Billed as a rebirth of an iconic Virginia Beach restaurant, Mahi's Seafood and Sushi now operates out of the DoubleTree by Hilton Virginia Beach Oceanfront along the southern end of the boardwalk.
The new version of the spot that was known as a local favorite for more than 2 decades, Mahi's still features fresh fish, local oysters, and the restaurant's famous crab cakes. Along with an extensive sushi selection, the menu also includes a number of seafood appetizers such as shrimp cocktail, fried oysters Rockefeller, and crab and shrimp dip.
Lunch and dinner choices include seafood classics like pan-seared Mahi, lobster mac and cheese, and jumbo lump crab cake, as well as a range of sushi selections such as tuna, salmon, or yellowtail sashimi.
Pro Tip: Mahi's has a cool outdoor patio that looks out onto the Virginia Beach Boardwalk and the Atlantic Ocean.
4. The Atlantic On Pacific
Offering a menu of small plates and an upscale raw bar, The Atlantic on Pacific is known as the perfect spot for a romantic dinner for two. The Atlantic on Pacific bills itself as an oyster/craft cocktail bar that is located in the heart of the Virginia Beach oceanfront.
The eatery celebrates seafood from both the East and West Coasts and strives to support local and regional fishermen, crabbers, oystermen, farmers, and producers.
The Atlantic's raw bar is the undisputed star of the show, offering seafood groupings such as The Bay with oysters, clams, snow crab clusters, shrimp, and lobster tails, as well as the Carolina peel-and-eat shrimp and the raw or steamed clams. A variety of tasty sauces like Atlantic hot sauce, traditional mignonette, pomegranate mignonette, and green curry-coconut sauce are available as well.
The menu also includes roasted oysters, crab cakes, steamed green-curry mussels, and Virginia blue-crab hushpuppies.
Pro Tip: Along with its seafood choices, The Atlantic has an extensive wine list and a menu of creative cocktails such as a "new fashioned" with bourbon, amaretto, lemon, cherry, orange marmalade, and bitters, or the "Johnny Appleseed" with Irish whiskey, apple cider, lemon, ginger beer, and spiced vanilla.
5. Dockside Restaurant And Marina
Billed as a true family restaurant, the Dockside Restaurant and Marina is the ideal spot for a relaxing alfresco meal of peel-and-eat shrimp, raw oysters, or fresh-catch specials that come broiled, blackened, fried, or stuffed with crabmeat.
Dockside, which is located within the Lynnhaven Inlet in the Chesapeake Bay District, is known for its unmatched freshness. For something special, try the raw bar that features steamed jumbo shrimp, steamed clams, and Eastern Shore or Lynnhaven oysters served on a half shell or steamed. Dockside also offers great-value sunset specials such as a crab cake platter, a half-pound of steamed shrimp, or a salmon platter served with fries and coleslaw.
Pro Tip: Along with its restaurant, the Dockside is also a fishing center offering fishing trips, bay cruises, and a seafood market.
6. Orion's Roof
Orion's Roof, perched 183 feet above the Atlantic Ocean in the Marriott Oceanfront, showcases not just the stunning oceanfront setting but the local seafood as well. With an Asian-fusion focus, the menu offers everything from Asian street food and sushi to wok specialties and fresh fish entrees.
The views will take your breath away, and the cuisine manages to live up to the setting. Standouts include the crab cake entree, served with baby arugula and Asian tartar sauce, the specialty sushi rolls like the maki my radish with salmon, tuna, crab meat, avocado, and green onion, and the grilled local rockfish with grated daikon, soy, ponzu, sesame cream, and grilled rice ball.
Pro Tip: In addition to its lunch and dinner offerings, Orion's Roof also offers a late-night menu with tasty bites like yakitori grilled chicken skewers, a spicy tuna roll, and grilled corn Elote with spiced chili, wasabi aioli, cotija cheese, and fresh lime.
7. Rockafeller's Restaurant
Located at the far end of Virginia Beach's scenic Rudee Inlet, Rockafeller's Restaurant has been serving up ocean views and fresh seafood for more than 30 years.
The family-owned establishment works with fishermen, oystermen, and farmers in sourcing food that is fresh and local. It specializes in regional favorites like she-crab soup, Virginia oysters on the half shell, and crab cakes.
The standouts are the crab cakes served on a bed of rice and topped with a tarragon corn relish and habanero cream sauce, the shrimp and crab quesadilla filled with shrimp, crab, baby spinach, cream cheese, and onions, and the signature crab and shrimp hush puppies made Southern-style and served with pimento dipping sauce.
Pro Tip: Rockafeller's offers a weekend brunch that features seafood specialties such as a seafood omelet filled with scallops, shrimp, tomatoes, and scallions, and topped with homemade hollandaise sauce, and the eggs Benedict with crab.
For more information on things to do in Virginia Beach, see Beautiful Virginia Beach: The Best Places To Eat, Stay, and Play. Or for things to do in the off-season, check out How To Spend A Fall Weekend In Charming Virginia Beach.