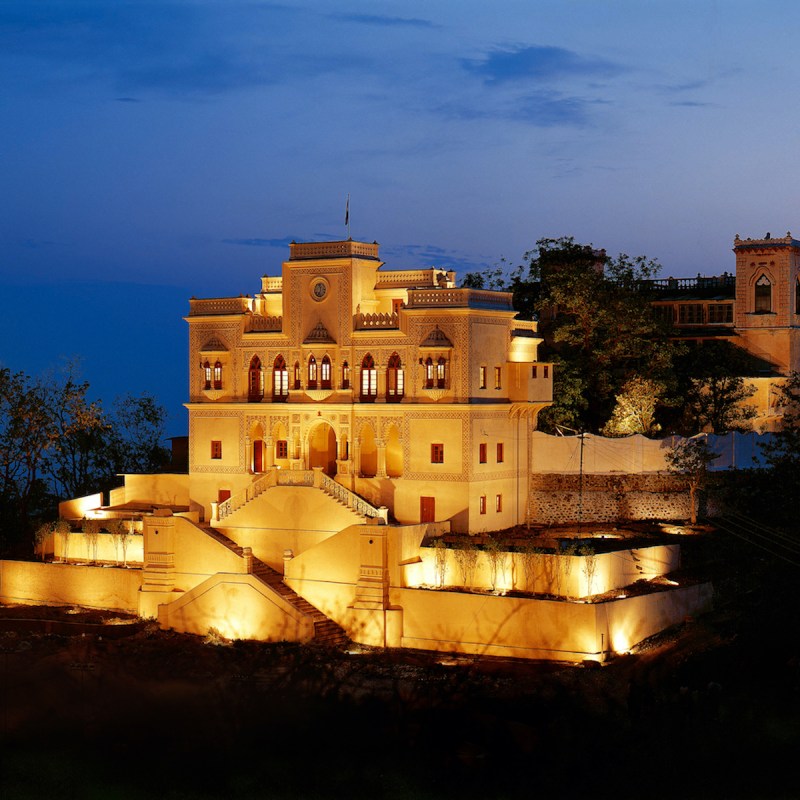 Who doesn't like to be pampered? Entering a beautiful spa decorated with shimmering tiles, flickering candles, soft music, and cozy treatment rooms is often part of a perfect travel experience. A massage revitalizes our travel-sore muscles; a facial soothes our flight-dry skin, and we might even treat ourselves to a longer signature package that includes various treatments for true indulgence.
I must admit that I can rarely resist a massage when I am staying in a nice resort with a spa, and I do tend to try out local specialties, some of which could not necessarily be called luxurious, but certainly interesting, and reflecting the local culture. I have found myself being massaged — or was it being tortured? — by an Indian lady in Delhi, who took her elbows to me; bathed in what could only be described as a giant teacup, a tub full of leaves in Sri Lanka; whereas in Oman, a frankincense treatment left me so relaxed that I could barely stand up afterward.
Here are some of the world's most extravagant, luxurious, and decadent spa treatments you can indulge in, and you might just need to make provisions for in your travel budget.
1. Al Messila Spa, Doha, Qatar
In one of the richest countries in the world, Qatar, you'd expect a bit of bling. And you won't be disappointed. At the Al Messila Spa, in the capital Doha you can spend 3 hours having your body pampered and rejuvenated with 24-carat gold. The Golden Opulence package available in the most luxurious day spa in Doha starts you off with a full-body exfoliation with crushed gold to prepare you for the massage. Then your body will be sprinkled with pure 24kt gold body oil and massaged with 24kt gold hot stones. Once you are so shiny and relaxed that you don't want to move at all anymore, the therapist will complete the treatment with an AMRA Gold Facial and will use 24kt gold face stones to define, sculpt and contour. To leave you all golden and glowing, at the end your body will be left shimmering with precious drops of gold.
Pro Tip: Once you are glittering head to toe in real gold, you might as well show yourself off at the superbly indulgent IDAM by Alain Ducasse restaurant in the Museum of Islamic Art, which is also full of treasures not to be missed.
2. Anantara Spa, Jebel Akhdar Resort, Oman
Oman is famous for its fragrant frankincense, which is exported around the world, with rich trails akin to the Silk Route, leading from the southern Arabian country up to Rome and beyond. Frankincense was not only prized for its intoxicating smell, but the many health benefits derived from it, such as anti-inflammatory benefits, anti-aging, asthma and stress relief, and moisturizing qualities, among many others. So, what better than to indulge in the signature Frankincense Ritual in the spa of one of the best hotels in Oman?
For 90 minutes, you will get the maximum benefits from the frankincense as well as the skills of the therapists through warm compresses, deep tissue massage, inhalation of the smoke, and will end up relaxed with much-reduced stress levels and, at least that night, a much-enhanced sleep.
Pro Tip: Jebel Akhdar, the green mountain, is famous for the roses grown on the steep fields, so add a Rose Rescue Ritual to your list as well. They use the very roses that are grown outside of the hotel.
3. The Ritz Club, The Ritz Paris
There are many superb spas in Paris, but the Ritz Paris offers one of the most beautiful spas, with a simply divine Art Deco indoor pool, tiled in beautiful turquoise. The Ritz Paris was the former home of Coco Chanel, and is still THE address in Paris, so, if you are a spa lover and a bit of a fashionista, a visit here is a must. The Ritz Club offers various treatments which are lovely, such as the La Renaissance which combines a full body scrub followed by a buffing treatment, leaving your skin butter soft and luminous. But to get the most out of the location, book an hour's massage together with access to the facilities, and simply enjoy the surroundings.
Pro Tip: When in the Ritz, a champagne afternoon tea is a must. In the Salon Proust, you will indulge in lovely tea, a flute of champagne, and so many goodies, from madeleines to cakes and biscuits, that you will go home with the loveliest of doggie bags in the form of a cake box stamped with The Ritz Paris's logo.
4. Silky Oaks Lodge, Daintree, Australia
The Silky Oaks Lodge is one of the most magical places I have ever visited. In Northern Queensland, right in the Daintree Rainforest, the oldest rainforest in the world, this luxury lodge merges seamlessly into the surroundings and can hardly be seen. The Mossman River offers much fun in the way of activities, as does the rainforest itself, and this magical place feels so far away from civilization, that, really, you don't even need a spa to relax. That said, the Silky Oaks Relaxation Ritual, 2 full hours of a rebalancing massage followed by a facial, leaves you so relaxed, you will be perfectly floppy and chilled out.
Pro Tip: Is there anything better than someone massaging your scalp and playing with your hair? Either following on from the facial or on another day, you must try the Rainforest Renewal. It's only 15 minutes, but those 15 minutes are bliss: a head massage followed by a hair mask, leaving your hair smooth and your scalp tingling.
5. Ananda In The Himalayas, India
Ananda in the Himalayas calls itself a Destination Spa, and that is exactly what it is. Here, your stay is secondary, whereas the spa and other wellness options, such as yoga and meditation, physiotherapy, and emotional healing, are the primary reasons people come here. Reportedly Oprah Winfrey and Uma Thurman are fans. One of the most famous treatments is the Abhyanga, a traditional Ayurvedic therapy, which includes a four-hand massage and, most importantly, an ancient treatment that involves oil being poured over your forehead to help open the "third eye" for better mental clarity. And while one therapist opens your third eye, the other massages your feet to balance your chakras. This treatment is reportedly anti-aging, so it can't be all bad, right?
Pro Tip: You can travel to Ananda by car, a 5-hour drive from Delhi; by 4.5-hour train journey plus 1.5-hour drive; by air (a 45-minute flight to Dehradun) plus a 40-minute drive; or, seriously — why not? — by helicopter all the way from Delhi. Two hours and you land at the private helipad of the spa.
6. L. Raphael Salon, Four Seasons Hotel, New York City
One of the most expensive treatments in all spa history, a "mere" facial, is the L. Raphael Oxy Star Anti-pigmentation treatment, coming in at more than $1,000 a pop. Using ice-cold oxygen and white truffles to disperse and fade sunspots and age spots, the treatment is said to work wonders and leaves your skin super soft and smooth for another 3 weeks or so after the treatment. The expensive Swiss treatment lasts some 50 minutes, so that's $20 a minute. Spread it out over three weeks though, and it might just be worth it for an upcoming special occasion. Alternatively, the money will take you all the way to Switzerland for a restful weekend.
Pro Tip: The I.M. Pei-designed hotel, currently closed as it undergoes extensive renovation (check its website for updates on the reopening), is right in the heart of Manhattan steps away from Saks and Bloomingdales, so you might want to start budgeting now as you could easily be tempted to spend $1,000 nearby as well.
7. Sense Spa, Rosewood Mayakoba, Riviera Maya, Mexico
A spa on its very own island is pretty luxurious, no? The Rosewood Mayakoba, located between Playa del philosophies on the island, is set in lush green jungle surroundings.
The Kuxtal Sensory Garden Ritual is a three-hour extravaganza that starts in the sensory garden, with guests finding a connection to one of the plants in the garden to then embark on a customized treatment embracing the four levels of wellness: physical, emotional, spiritual, or mindfulness. The spa highlights that, depending on the guest's intuitive choice, the treatment journey may be focused on physical healing work, meditation experiences, or energetic balance sessions. Using not only ancient traditional Mayan herbs and plants, but also Mayan learning and philosophy, the treatment is unique, and you are in the best place to try it, connecting with the culture of your location.
Pro Tip: The resort spa also has a resident shaman, whom you can book private sessions with, finding out about your inner and external energies, dream patterns, energy transmission, and eventually taking away with you some individual recommendations to incorporate into your day-to-day life back home. Carmen and Cancun on the Riviera Maya tempt you with a very special spa indeed. Reached by footbridge, there are 12 treatment villas and a sensory Kuxtal Garden reflecting the Mayan healing practices.
TravelAwaits writers have visited and written about many outstanding spas: