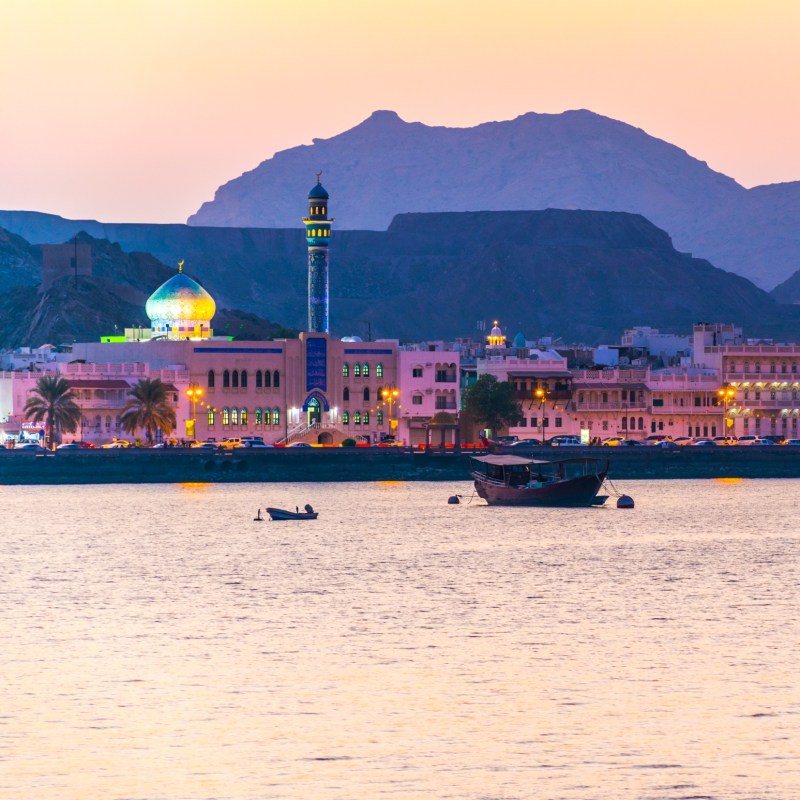 The Sultanate of Oman, located on the southeast coast of the Arabian Peninsula, has been ruled by Sultan Qaboos since 1970. Step out of the international airport of the capital, Muscat, and succumb to the magic of this diverse, safe, and easy-to-travel country.
You'll find beaches and stunning coastlines along the Arabian Sea in the southeast and the Gulf of Oman to the northeast. Venture into the deserts of the interior and see wadis and rugged mountains. Watch turtles hatching in Ras Al Jinz in the south or head north to marvel at craftsmen building traditional dhows in Sur. Visit historic sites like Nizwa Castle or shop to your heart's content in Muscat.
It's hot in Oman year around and humid on the coast. We over-50s might be more comfortable visiting in spring or fall when the temperatures are at their lowest.
Dress code for men and women in Oman is pretty relaxed, but remember to cover your head and shoulders and to remove your shoes when visiting a mosque. Halter tops and shorts are not appropriate unless you are at the beach. If, as a woman, you visit a public beach, wear a thigh-length t-shirt over your bikini or swimsuit, even in the water!
Traveling around in Oman is easy, but don't rely much on public transport. You can, if you like, join a tour, especially to explore the desert or, as is my favorite way, hire a private car and driver. You'll get an air-conditioned luxury car with a local driver who acts as your tour guide, interpreter, and bodyguard all rolled into one. All bigger hotels can provide you with this service.
Language is no problem. English is widely spoken; even the shopkeepers in the souks know at least a few words. Here is a list of eight things to know — and tips on what you absolutely must do and see — in Oman.
1. Dolphins Are Loved In Oman, And Getting Out On The Water Is Advised
I went on two very different boat trips in Muscat. The first, a modern boat to watch dolphins. The second, a super romantic sunset trip on a traditional dhow.
Dolphins and even whales are plentiful in the clear waters off Muscat. The most common species are spinner dolphins, and it's a joy to see them jump out of the water and dance. The boat I went out in was a very comfortable motor boat, and I was even offered refreshments during the trip. This tour, offered by GCC Tours, started from the Marina Bander Al Rowdha Yacht Club.
The club is located near the iconic Al Bustan Hotel. Arrange to be taken there early so you have a chance to visit one of the most luxurious and historically interesting hotels in Muscat.
The next day it was a sunset tour on a dhow. Dhows are the traditional wooden boats which have been cruising the Gulf of Oman for centuries. You lounge on embroidered cushions and watch the unforgettable coast line of Muscat glide by whilst the sun is sinking. Formed by the ragged Al Hajar Mountain range, the rock formations visible from the water are incredible. Some even have names according to their shape. The colors are black and white and tinged pink by the sinking sun. Coffee, dates, and cakes are served by staff (all men) dressed in traditional dishdasha and headgear.
2. Nighttime Is When Omanis Prefer To Shop
Although Muscat has modern, luxurious shopping malls, like Al Seeb, nothing beats the experience of a few nighttime hours spent in the Muttrah Souk. Enter with the crowds through the gate nearest the Corniche and be dazed by a scent unique to Muscat: frankincense. Burners are everywhere among the stalls, which sell clothes, jewelry, Omani and Indian artifacts, and, of course, frankincense sticks and burners. Look up and marvel at the intricately carved wooden roof of the souk.
As is the case almost everywhere in the Middle East, haggling is expected, and you are well advised to pay with cash for an even better bargain.
3. You Can Learn About Traditional Clothes At The Al Zubair Museum
Muscat has several museums, but the icing on the cake is the private Al Zubair Museum. It's off the beaten path and not easy to find, so take a taxi. Located in a beautiful white building with carved wooden doors, the museum houses a private collection of the most beautiful traditional clothes from all regions of Oman. In addition, you'll find a collection of silver handcrafted khanjars, the short daggers men keep in their belts and the perfumed tassels every man wears at the collar of his dishdasha. Al Zubair is not only a museum but also a cultural center with many activities.
4. Sultan Qaboos Is A Very Important Ruler With Very Impressive Residences
Sultan Qaboos has several residences, but the most colorful is the Al Alam ceremonial palace in the heart of Old Muscat. Perched between two 16th-century forts, Mirani and Jalali, on high cliffs, you can see the turquoise and golden building from the sea. Its gates can also be reached from the land side, and you can get close enough for a view of the gardens.
The Grand Mosque, officially named Sultan Qaboos Grand Mosque, was completed in 2001 and is a vision in white and gold. The main minaret tower is 300 feet high and the immense mosque can accommodate up to 20,000 worshippers at any given time. Highlights of the interior are the Persian prayer carpet and an Italian chandelier. Non-Muslims can visit the mosque — except at Friday prayer time. Remember to dress appropriately.
5. Omani History Comes To Life At Nizwa Castle
When you're ready to leave Muscat and venture further into the country, Nizwa Castle or Fort, one of the biggest tourist attractions in Oman, will probably be at the top of your list. An hour's drive from Muscat, a visit is a good choice for a day trip. The current fort dates from the 1850s, but the underlying structures go back as far as the 9th and 17th centuries. Constructed on top of an underground stream to provide the castle with water, the most impressive feature is its round tower, designed to make it next to impossible for enemies to scale. In fact, the fort is an example of deceptive architecture with seven wells, a maze of rooms, false staircases, and hidden shafts through which boiling oil or water was poured onto any enemy who dared to enter. In the many rooms inside, you can see artifacts that document Omani life and culture of old. At the foot of the castle, you'll find a lovely arts and crafts market and next to it a covered fruit and vegetable market in case you get hungry or thirsty.
6. You'll Want A Night Under The Stars In Al-Rub' Al-Khali Desert
You can't leave Oman without having been to the Empty Quarter of Al-Rub' al-Khali desert. A comfortable way to do so is on a one-day camping tour to see the golden sand, the lost city of Ubar, and the frankincense trees of Wadi Dawkah, which is a UNESCO world heritage site. At the same time, get a glimpse of Bedouin life and hospitality.
7. You'll Witness Rough Terrain At Jebel Shams, Oman's Highest Mountain
From desert to mountain, a trip to Jebel Shams is a must to get a picture of the great variety of landscapes to be found in Oman. For this trip, I went with a car and driver, arranged by the fabulous Crowne Plaza Hotel where I was staying.
Past Nizwa, we went off-road through the abandoned villages of Wadi Ghul and, of course, through the wadi itself, climbing higher and higher toward the peak. A platform affords you an overview of the mountain panorama, which is surprisingly green. On the way back, we stopped at Jebel Shams Resort, where you can either have a meal or stay overnight in luxurious tents, then go hiking the next day.
8. You Can Watch Turtles Hatch In Ras Al Jinz
In Oman, the season for turtles to lay their eggs in the sand — and for the babies to hatch and crawl back into the sea — is between April and August. One of the best places to watch this unique spectacle is in Ras Al Jinz, where there's a sea turtle reserve. Five different types of turtles come to the eastern beaches of Oman, foremost among them the endangered Green Turtle, which you can watch in Ras Al Jinz. Once seen, never forgotten.