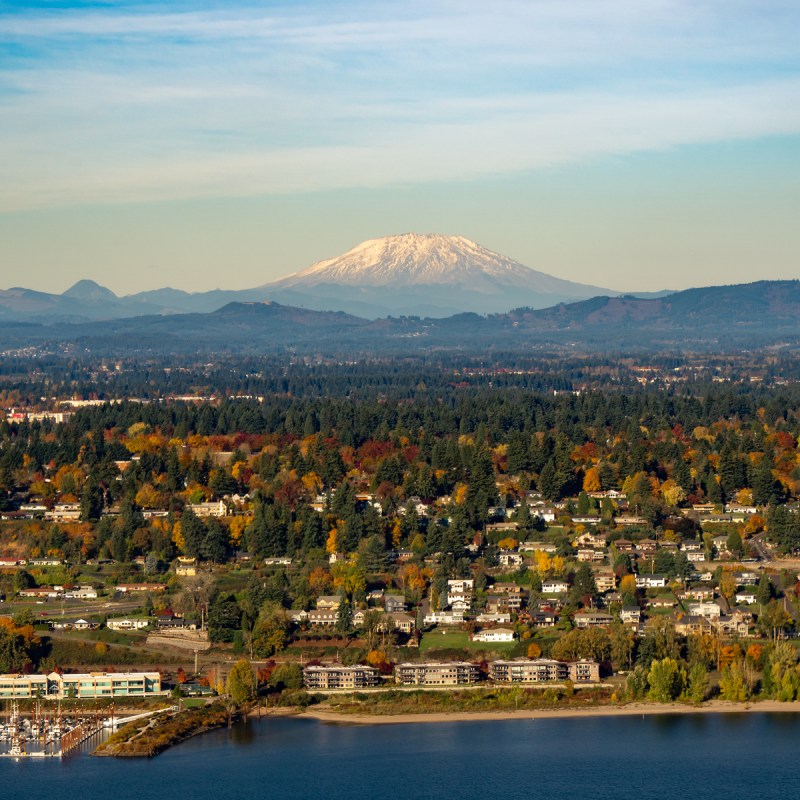 Located on the north bank of the mighty Columbia River in southwest Washington is Vancouver, the small city I have chosen to retire in.
Yes, there is another Vancouver in North America! Many folks only know the Canadian city of Vancouver. Actually, Vancouver, Washington, is the original Vancouver, with a history dating back hundreds of years. 
Vancouver, WA, blends the benefits of small city living with the conveniences of a metropolitan city.
Here are 14 reasons why I decided to retire to Vancouver. Perhaps you might be swayed by some of these amenities as well.
1. No State Income Tax
Washington State is one of nine U.S. states with no state income tax and does not tax retirement income. Yes, there is a sales tax, but I prefer that to state income tax.
2. Cost Of Housing/Property Tax
I am drawn to Washington State because of the more reasonable cost of housing and lower property taxes compared to Portland. 
3. Proximity to Portland International Airport
As one who loves to travel, this is a major consideration for me. I can be at Portland International Airport within 10 minutes. When guests come to visit, I invite them to text me once they land, pick up their luggage, and by the time I get to the airport, they are waiting for me.
The Portland Airport has often been named one of the best airports in the nation. It is a pleasant venue to depart from or arrive at. 
4. Traffic Is Saner
Whenever I drive in a larger city, I am reminded why I chose Vancouver, Washington, to retire. As my brother used to say when he visited from Long Beach, California, "It is so sane here!"
5. I Like The Medical Care In A Smaller City
I feel that medical care is more personalized in a smaller city. My chosen medical center is less than 3 miles from home.
6. I Love The Four Distinct Seasons
Vancouver stays green pretty well throughout the year. Yes, there is a reason for that! More about that later! Overall, temperatures stay pretty mild. We might get a few days of snow each year. Summers are relatively mild.
Spring brings blooming trees, tulips, daffodils, and gardening. My garden also has raspberries, blueberries, strawberries, and an apple tree.
Summer has warm temperatures; however, temperatures usually cool down at night. 
Fall brings the beautiful changing of the leaves and my garden harvest. Fall also brings the harvest of state grapes and hops, which bring on many fun experiences!
Winter has its own charms: one being winter storm-watching, and the second, the gray whale migration. Winter also brings the delicious Dungeness crab. Crab season usually begins just before Christmas and ends in late spring. Many of my perennials start popping up just after the New Year.
Yes, winter also brings rain. I tell myself, "at least I don't have to shovel it," like I did have to shovel lots of snow in Alberta, Canada! My mother, when visiting from Alberta, would say, "It is so green here!" I would reply, "Yes, mom, there is a reason for that."
I will take the rain over snow any day! I can always escape if the rain gets too much.
7. Proximity To Ocean Beaches
Two of my happy places are the ocean beaches along the southern Washington coast and the Oregon coast. Within less than 2 hours, I can be strolling the beach or sitting and enjoying the sights and sounds of the ocean. My favorite spots along the Washington coast are Ilwaco and Long Beach; my two favorite spots along the Oregon coast are Newport and Depoe Bay. 
8. Proximity To Mountains
Snow-lovers will be excited to know that less than one hour's drive from Vancouver are two ski areas at Mt. Hood in Oregon: Timberline and Mt. Hood Ski Bowl. Timberline is the only North American ski area open year round. Besides skiing and snowboarding, there are snow-cat rides and snowshoeing trails. You can make a day trip or stay at the historic Timberline Lodge. Mt. Hood Ski Bowl is the nation's largest night skiing area and has an incredible snow tubing park.
9. Proximity To Columbia River Gorge National Scenic Area
Within 20 minutes from my home in Vancouver, I can be enjoying the Columbia River Gorge National Scenic Area. The 80-mile canyon follows the Columbia River and forms the border between Washington and Oregon. The geological formations are unique —  sheer cliffs drop to the river's rushing waters, and more than 50 waterfalls will catch your eye. The most famous waterfall is Multnomah Falls, one of Oregon's most recognizable landmarks. Head up to Vista House Crown Point Scenic Viewpoint for breathtaking views of the gorge.
The area is a recreational playground. You may choose to go hiking, camping, kiteboarding, windsurfing, wildlife viewing, or take time to marvel at the incredible beauty.
10. Proximity To Award-Winning Wineries/Craft Breweries In Washington And Oregon 
Within 1 to 3 hours of driving time, I can visit award-winning wineries of eastern Washington and central Oregon. In Washington, the Yakima Valley has over 120 wineries and is the largest hop-producing area in the nation. Close by are the 150 wineries of Walla Walla, named "The Wine Destination In The State." Tualatin Valley, part of the Willamette Valley in Oregon, is known as one of the premier pinot noir producing areas in the world!
11. The Beauty of The Vancouver Waterfront And The Columbia River Renaissance Trail
Recently named by Fobes as "one of the best pedestrian attractions" in the nation, Vancouver's Waterfront features 2 miles of paved paths along the mighty Columbia River. There is something for everyone with six wineries, seven restaurants, historical sites such as the Kaiser Shipyards, and jaw-dropping views of Mt. Hood. The waterfront continues to the Columbia River Renaissance Trail, a series of paved paths through Vancouver's National Historical Reserve, Officer's Row, and downtown Vancouver. Folks enjoy walking, hiking, biking, and jogging along the trails.
12. Proximity To A Wildlife Refuge And An Outdoor Education Center 
Ridgefield National Wildlife Refuge, located just 21 miles north of Vancouver, encompasses 5,300 acres of wetlands, riparian forests, and sloughs home to various plants, birds, animals, and fish. There is both an auto-tour route and a walking network of trails suited for wheelchairs and walkers. During mating and breeding seasons, certain parts of the refuge are inaccessible to visitors. Check the website for updates. 
The Senior Pass is valid here, as are other passes. Otherwise, there is a small fee per carload/group of four walkers. There are also many volunteer activities available.
Columbia Springs is a 100-acre outdoor education center right here in Vancouver. With more than 2 miles of trails and boardwalks, folks of all ages enjoy the opportunities to connect with nature and learn about the environment. The fish hatchery, dating back to 1938, raises hundreds of thousands of steelhead, rainbow trout, and salmon. The area is a lovely setting for picnics, walking, hiking, and biking. Many educational classes are held. My favorites are the birding and birdhouse, construction classes. 
Many seniors enjoy volunteering at the center. 
13. Monthly Community Newspaper Dedicated To Seniors
The Senior Messenger is a great tool to help seniors stay connected and active. Look for recreation activities, 50+ Travel Program, and health and wellness information. The 50+ Travel Program offers affordable day trips in the Pacific Northwest. 
14. Vancouver's Rich History
History buffs will find there is much to explore here in Vancouver.
The Fort Vancouver National Historic Site consists of Fort Vancouver, Officer's Row, Vancouver Barracks, and Pearson Air Museum. You can enjoy learning about the history of the Pacific Northwest fur trade between 1825 and 1860. The 200-acre site was the center of the Hudson's Bay Company here in Vancouver. Officer's Row is a series of 21 Victorian homes built between 1849 and 1906 as homes for the officers of the U.S. Army. 
The Lower Vancouver National Historic Reserve includes Waterfront Park and the Kaiser Shipyards Overlook, commemorating the ships, tankers, and escort carriers built here for the war effort. You will also find plaques commemorating the 1804-1806 Lewis & Clark Expedition. A land bridge connects the two sites.
Vancouver also boasts the state's oldest town square, Esther Short Park, anchored by the historic 1867 Slocum House. The two-story Victorian house is listed on the National Register of Historic Places.
For additional information on many of my favorite sites mentioned here, check my articles on TravelAwaits.
For more information on retirement options, read these articles: