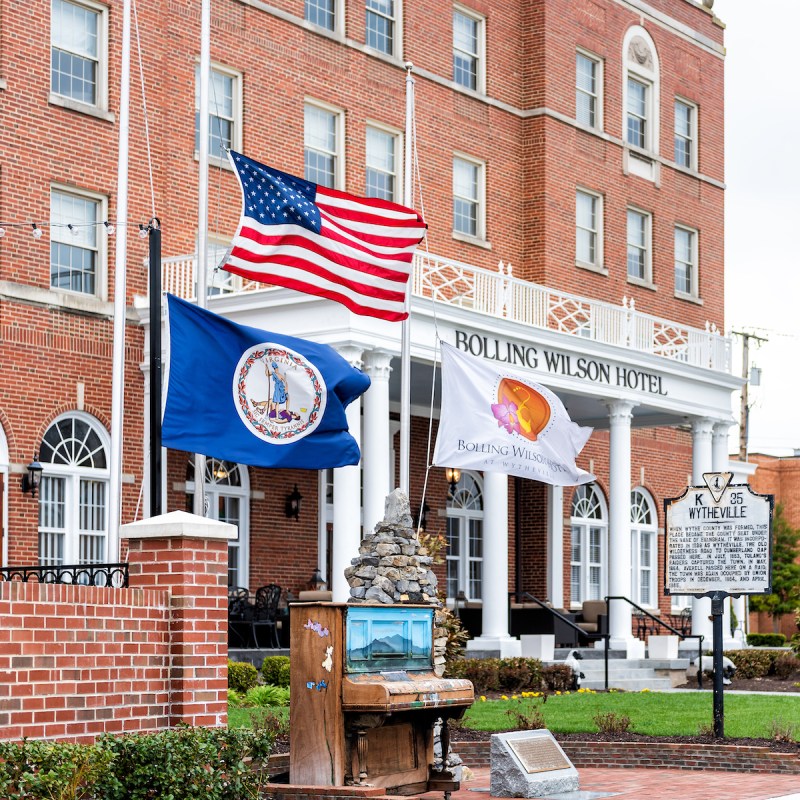 Proudly claiming its distinction as the only town or city named Wytheville in the entire United States, the people of Wytheville, Virginia, welcome visitors enthusiastically and are happy to show off their town's many attractions. What Wytheville lacks in population numbers it more than makes up for in interesting stories, passionate citizens, incredible natural beauty provided by the Blue Ridge Mountains, proud history, a fortunate location at the junction of I-77 and I-81, and numerous outdoor recreational opportunities. Travelers from Ohio find Wytheville on their route to the beach in the summertime, and leaf-peepers from miles around flock there for the fall colors. Here are 11 highly recommended activities from which to choose when you vacation in Wytheville.
1. Discover Wytheville's Proud History At Town Museums
Edith Bolling Wilson, former First Lady and second wife of President Woodrow Wilson, was born in Wytheville. Her birthplace has been turned into a museum, which makes it possible to stand in the room where this remarkable woman began her life.
Pro Tip: Some credit Edith Bolling Wilson for being the first functioning female U.S. president. Be sure to ask to hear the reasons when you visit the museum. 
Two other interesting museums are located just a couple of blocks away from the Edith Bolling Wilson Museum. They are the Thomas J. Boyd Museum and the Haller-Gibboney Rock House Museum. Thomas Jefferson Boyd was considered to be the "Father of Wytheville," and Dr. John Haller was Wytheville's first resident physician.
Pro Tip: At the Thomas J. Boyd Museum, find out how the "summer without children" relates to the polio epidemic of 1950.
2. Get Outside For Hiking, Biking, Or Trout Fishing
The New River, ironically second only to the Nile River in age, includes boat launches at New River Trail State Park and Foster Falls, but many avid trout fishermen will want to head to the streams of Dry Run Creek and Cripple Creek. Brown, rainbow, and brook trout are waiting for you to outsmart them.
The mountains beckon hikers and bikers of all skill levels. New River Trail State Park has some of the least strenuous paths, while Crystal Springs, Big Walker Mountain Trail, and Mount Rogers National Recreation Area include some of the most difficult.
Savvy hikers know to be well prepared with plenty of water, snacks, a first aid kit, emergency contact capability in case cell phone service is spotty, and extra layers when temperatures plunge.
Pro Tip: A professional guide service might be the safest choice for exploring the area. White Blaze Outdoors offers a range of hiking and biking tours.
3. Experience Dinner And A Show At Wohlfahrt Haus
It is amazing to realize that a town with a population of fewer than 10,000 people could support a dinner theater that has thrived for more than 20 years. Wohlfahrt Haus is the fulfillment of Peggy Sutphin's lifelong dream. Her Wohlfahrt ancestors migrated to the United States from Germany in 1750. German fare is not part of the four-course meal served before a performance, but there is a German restaurant adjacent to the theater.
Wohlfahrt Haus stages six different shows every year, with the Christmas production being the perennial favorite. A great meal served with wonderful singing and dancing continues to be the winning recipe for locals and eager visitors.
Pro Tip: The Christmas show is generally a sell-out, so be sure to purchase your tickets well in advance.
4. Stay At A Boutique Hotel With Ties To A U.S. First Lady
The Bolling Wilson Hotel, dating back to 1926, is directly across the street from Edith Bolling Wilson's birthplace and museum. Thirty guest rooms can be found in the four floors, and a gift shop and an outstanding restaurant, called Graze on Main, are in the lobby. Each guest room floor has a decorative theme that corresponds to items that were favorites of Mrs. Wilson's. Even the name of the restaurant has a connection. During World War I, President and Mrs. Wilson brought in a flock of sheep to graze on the White House lawn. While the sheep kept the grass under control, former groundskeepers could serve in the war effort. Also, when shearing time came, the sheep's wool was sold and donated to military causes. The signature dessert in the restaurant is carrot cake, which was what the Wilsons chose as their wedding cake.
Pro Tip: Be sure to notice the hotel logo. It consists of a purple orchid and a canary on top of a barrel of bourbon, and all have delightful associations to Mrs. Wilson that you can learn about while in Wytheville.
5. Stroll Lavender Fields And Walk Through The Butterfly House At Beagle Ridge
Beagle Ridge Herb Farm is worth the drive. It's at the end of a road seemingly far away from civilization but actually very close to the town "as the crow flies." Owner Ellen Reynolds has worked diligently since 2001. She has dug, planted, built garden walls, designed pathways, and experimented. The result is a farm that specializes in lavender but also branches out to include a walk-through butterfly house, a gift shop selling homemade products, a tearoom, a classroom, and a wedding venue.
Pro Tip: Ms. Reynolds conducts workshops and classes while the plants are dormant during late fall and winter, but the best times to visit are in spring and summer. The sight and smell of lavender is so enticing.
6. Sample A Fully Loaded Skeeter Dog
Skeeter's, operating continuously since 1925, is next door to Edith Bolling Wilson's birthplace. The hot dogs served at Skeeter's have been ranked among the Top 10 Hot Dogs in America. The basic dog is served with mustard, onion, and chili, but 10 other toppings are available. This is a taste of Wytheville's culture you simply must try.
7. Take A Few Moments To Meditate Inside Wytheville's Smallest Church
Wytheville's tiny church will seat eight people, but it normally just has one or two visitors at a time who seek it out to soak in the beauty and solitude. The scale of the bell tower matches that of the church.
8. Enjoy The Animals At Cobb Hill Alpaca Farm And Fort Chiswell Animal Park
Visitors to Wytheville with young children in tow will want to find the alpacas and feed the exotic animals who come to the safari bus as it drives through this Wytheville park. At Cobb Hill, 18 alpacas are ready to greet you, but be sure to call ahead for a personal tour of this small, family-owned farm. At Fort Chiswell, you're invited to hop on a safari bus on Fridays, Saturdays, and Sundays. Children are given a free bag of zoo chow for the animals, which is sure to encourage close, fun encounters.
9. Climb The Tower To Glimpse Five States At Big Walker Lookout
Big Walker Lookout at 8711 Stoney Fork Road enjoys the distinction of being Virginia's oldest, privately owned attraction. Its 100-foot observation tower, said to offer glimpses of five states, is open seven days a week for spectacular scenery year-round. The country store at the site sells jams, jellies, books, toys, and ice cream, and on weekends from May to October, it serves as a music venue.
 Pro Tip: Sample the lemon crunch ice cream. It is life changing.
10. Spend The Night In A Historic Bed & Breakfast Built In 1912
The Trinkle Mansion Bed & Breakfast built for wealthy landowner William Trinkle, his wife Ethel, and their young family hearkens back to days of elegance and grandeur. Four lovely guestrooms and a private cottage are available for overnight stays, and the three-course breakfast of home-baked breads and specialties prepared by owner Patti Pizinger adds to the elegance. It is a treat to stay at this inn listed on the National Register of Historic Places.
11. Find The Big Pencil And The 100-Foot Mural While Browsing Downtown
Downtown Wytheville has a variety of shops with attractive merchandise worth several hours of browsing. While strolling from one to the other, you are sure to notice the giant pencil outside the Wytheville Office Supply store. That fun landmark along with the 100-foot mural depicting significant events in the life of Edith Bolling Wilson are certainly camera worthy.
Pro Tip: There are three L-O-V-E signs in Wytheville that are part of the LOVE Works project promoting Virginia's motto "Virginia is for Lovers." One of the easiest to find is in Withers Park.
In addition to these 11 attractions, Crossroads Social House, offering bowling, laser tag, trampolines, and more, is Wytheville's newest entertainment venue. You'll want to include the Log House 1776 Restaurant on your itinerary if you're going in or after the spring of 2022. This popular restaurant suffered a fire in October of 2021, but the owners are committed to repairing and reopening as soon as possible. Fortunately, the most famous part of the structure was spared from serious damage.
Wytheville offers appealing options for families, couples, girlfriend getaways, or day trips. You'll be amazed at what this small town in the beautiful setting has in store for visitors.
For more historic vacation inspiration, consider: