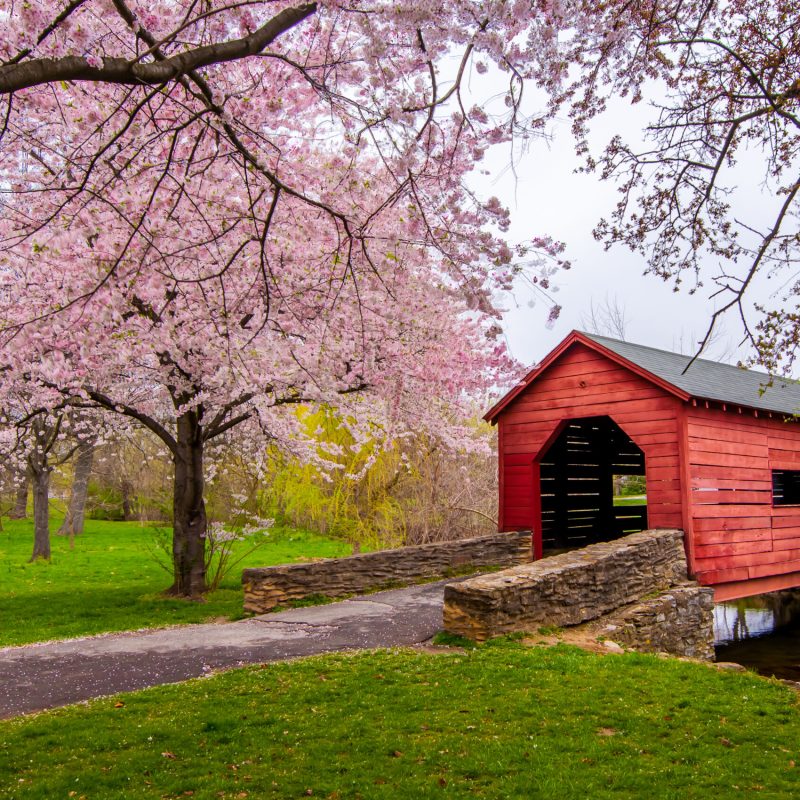 The first time I set foot in Frederick, Maryland, was when I was visiting Hood College as a prospective student. The school would become my academic home for the next four years, which gave me a prime opportunity to explore and appreciate this gem of a city with a small-town feel. Frederick sits almost 50 miles northwest of Washington, D.C., and its historic charm — it has an abundance of Civil War history — has managed to blend effortlessly with its modern appeal, making it a worthwhile stop for travelers. The city offers a countless array of things to enjoy, from museums to guided walking tours, a wide variety of dining choices, parks, and much more.
Things To Do In Frederick, MD
A good starting point is a stop at the state-of-the-art Frederick Visitor Center, which offers travelers a variety of resources to enhance a visit. These include city maps and guides, plus the center's own exhibits. The National Museum of Civil War Medicine offers a comprehensive overview of Frederick's role in the war and how the city served as a key treatment center for the wounded during that time.
Those who want to take a stride have a choice of tours: the Downtown Frederick Walking Tour, the Downtown Frederick Public Art Trail for art buffs, the African American Sites Walking Tour, and the Downtown Frederick Architecture Tour to name but a few. Up for something haunted and historical? How about Maryland Ghost Tours, which delves into Frederick's spooky side?
Shoppers and browsers should enjoy exploring Downtown Frederick's many shops. A day of walking and sightseeing surely works up an appetite, and Frederick's multitude of restaurants aim to please a variety of palates. Enjoy casual to more formal dining settings, ranging from American, Continental, and Mexican to Asian cuisine with much in between. (More on specific Frederick restaurants below!)
Frederick boasts a thriving arts community, and its wares are on prominent display at galleries, museums, and especially at the annual Frederick Festival of the Arts. Wind down with a glass of wine at one of the area's wineries, or enjoy a beer or spirits at one of the city's breweries or distilleries. Outdoor and sports enthusiasts can partake in Frederick's scenic parks, or take in a Frederick Keys baseball game.
Finally, I would be remiss if I didn't mention that my alma mater, Hood College, offers informational lectures to the public, along with a Summer Chamber Music Festival.
Here is a sampling of what to find in this city with enduring charm and appeal, from the historic to the hip.
Downtown Frederick Walking Tour
Get acquainted with Frederick via this tour, which is self-guided, runs 2.5 miles, and begins at the Visitor Center. It's an informative and fun way to gain an overview of this historic city.
Frederick Festival Of The Arts
A personal favorite, June's annual Festival of the Arts, held along scenic Carroll Creek, is an event that attracts folks of all ages. This festival is a showcase of juried exhibits of unique arts and crafts from over 150 national and regional artisans. Prepare to be amazed by the myriad choices this festival has to offer. (I never go away empty-handed, and I marvel at how the merchandise just seems to get more unique each year.) Everything from paintings to pottery, jewelry, and photography (and much more) is on display. Food and drinks are available for purchase.
Baker Park
An oasis of greenery amid the bustle of Downtown Frederick, Baker Park offers visitors a plethora of activities, from walking, jogging, and bike paths, to outdoor festivals and concerts. Pets are welcome, too!
Carroll Creek Park
Revel in a walk along the path, stretching a little over a mile, of this scenic park, flanked by Carroll Creek, which offers stops for shopping, dining, and even some imbibing at breweries and a distillery.
The Delaplaine Arts Center
The Delaplaine Arts Center is an arts hub that's a stop along the path of Carroll Creek Park. The center's seven galleries showcase a wide variety of artistic creations. Explore your inner artist during a class or workshop at one of its in-house studios. The Delaplaine's gift shop offers unique mementos to remember a visit by.
Monocacy Brewing Company
Beer lovers, unite! The Monocacy Brewing Company, located in Downtown Frederick, offers a variety of beers brewed on site. Tours are also available to see the process up close and sip some samples.
10th Ward Distilling Company
Get in the "spirited" mood with a visit to this distillery. This woman-owned business is located in the heart of Downtown Frederick and offers a variety of spirits, from gin and whisky to rye, and absinthe. Tours are available as well.
Frederick Keys Baseball
Batter up! What's summer without a good baseball game to enjoy? Take in a Frederick Keys game at Harry Grove Stadium. The Keys are a minor league team affiliated with Major League Baseball. A variety of concessions provide refreshments, and the stadium boasts the 4 ½ Taphouse, which serves over 25 local beers.
10 Clarke Place
Frederick's old-fashioned charm extends to its lodgings. For some good rest and relaxation, the city offers its choice of bed and breakfasts, and the lovely 10 Clarke Place in Downtown Frederick is an excellent choice. Beautifully appointed rooms and a sumptuous breakfast to top it off are highlights of a stay in this Victorian home.
Best Restaurants In Frederick, MD
Frederick offers the gamut of dining options, so there are many establishments to choose from. Starting with casual and getting progressively more formal, here's a taste — please pardon the pun!
Brewer's Alley
A favorite of mine, right in the heart of Downtown Frederick. Brewer's Alley is a restaurant with a pub feel. Housed in a historic building, it offers guests good, casual eats, ranging from a variety of appetizers to pizza, sandwiches, and traditional entrees to desserts. There's a Late Night menu and Happy Hour. Also, enjoy a wide selection of beers from the restaurant's brewery and relax at the rooftop bar.
La Paz
Munching on this Mexican restaurant's yummy fare brings to mind my college days. A Frederick mainstay, La Paz offers everything from salads to sandwiches plus a variety of Mexican dishes (the delicious nachos come to mind), and, of course, specialty drinks; think margaritas, for one!
Thacher And Rye
Thacher and Rye, formerly Volt, is noted and award-winning chef Bryan Voltaggio's new restaurant in Downtown Frederick. This elegant eatery, housed in the same historic brownstone as its predecessor, offers a nice lunch, brunch, and dinner selection of regional cuisine, plus pre-fixe dinner events on select evenings.
Dutch's Daughter
Dutch's Daughter offers casual and formal dining. The expansive eatery, which has five dining rooms and outside dining, offers lunch, brunch, and dinner. Enjoy everything from seafood, meat, and poultry to pasta. (A tip: Just thinking of the flavorsome Pasta Alfredo I had there makes my mouth water.)
Pro Tips
My friend and fellow Hood alum Sue Audino had a few fun tips for potential Frederick visitors. One thing she particularly wanted to highlight is the city's convenient proximity to Washington, D.C. "Traffic between the two points notwithstanding, I loved the ability to pick up and go sit on the Washington Mall or take in a (D.C.) museum pretty much anytime I wanted."
She also praised both the beauty and availability of activities at Baker Park and Carroll Creek Park. Of the former, she said, "Sometimes there's a baseball game to watch; other times it's just watching the ducks around the pond. I enjoy riding my bicycle through the college area and then stopping along the pond to read a book. It's very serene and family-oriented. I love watching young families; little kids who get excited to see the ducks! It's good old-fashioned, clean family time where kids learn to respect nature."
"The Creek!" she exclaimed, referring to Carroll Creek Park. "The renovation of the creek is nothing short of amazing. The creekside offers impromptu music from solo musicians, authentic, international cuisine, and beautiful artwork dispersed throughout, not the least of which is the bridge! Flanked by the Delaplaine Arts Center, Frederick Library, and proximity to Market Street, the creek offers a wonderful opportunity to relax with new and old friends. Sitting there, with a glass of wine or other beverage, whether alone or with others, sends all my anxieties away. I enjoy the sounds and beauty of flowers and all the wonderful birds the creek attracts."
Frederick successfully blends the old with the new, offering a breadth of experiences and activities to make for a memorable visit.