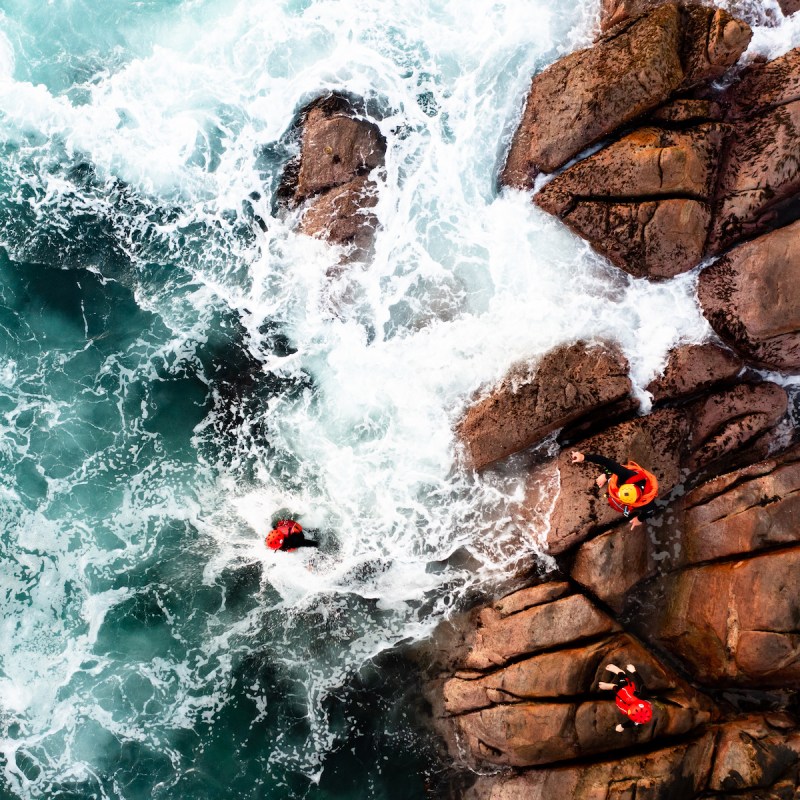 It's imperative to feel comfortable and safe while traveling.
Medjet
provides premier air medical transport, travel security, and crisis response memberships, providing peace of mind for an affordable price.
Have you ever wandered along a beach and been disappointed by a dead end? Around the corner lies a secret beach with rock pools, caves, and blowholes. But you can't get there without getting wet, as a small patch of the ocean lies between you and this great adventure playground. 
Enter "coasteering," a new activity where participants explore the intertidal zone where the sea meets the land. The term coasteering merges the words "coast" and "mountaineering," but there's a lot more scrambling on your butt rather than intrepid climbing.
The idea is to move horizontally from point A to B in any way possible. Participants scramble over boulders, jump into the water off rocks, swim short distances, ride the swells, and frolic in the waves — under the watchful eyes of a guide who knows the terrain and can keep you safe.
Coasteering In The UK
The concept, if not the name coasteering, dates back to the 1980s. Surfers in Pembrokeshire, Wales, scrambled around cliffs on The Jurassic Coast, one of the most enchanting coastlines in the world. They aimed to reach the best surf spots. We don't have to match their athleticism! Or carry surfboards.
Andy Middleton, director of TYF Adventure in Pembrokeshire, started the first organized coasteering activity in the UK in 1986. Since then, the company has taken more than 200,000 people to play on the wondrous wild coasts of St. Davids in Wales.
Within a few years, a handful of providers offered coasteering in southwest Wales. Coasteering has gradually spread to most coastal corners of the UK. Most providers are concentrated in Devon, Cornwall, Dorset, Northumberland, Wales, and the Scottish Highlands, with scatterings in more remote areas such as The Outer Hebrides and the Channel Islands.
Pro Tip: Choose operators registered with the NCC (National Coasteering Charter), an organization promoting safe coasteering.
European Coasteering
UK expats took the activity across the English Channel. Coasteering is now available where the Brits holiday, including the South of France, Spain, and Portugal. The southwestern peninsula of the Algarve between Sagres and Lagos is popular as there are plenty of limestone headlands with hidden coves and secret beaches. Coasteering has also started to proliferate in the Mediterranean and has even sprung up in Nordic countries, despite the chill factor.
Pro Tip: Here is a map and more information showing coasteering around the world. Do your research and make sure providers are adhering to the industry standards applicable to their region.
Coasteering In Australia
The Atlantic Ocean is a tad chilly. But in Australia, you can sample coasteering in the Indian Ocean — the warmest ocean in the world!
Margaret River is a stunning tourist area 2.5-hours drive southwest from Perth. The incredible coastline is much loved by surfers and holiday-makers. As a bonus, the climate is similar to the French wine-growing region of Bordeaux, making the area famous for its wines.
I spoke to Dr. Cam O'Beirne, owner of Margaret River Adventure Co., about his coasteering offering. Cam has worked in the wine industry, has three degrees in sports science, and has 30 years of experience in aquatic rescue and ocean safety.
"I stumbled across coasteering in Cornwall, UK," Cam told me. "I thought this would be an amazing activity in our beautiful coastal region of Margaret River, with our lagoons, granite cliffs, and waves. I started the business in 2014 as a semi-retirement plan."
Cam offers clients personal challenges and resilience-building adventures. His tours have proved so successful that in 2021, he won Airbnb's award for the "Most Magical Experience" in Australia.
Speaking to Cam, I was trying to fathom whether it was something I would try, so I asked about the age of the participants. "The oldest person to come through to date was Maria, a Canadian woman aged 71," he said.
Maria was a solo traveler from Canada who had only recently learned to swim. "She was determined to set herself new challenges," Cam said. "She began by swimming further in the pool each time and was now trying new water-based activities including coasteering."
"Maria gripped my hand tightly when we began entering the water from the rocks. But we started easily by sliding down, leading up to a small jump. Then the jumps were from higher places. Sometimes we achieve our goals when we stop over-thinking and live in the moment.".
Cam takes groups to Canal Rocks, an area I visited when I was last in Margaret River. It's a spectacular sight. Folds of granite rocks jut into the ocean, creating a natural canal hollowed out by the force of the sea. There are boardwalks, or you can scramble over the rocks. Depending on the season, you may see whales offshore or sea lions basking on the rocks. The ocean surges through the canals like the actions of a washing machine. I thought what fun it would be to be in there amid the ocean sprays and pummeling.
According to Cam, Maria didn't want to leave the water at the end of the two-hour session.
He suggested I try coasteering next time I'm in Margaret River. Well, if Maria can do it. So can I!
Who Else Can Do It?
Coasteering is accessible to a wider range of people than you might imagine: families enjoying the activity for the first time, older people who enjoy physical challenges, and veteran adrenaline junkies who may opt for a more adventurous group.
How Fit Do You Have To Be?
You don't have to be an athlete. It will help if you can leverage your bodyweight out of the water as you might on the side of a swimming pool. You should feel confident walking on uneven ground such as rocks. Some tours require only a doggy-paddle level of swimming ability, as life jackets keep you buoyant. Others require participants to swim short distances.
Pro Tip: Check what is required when booking. Note some groups are for beginners; others are for experienced adventure seekers who want the adrenalin rush of ziplining between cliffs and even jumping off them. You might not have fun if you were in the wrong group.
They Won't Make Me Jump, Will They?
Google "coasteering," and you'll find heaps of photos of people jumping off cliffs. But don't be alarmed. Cliff jumping is an optional adrenaline kick available for experienced participants and not where you start with this fun activity.
If you don't wish to jump from a rock into the water, a guide will suggest alternative ways down.
Many providers work with school and youth groups and, like Cam in Margaret River, pride themselves in helping people accomplish their personal challenges.
Pro Tip: Never say never. You may surprise yourself with what you can do. But don't let the friends or family in your party pressure you into doing something you don't feel comfortable with. Do what's right for you.
The Right Equipment Is Vital
A well-fitting buoyancy aid and a helmet are non-negotiable safety aids. The helmet keeps your head safe from any accidental knocks, and the buoyancy aid ensures you float. Both give you that added level of safety, letting you focus on the fun factor.
Wearing a pair of old trainers helps protect your feet and helps you to grip the rocks. Wetsuit boots and soft beach shoes don't offer enough protection.
Most companies provide a wetsuit essential for coasteering in cold climes like the UK.
They may ask you to wear shorts over wetsuits to prevent wetsuit damage should you be sliding over rocks.
Pro Tip: Before signing up, ensure your activity center has all the wetsuit sizes needed for your party.
Safety First
As with most activities, taking you outside your comfort zone is an element of risk. Anyone can embark on a coasteering adventure, but it is safer on an organized tour because local guides can read the tides, waves, and currents. They choose a patch of coastline where it's safe to explore the caves, scramble around cliffs and jump into the beautiful waters. Guides also have first-aid and water safety qualifications.
Nature's Aquatic Playground
Leaving the best till last. Coasteering is about appreciating nature as you explore the coastline at close quarters, with all the recesses and caves hidden from sight from those above. Your guide can explain the area's geology and identify creatures you find in rock pools, such as crabs, sponges, seaweeds, and starfish. You may even see peregrine falcons or swim with seals. Some companies in the UK offer "eco-coasteering" tours focused on showcasing the wide variety of flora and fauna that inhabit the coasts of the British Isles.
No wonder coasteering is proving so popular. Look out for this must-try activity on your next trip abroad.
Consider these other outdoor adventures for your next vacation: